Cowboy culture, space missions and outdoor adventures: the USA has hobbies to match families of all ages. Whatever state (or states) you're visiting, there are plenty of activities that might appeal to your family's interests.
Our USA specialists have tried and tested the experiences that each region offers and have chosen five activities that will enhance a family trip there. You might explore Houston's space museum and mission control rooms, spend a day riding a historic railroad, or join manatees in the waters of Florida's Homosassa River.
You'll also find ideas in our USA family trip guide. Alternatively, read our dedicated guide to family holidays in California if you're planning a trip to the Golden State.
Our USA specialists' favourite family experiences
Snorkelling with manatees, Florida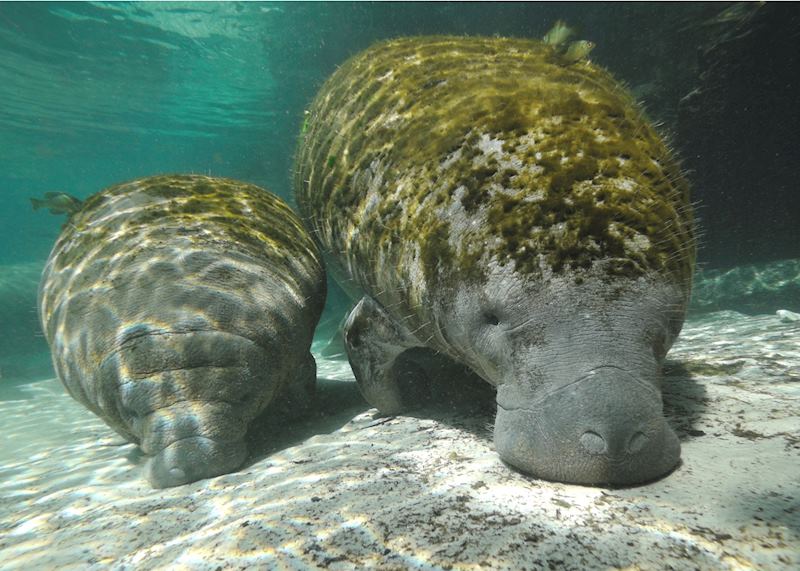 By David
One of Florida's most prized wildlife species, manatees are large-but-gentle waterborne mammals (think somewhere between a hippo and a seal) that are sadly in decline. A visit to the state gives you a chance to see the animals up close on boat trips. And, if conditions are right, you can enter the water to observe them more closely.
One of the best places to see them is Crystal River, on Florida's west coast. Up to 600 manatees are present here between November and April — the world's largest concentration of the species.
Setting out early (these creatures definitely prefer the morning), you're greeted with a hot drink and a short overview about manatees. You'll also hear tips on how to make the most of the experience while passively observing the animals. Then, after putting on a wetsuit, you head out onto the Homosassa River in a small boat that takes you to quieter areas away from larger vessels.
The trip gives you the chance to enjoy the unspoiled scenery of Florida's coastline, from mangroves to marshes. You'll explore King's Bay Estuary, where freshwater meets saltwater, creating a habitat for a wide range of animals and plants. Your guide will tell you more about the local ecosystem and help to pinpoint the manatees' location.
Once you get close to an aggregation of manatees (usually no larger than six animals), you'll have the chance to go snorkel in the warm waters. You're not allowed to touch or chase the manatees — this experience is all about watching them interact with each other in their natural environment.
How can I do this? Add this activity onto a wider trip exploring Florida's coastline.
Lobster trapping with a local, Maine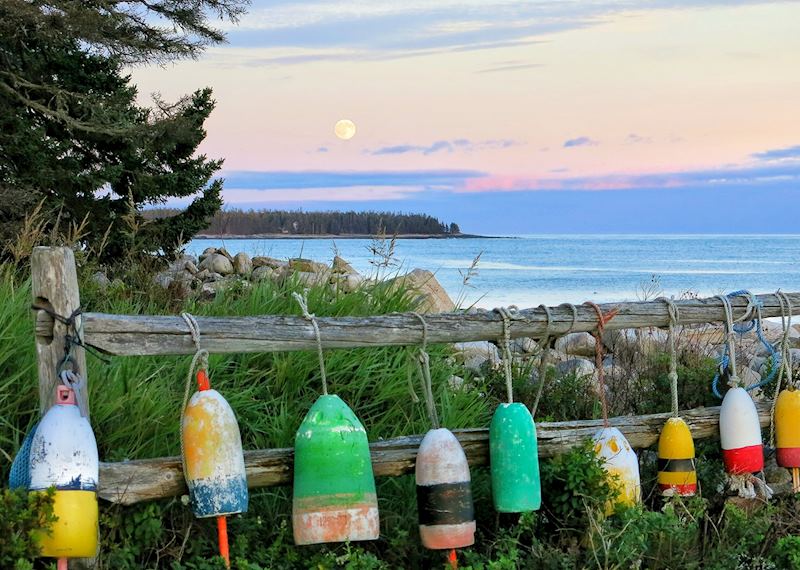 By Dani
Known for its sandy beaches, small towns and its orange, yellow and fiery red fall foliage, New England is ideal for a laid-back family trip.
You can get a local's perspective of the region by joining a fisherman or woman out on the waters of Maine's Frenchman Bay, departing from Bar Harbor. This affluent area, once a popular summer destination for the USA's wealthiest families, benefits from the lucrative lobster trade.
I accompanied lobster catcher Jen on her traditional fishing boat. She explained that the industry is incredibly competitive — there's a 20-year waiting list to become a professional lobster catcher in these waters, and you must have at least five years of experience. Each lobster catcher is responsible for around 200 traps, marked out by their own distinctive buoys, which they check each morning.
We cruised over to one of Jen's traps to see what she'd caught. She took out two lobsters, their pincers circling the air. Jen explained how they have to be a certain size to be sold on, otherwise she lets them go.
After inspecting the lobsters and learning a little more about their anatomy and life cycle, we released them and spent the rest of the trip taking in the bay's scenery. Bald eagles nest on the forested islands offshore, and you might see seals bobbing on the water's surface or lounging on the shoreline.
How can I do this? Drive along the coast from Boston to Bar Harbor on this 11-day trip, spending time kayaking and hiking in Acadia National Park.
Lunch with an astronaut and exploring space travel in Houston, Texas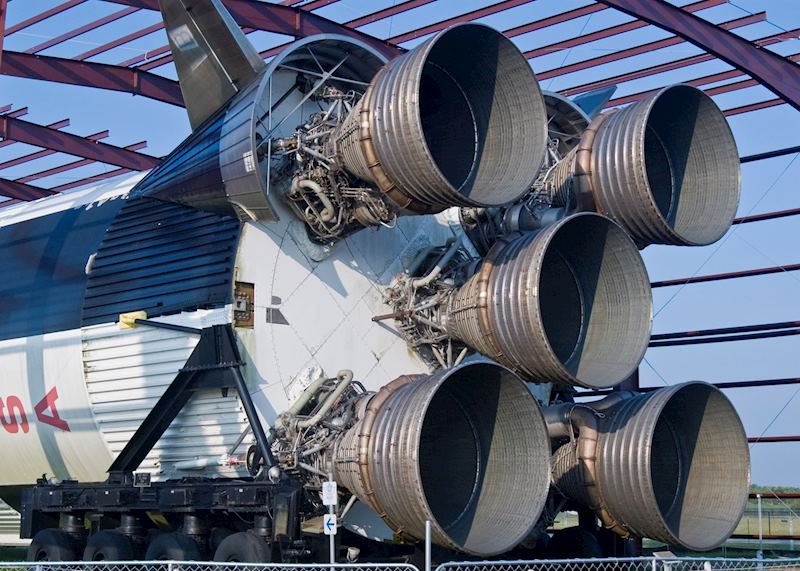 By Alex
If you're into space, a visit to Space Center Houston needs to be top of your list. You can easily spend a whole day in this huge, modern museum, immersing yourself in interactive exhibits and theatre shows related to space travel, browsing galleries brimming with space memorabilia and admiring real-life spacecraft.
That's not all though. If your family are real space enthusiasts, you can join a VIP behind-the-scenes tour of the NASA Johnson Space Center (on the same site). This is where current International Space Station (ISS) missions are managed and astronaut training takes place.
The four-to-five-hour tour includes visiting both historic and current mission control rooms, where you might see staff at work as they communicate with the ISS. You'll also explore Rocket Park, where you'll set eyes on the Saturn V rocket ― the most powerful rocket to have ever flown.
Another option is to have lunch with a real NASA astronaut. They'll share stories from their space explorations, tell you more about life as an astronaut and answer any questions you have as you tuck into a freshly prepared meal. You'll receive a personalised photograph from your astronaut to take home.
How can I do this? Plan a visit to the museum as part of a self-drive trip through Texas, taking in the state's cowboy culture with a ranch stay.
Soaring over the Grand Canyon by helicopter, Arizona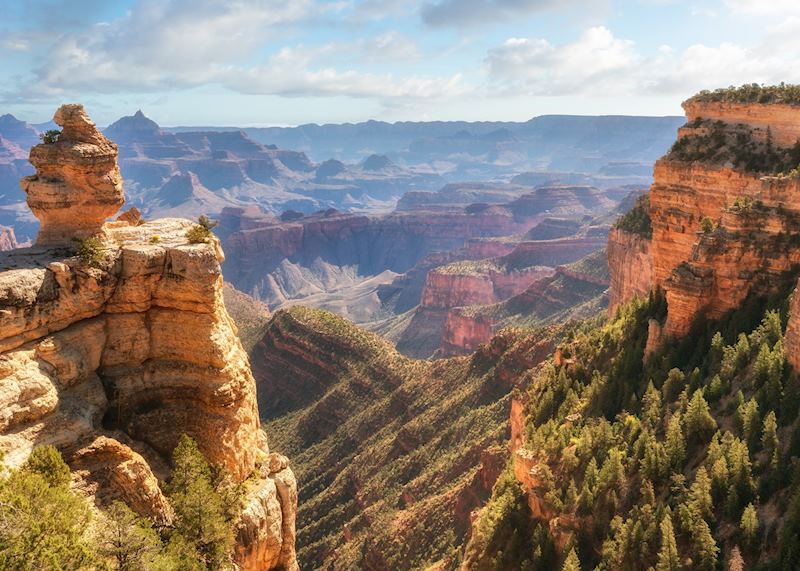 By Hannah
The gargantuan scale of the Grand Canyon is enough to make anyone feel like a small child. While standing on its rim is enough to write home about, you could see the canyon from a bird's-eye perspective by taking a short helicopter flight.
Departing from the town of Tusayan, just south of the popular South Rim, your helicopter flies you over the Kaibab National Forest before propelling you over the edge of the sheer canyon walls.
Looking down, I started to get a sense of just how deep the canyon is, the Colorado River glistening far below.
You pass over the more heavily forested North Rim, which sees far fewer visitors than its counterpart. The highlight, though, is reaching the Dragon Corridor, the widest and deepest section of the canyon.
The flight lasts about 30 minutes, during which your pilot-guide will fill you in on the canyon's geology, pointing out rock features and its wildlife.
How can I do this? Visit the Grand Canyon, as well as the canyons and rock formations of several other national parks, on this 15-day road trip through the USA's west.
A ride on a narrow-gauge railroad, Colorado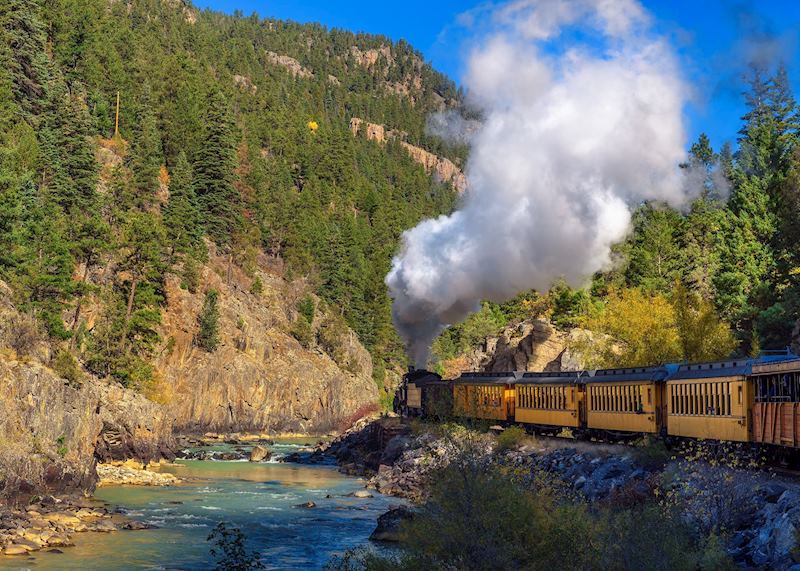 By Alex
The Rocky Mountains are popular with families thanks to the huge amount of outdoor activities you can do there. Hiking, mountain biking, horseback riding and ranch stays are just a few.
The landscape is also a draw, and one of the best ways to take in views over forested mountains and river-carved valleys is by riding the Durango and Silverton Narrow Gauge Railroad. This historic railway was originally laid in 1882 to transport silver and gold mined in the San Juan Mountains, though even then it was used as a scenic route for passengers.
Nowadays, the train steadily climbs through the Weminuche Wilderness, following the course of the Animas River canyon. Sitting aboard, you can take in lofty vistas over the forest-smothered foothills.
While the views certainly impressed me, I loved the atmosphere inside the train, too. On-board narrators dressed in period clothes bring the past to life as they tell you about the railroad's history. They look at the region through the eyes of a real settler of the West, sharing stories about what late 19th- and early 20th-century life was like here.
Between each three-and-a-half-hour leg of the journey, you have a couple of hours to explore the old mining town of Silverton.
How can I do this? Taking this 15-day Colorado trip idea as inspiration, you could spend a day riding the railroad as you loop through the Rockies, beginning and ending in Denver.
Read more about trips to the USA

Start thinking about your experience. These itineraries are simply suggestions for how you could enjoy some of the same experiences as our specialists. They're just for inspiration, because your trip will be created around your particular tastes.
View All Tours in The USA