By Audley USA specialist Emma
In America you can choose to explore the vast outdoor spaces of California's national parks with your family, learn to lasso like a cowboy on a ranch in Montana or soak up the history and culture of the Deep South. While Hawaii shows a completely different side to the country with its laid-back Polynesian culture, volcanoes and beaches, cities like San Francisco present a huge range of family-friendly activities, from museums and city tours to guided bicycle rides.
Although you won't be able to experience everything America offers in one trip (or 20 for that matter), you can still pick an area that really fits with your family's interests.
Recommended experiences for families in the USA
Stay on a traditional cowboy ranch in Montana

A ranch stay in Montana will give your family a taste of the Wild West
If you and your family are looking for that typical Wild West experience, there are a number of authentic ranches in Montana that I think are brilliant for families. They range from working ranches where you can learn to be a cowboy, to more luxurious ranches offering glamping and dedicated staff who ensure that your days are filled with activities matching your family's interests.
My top ranch for families is The Resort at Paws Up in Greenough, which has a really authentic feel as it's set on a working cattle ranch. In addition to typical ranch activities such as cattle driving and horse riding, Paws Up offers quad biking, white water rafting, archery and go-karting, as well as Wild West treasure hunts and horse-drawn wagon rides around the grounds for families.
Day-to-day itineraries can be put together according to your child's age and interests, but you can also dip in and out of activities on an ad-hoc basis. The attentive staff look after everything, including your activities and meals.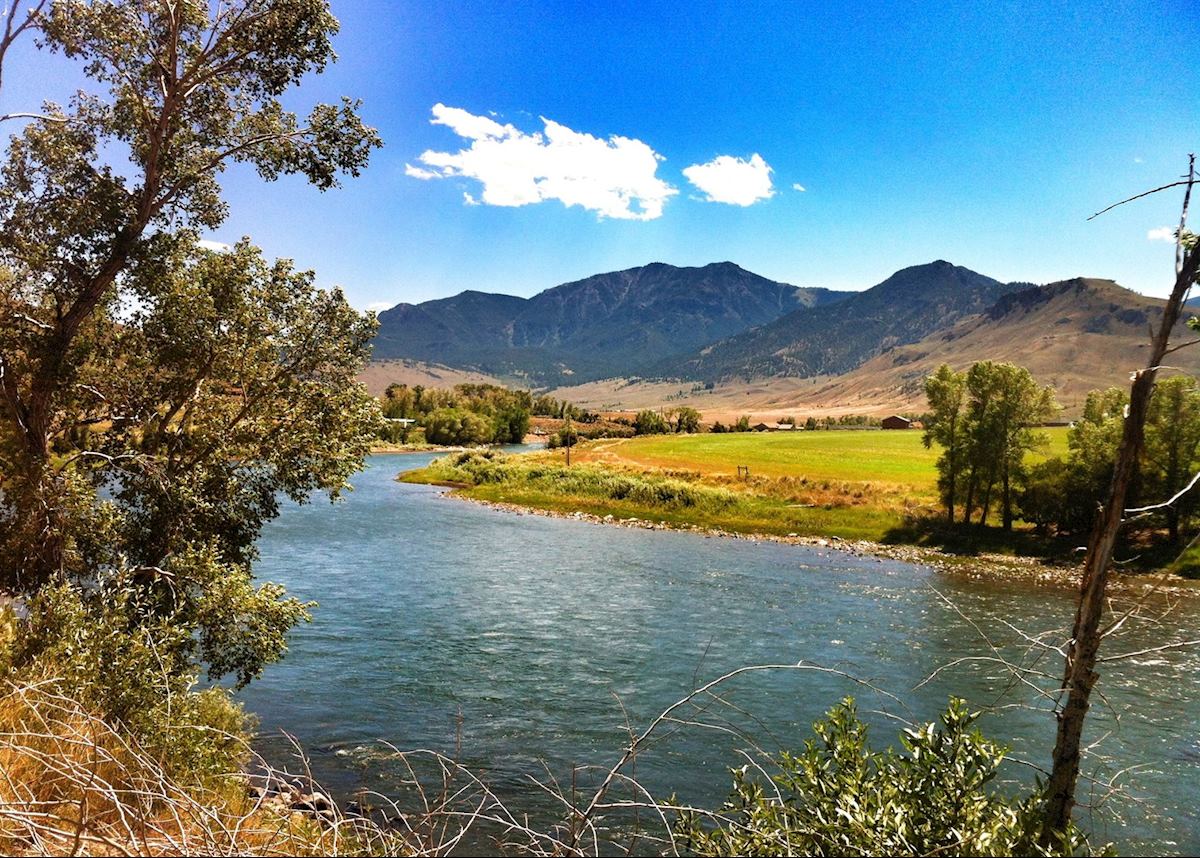 Gardiner in Montana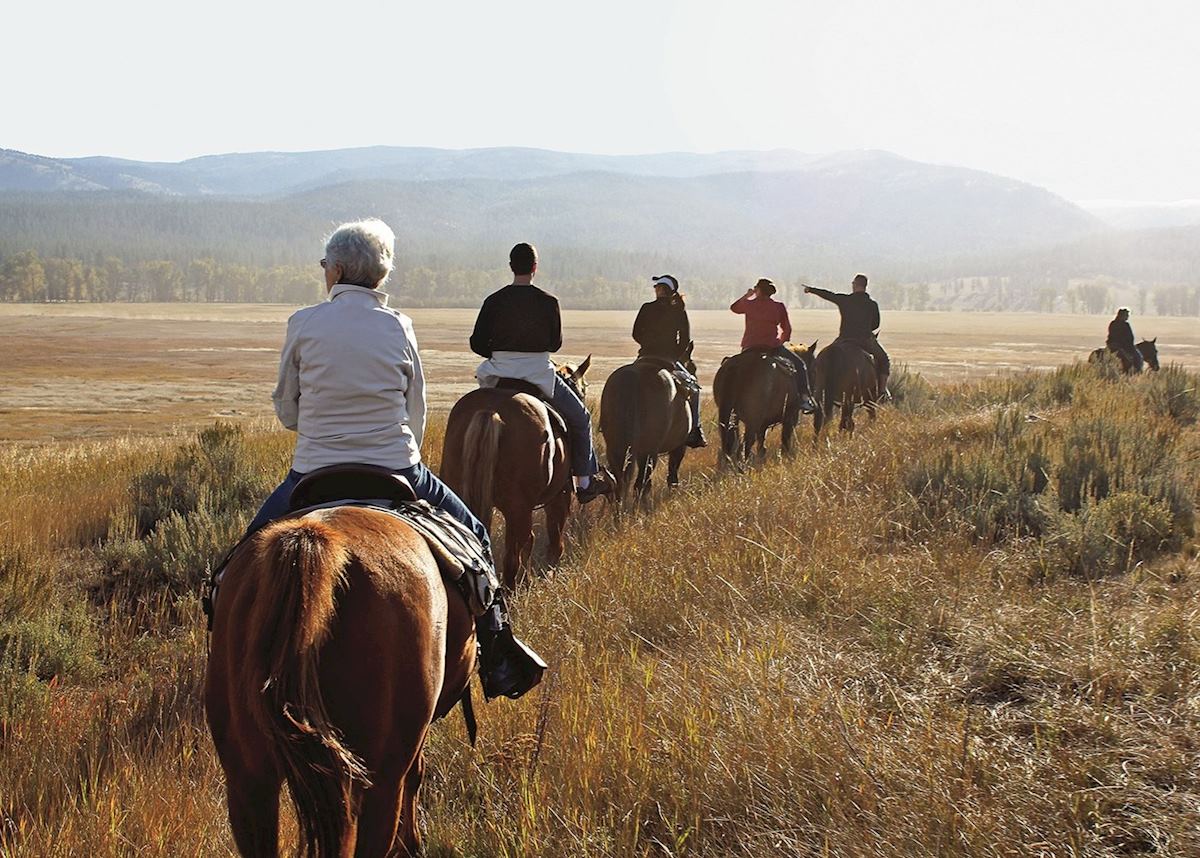 Horse riding from Paws Up
Surrounded by mountains, prairie land, marsh land and forest, Paws Up's vast wilderness setting also attracts a variety of wildlife. You could suddenly spot an elk wandering through the grounds, or head down to the Blackfoot River and see beavers building a dam.
You stay in large en suite glamping tents, featuring one or two bedrooms and native American-style décor, each nicely spaced out for privacy. I found my tent to be more luxurious than many hotel rooms I've stayed in.
I'd say that between three and five nights is a good amount of time to spend ranching. The experience works particularly well when sandwiched between other destinations or activities. Using Paws Up as the example, you could stay there between visiting Glacier National Park in Montana and Yellowstone National Park, which extends into Montana from Wyoming.
Immerse yourself in the Deep South's history and music culture

An American Civil War era cannon overlooking Chattanooga in Tennessee
You can frame an entire trip around exploring the culture of the Deep South - the birthplace of soul, jazz, blues, country and rock and roll music. In Tennessee, Nashville is home to the Country Music Hall of Fame. Western clothes shops and honky tonk bars line the streets, where you can enjoy live country music in an authentic atmosphere. While Elvis' former home, Graceland, is found in Memphis, the home of blues, jazz and rock music.
New Orleans is another city famed for its musical influences, as well as its Creole and Cajun food. The New Orleans School of Cooking offers one-off cooking lessons, which are a fun way to get your whole family creating dishes such as gumbo, jambalaya and pralines. The chefs will teach you the basics of Louisiana cooking while filling you in on the food's historical and cultural roots.
The Deep South's turbulent history makes for an educational trip. There are still a lot of antebellum plantation homes throughout the region that have been standing since pre-Civil-War days. Some are now museums, sharing an insight into the lives of plantation owners and slaves, while others have been restored into historic hotels.
A great option for families is Monmouth Historic Inn in Natchez, which dates back to 1818. Complimentary tours of the inn are offered twice a day to guests, and you can also enjoy horse-drawn carriage rides through the town's historic streets.
Explore Hawaii's beaches, volcanoes and Polynesian culture

The coastal waters of Hawaii are ideal for dolphin spotting
I think Hawaii offers families a completely different experience to mainland USA, both in terms of its culture and landscape. There's a real focus on the ohana ('family') in Hawaiian culture, so you'll feel welcome wherever you go.
Hawaii's six islands that are open to visitors - Oahu, Maui, Kauai, Molokai, Lanai, and Hawaii - provide a wealth of activities for families, from kayaking near waterfalls to snorkeling with manta rays and stargazing on top of Hawaii's highest peak, the dormant volcano Mauna Kea.
An activity that stands out for me is dolphin watching aboard a catamaran. As I sat on the boat's netting, dolphins swam right beneath my feet. I'd also recommend taking a helicopter ride over the crater of active volcano Mount Kilauea, where you can look down and see the lava glowing below you.
Beaches on the islands' south shores are usually more protected, making them the best choice for families. Waikiki, on Oahu's south coast, naturally lends itself to surfing for beginners, but head to the northern beaches and you can watch pro-surfers riding more dramatic waves.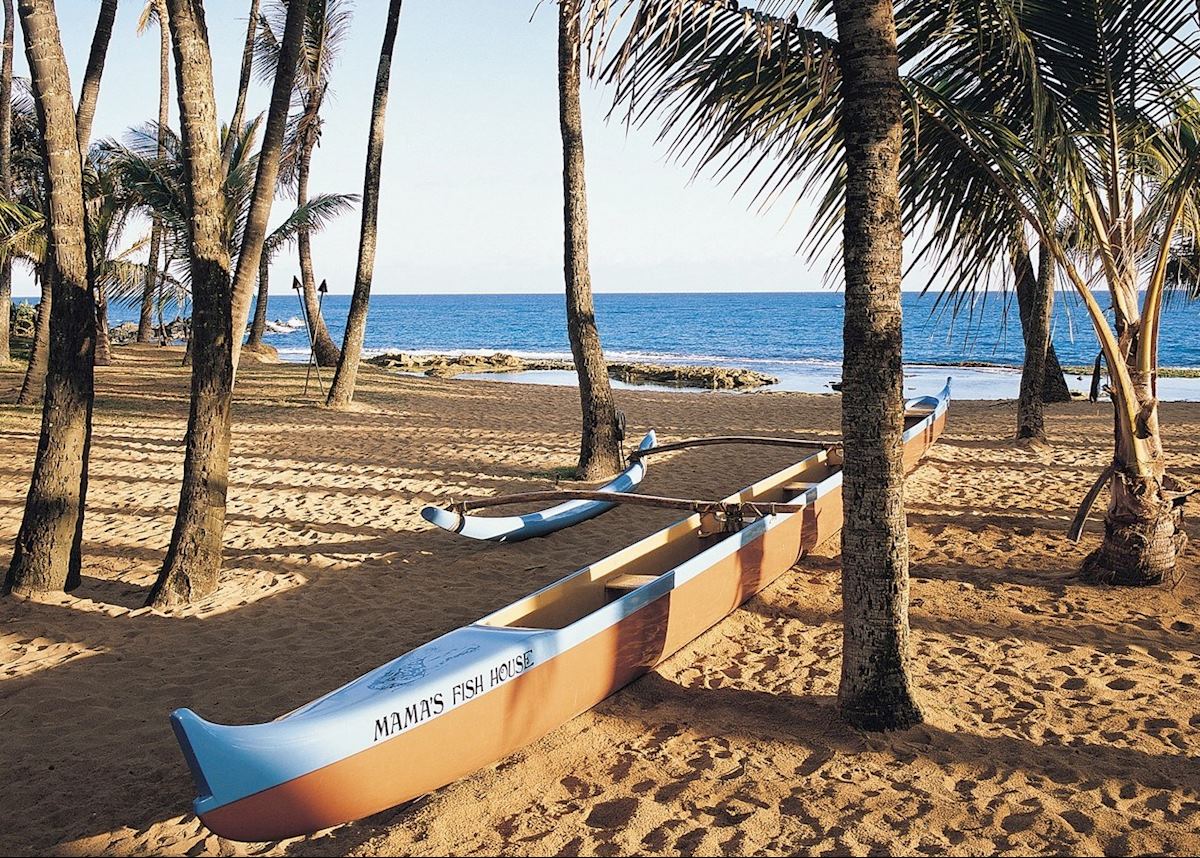 Mama's Fish House Restaurant and Inn, Maui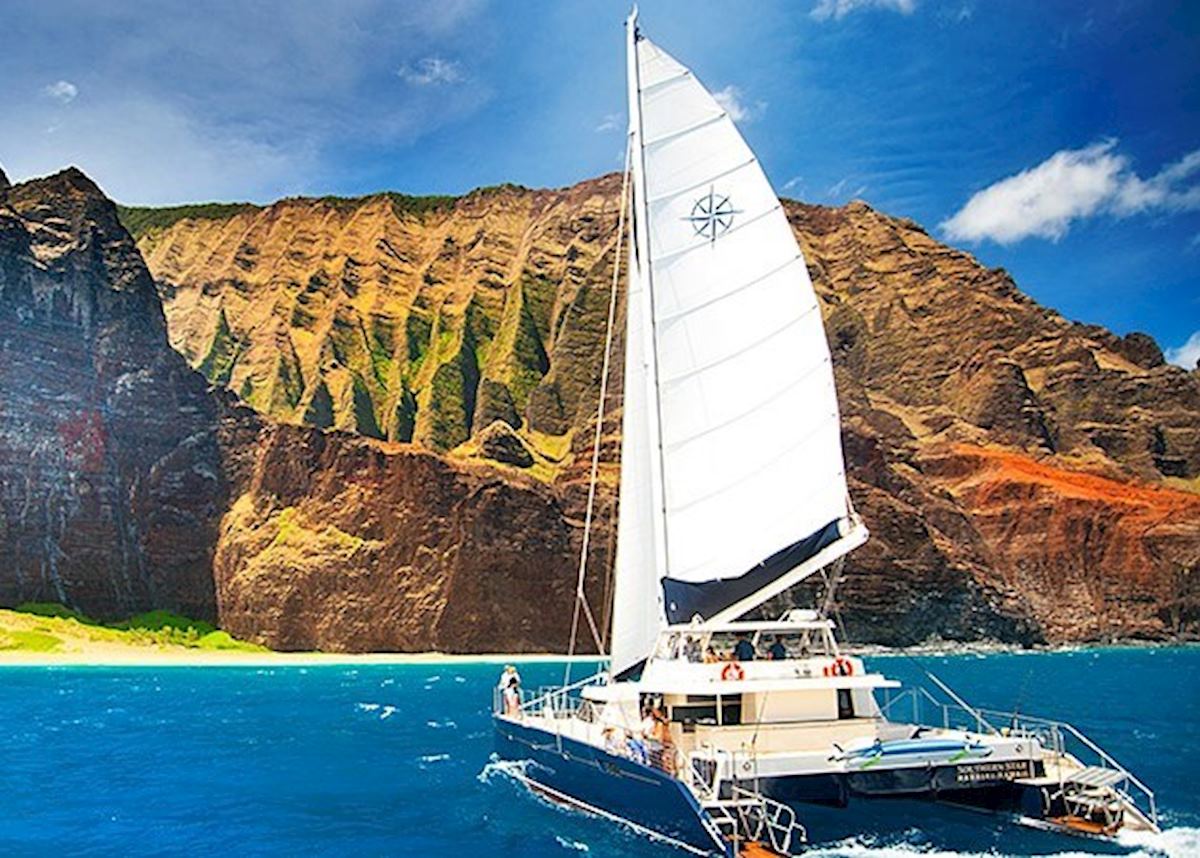 Catamaran off Kauai's coast
Of the beaches, some of my best finds have been those I've stumbled across while driving around. It's easy to drive along the coastline and make spontaneous stops to explore secluded spots.
To dip your toe into Hawaii's rich Polynesian culture, I'd highly recommended taking part in a luau. This is a traditional Hawaiian party with a lively, upbeat atmosphere where the whole family can try the local food while enjoying Hawaiian music and hula dance performances. Many of Hawaii's resorts regularly hold luaus in their grounds or on a nearby beach.
In terms of accommodation, Hawaii offers everything from large resorts with spas and children's programmes to smaller, simpler properties with character. For an authentic stay, I recommend the Inn at Mama's Fish House on Maui. You'll stay in a traditional-style plantation cottage right on the beach, which is built along the lines of a real Hawaiian house.
Take an epic road trip along the USA's West Coast

Yosemite National Park
Great beaches, cities including San Francisco and Los Angeles, and the natural beauty of the national parks make the West Coast an excellent destination for a family road trip.
Despite its reputation for being an adults' playground, I'd still suggest Las Vegas as a good starting point for your family adventure. It offers great value for money and the hotels are often destinations in themselves, with a line-up of live shows, children's programmes and even rollercoasters. Las Vegas is close to several waterparks and theme parks, and the Grand Canyon is near enough for you to visit on a scenic helicopter trip.
After a short stay in Vegas, drive through Death Valley to Yosemite National Park, across a landscape that turns from barren desert to huge mountains, forests and lakes. There are lots of family activities within Yosemite, including zip-lining, rock climbing and guided walks.
From Yosemite, head west to San Francisco via the Golden Gate Bridge. The city is easy to explore on foot or by bicycle, with some guided cycle rides crossing the Golden Gate Bridge. To discover the city's varied cultures, take a walking tour through Chinatown, Japantown and the North Beach area, known as 'Little Italy' due to its historically large Italian population. I'd also recommend a trip to Alcatraz, where you can tour the old prison and learn about the island's varied past.
A great museum for families is the California Academy of Sciences in Golden Gate Park, which is one of the largest natural history museums in the world. It takes a really hands-on approach to learning, featuring special exhibits and events for children using the latest technology, as well as a coral reef aquarium where you can see tropical fish, sharks and rays up close.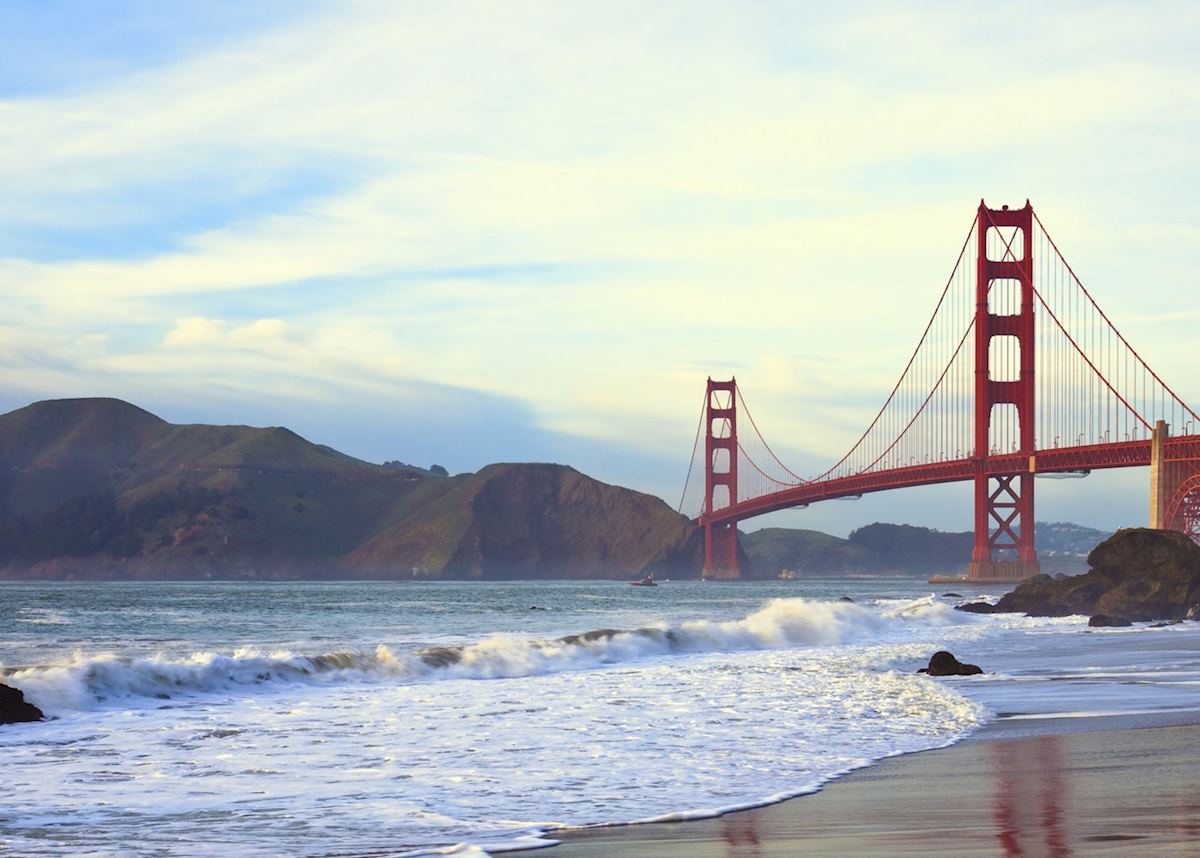 Golden Gate Bridge, San Francisco
I'd then suggest driving down the coast to Monterey Bay. Whale watching trips depart from here and, closer to shore, you can kayak in the bay, where you may spot sea otters.
Further down the coast is the Spanish-style town of Santa Barbara, which has several beaches offering lovely long stretches of sand for sunbathing, swimming, picnics and volleyball. I'd also recommend Santa Monica, a little further down the coast, for its long soft sand beach. Here you can rollerblade along the boardwalk or learn to surf, and it makes a good out-of-town base for driving into Los Angeles to visit Universal Studios.
I'd allow two to three weeks for this trip. Along the way there's a good range of family-friendly places to stay, including spacious cabins and lodges in and around Yosemite and characterful boutique properties along the coast.
A great option for families staying in San Francisco is The Argonaut, a red-brick boutique hotel situated in the city's Fisherman's Wharf area. Its location is reflected in its nautically themed interiors, including a restaurant that feels like a pirate ship with timber floors, braids of rope and mermaid figurines.
Marvel at Yellowstone's wildlife and geothermal activity

Bison grazing in Yellowstone National Park
The USA is very blessed when it comes to national parks, but if I had to choose one it would probably be Yellowstone. Visit it in its own right, or you can combine touring here with a trip to Grand Teton National Park, whose dramatic mountain and lake scenery provides opportunities for walking, fishing, boating and wildlife viewing.
You can explore Yellowstone by following the 142-mile (229km) Grand Loop Road, which runs in a figure of eight and is best enjoyed over several days. The road is dotted with visitor centres and scenic boardwalks where you can get out of your car and safely walk past bubbling mud pits and steam vents, examples of Yellowstone's geothermal activity.
The northern half of the loop holds the greatest concentration of wildlife, including grizzly bears, bison, moose, beavers, bald and golden eagles, and grey wolves. Animals can sometimes block the road, which at the expense of adding a little time to your journey creates unexpected close-up views and photograph opportunities.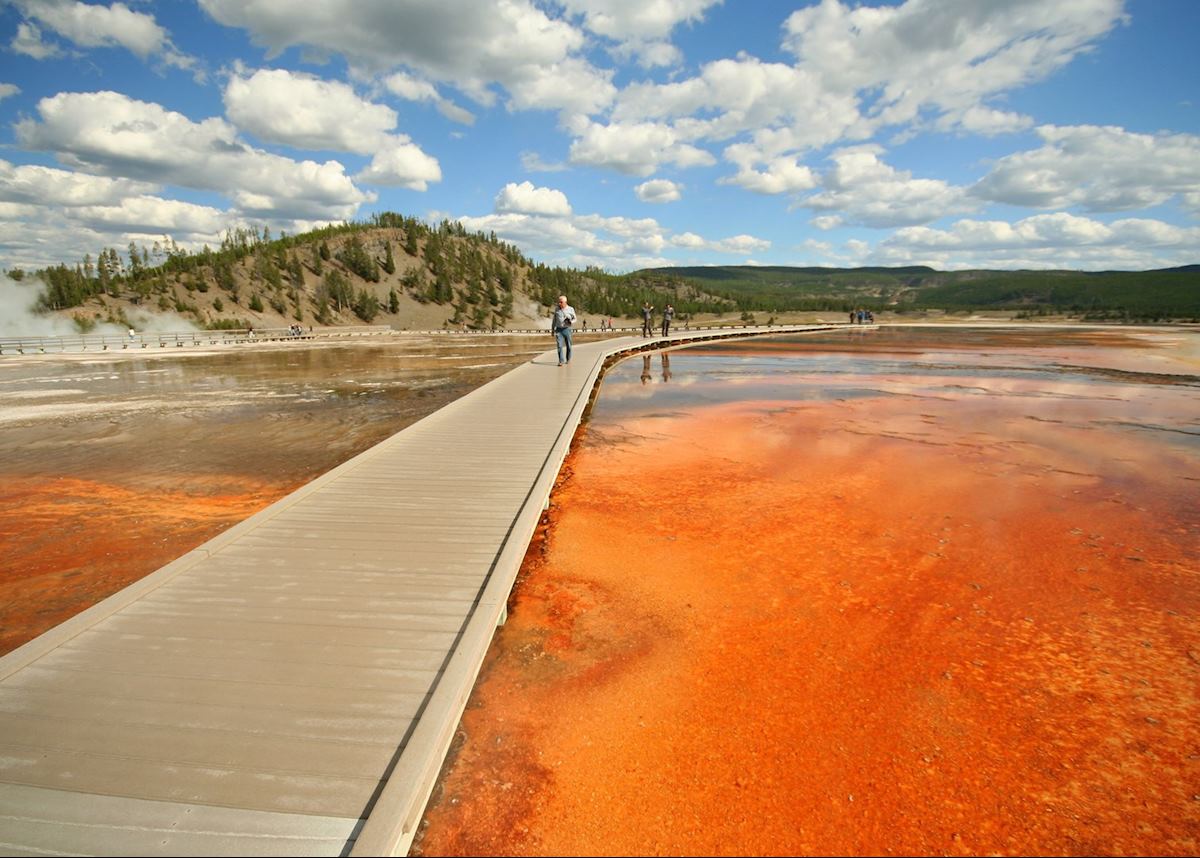 Midway Geyser Basin in Yellowstone National Park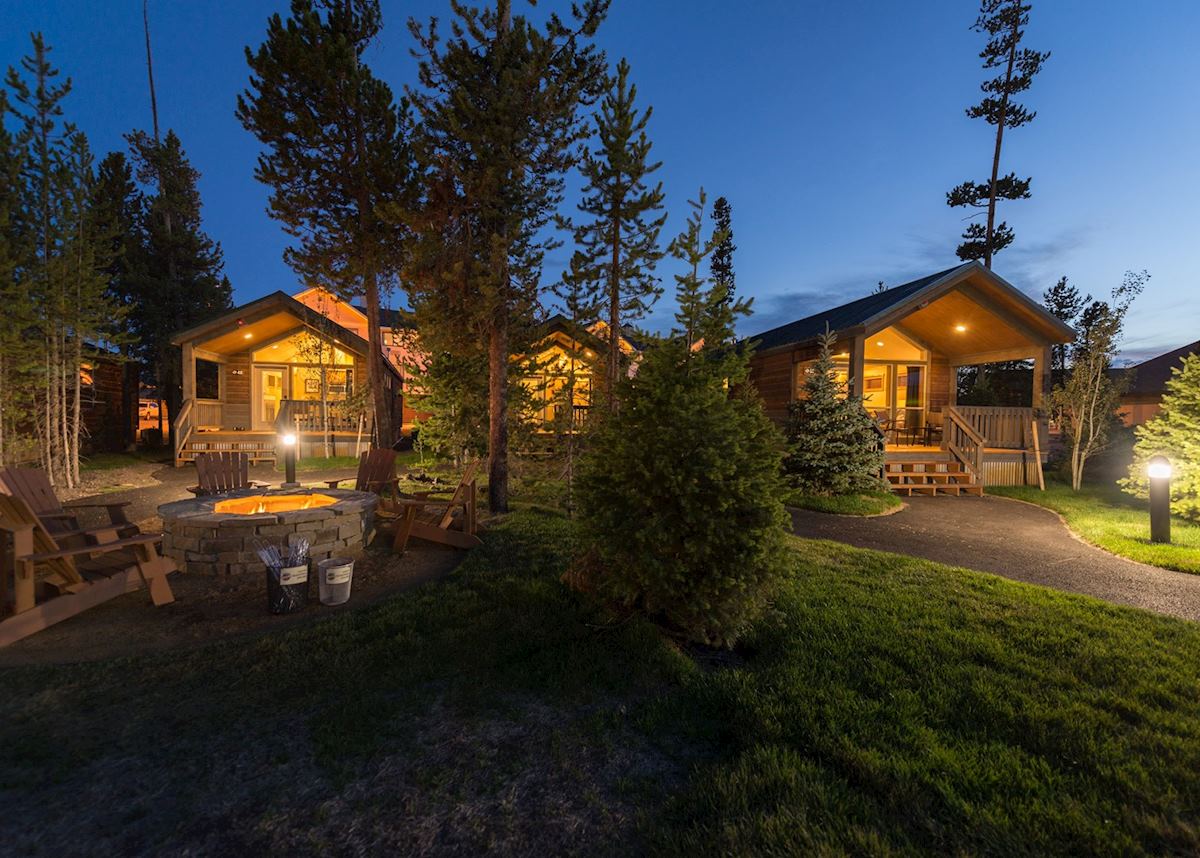 Explorer Cabins in Yellowstone National Park
The southern loop contains most of the park's geothermal features, including the Old Faithful geyser. Named for its regular and predictable eruptions, it causes a stir every 90 minutes when it spurts boiling water around 135 feet (41m) into the air.
I also recommend stopping at Grand Prismatic Spring, the park's largest hot spring. Despite the sulphurous, rotten-egg-like smell, you can't help but admire the spring's vibrant yellow, orange, green and blue rings and rainbow-hued steam.
Yellowstone Lake is also a beautiful place to stop along the Grand Loop Road's southern section, especially if you and your family are interested in birdwatching, fishing or enjoying a peaceful boat ride.
As most accommodation inside the USA's national parks is government-owned, the options tend to be fairly basic and with, at times, indifferent service. That's why I'd point you to staying somewhere a little outside the park.
Explorer Cabins at West Yellowstone is a great choice for families. It's situated around half an hour's drive from the park's west entrance in a quiet area of the town of West Yellowstone. The modern wooden cabins are spread across five different camps, so they feel more intimate. They feature bunks and sofa beds for the children, as well as a kitchenette to give you the choice to self-cater, although there's a restaurant on site.
The grounds also have a pool and your cabin comes with its own outdoor fire pit (I heartily suggest using it in the evening to toast s'mores - marshmallows and chocolate sandwiched between crackers).
Eating with your family in the USA

Good seafood is easy to find in coastal areas
The food in the USA ranges from inexpensive fast food to some of the finest cuisine in the world, with prices to match. There's much more to American cuisine than the stereotypical 'burgers and fries' – you can enjoy fresh seafood such as lobster, crab and fish chowders on the coast, Cajun dishes and jambalayas in the Deep South, Spanish and Mexican cuisine in the southwest and hearty steaks throughout the country.
The mix of cultures in the USA is reflected in the variety of cuisines in the larger towns and cities, from Chinese and Japanese to Italian.
Best time to visit the USA with your family

Paddle boarding is just one of many family water sports you can try in Hawaii
You can travel to the USA at any time of year, although Christmas can be a busy time and many national parks close over winter. For families, it makes an excellent destination during the Easter and summer school breaks.
Practicalities:

The national parks on the USA's West Coast are ideal for family days out
The USA is really easy to get around by car, as all the signs are in English and the roads are generally well-maintained. For families in particular, it's important to ensure you have enough luggage space in your car, and it's best to plan a trip with plenty of stops to stem any boredom caused by long drives.
However much time you have for your trip, the USA can cater for it, from long-weekend city breaks in New York to month-long road trips around the West Coast.
Start planning your family trip to the USA
---
Start thinking about your experience. These itineraries are simply suggestions for how you could enjoy some of the same experiences as our specialists. They're just for inspiration, because your trip will be created around your particular tastes.