By USA specialist Franki
The US's Southwest region is best known for its dramatically varied landscapes: the burnt-orange tones of weathered cliffs, the evergreen of forest-blanketed canyons, the snow-dusted peaks in winter, and in contrast, the glitzy skyline of Las Vegas rising from the scorched Mojave Desert.
Whenever I've visited, I've been struck by the gigantesque nature of this region — one that's been home to Indigenous peoples long before Europeans came and claimed the land as their own. So, it's here that you can witness the Earth's ancient beauty while learning from — and giving back to — the communities who've lived there for centuries.
From Navajo-operated tours of towering slot canyons to art markets brimming with authentic Native American crafts, a trip to the Southwest gives you the opportunity to dig deeper into the history and cultures of what's now known as the USA. Here are some of my highlights.
Slot canyons & Indigenous dinner performances in Page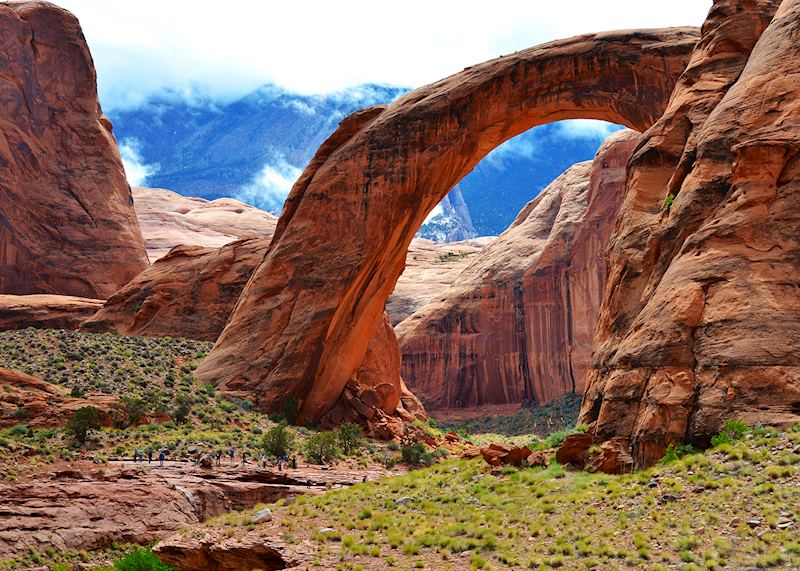 Page is known for being a photographer's paradise, with its snaking Horseshoe Bend curve in the Colorado River and ribbon-patterned slot canyons. But there's ample opportunity to learn about local Indigenous culture and history here, too. In fact, much of the surrounding land belongs to the Navajo Nation as part of their wide-stretching reservation, and I learned that Navajo people call themselves 'Diné', meaning 'The People'.
Antelope Canyon is on Navajo land and is typically the star of the show during a trip to Page. It's a maze of water-eroded sandstone rocks with swirling, multi-hued patterns. Although the walls look silky smooth in photos, they're actually quite grainy and rough to the touch, a bit like sandpaper. And yet, with the light bouncing off them, they almost look molten.
This particular canyon can get quite busy, so if you want similarly striking scenery without the crowds, you can take a Navajo-operated tour of the nearby Horseshoe Bend Slot Canyon, aptly nicknamed 'Secret Canyon' due to it seeing far fewer visitors.
To add to the solitude of this tour, your guide will play a reverberating Navajo flute melody as you wander through the rocky labyrinth. Then, they'll drive you out toward a private viewpoint overlooking Horseshoe Bend where you can soak in the crater-like landscape that cradles the Colorado River with few others around.
Rainbow Bridge National Monument, one of the world's largest natural bridges and a spiritually significant landmark for many Indigenous peoples, is also close by. The water levels at Lake Powell will determine if you can reach the monument, but if you're lucky enough to visit when they're high, you can spend a while gazing at the giant red-rock arc as it joins forces with the still water below to form a perfect oval.
Once you've explored the natural wonders of Page, I recommend heading to the Red Heritage Indigenous dinner performance in the evening. After you tuck into frybread and chilli, listening to tales of the Navajo people's struggles and triumphs, the dancers will take to the stage in their brightly patterned ceremonial dress. Thumping drums set the pace for each powerful movement that follows, and framed by vivid lighting, the atmosphere is electric.
Tour of Monument Valley Navajo Tribal Park
I remember catching my breath the first time I saw the three isolated sandstone buttes rising from the vast dusty red sands in Monument Valley Navajo Tribal Park. It felt familiar and otherworldly at the same time — these landscapes are regularly portrayed in Wild West movies, but actually being there was something else. I felt minute in comparison to the seemingly endless baked desert that stretched out ahead of me.
The Anasazi were the first known people to settle on the land in around 1200 BC, and now it's occupied by the Navajo Nation. So, while you can drive around the park by yourself, I always recommend exploring with a Navajo guide. You'll learn much more about the park's Indigenous history and cultural significance that way — and you'll get to explore parts of the reserve usually closed off to the public.
One of the highlights for me was getting to go inside a hogan, a traditional Navajo dwelling. From the outside, it looked inconspicuous, like a mound of earth that had been smoothed just a little too perfectly by the wind and rain. But upon entering, it revealed an intricate juniper-log framework that reveals the natural wood grain.
Inside, there was a wooden loom holding the beginnings of a striped rug and, on the wall, a framed vegetal dye chart. Behind the glass, I could see a collection of dried native plants, each paired with a different section of a miniature woven rug to indicate the shade it creates on the fabric. My guide told me that Navajo people have been using natural pigments to dye wool for centuries.
To learn even more about Navajo customs, I suggest staying for a sunset tour. You'll be treated to a campfire celebration of dancing, drumming, and storytelling under a blanket of twinkling stars. The stark desert landscape contrasting against the rainbow of traditional regalia sets the scene for an evening of cultural immersion and learning that's hard to replicate in a museum.
Sinagua dwellings & rock art in Sedona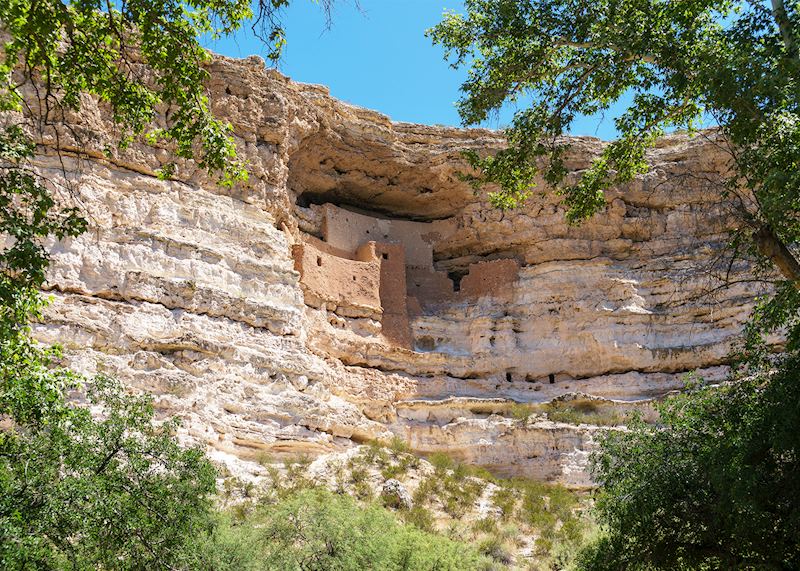 The desert town of Sedona is next on my list. Here, you can take a 4x4 off-roading trip with a local historian to the cliff-dwelling ruins of Honanki Heritage Site. Built by the Sinagua people 700 years ago, the pictograph-decorated buildings give you a glimpse into the lives of these early inhabitants, who occupied the area for around 200 years. While the rock art is still so clear that it looks freshly painted, the Sinagua people's disappearance from the region remains shrouded in mystery.
Just south of Sedona in Camp Verde, you'll find more Sinagua ruins protected by Montezuma Castle National Monument. Set back in a natural limestone alcove high above the flood-prone ground, the ruins are made up of about 20 rooms across five levels. Multiple families would have occupied these buildings, so it's sometimes described as a 900-year-old apartment block.
There are no guided tours of the monument, but its visitor center gives ample information to spark your curiosity, along with stone tools, mosaic pendants, and near-complete baskets that were found at the archaeological site long after the residents left.
Once more, the Sinagua people migrated away from these dwellings for unknown reasons. But whatever their past or present, seeing their work in person is a reminder of the Indigenous presence that endures across the Southwest.
Native American crafts in Phoenix
If you're heading to Phoenix, I recommend visiting the Native Art Market in Scottsdale, just 30 minutes from the city. It's the first Indigenous-owned arts market in the area, platforming the crafts of more than 200 Native artists from across the country.
There, you'll find turquoise clam-shell necklaces, kaleidoscopic beaded bracelets, Arizona red-clay soaps, hand-carved pottery, and more — a worthy destination to purchase a souvenir or two before your onward travels.
Advice for visiting Native American land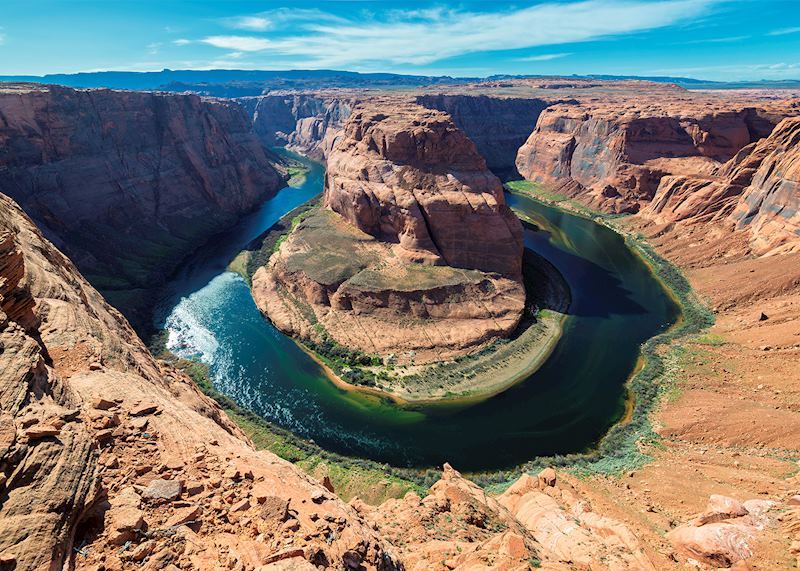 Spend time learning about the people who first inhabited the land you're visiting and the sovereign nations that govern them now.
Adhere to the laws of the tribe or nation that governs the land, in addition to any federal laws.
Get permission before taking photos of people or cultural events.
Don't take any rocks or artefacts from the land, no matter how small. Stay on marked trails, admire the wildlife from afar, and dispose of waste properly.
Ask your guide questions to find out more about the Indigenous history of the land.
Support Native American businesses where possible, for example when choosing souvenirs.
Read more about trips to Southwest USA

Start thinking about your experience. These itineraries are simply suggestions for how you could enjoy some of the same experiences as our specialists. They're just for inspiration, because your trip will be created around your particular tastes.
View All Tours in The USA