The best time to visit New England depends on what you want to do while you're there. There are four distinct seasons, each one bringing its own touch to the region.
We particularly recommend visiting during spring. The thawing spring temperatures bring wildflowers, and baseball when Boston's Fenway Park opens. Many beaches also open for the season.
The summer months are ideal for a family trip. From June to August, you can expect temperatures exceeding 30°C, ideal for sailing and island-hopping in Cape Cod.
Inland, in the mountains of Vermont and New Hampshire, the New England autumn blankets the landscape in rich, warm tones as the leaves change. Harvest time happens in September and October, when farms produce apple cider. These months also offer the best whale watching off the Massachusetts coast.
Creating tailor-made tours for over 25 years

Excellent
TrustScore

4.8 | 3207 reviews

Month-by-month guide for travelling in New England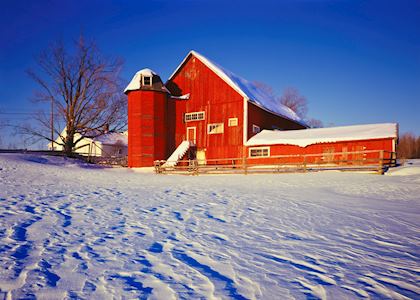 Visiting New England in January - March
The harsh winter months see many coastal resorts shut down entirely, but the mountainous areas of New England attract visitors with a host of winter sports. Vermont is the best-known state for skiing and is home to a wide variety of resorts, from the powdery snow of Jay Peak to the family-friendly Okemo Mountain. New Hampshire also draws in many East Coast skiers.
Events & Festivals
Saint Patrick's Day on 17th March is a public holiday that can take over Boston — some 20% of its residents claim Irish heritage. A parade is the focal point of the celebrations.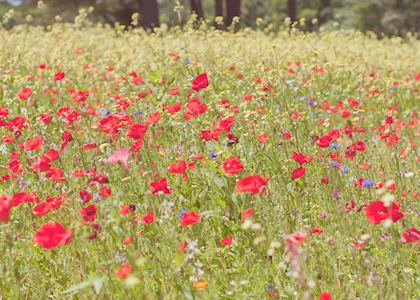 Visiting New England in April - May
Spring breathes new life into New England, with wildflowers blossoming in the mountains and warming temperatures brightening up the coastline. New Hampshire and Vermont are the main beneficiaries of springtime: alongside the flowering landscape, the maple trees enter their sugaring season. In Boston, baseball fever sparks into life in April as the city's beloved Red Sox begin their gruelling 162-game season.
Events & Festivals
The Boston Marathon, which has been running since the late 1800s, takes place on Patriots' Day (the third Monday in April). Now attracting half a million visitors, the event's recent history has tightened the city's bond with the race and made it a poignant reminder of Boston's resilience.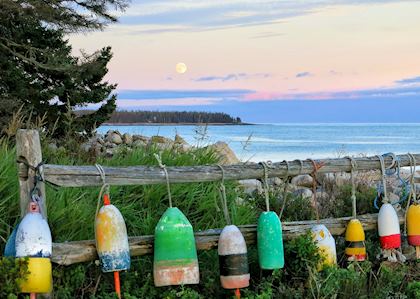 Visiting New England in June - August
The summer months are one of the two peak seasons in New England, when the entire region is in its element as temperatures soar. Visitors can enjoy fully the area's scenery, from glacial lakes and mountains to the coast and its pristine beaches. Summer is a great time for families to visit, with a plethora of activities to choose from, although this is one of the busiest times of year. For more seclusion, Bar Harbor in Maine is the launch point for the Acadia National Park, where the majority of the state's 75,000 moose live along with 40 other wildlife species.
Events & Festivals
Tanglewood — every summer, the Boston Symphony Orchestra relocates to the countryside of the Berkshires and holds a series of concerts on the Tanglewood Estate. One of the best-known classical music festivals in the USA, it typically begins in mid-June.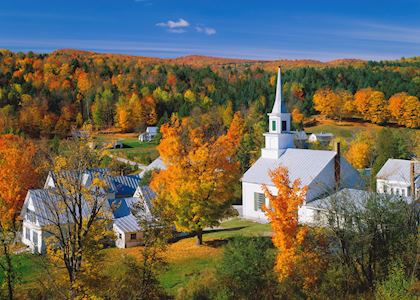 Visiting New England in September - October
New England's second peak season is autumn, when the shift to cooler temperatures sets off the glorious fall displays. From mid-September to October, the blanket of reds and golds descends from Canada and falls across New England like a curtain, drawing a huge number of 'leaf peeper' tourists. The window for seeing the foliage is quite narrow, and New England's small inns book up many months in advance. The cooler temperatures lend themselves to walking and hiking, and you can also head to Provincetown for whale watching as the cooling Atlantic Ocean pushes whales closer to the shoreline.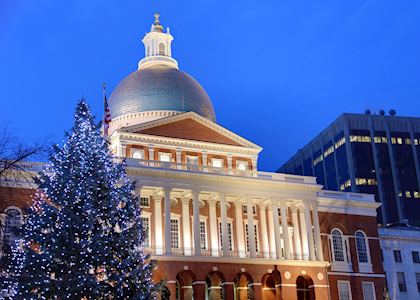 Visiting New England in November - December
The end of October signals the end of the travel season in New England, and many hotels and inns close up until the end of the year. Thanksgiving typically signals the start of ski season in Vermont and New Hampshire, though the snowfall can be patchy.
Events & Festivals
Thanksgiving Day, taking place on the fourth Thursday in November, is the busiest travel day in the USA as the majority of the country heads home for this public holiday.
New England Climate Guide
Destination
Jan
Feb
Mar
Apr
May
Jun
Jul
Aug
Sep
Oct
Nov
Dec
Bar Harbor

-1°C

110mm

0°C

95mm

5°C

103mm

11°C

107mm

17°C

103mm

23°C

83mm

26°C

81mm

25°C

76mm

20°C

100mm

15°C

106mm

8°C

141mm

2°C

132mm

Boston

2°C

96mm

3°C

93mm

8°C

100mm

14°C

95mm

20°C

89mm

25°C

83mm

28°C

79mm

27°C

89mm

23°C

88mm

17°C

90mm

11°C

113mm

4°C

105mm

Falmouth

3°C

99mm

4°C

97mm

7°C

105mm

12°C

105mm

18°C

96mm

23°C

79mm

26°C

76mm

26°C

101mm

22°C

90mm

17°C

92mm

11°C

118mm

6°C

113mm

Martha's Vineyard

3°C

99mm

4°C

95mm

7°C

104mm

12°C

103mm

17°C

96mm

23°C

79mm

26°C

75mm

26°C

99mm

22°C

89mm

17°C

91mm

12°C

115mm

6°C

112mm

Newport, Rhode Island

3°C

98mm

4°C

94mm

8°C

107mm

13°C

103mm

18°C

92mm

23°C

78mm

27°C

76mm

26°C

95mm

23°C

89mm

17°C

86mm

12°C

116mm

6°C

112mm

North Conway

-2°C

85mm

0°C

84mm

5°C

90mm

12°C

100mm

20°C

100mm

25°C

100mm

27°C

97mm

26°C

101mm

21°C

86mm

15°C

101mm

7°C

120mm

0°C

111mm
Why travel with Audley?
100% tailor-made tours
Fully protected travel
Established for over 25 years
98% of our clients would recommend us Travel advice
Practical tips for travelling to New England, from social protocols to guidance on money matters, with a link to the latest government travel advice.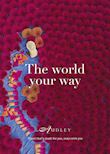 Request our brochure
Covering all seven continents, The world your way shows you how you can see the world with us. It features trip ideas from our specialists alongside hand-picked stays and experiences, and introduces our approach to creating meaningful travel experiences.
Trip ideas and travel guides for exploring New England