South Africa is where I was born and raised. I frequently went on game drives with my grandparents, who lived close to the Kruger National Park, where we saw a variety of animal species. One of my favourite memories is waking up at the crack of dawn, climbing into a safari truck and driving through the game reserves while admiring the beautiful sunrise.
In summer, I frequently travelled along the Garden Route, which involved indulging in wonderful wines in Franschhoek, in the Winelands, before heading through mountainous and coastal regions with some of the most breathtaking whale watching opportunities.
I'm excited to share my love of travel — and now, as an expert on South Africa — I want to share this knowledge to clients who want to visit and experience what this stunning nation has to offer.
Speak to Robyn

Start planning your trip to South Africa with Robyn
Q&A with Robyn
What's the best local dish you've tasted?
One of the most widely consumed dishes in South Africa is a potjiekos, which my family especially enjoys. Traditionally, it's a three-legged iron pot that's set over an open flame. It contains beef as well as vegetables such as carrots, pumpkin and parsnip, as well as various African spices. Game is frequently the chosen meat, although it can also be prepared with chicken or lamb, and it's normally served with potatoes or rice. My favourite aspect of potjiekos is the slow cooking, which causes the meat to slip off the bone and release the flavour of those African spices. I frequently return for second or even third helpings.
What's your most vivid travel moment?
I was in East Africa on a game drive when I was surrounded by nothing but wildlife and vegetation. An abrupt low rumbling sound suddenly filled the air as we came to a stop for a little rest. The safari guide politely asked us to pause and pay attention while we were all quiet. The grumbling grew louder. In less than five minutes, a pride of about 15 lions emerged from the bush. They brushed passed our vehicle on their way to a nearby watering hole. Never in my life have I felt so ecstatic.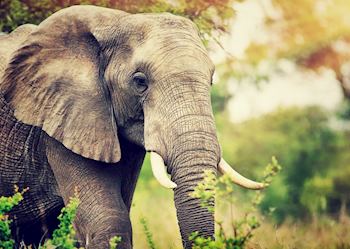 Which book, film or artwork captures Africa the most?
My interest in African wildlife was sparked in my university years by reading Lawrence Anthony's 'The Elephant Whisperer'. Based on a true story, South African wildlife conservationist Lawrence Anthony agreed to allow a herd of "rogue" elephants to live on his game reserve. He understood that they would be killed if he did not accept them. The remarkable narrative details Anthony's encounter with the distressed elephants, how he came to understand their value, and how he eventually became connected to them. The herd, according to Anthony, taught him a lot about life, loyalty, and independence. As an admirer of wildlife, I was impressed by the lessons learned about life from forming relationships with these extraordinary animals.