The Garden Route is one area of South Africa that most people have heard of, even if they are not sure what it is. It is a stretch of coastline, perhaps 186 miles (300 km) long, which is one of the most scenic areas of the country.
Its beauty and accessibility have led to some development, but there are still miles of white sand beaches, glassy lagoons crossed by low bridges, hillsides covered in vast indigenous forests laced with a network of forest trails.
To get around you have the choice of the N2 highway, which allows you to quickly cover the length of the Garden Route, or a network of beautiful back roads through the forests and over picturesque mountain streams.
Knysna is in the centre of the region, lying on the shore of an attractive lagoon, or you may prefer to base yourself in Wilderness, on top of a sand dune with uninterrupted views of the ocean, or it may be that Plettenberg Bay is more to your taste, perched on a cliff over a sweeping bay populated with iconic surfing dolphins.
Activities range from ocean safaris to journeys on picturesque steam trains and visits to wildlife sanctuaries or eco-ventures.
Close to both the Karoo and the Eastern Cape game reserves, the Garden Route is the hub for many people's South Africa self-drive holiday.
Highlights of the Garden Route & Eastern Cape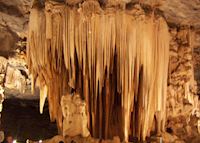 Oudtshoorn & Cango Caves Tour
This taster to the Karoo Desert is a beautiful place, not quite as harsh or barren as the Karoo, but still stark and impressive. The climate proved ideal for rearing ostriches, and thanks to the Victorian craze for ostrich feathers, the town of Oudtshoorn flourished.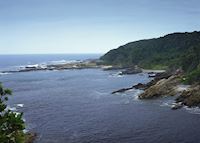 Tsitsikamma Forest Trip
At the eastern end of the Garden Route, and easily accessible from any of the Garden Route destinations, is the Tsitsikamma Forest, a dense cloak of deep green that coats the mountains.
De Hoop Nature Reserve
Spend a day walking in the De Hoop Nature Reserve. Grassy sand dunes lead down onto a long white sand beach where you can see whales breaching in season (July to November).
Some of our favourite places along the Garden Route & Eastern Cape
Great places to stay in Madikwe & the North