By Audley safari specialist Cara
I can honestly say that following the Garden Route is one of the best ways to introduce yourself to South Africa. It's also versatile enough to revisit a second or even third time. Along its 300 km (186 miles), you pass through mountains that sink into desert. You can wander through indigenous forests running with waterfalls and rivers. And, you can pause to take in wave-lashed coastlines punctuated with wide sweeps of sand.
That's without mentioning the activities you can do along the way, from kayaking, cycling and caving to coastal walks and whale-watching boat trips.
You can bookend your journey with visits to the Western and Eastern Capes, beginning in Cape Town and ending with a Big Five safari in an Eastern Cape game reserve.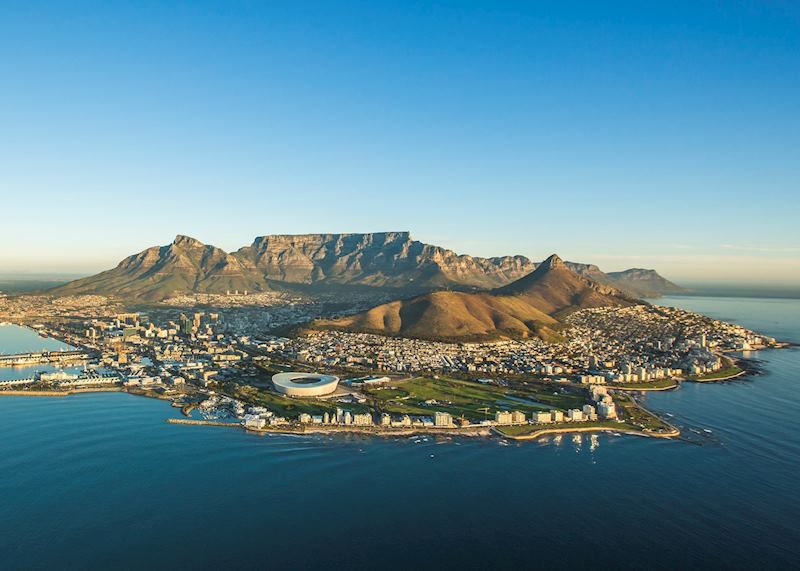 Things to see and do along the Garden Route
Before you begin… visit the Western Cape
Flying into Cape Town, you could spend the first few days of your trip exploring the Western Cape before setting off along the Garden Route.
Aside from Cape Town itself, you're just an hour or so away from the Cape Winelands, where you can tour vineyards to sample the region's finest wines. You'll also find excellent food in the towns of Franschhoek and Stellenbosch (the latter is the country's second-oldest town).
An hour and a half's drive from Cape Town is Hermanus, known as South Africa's whale-watching capital. Between June and October, you can head out on boat trips to see migratory southern right whales, or even spot them from the coastal path that winds along the cliffs of Walker Bay.
Swellendam: the gateway to the Garden Route
Drive an hour and a half east of Hermanus, or two and a half hours east of Cape Town and the Winelands, and you reach Swellendam. This small, unassuming town is one of the oldest Dutch settlements in the country and still has examples of Cape Dutch architecture. A couple of museums document the town's history, but really your stay here is about relaxing and exploring the surrounding countryside.
You could visit the nearby Bontebok National Park to stroll among protea-studded countryside, joined by herds of bontebok antelope. Or, drive south to the De Hoop Nature Reserve. In this unspoiled coastal reserve you can cross wind-whipped sand dunes topped with coarse grasses and admire the endemic fynbos growing here. And, from rocky clifftops, watch southern right whales breaching the waves (June to November).
Where to stay in Swellendam
I like Rothman Manor. Its three whitewashed Cape Dutch cottages are set on a country estate, offering just six rooms. Each balances period features and African artwork with contemporary furnishings. Outside, zebra and springbok graze in the paddock and you can cool off in the saltwater pool.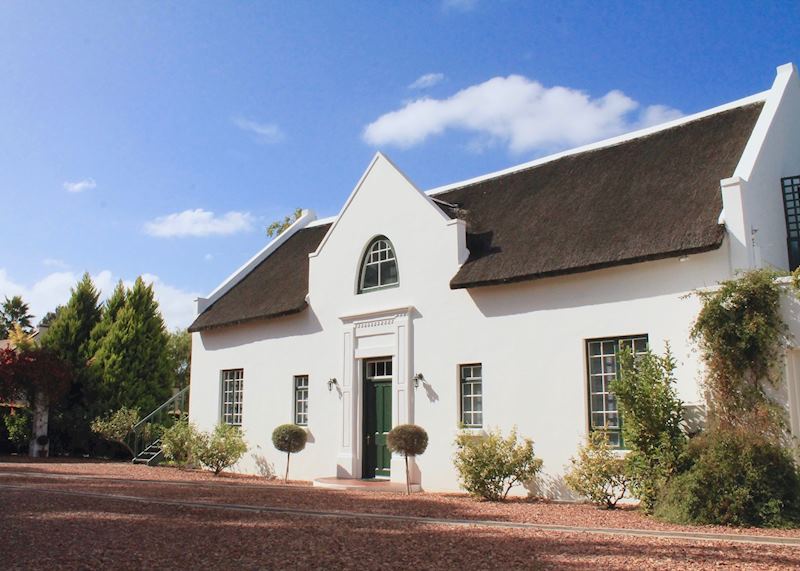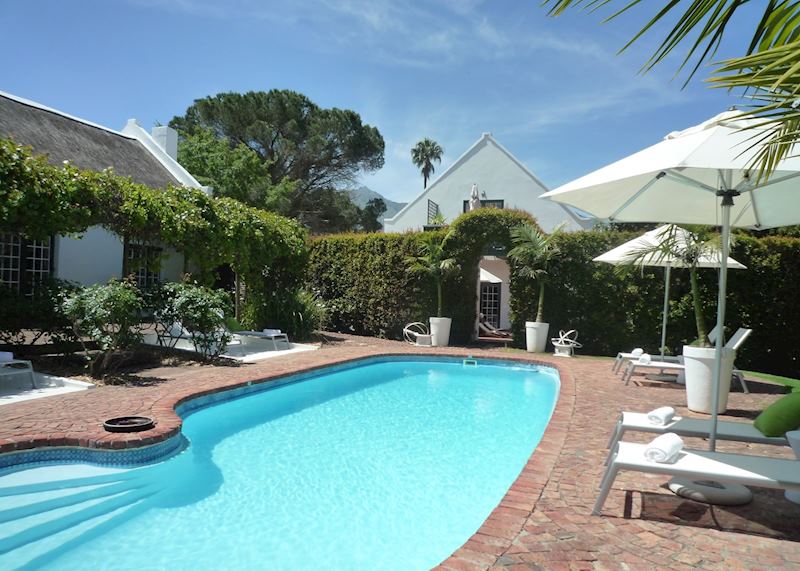 Swellendam to Knysna via Oudtshoorn and Route 62
Driving distance: 220 km (135 miles)
While you can opt to drive straight from Swellendam to Knysna along the N2 highway, if you have the time I recommend taking the leisurely two-and-a-half-hour scenic route up to Oudtshoorn along Route 62. This is revered as one of the country's most scenic drives, winding up mountain passes that curve to reveal views over hills and valleys. I couldn't help pulling over several times to take it all in.
As you venture farther north, the Langeberg Mountains flatten out and greens fade to golden browns. You're on the edge of the Great Karoo, an open, semi-desert landscape deprived of water by the mountains. Away from the coast, and well known for its arid climate, this is usually the hottest, and most starkly contrasting, part of your trip.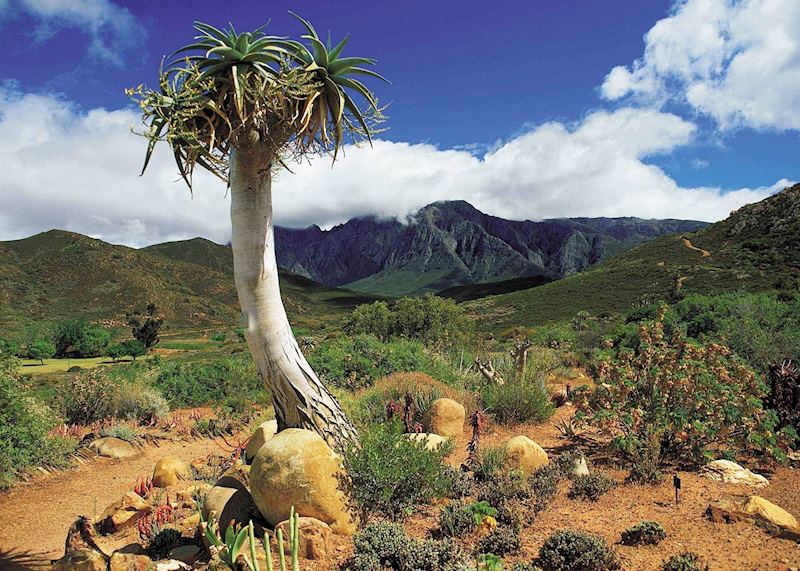 Oudtshoorn
The town of Oudtshoorn exists thanks to its roots in ostrich farming. Its location, in the Little Karoo, is ideal for rearing ostriches. Back in the 19th century, the town grew wealthy thanks to the trend of using ostrich feathers to adorn ladies' hats across Europe. Farmers who prospered from the trade became known as ostrich barons, and you can still see the grand 'feather palaces' where they lived.
Ostrich feathers have long since fallen out of fashion, but Oudtshoorn is still home to a few working ostrich farms. You can visit to see the ostriches and learn about their history here.
I'd say the Cango Caves are the area's main attraction, though. Formed deep inside the Cango Valley, half an hour's drive north of Oudtshoorn, the limestone caves have impressed visitors since the 18th century.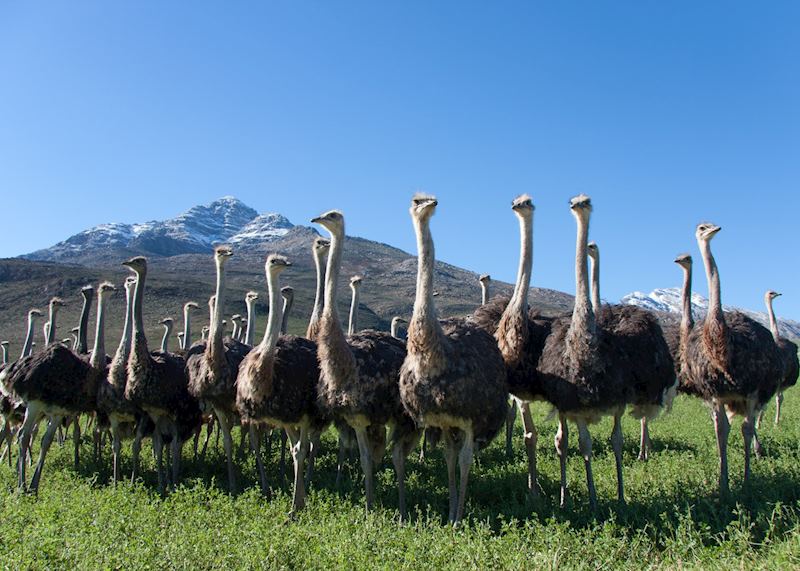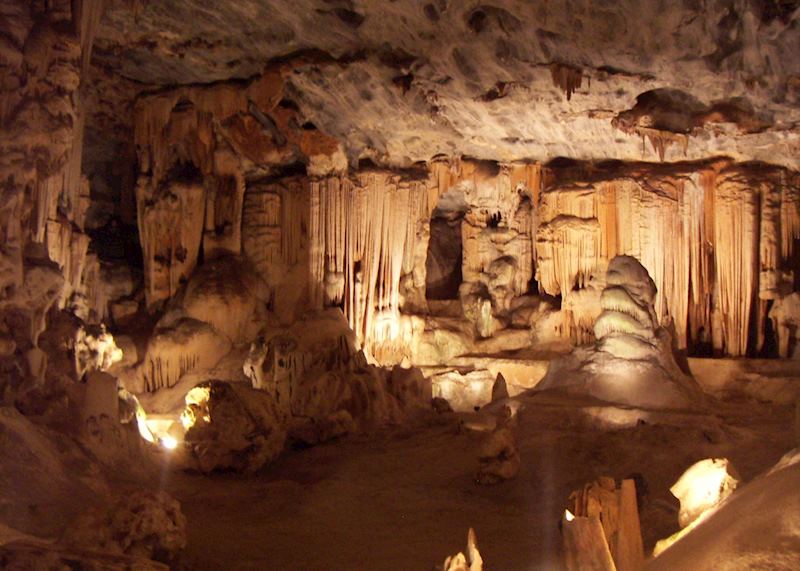 You can choose to join the one-hour Heritage Tour, which takes you into vast caverns filled with stalactites and stalagmites the shade of butterscotch. As I walked through the dripping tunnels, my guide pointed out formations that resembled an eagle's beak, an open Bible and an outstretched angel's wing.
If you're particularly active and not claustrophobic, you could then move onto the 30-minute Adventure Tour, which takes you deeper into the cave complex. You squeeze through tight spaces, stooping and crawling along low-ceilinged tunnels and climbing down long flights of steps and ladders before finally emerging from the depths of the caves.
Where to stay in Oudtshoorn
La Plume Guest House is on a traditional working ostrich, alfalfa and cattle farm. During your stay, you can meet some of the ostrich residents and find out about their care. The house itself dates back to 1902 and contains 17 rooms and suites, as well as a two-bedroom cottage for families. You overlook the Olifants River Valley from the gardens and pool.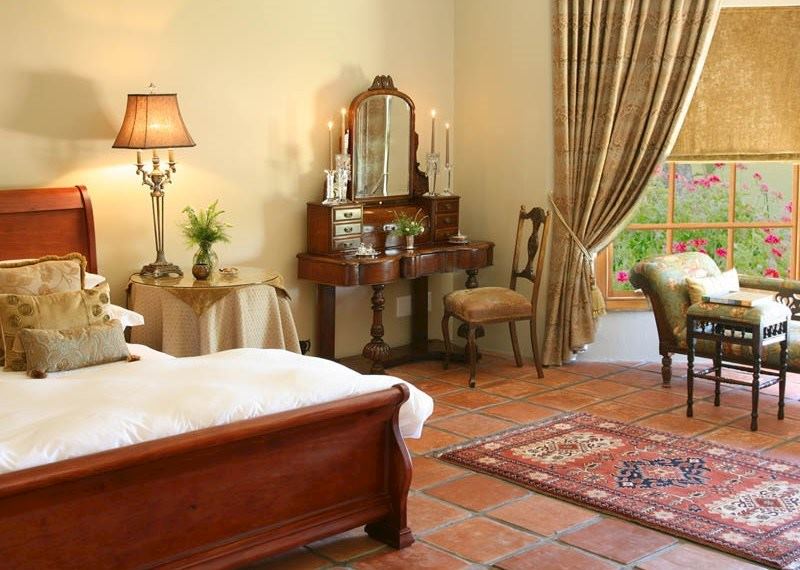 Knysna
Driving distance from Oudtshoorn: 120 km (74 miles)
Drive for two hours toward the coast and the landscape changes dramatically. Everything is greener and fresher as you leave the semi-desert and mountains behind and reach the craggy coastline.
You eventually hit the town of Knysna, hemmed in-between its forest and lagoon. Here, streets are lined with cafés, shops and art galleries, and intimate guesthouses sit along the water's edge.
The lagoon's calm waters are fed by five freshwater rivers. They're separated from the Indian Ocean by the Knysna Heads — a pair of sandstone cliffs that take on the ocean's crashing waves, protecting the town. You can drive up the Eastern Head and follow walking trails along the top for views over the ocean, the lagoon and the town.
I also highly recommend taking a paddle-driven boat trip out on the lagoon at sunset. You cross the water toward the Knysna Heads, passing sandy banks and the Featherbed Nature Reserve, which covers the top of the Western Head. As I dined on a three-course Mediterranean-inspired dinner, I watched the sun sink into the ocean, tinging the water salmon-pink.
Where to stay in Knysna
Waterfront Lodge has a peaceful location on the edge of town, directly facing the lagoon. Most of the eight rooms have a balcony or patio overlooking the water or the gardens, where you'll find a pool. Continental and cooked breakfasts are served in the airy dining room, and there's a well-stocked bar.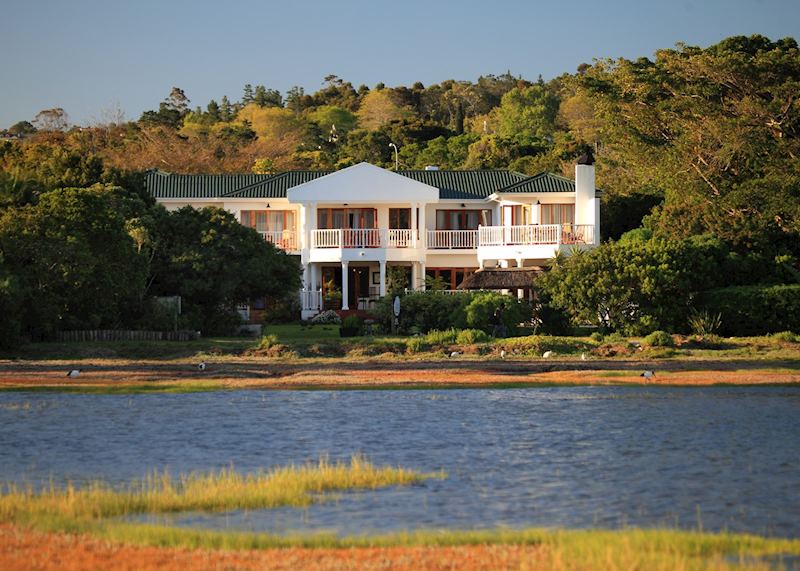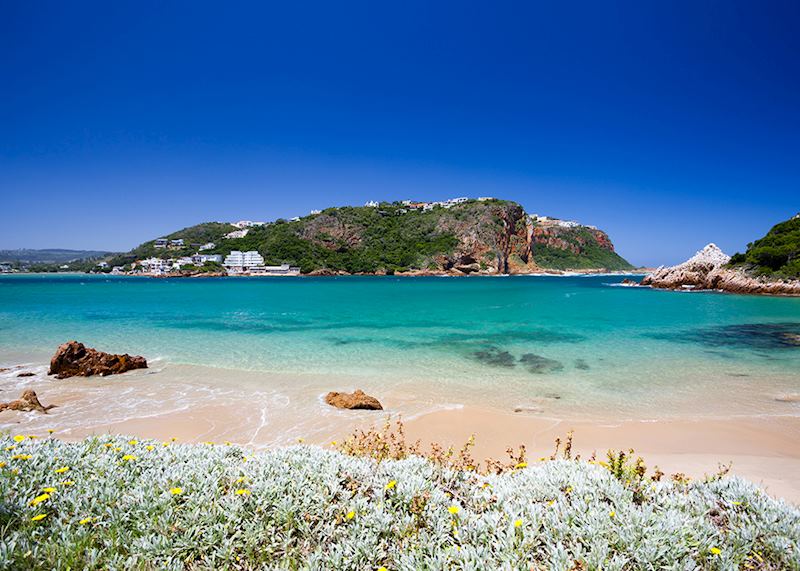 Plettenberg Bay
Driving distance from Knysna: 32 km (20 miles)
Probably the best-known place along the Garden Route, Plettenberg Bay is also popular with wealthy South Africans, many of whom have second homes here. After spending a few days in the town, I could see why.
There's the bay's long, pristine sweep of sandy beach, where the water is usually calm enough for swimming. The cliffs of the Robberg Peninsula form a backdrop, and walking the trails that weave through the Robberg Nature Reserve gives you the opportunity to get close to Cape fur seals and glimpse dolphins offshore. And, the town itself feels laid-back and unpretentious.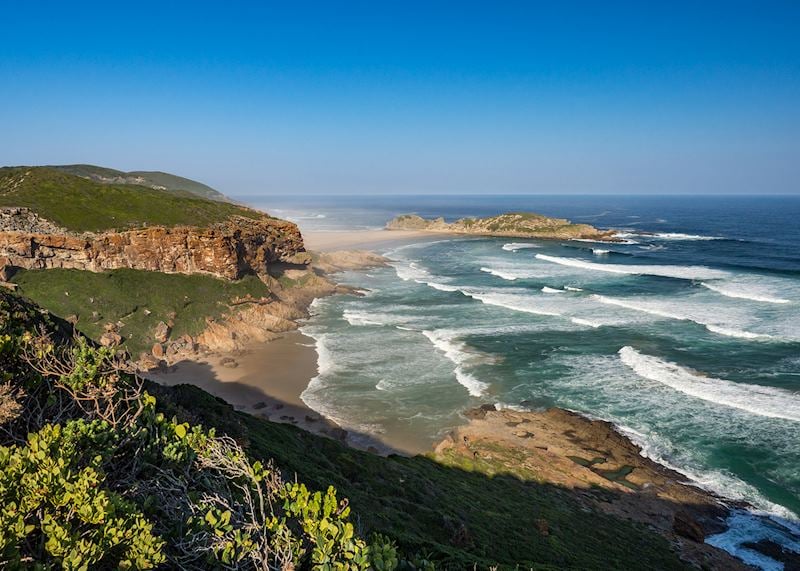 One of Plett's biggest draws is the migratory southern right whales that appear between June and October. Boat trips depart regularly from the bay, and give you a year-round chance of seeing playful dolphin pods skimming the waves. They didn't seem fazed by our presence at all, and in some cases came right up to the boat for a closer look.
Where to stay in Plettenberg Bay
Emily Moon River Lodge is just outside the town, set high on the banks of the Bitou River. I loved the style of this family-owned boutique hotel — each of its ten suites are furnished with photographs, trinkets, artwork and fabrics collected from the owners' travels across Africa and Asia.
The lodge has a wood-fired pizza restaurant and a more formal restaurant, where you can dine by candlelight.
Tsitsikamma National Park
Driving distance from Plettenberg Bay: 63 km (40 miles)
Within easy reach of both Knysna and Plettenberg Bay are the densely forested hills and deep ravines of Tsitsikamma National Park. You might want to stop off en route at the Bloukrans Bridge, home to the world's highest bungee jump. You can make the jump or do as I did and sit in the nearby café, content to watch others plunge down toward the Bloukrans River 216 m (709 ft) below.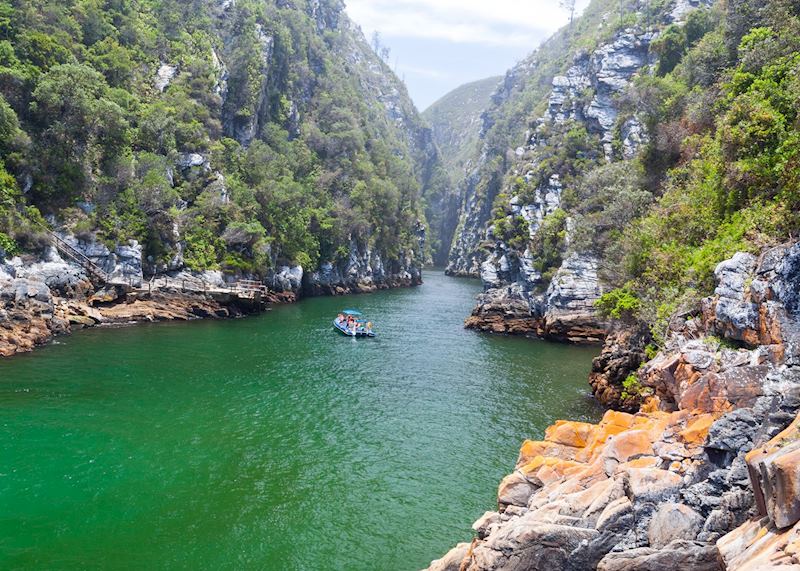 Once in the national park, you can follow well-marked walking trails through the indigenous forest, leading to secluded waterfalls and crossing rope bridges that hang over steep canyons. You can walk independently or follow a local guide. Along the way, your guide will tell you about the local flora, fauna and geology, and help you pick out the calls of birds and vervet monkeys.
One activity I highly recommend is joining a two-hour guided kayaking and inflatable raft trip along the Storms River, passing underneath the Storms River Suspension Bridge en route. I loved the kayaking. You paddle past steep, foliage-draped cliffs that drown out all noise except the gurgling of water as it flows between boulders and the movement of your paddles against the current. Toward the end of the trip, you can leap into a deep section of water from two large rocks — I only dared to jump from the smaller of the two.
Ending your trip with an Eastern Cape safari
Driving distance from Tsitsikamma to Port Elizabeth: 186 km (115 miles)
After Tsitsikamma, you continue eastward for about two and a half hours to the city of Port Elizabeth. From its airport, you can fly up to Johannesburg for international flights. But, if you have time, I'd definitely add in a few nights on safari in the Eastern Cape game areas. You can choose from a cluster of parks and private game reserves, all between one and two hours away.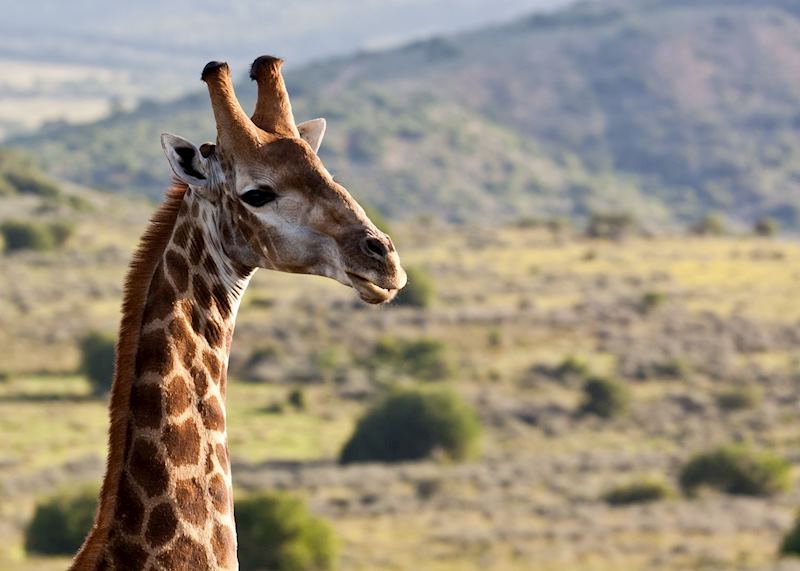 I like how flexible these areas are for safari. You could choose a traditional safari with set guided activities each day. A good-value alternative is to self-drive, heading out at times that suit you.
A traditional safari in Amakhala Game Reserve
Out of all the choices, I particularly like Amakhala. Like all parks and reserves in this area, it's malaria free, and it offers a wide range of activities for all age groups.
You can head out on twice-daily game drives with experienced guides, tracking the Big Five. The reserve also provides a vital habitat for a host of other wildlife, including zebra, caracal, giraffe, hippo and kudu.
Because you're on a private reserve, you're able to stay out on game drives after dark. Using flashlights, we drove through the bush looking for nocturnal species like porcupines, aardvarks and African wildcats. A spring hare hopped by, and the eyes of grazing springbok lit up in the darkness. The occasional screech of an owl and rustling in the vegetation makes the experience all the more atmospheric.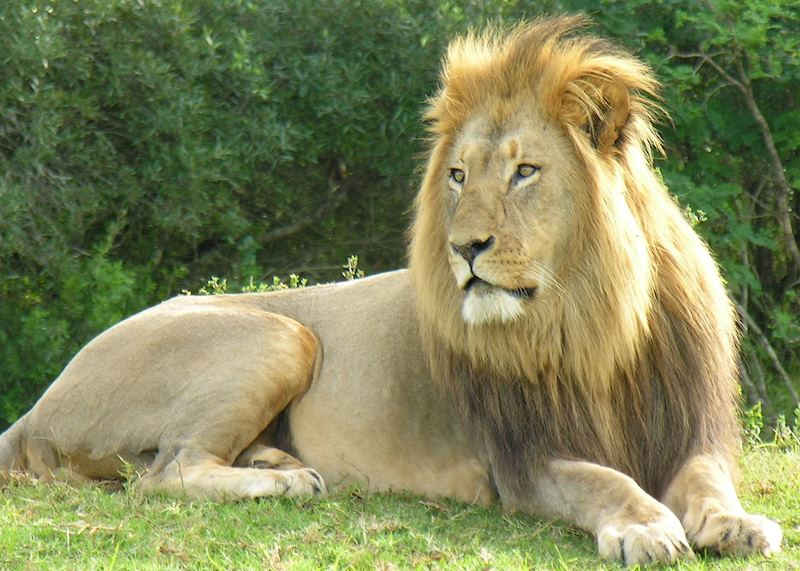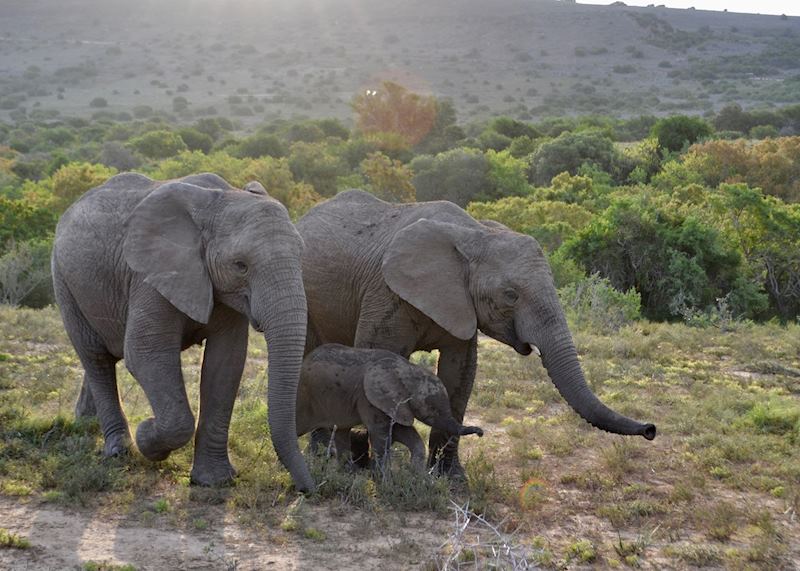 You also have the option of a bush walk in between your morning and afternoon game drives. Your guide takes you out on foot and, with no engine noise, you become completely immersed in the sounds of the bush. My guide showed me how to differentiate between animal paw prints, explained the various uses of local plant life, and identified different bird calls, from woodland kingfishers to Verreaux's eagles.
Where to stay in Amakhala
There are a number of properties within the reserve that appeal to a range of tastes and budgets. I liked Amakhala Hillsnek, an intimate camp that offers a high level of service. There are just four tents (including one designed for families), each elevated on a deck with canvas sides that open out to views over the bush.
In addition to game drives and bush walks, you can take a boat trip along the Bushmans River, looking out for hippo, crocodiles and some of the reserve's 250 bird species.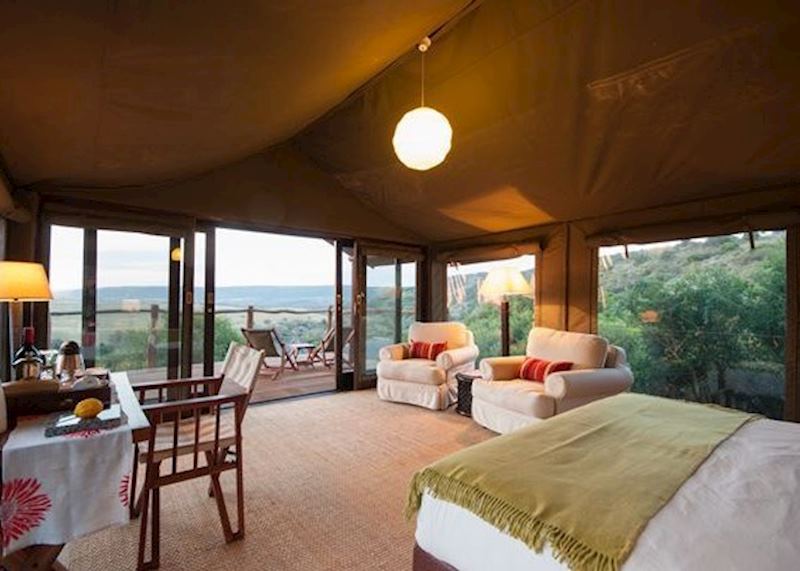 A self-drive safari in Addo Elephant National Park
If you'd rather have the independence of a self-drive safari, head to Addo Elephant National Park. Unsurprisingly, the park's known for its large herds of elephant. But, you also have a chance of seeing the rest of the Big Five, as well as cheetah, hyena and an impressive range of birds attracted by the park's dense thickets, open grassland and Darlington Lake.
A self-drive safari here usually involves staying in a lodge just outside Addo. You can combine guided activities with self-driving, or simply use the lodge as a base and drive yourself in and out of the park whenever you please, within opening hours. It's a particularly good option for families with young children, as there's often a minimum age limit for guided safaris.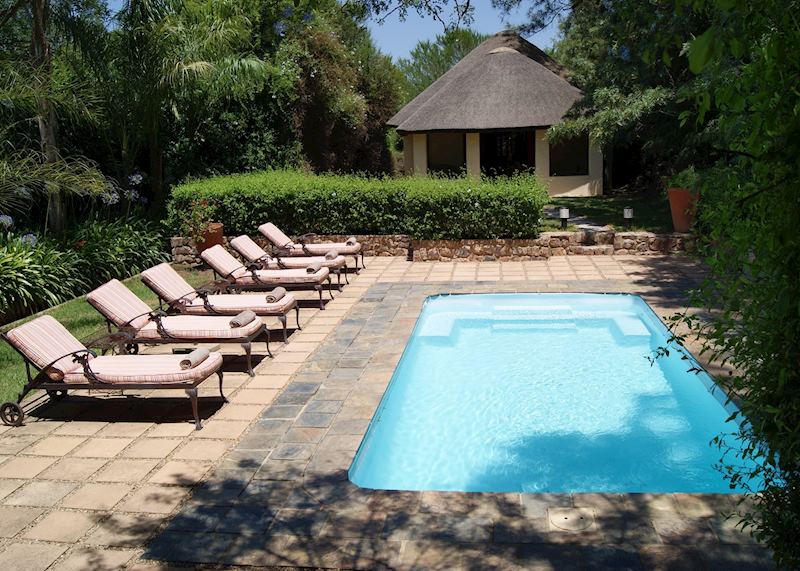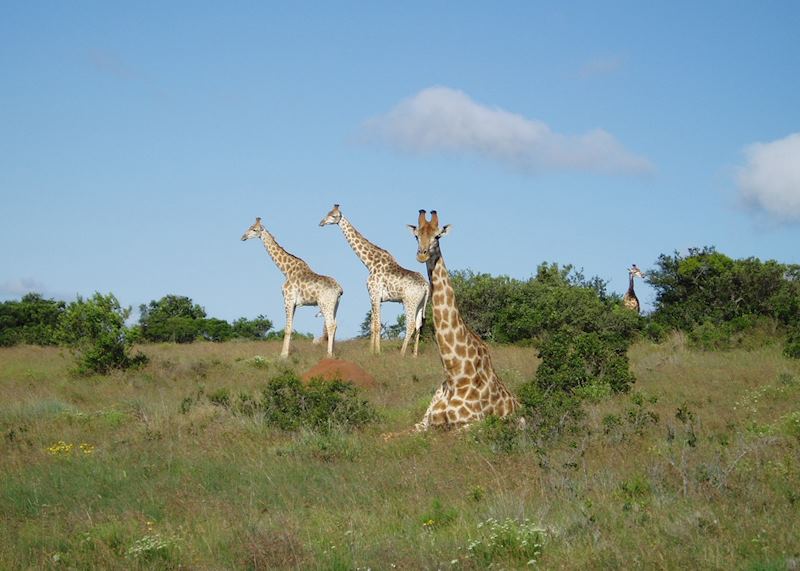 To me, self-driving feels that bit more adventurous. And, while you don't learn as much without a guide, when you come across animals it feels like you've discovered them for yourself. You can also focus on the species you're most interested in seeing, and spend as long as you want observing them.
Most of the animals in the park are used to vehicles and will be unfazed by your presence. You can often drive right up to a pride of snoozing lion, or, like me, have a whole herd of elephant march across the road just ahead of you.
Where to stay in Addo Elephant National Park
Elephant House offers excellent value just a short drive from the park's main gate. It has eight air-conditioned, en suite rooms, one specifically for families. Each has a private veranda. The building itself is an old colonial farmhouse set among courtyards and gardens. There are two pools, and the three-course dinner is served by candlelight.
Read more about trips to South Africa

Start thinking about your experience. These itineraries are simply suggestions for how you could enjoy some of the same experiences as our specialists. They're just for inspiration, because your trip will be created around your particular tastes.
View All Tours in South Africa