By South Africa specialist Jaanki
It's not every day that you see a whale. And there are even fewer days where you can see one from your bed. But in Hermanus, South Africa's premier whale-watching destination, this is more than feasible, with guesthouses and hotels overlooking Walker Bay. In these deep waters, migratory southern right whales come close to shore to breed, their muscular tails somehow able to propel their huge bodies out of the waves, captivating onlookers.
Elsewhere off South Africa's coast, humpbacks make their way northeast toward their breeding grounds off Mozambique and Madagascar — boat trips can help you get close to them and other marine life, including dolphins, seals and whale sharks.
Which whale species can you see in South Africa?
Southern right whales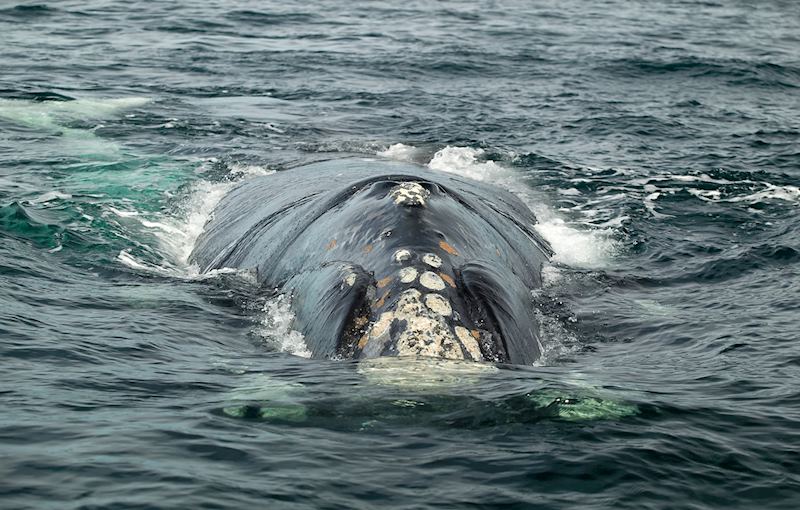 The sheltered bays of the Western Cape are visited each year by southern right whales, which migrate here from Antarctica to mate and calve. Their name stems from the days of whale hunting: they were seen as the 'right' whales to kill because they came in close to shore and tended to float when dead. While this ease of hunting led to near-extinction, their protection since 1937 has seen a significant revival in numbers.
Migration takes place between June and October, and along some parts of the coast you can see southern right whales breaching from the shore. Individuals can grow up to a length of around 15 m (49 ft), weigh the same as ten African elephants and live for up to 60 years in the wild. Inquisitive and acrobatic, the whales can often be seen doing 'head stands', lobtailing (slapping their flippers and tail against the water) and breaching.
Humpback whales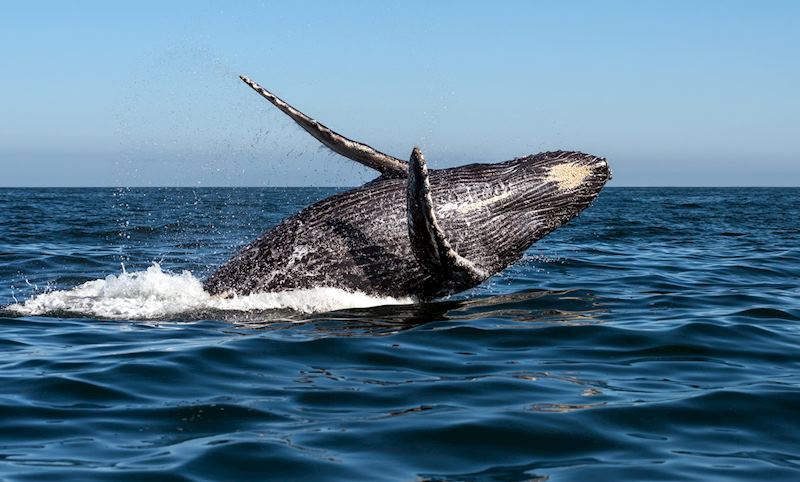 Found along the eastern coast between June and October, humpbacks migrate from Antarctica to their breeding grounds off Mozambique, Tanzania and Madagascar. You can identify them by their humps and their long pectoral fins. Like southern rights, they have a tendency for acrobatic moves as they emerge from the water and splash their tails and can be quite inquisitive around boats. You're likely to see them alone or in small pods.
Bryde's whales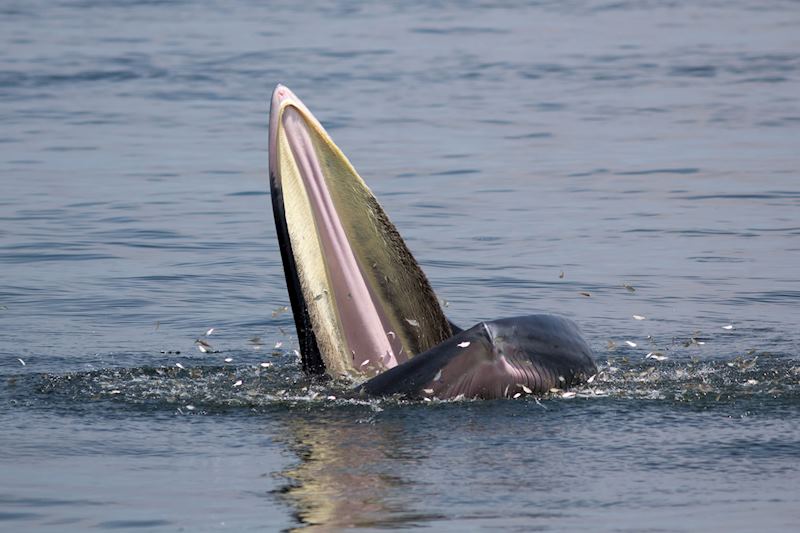 Closely related to minke and fin whales, Bryde (pronounced 'broo-dess') whales are the only baleen species that stays in warmer equatorial waters year-round rather than migrating, so can be seen off South Africa's shores at any time of year. Their pleated throats allow their mouth to expand when feeding on schools of fish, krill and plankton. You're likely to see lone Bryde's whales unless you encounter a group of mothers and their calves, which often feed together.
Hermanus: South Africa's whale-watching capital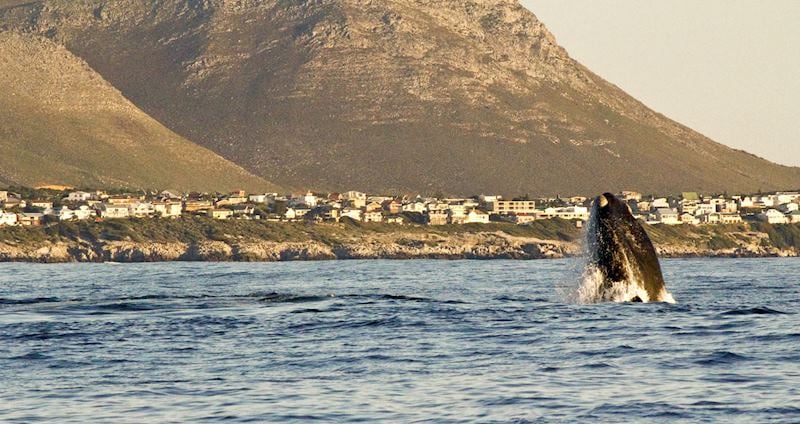 Set on Walker Bay just a couple of hours southeast of Cape Town, this small seaside town is renowned for being one of the best places in the world to see whales. The surrounding waters remain deep close to shore, so migratory southern right whales, along with resident Bryde's whales, swim right into the bay, visible even from the beaches and clifftops.
While Hermanus has used this to its advantage, attracting large numbers of visitors during whale watching season (typically June to October), I found it still has a friendly, small-town feel. There are several art galleries to browse, waterfront cafés and restaurants serving fresh seafood, and a country market takes place every Saturday selling locally produced cheeses, sausages, pies and craft beer.
There's no mistaking the town's main attraction, though. Guesthouses face the ocean, their large windows designed to give you the best views possible of nearby whales. You can learn interesting facts about these annual visitors at Hermanus's Whale House Museum (for example, I discovered that a southern right whale's tongue weighs more than an African elephant), as well as see a full skeleton of a southern right whale suspended from the ceiling. And there's even a town 'whale crier' who keeps a lookout for passing whales and blows on a kelp horn to alert the public.
The annual Hermanus Whale Festival is held at the end of September. The event features interactive exhibits educating people about the local marine life and local conservation efforts, as well as live music, food trucks, art and craft stalls and a lively street parade.
Whale-watching experiences from Hermanus
Whale-watching boat trips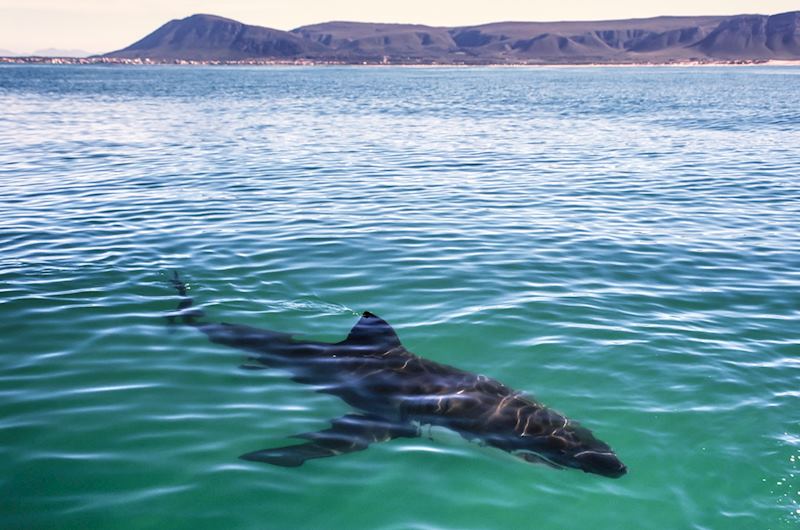 There's no better way to see whales up close than by joining a three-hour boat trip out along the coast. Departing several times a day during whale season, the boats hold around 20 passengers along with a professional crew who tell you all about the area's whales throughout the trip.
Having never seen a whale before, I was itching to get out there. While sightings are never guaranteed, my experience didn't disappoint. Not long after we'd headed away from the shore, our guide called out that there was a southern right whale nearby. Everyone aboard rushed to the sides of the boat and the captain cut the engine. Then we held our breath.
Soon there were four whales in close view, with more in the distance taking it in turns to rise out of the water and disappear again with a great splash of their tail. Your entire focus is on the whales as you look out for every movement in the water. I'd definitely recommend attaching a strap to your camera so you don't lose it overboard in your haste to capture the whales' brief but majestic foray into the open air.
The whales seemed interested rather than deterred by our presence, and I saw one swim right past the boat within splashing distance. We could also occasionally hear their distinctive mating calls as they communicated with each other beneath the waves. As we watched them, our guide pointed out their different characteristics and explained why they behaved in certain ways, happily answering any questions we had.
Dolphins and sea lions also frequent this area, and the trip will take you round the headland to Dyer Island Reserve. This seemingly bland stretch of low-lying rock is a protected bird sanctuary, home to hundreds of pairs of African penguins as well as roosting Antarctic terns and several subspecies of cormorant and gull.
Adjacent is Geyser Island, where you'll see a colony of Cape fur seals resting on the rocks and swimming along the shoreline. The stretch of water between these two islands is known as Shark Alley due to the healthy population of great white sharks. They lurk underwater waiting for seals to swim by, then propel themselves upwards, leaping out of the water as they catch their prey in their strong jaws.
Light refreshments are available to purchase on board, and a full safety briefing is given at the start of the trip, with life jackets provided for children and anyone else who'd prefer to wear one.
On some occasions whale-watching trips can't go ahead due to inclement weather or choppy waters. If this happens you'd be entitled to a full refund or can rearrange the trip for the next day if you're still in the area. The company will contact you at your hotel the night before to confirm if the trip is going ahead.
I recommend wearing plenty of warm layers and a waterproof jacket as the main whale-watching season is during the cooler months.
Whale-watching from the Hermanus Cliff Path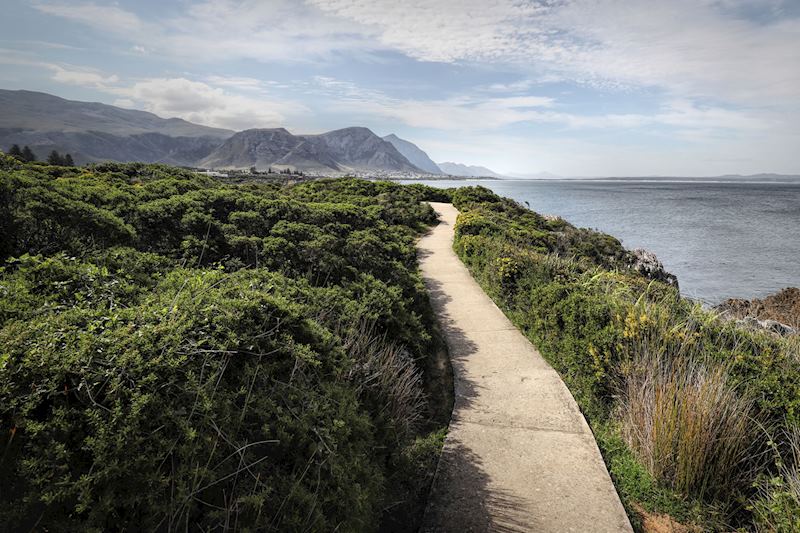 This 12 km (7.5 mile) coastal path winds along the clifftops between Hermanus's New Harbour in the west and Piet-se-Bos in the east. Stretching along the entire length of the town, it gives you uninterrupted views over the ocean and its inhabitants, including southern right whales, dolphins and sea lions.
Benches are set at regular intervals so you can stop and look out for marine life. While binoculars are always handy, I found that they often weren't necessary because whales are often close enough to see in detail with the naked eye. Listen carefully and you might even be able to hear their mating calls. The best places to see whales along the path are the stretches between Gearing's Point and Roman Rock, from Sievers Punt to Kwaaiwater, and between Mickey and Kraal Rock.
Some parts of the path are wheelchair-friendly, including the stretch along Westcliff and the village seafront, and there are interpretation signs that tell you more about the whales and other wildlife found in the area.
Part of the Fernkloof Nature Reserve, the path also immerses you in the rare fynbos flora that's endemic to parts of South Africa. On land you can look out for rock dassies (particularly around Fick's Pool), striped mice and small grey mongooses, as well as birds like African black oystercatchers, sunbirds, swallows and sandwich terns.
Where to stay in Hermanus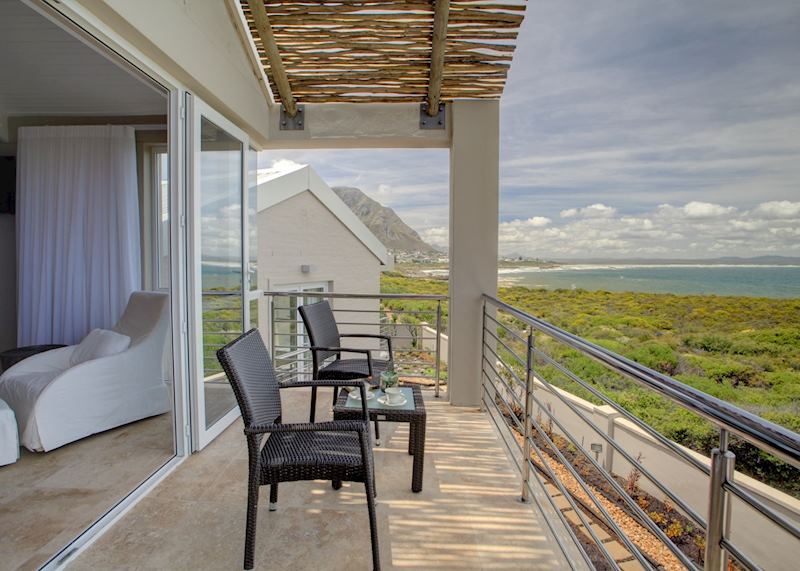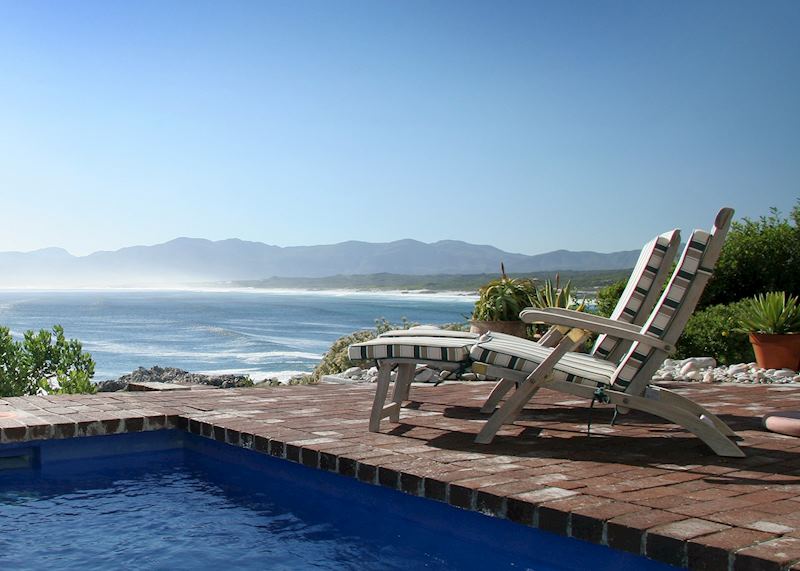 Hermanus is home to a number of intimate guesthouses positioned along the waterfront. I particularly liked the Ocean Eleven Guest House, set on the cliffs overlooking the bay. Its stylish, light and airy rooms vary in size and layout, and the spacious suites each have a balcony where you can sit out and look for whales offshore. There's also an outdoor pool, a lounge filled with books, and direct access to the Hermanus Cliff Path.
If you'd rather base yourself in a quieter location but still have access to whale-watching opportunities, I recommend staying in the small village of De Kelders. Situated on the opposite side of Walker Bay, it's just a short drive from the fishing village of Gansbaai, where many of the whale-watching trips depart.
Abalone Guest Lodge is an intimate property situated on Sievers Point, midway between the town and its beaches. Overlooking the dunes and the ocean beyond, it has a peaceful setting while still having easy access to town. Its 12 rooms are filled with natural light, and some boast ocean views. Staying here, you have direct access to the Hermanus Cliff Path, while the property's wellness facility offers massages, a sauna and an outdoor pool.
Other places to see whales in South Africa
De Hoop Nature Reserve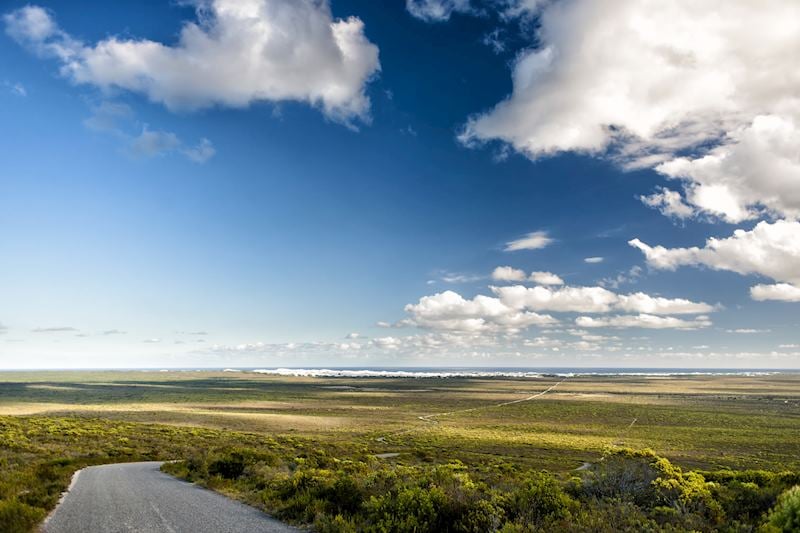 Around two hours east of Hermanus, De Hoop Nature Reserve is a large conservation area that stretches along the wild, sandy coast and lies next to the De Hoop Marine Protected Area. From the tall dunes at Koppie Alleen you can watch for southern right whales, around 120 of which breed and calve in the surrounding waters between June and November.
Seals and dolphins are also regularly seen offshore. Meanwhile, on land you have a chance of encountering 86 mammal species, including Cape mountain zebra, bontebok, baboons and eland, as well as more than 260 bird species.
Elephant Coast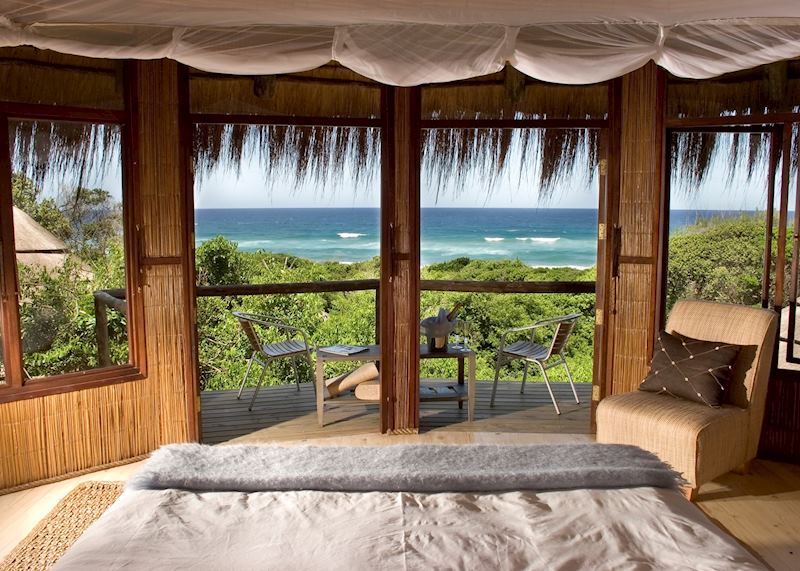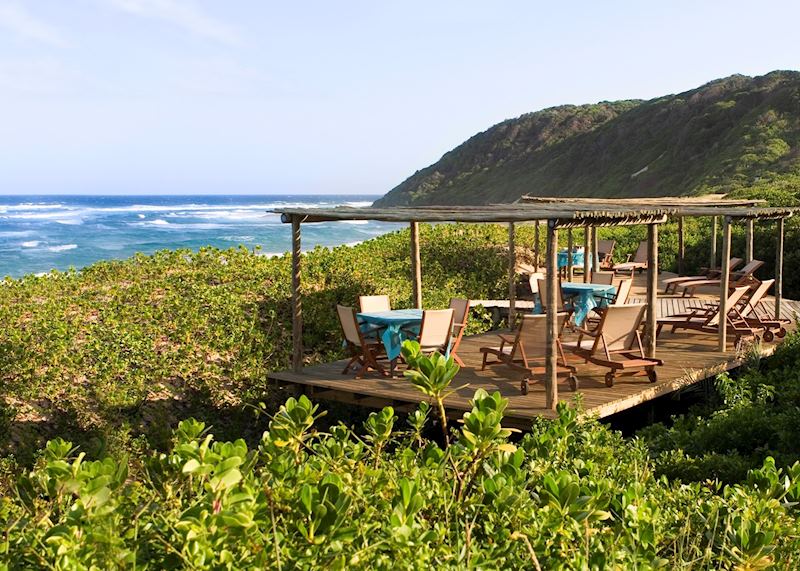 In northeast South Africa, the Elephant Coast offers untouched beaches where turtles come to nest (watch them laying their eggs and hatching between November and March), tangled forest where monkeys howl, and wetlands filled with birdlife, from flamingos and pelicans to lesser jacanas.
The waters here act as a corridor for humpback whales, which make their way toward the coasts of Mozambique, Tanzania and Madagascar to breed between June and early December. You can take licensed boat trips out to see them and other marine life, including the occasional southern right whale, dolphins and whale sharks. I recommend staying at Thonga Beach Lodge, within the iSimangaliso Wetland Park (a World Heritage Site), which offers ocean-view rooms and open ocean boat trips.
Plettenberg Bay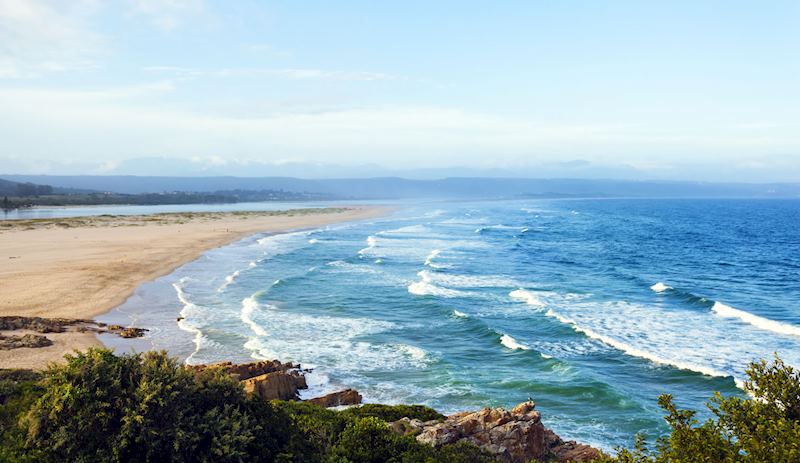 A popular stop along the Garden Route, Plettenberg Bay's swirling estuaries, wide, empty beaches and steep, wave-lashed cliffs make it a visually striking destination. But it's also an excellent spot for seeing marine life. From its hills and clifftops you can potentially see humpback, southern right and Bryde's whales, as well as Cape fur seals and bottlenose dolphins riding the waves. I'd say the best viewpoints are Signal Hill, the Robberg Peninsula and Beachy Head. Alternatively, boat trips regularly head out to give you closer encounters, with kayaking also an option.
The Plettenberg has the best location of any hotel in Plett, set right on the clifftops, so you can watch for whales as you relax by the two pools or from your room or suite, some of which have private balconies.
Best time to go whale watching in South Africa
To see migratory southern right or humpback whales, visit between June and October. The best months are August to October, with the Hermanus Whale Festival taking place in late September or early October. As the whales are around during South Africa's winter, it can be cool and rainy at times. As with most wildlife experiences, whale-watching success is never guaranteed, with some years seeing more whales migrating South Africa's coast than others.
Start planning your trip to South Africa

Start thinking about your experience. These itineraries are simply suggestions for how you could enjoy some of the same experiences as our specialists. They're just for inspiration, because your trip will be created around your particular tastes.
View All Tours in South Africa