By Audley South Africa specialist Rob
In one South African holiday you can stand in a desert, climb a mountain and relax on a sandy beach backed by tropical forest. Add to this the vast abundance of wildlife to view from land, sea and air, some of the best wine in the world, and a fascinating cultural heritage to discover and you have a country that is both varied and exceptional.
Things to do in South Africa, my selected highlights
Spend a few days in Cape Town

Cape Town boasts an enviable coastal position and holds a reputation for its exceptional food, beautiful scenery and luxurious accommodation. It is home to a number of interesting museums and galleries including District Six and Heart of Cape Town, and you can end the day at one of the high quality restaurants at the V&A Waterfront. Surrounding Cape Town are some of the most dramatic coastlines in Africa. The rugged Cape Point Peninsula, where the Indian and Atlantic Oceans meet, lies within the Table Mountain National Park. Although raw and windswept, it's a pleasure to explore its little tucked away beaches and coves with their spectacular views.
Stand in Mandela's cell on Robben Island

At Nelson Mandela Gateway catamarans departs for Robben Island. It takes around half an hour and during the journey a video is shown giving an introduction to the history of the penitentiary. The prison museum includes tours, which are conducted by former inmates to give you an unrivalled insight into their harrowing personal experiences. It's particularly fascinating to see the cell where Nelson Mandela spent much of his incarceration. He was held here between 1964 and 1982, when he was transferred to two further prisons before finally being released in 1990 after serving a total of 27 years behind bars.
View the city from the top of Table Mountain
It's rare to find a mountain right in the middle of a city, especially one towering to 1,000 metres (over 3,500 feet) as Table Mountain does. In my opinion, no first trip to Cape Town is complete without a visit to the top — either on foot with a guide, or by hopping into the cable car that travels up and down its side. On a clear day, when the 'table cloth' (a bank of cloud that sometimes shrouds the summit) dissipates, the view extends across Cape Town and out past the Cape Peninsula.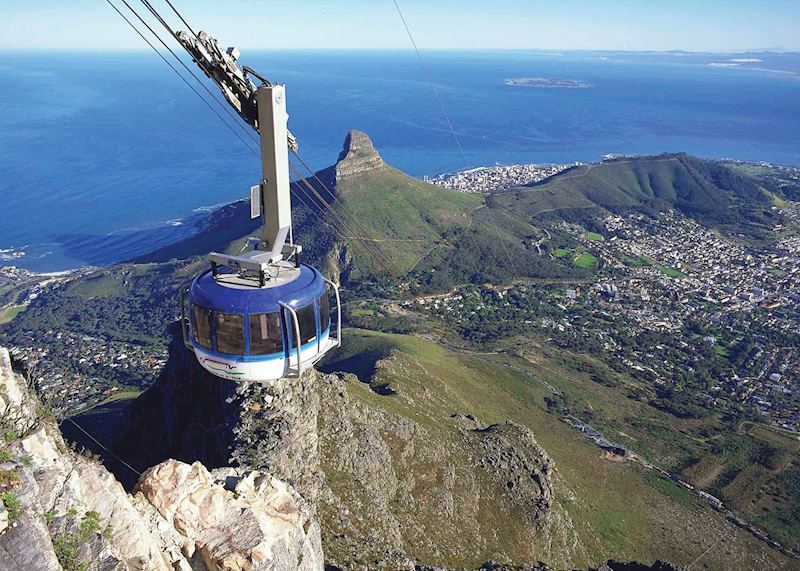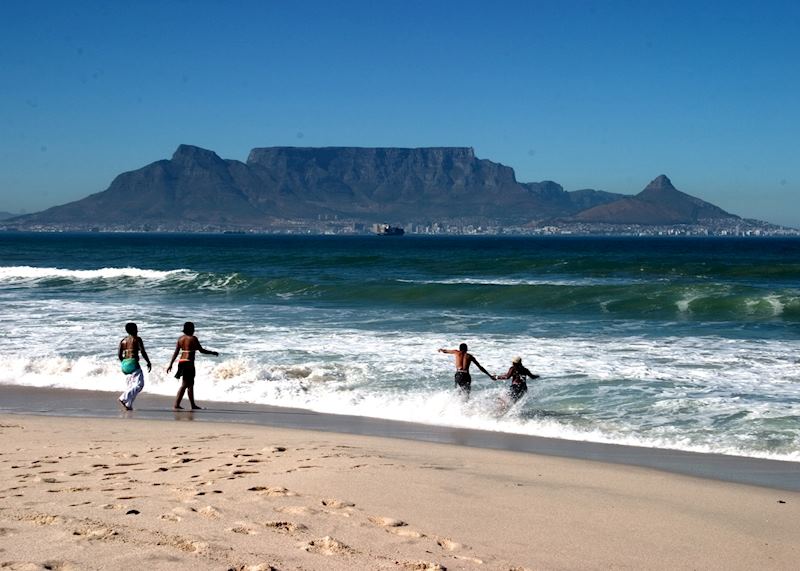 Tantalise your taste buds on a Cape Town 'Eats' walking tour
There's plenty to keep most people occupied in and around Cape Town for four nights or more. One way to uncover the culture of the city is through its cuisine, and the Cape Town 'Eats' tour allows you to nibble your way through the backstreets of the city, discovering what fuels the rainbow nation.
If you prefer to be more active then you can explore by bicycle, stopping off at places of interest such as the Grand Parade where Nelson Mandela made so many impassioned speeches.
Sample the food and wines of the Winelands

The Winelands is a beautifully scenic area around an hour's drive from Cape Town, with gently rolling green vineyards blanketing the Franschhoek and Stellenbosch valleys. To experience the best of the Winelands, I would encourage you to stay for a few nights. Sitting on your room's private terrace watching the sun go down over the silent vineyards with a cool glass of Cap Classique (a premium South African sparkling wine) before heading out for dinner, you will experience the tranquillity of the area.
The restaurants here are world-class and a three-course meal can cost a fraction of the price of a similar dining experience in other countries. The here has a colonial French feel; it is fresh, contemporary cuisine which offers a stark contrast to the meat-heavy, traditional South African fare that you typically find in rural towns and on safari.
Once in the Winelands, if you're planning on sampling the wines on offer, you can take the vintage wine tram that winds its way through the Franschhoek Valley. For a slightly different experience you could also join a horseback wine tasting trip, or, if you are a real wine connoisseur, take a private tour with an expert wine guide.
Safari in the Eastern Cape Game Reserves

The most famous national park in South Africa is the Kruger, but if you're visiting Cape Town then I'd suggest the Eastern Cape Game Reserves as a great alternative. They're easily accessible from Cape Town, have all of the Big Five animals, are non-malarial and also experience their best weather at the same time as Cape Town between October and March. During the height of summer in January and February, when Cape Town is at its warmest, we recommend avoiding the Kruger as it is rainy at this time.
Drive along the Garden Route

The Garden Route stretches between Mossel Bay and Plettenberg Bay on South Africa's southern coast and is an area of mountain passes, coastal roads, seaside towns, and lush green landscapes. Move just 15 miles inland though and you find the Klein Karoo, which in contrast has a semi-desert arid landscape.
High quality roads and little traffic make the Garden Route easy to explore by self-drive. The N2 is the main highway, which runs along the coast, but I prefer taking Route 62, a lovely back country route that travels parallel to the coastal road. It is an undulating, winding road that takes you through desert and mountain scenery and passes through classic Cape Dutch towns with their pretty whitewashed buildings with gabled roofs.
Along the Garden Route are two national parks, Wilderness and Tsitsikamma. They boast a combination of coastal landscapes, lush forests and beautiful beaches. This area is home to massive seal and penguin colonies and is great for hiking and boat trips.
Highlights include sea kayaking in the Knysna lagoon and a four-hour circular hike near Plettenberg Bay around the Robberg Peninsula. This is moderately strenuous, but you're rewarded with the sight of a large seal colony at the end.
Whale watch from the clifftops in Hermanus

Most whale watching requires you to wrap up warm, don waterproofs and board a boat, but in the Cape it's an entirely different story. At Hermanus the cliffs drop steeply into the ocean, allowing the whales to come within 30 metres of the shore.
The migrating southern right whales use the calm waters and steep shores of False Bay and Walker Bay as sheltered locations to calve and rest up before heading south toward Antarctica with their young. The whales can be seen between of June and October in this area, however September and October are the optimum months to visit, as Hermanus tends to experience drier, warmer weather at this time.
Take a luxury train journey on the Rovos Rail or the Blue Train

Indulgent train journeys on the restored Edwardian Rovos Rail or the modern Blue Train are a great way of covering a long distance in luxury. You can jump on board for just one night or take two weeks to journey between South Africa and Tanzania.
The journey between Cape Town and Pretoria is a great introduction to both South Africa and rail travel, and can easily be combined with a safari either in the Kruger National Park or the Eastern Cape Game Reserves.
Spot the Big Five in Kruger National Park safari

The Kruger National Park has a well-deserved reputation for offering an outstanding South African safari. The park is simply huge, covering over 20,000 square kilometres and supporting 147 species of mammal (including the Big Five) and over 500 species of bird.
When deciding where to base yourself for your safari you can choose from a huge variety of accommodation options ranging from simple self-catering chalets to some of the most opulent and exclusive safari lodges in Africa.
I favour the unfenced lodges where the wildlife is free to roam between the chalets. Waking up in the middle of the night to an elephant scratching his back on the outside wall of my room was exhilarating, but there are also fenced off lodges to choose from if you prefer.
Before booking your safari to South Africa, it is important to think about the sort of experience that you would enjoy. Some lodges focus on romantic seclusion with private game drive vehicles and dining, whilst others are more sociable, allowing you to share a vehicle with other guests and dine with them in the evenings.
For groups of four to six people it is possible to hire a private safari house, which comes complete with your very own private pool, vehicle and expert guide.
Safari in Sabi Sands Private Game Reserve

The concentration of game in this area of the Greater Kruger National Park is huge and it is here that you have the greatest likelihood of seeing leopard in South Africa. The lodges in the Sabi Sands are authentic, stylish and luxurious and the guides I have met here are exceptionally good at telling stories around the campfire as well as spotting the game.
Visit the Battlefields of KwaZulu-Natal

Travelling northwest of Durban you enter The Midlands and eventually the Drakensberg Mountains in KwaZulu-Natal, where flat-topped mountains rise up to 3,482 metres (over 11,000 feet).
This is an area rich with British military history as the British Army barracked its troops here during the Anglo-Boer and Anglo-Zulu wars. Visitors to this area will discover the history that the impressive scenery has witnessed and enjoy the wide variety of walking routes with the mountains forming a spectacular backdrop.
South Africa has a long history of conflict between settlers and its original inhabitants. The best known battles were between the British and Zulus and the Battlefields area in northeastern KwaZulu-Natal saw a disproportionate number of clashes.
For anyone with more than a passing interest in history, I'd recommend spending two or three nights here. There are two main battlefield sites: the Anglo-Boer war sites at Spioenkop and the Anglo-Zulu battlefields at Rorke's Drift and Isandlwana. The ability of the guides to recount the stories of the battles really brings the sites to life.
Explore the remote Elephant Coast

Stretching up the east coast of South Africa toward Mozambique is the remote and wild Elephant Coast. With its empty beaches, this coastline has more in common with Mozambique than the rest of South Africa.
Unlike the cooler waters and variety of towns and hotels you get on the Garden Route, the Elephant Coast is almost completely uncommercialised. The golden beaches are backed by lush coastal forest, dotted with hippo- and crocodile-filled lagoons and wild banana groves. Only a handful of lodges exist on the entire coast, making it a secluded and special hideaway.
The Elephant Coast has wonderful diving opportunities, and you can plan your visit to coincide with when the turtles make their annual migration to nest on the beaches (between December and February).
Start planning your trip to South Africa

Start thinking about your experience. These itineraries are simply suggestions for how you could enjoy some of the same experiences as our specialists. They're just for inspiration, because your trip will be created around your particular tastes.
View All Tours in South Africa