By South Africa specialist Toby
The first time I visited South Africa, I was quite unexpectedly hooked by the country's varied landscapes as I drove through arid deserts, past vine-covered valleys and along the coast, where the waves of the Atlantic and Indian Oceans crash against the rock. This, plus South Africa's pedigree as a food destination, has lured me back every year since.
South Africa makes a fantastic honeymoon destination for those seeking adventure and luxury. You'll find high quality accommodation and service — even out in the bush. If you're set on a safari honeymoon or time wildlife spotting, it's superb. And, if you're craving relaxation after all the activity, there are secluded beaches to discover along the remote Elephant Coast.
Recommended honeymoon experiences in South Africa
Safari in Kruger National Park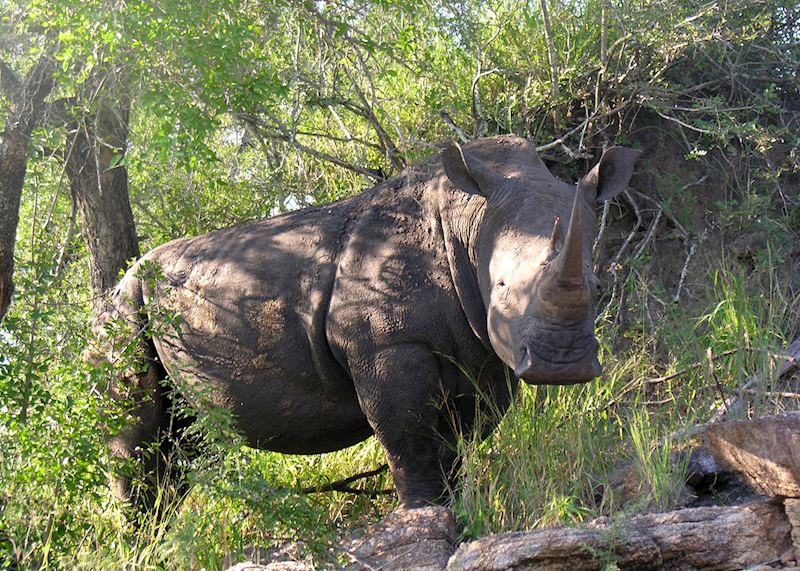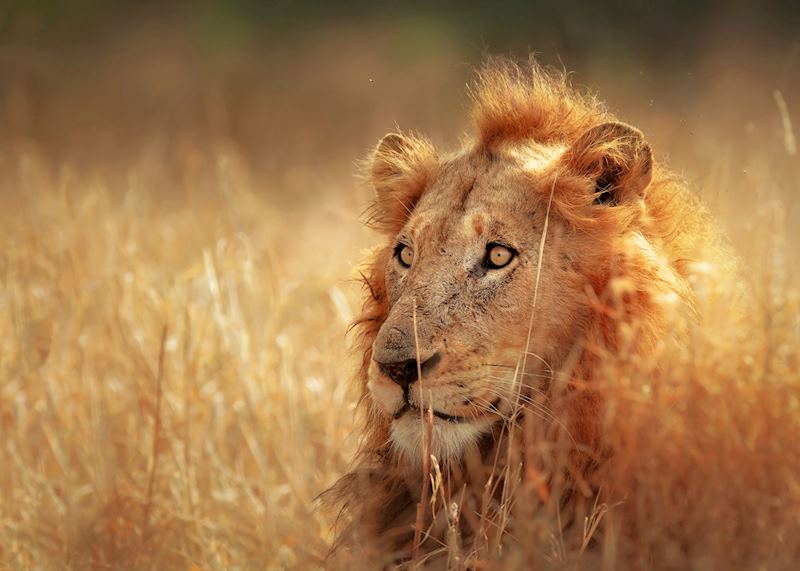 On a guided game drive in Kruger National Park, you can spot the Big Five (lion, leopard, elephant, rhino and buffalo) along with many other wildlife species, including over 500 types of birds, nearly 150 of mammals and over 100 of reptiles. Straddling the Mozambique border in the northeast, it's one of the largest game reserves in Africa.
You'll have the same ranger throughout your stay in each lodge, who'll tell you all about the wildlife you see as you're driven around the park's open savannah in a 4x4. Both morning and afternoon game drives are included each day. Between these, you can relax at the lodge and keep an eye out for more wildlife.

At the end of the afternoon drives, you'll stop to watch the sunset as the surrounding bush turns red and golden. Sundowners will be poured and stories will be shared, and then you'll be driven back to your lodge in the dark. Leopard tend to wake up at night, and hippo come out of the water. You could also see jackals, owls, bats and frogs, whose cries echo across the plains. Back at the lodge, you can enjoy a private candlelit meal in a secluded part of the grounds.
One of my top choices for safari accommodation is Savanna Private Game Reserve, which sits in the west of Sabi Sands Game Reserve in the Greater Kruger National Park. It's a small, luxurious camp offering spacious canvas suites, many with private plunge pools. An in-room massage service is also available. The open savannah surroundings are excellent for spotting game, particularly cheetah.
Climbing Table Mountain

It may be one of the more obvious things to do during a honeymoon to South Africa, but reaching the summit of Table Mountain and gazing over Cape Town's streets and the blue ocean beyond is certainly something I'd suggest including in your plans.
I'd definitely recommend hiking up the mountain with a guide, who can pick the most suitable route for you and tell you about the wildlife, the mountain and Cape Town below as you ascend. The walk takes two to three hours and requires a reasonable level of fitness. There's also the option to go up in a cable car, which rotates 360º en route so you can take in views from every angle.
Once at the top, there are numerous trails and viewpoints to explore, taking you through the arid landscape of rough grasses and grey rock. Look out for rock hyraxes (known as 'dassies' in South Africa) — these small, rodent-like mammals live in small colonies within the rock all over the mountain. There's also a café for refreshments.

For a stay in Cape Town, one of the finest options for honeymooners is Cape Grace. The hotel is within walking distance of the trendy V&A Waterfront, where you'll find a variety of shops and restaurants.
The staff will do anything for you, and a chauffeur service can take you anywhere within a 10 km (6.2 mile) radius.
Additional touches for honeymooners such as fresh flowers, couple's massages and romantic dining experiences make your stay extra special.
I'd particularly recommend staying in the Penthouse Suite, which has its own private terrace with Jacuzzi.
Wine tasting in the Winelands

Just an hour's drive from Cape Town and you arrive in the heart of the Winelands, where row upon row of vines cover the valleys, overlooked by mountains. The dozens of estates scattered throughout this region produce some of the world's finest wines, which you can sample on guided tours.
You can explore several wineries in one day, stopping at two or three estates to taste their produce. Some will prepare a picnic for you to enjoy in the grounds if you ask in advance.
You could walk or cycle between the different estates. However, I'd recommend taking the Franschhoek Wine Tram. This 'hop-on, hop-off' vintage tram runs along four different routes around the surrounding valleys, stopping at several wine estates. A ticket includes two wine tastings, and while onboard you can listen to a narrator talking about the area's history and wine production.

A property that stands out for me in the area is Akademie Street in Franschhoek, the region's historic town and a food capital. Just a few minutes' walk from the central area of town, there's easy access to the local shops, restaurants and attractions.
It has just six guest rooms in a traditional Cape Dutch building, giving it a great deal of character and an intimate, homely atmosphere. Each of the rooms has its own style, and some have private pools and balconies.
Exploring the remote mountain regions
The peaceful seclusion of South Africa's remote mountain regions sets the scene for some of my fondest memories. With no light pollution, it's easy to spend entire evenings gazing up at the stars.
Safari and ancient rock art at Bushmans Kloof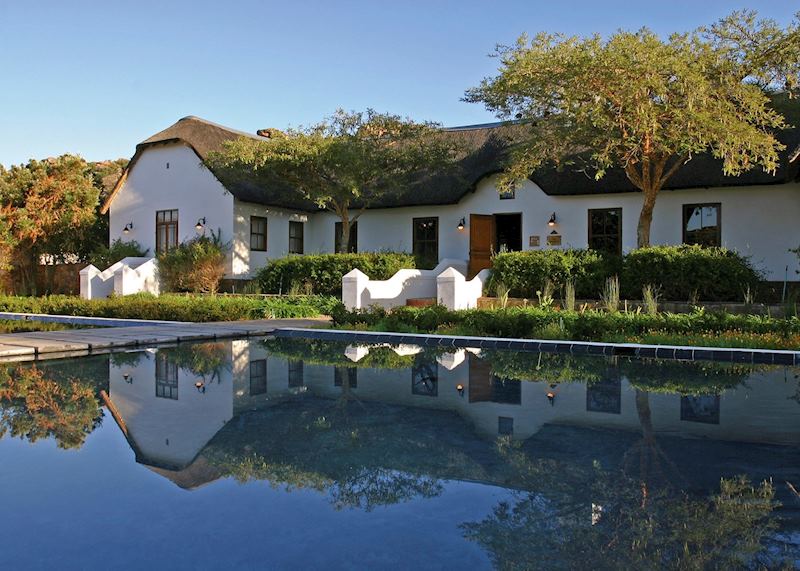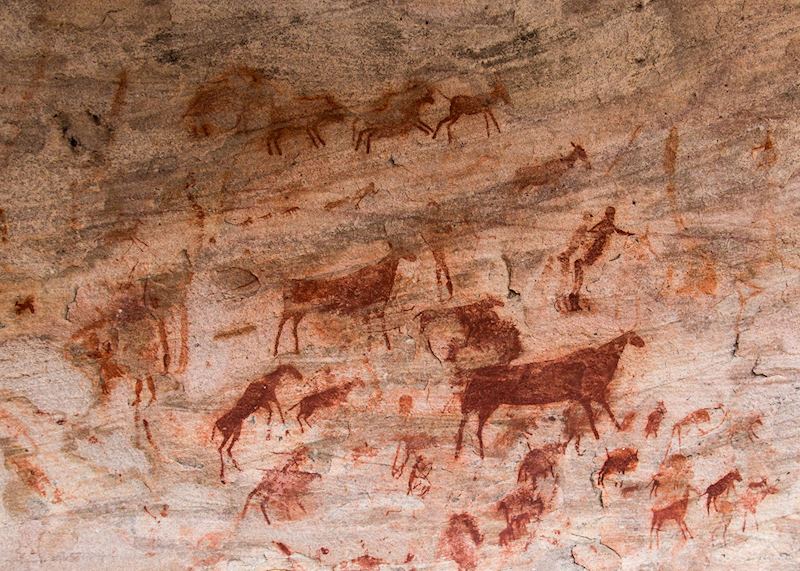 In the foothills of the Cederberg Mountains is Bushmans Kloof Wilderness Reserve. A three-hour drive north from Cape Town, this remote lodge property is set in its own private reserve. Red rock mountains overlook open plains, which attract a variety of wildlife, including Cape mountain zebra, several antelope species, African wildcat and over 150 bird species.
There's also a lot of history in the area — you can take guided walks to see some of the ancient rock art. Painted by the local bushman tribes thousands of years ago, they depict daily life at that time. I was particularly struck by the images of animals such as eland, which still roam the area today.
Other activities include guided walks around the reserve, cycling, archery and canoeing. The lodge itself also has swimming pools and a spa.
4x4 drive along the Sani Pass

The Drakensberg Mountains are in the east of South Africa, bordering the tiny country of Lesotho. This is the highest mountain range in the country, and as you drive through the countryside the great folds of craggy rock stretching up to the sky seem never-ending.
One of the best things to do here is take a full day guided 4x4 tour along the scenic Sani Pass. An old trading route, it connects the KwaZulu-Natal town of Underberg with Mokhotlong in Lesotho, taking you through incredible mountain landscapes.
The gravel road is very steep and bumpy, but the views of the mountains and the lake-filled valleys below are a just reward. Once you arrive in Lesotho you can visit a traditional Basotho village and learn about the pastoral lifestyle of the people who live in the mountains. You'll also enjoy lunch at Sani Mountain Lodge — one of the highest and most remote lodges in Africa.
Less obvious highlights for honeymooning in South Africa
Beachside stay at Thonga Beach Lodge

While South Africa's huge coastline has lots of beaches, they aren't the typical soft-white sands that many honeymooners seek. Instead, they tend to be more wild and rugged, with few facilities.
However, there are some exceptions. Take Thonga Beach Lodge, on the Elephant Coast. This remote retreat gives you exclusive access to a pristine sweep of sand just a short stroll away.
The waters can be rough, but they're suited to activities such as fishing, snorkelling and diving, giving you the chance to see whale sharks, dolphins and tropical fish.
You'll stay in one of the luxurious thatched suites, which are raised up on stilts so you can enjoy uninterrupted views of the surrounding forest or the ocean in complete privacy.

The lodge is one of only two in the UNESCO-protected iSimangaliso Wetland Park, so you really feel like you're staying in an untouched natural wilderness. Between December and February, turtles come to lay their eggs along the coastline, and the forest behind the lodge attracts a variety of bird species.
I also like Thonga because the lodge is part-owned by the local communities. Much of its profits go toward funding local amenities, such as schools, and many of the staff come from the local village.
I recommend staying here at the end of your trip, flying to Richards Bay, where you can travel by 4x4 to the lodge.
Best time to go on honeymoon in South Africa
South Africa's vast size means the climate differs depending on where you are. The best time to visit the Cape region is during the summer (November to March), when the weather is hot and dry. This is the wet season for northern areas such as Kruger National Park, which is best visited between March and October. For whale watching, visit between May and October.
Start planning your honeymoon to South Africa
Mauritius and South Africa
Start thinking about your experience. These itineraries are simply suggestions for how you could enjoy some of the same experiences as our specialists. They're just for inspiration, because your trip will be created around your particular tastes.
View All Tours in South Africa