Both the Rovos Rail and Blue Train offer a five-star experience and the chance to explore untouched parts of Southern Africa. Journeys can last anything from one day to two weeks.
The most popular route travels the length of South Africa, from Pretoria to Cape Town (or vice-versa), while others criss-cross their way right across Southern Africa and travel as far afield as Botswana, Zimbabwe, Zambia, Namibia and Tanzania.
A trip on either the Blue Train or Rovos Rail can be easily incorporated into a safari in Kruger National Park.
Start planning your rail journey in South Africa
Botswana, South Africa and Zambia
Start thinking about your experience. These itineraries are simply suggestions for how you could enjoy some of the same experiences as our specialists. They're just for inspiration, because your trip will be created around your particular tastes.
View All Tours in South Africa
The Blue Train
Every comfort has been thought of on the Blue Train and the vivid blue colour makes it instantly recognisable as it weaves its path through the country.
With soundproofing and modern air suspension it's a peaceful and comfortable way to travel.
Blue Train routes
One of the most popular routes taken by the Blue Train travels between Cape Town and Pretoria (or vice-versa), taking in South African countryside seldom seen by visitors.
It passes the changing scenery of the Winelands, and places such as Paarl, the Great Karoo desert, and the diamond mining region around Kimberley.
Stop-offs include the Victorian village of Matjiesfontein, a National Historic Monument. Its Victorian buildings and original 19th century London lampposts present a bygone era to the traveller. Visitors can take a tour by old London bus and visit the various local museums.
If you're seeking something different, additional routes to Durban and even into Botswana can also be arranged.
Levels of service
There are two trains, one accommodating 58 guests, the other 74, with excellent service on both.
You'll be assigned a butler at the start of your journey who'll convert the cushioned seats in your compartment into plush beds while you enjoy dinner in the dining carriage.
Luxury suites: the twin or double-bed suites offer deep, long baths, the choice of radio and movie channels on a private digital entertainment centre, as well as a selection of music CDs and big-screen movies on DVD.
Deluxe suites: these suites feature either twin beds with a shower, or double beds with a bathtub and handheld shower.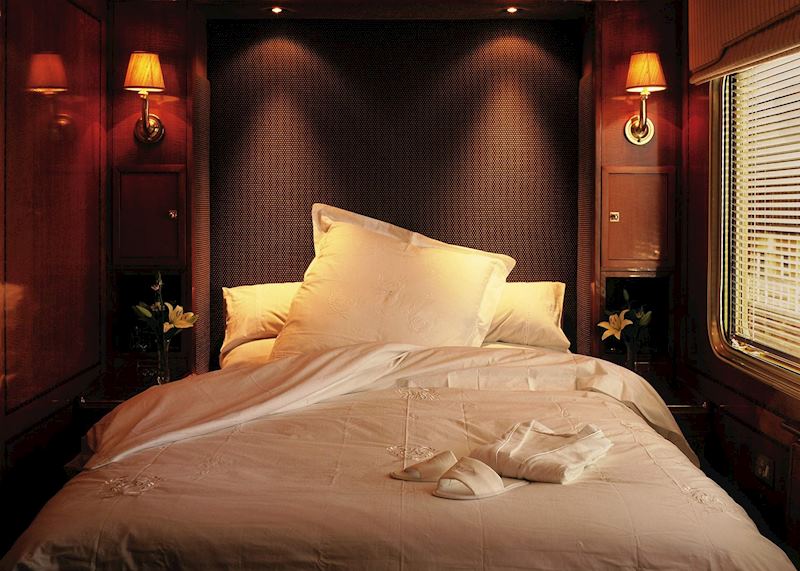 Rovos Rail
Rovos Rail combines luxury travel with the chance to experience living history.
Its carriages have been restored to their Edwardian grandeur, making them the ideal environment for enjoying the scenery of Southern Africa.
Rovos Rail routes
Like the Blue Train, Rovos Rail trains travel between Cape Town and Pretoria or vice-versa,
They pass through South Africa's Winelands, and places such as Paarl, the Great Karoo desert, the diamond mining region around Kimberley and the restored Victorian village of Matjiesfontein.
As with the Blue Train, a trip on the Rovos Rail can be incorporated into a safari in the Kruger National Park, as well as to Durban and Victoria Falls near Livingstone.
We can also arrange a nine day (eight night) trip from Pretoria to Ondangwa in Namibia, a journey of 2,112 miles (3,400 kilometres). Alternatively, you could take a 14-day trip from Cape Town, through Zimbabwe and Zambia, ending in Dar es Salaam on the Tanzanian coast.
Levels of service
Rovos has two trains, complete with restaurant cars: observation carriages and sleeping compartments.
Each train carries a maximum of 72 guests and offers three types of accommodation:
Royal suites: offer plenty of room. Each suite is air-conditioned and has its own private lounge and bathroom with Victorian bath and separate shower. They can accommodate two people and offer the choice of side-by-side twin or spacious double beds.
Deluxe suites: are spacious and can accommodate two passengers in either twin or double beds. They feature a lounge and en suite bathroom with shower.
Pullman suites: these are equipped with a sofa-seat during the day, which can be converted to double or twin beds for the evening, and have an en suite bathroom with shower.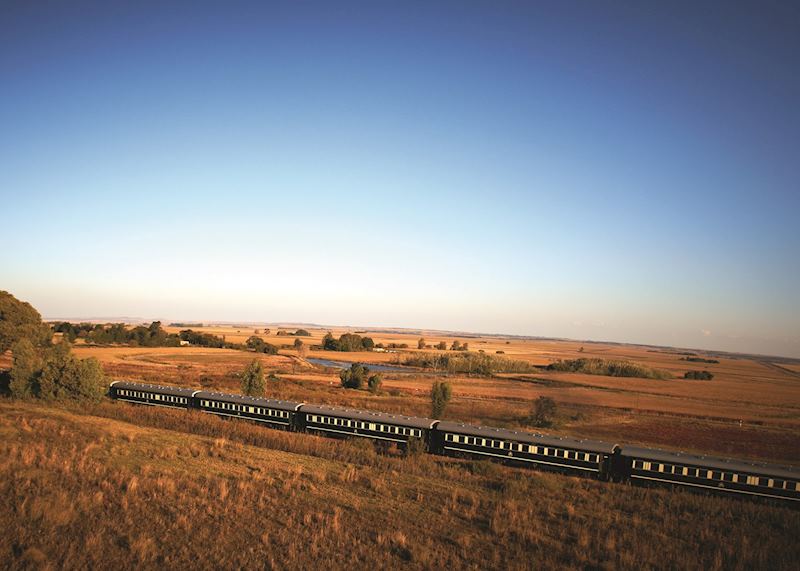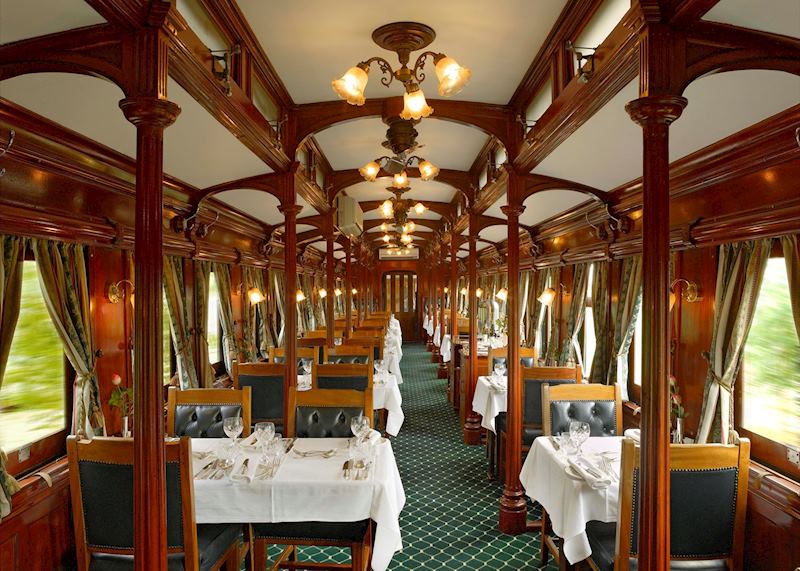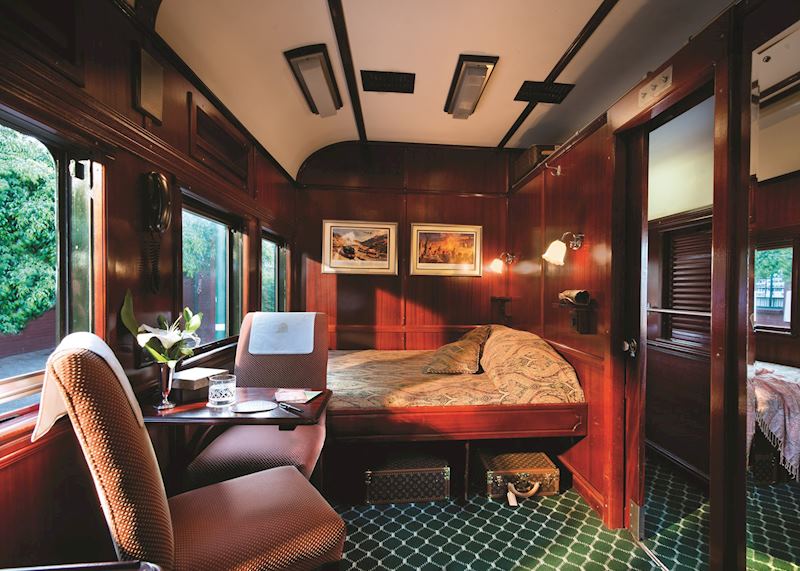 Train journey questions and answers
Q. Does Rovos Rail and the Blue Train run all year round?
Yes, they both run throughout the year, although the journeys are more limited during winter months (July - September).
Q. Are all meals, drinks and excursions included in the price?
All meals and drinks whilst on the train are included, as are any excursions.
Q. Are there sittings for meals?
On Rovos Rail there is one sitting in the formal dining carriage. On the Blue Train there are two sittings for dinner.
Q. Can you take children?
Yes, but parents need to be aware of other passengers, so very young children are not recommended.
Q. What is the dress code on board?
During the day, casual wear is fine. At dinner, a jacket and tie for men is required.
Q. Are there showers on board?
On the Rovos Rail, all rooms have a shower. On the Blue Train, all rooms have either a shower or bath.
Q. Will I require visas for my trip?
If your journey crosses into different countries, even if you are only passing through, you will require a visa. Please discuss this with your South Africa specialist for detailed advice.