Some of Alaska's most awe-inspiring scenery lies around its magnificent coastline; places such as Glacier Bay, Admiralty Island and Tracy Arm, and at Audley we offer some of the best Alaskan cruises available to experience this first-hand.
All of these breathtakingly beautiful places, along with the small historic settlements of southeast Alaska's "panhandle", are hemmed in on small strips of land between the ocean and massive glacier-capped mountains.
The mountains form an immense natural barrier, making the construction of roads between settlements an impossibly difficult task. Access is therefore only possible by air or sea, making Alaskan cruise ships the most comfortable and accessible way of reaching these remarkable spots.
Start planning your Alaska cruise
Start thinking about your experience. These itineraries are simply suggestions for how you could enjoy some of the same experiences as our specialists. They're just for inspiration, because your trip will be created around your particular tastes.
Alaskan cruise ships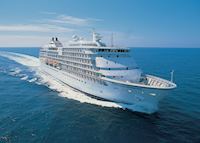 Regent Seven Seas offer the pre-eminent larger vessels for all Alaska cruises. Facilities include four gourmet restaurants, a selection of bars, fitness centre, spa and outdoor swimming pool.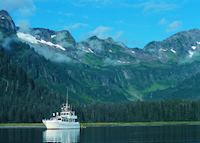 The 20 metre Snow Goose was originally built as a private yacht. The upper bridge deck provides a lovely point for spotting wildlife and comfortable seating for passengers.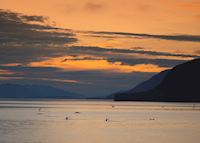 Holland America has been operating cruises to Alaska since 1971. Each of its ships accommodates approximately 1200 passengers and is renowned for offering a wide range of facilities.
Small ship or large ship?
Small ships can access regions and obtain close-up views that large cruise ships simply can't offer plus there is a friendly conviviality on board amongst passengers who tend to be more motivated to take in the surrounding beauty than be distracted by entertainments on board.
Large ships can offer an extensive range of activities and facilities not possible on small ships: gymnasia, spas swimming pools, gourmet restaurants, live music and dancing are all available when you are not soaking up the scenery.
Whale watching near Seward
Catch of the day, Seward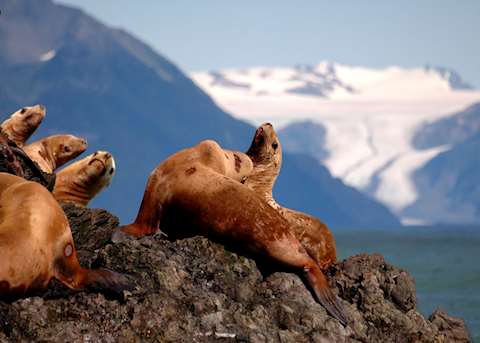 Stellar Sea Lions, Alaska