By Australia specialist Louise
Conjuring up images of dazzling turquoise waters and vivid coral alive with fish, anemones, and turtles, Australia's Great Barrier Reef is somewhere I'd always longed to visit. It's true, parts of this vast natural wonder — a World Heritage Site — are suffering bleaching effects as a result of climate change, but I'm pleased to report that the thriving reef you've imagined is still alive and well — and we'll help you visit the best spots.
Depending on the type of experience you want, your visit to the reef could vary from boat trips of a few hours to several nights staying on a remote island where you can access the reef straight from the beach. I've set out a few options to help you find your best fit, moving from north to south.
How to include a visit to the Great Barrier Reef on a trip to Australia
The Great Barrier Reef covers a huge distance along Australia's northeast coast, so it's easy to include it on a wider trip that takes in more of the country's highlights. You might combine it with a visit to Sydney and Uluru, or enjoy a family adventure along the east coast visiting several cities and national parks as you go. There's also the option to contrast the reef with the arid Outback, including a train journey aboard the Indian Pacific.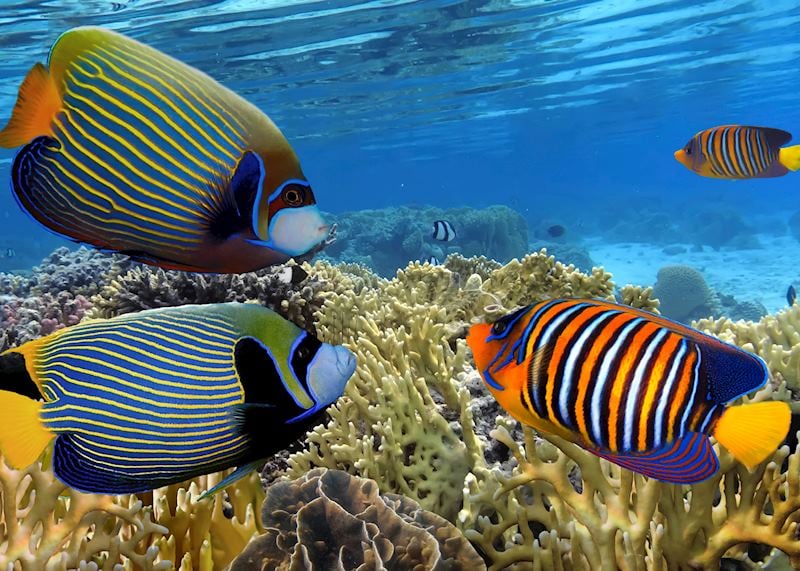 Where to go & what to do on the Great Barrier Reef
There are around 2,000 tiny islands on the reef, but only a handful are set up to welcome guests. Most are reached by charter flight and have just one property, so your stay is intimate and highly personal.
If you're short on time, though, you don't have to stay on an island at all — instead, take boat trips out to the reef from Port Douglas, from where you're also able to head into the Daintree Rainforest. Or, enjoy a three-night yacht cruise through the Whitsunday Islands.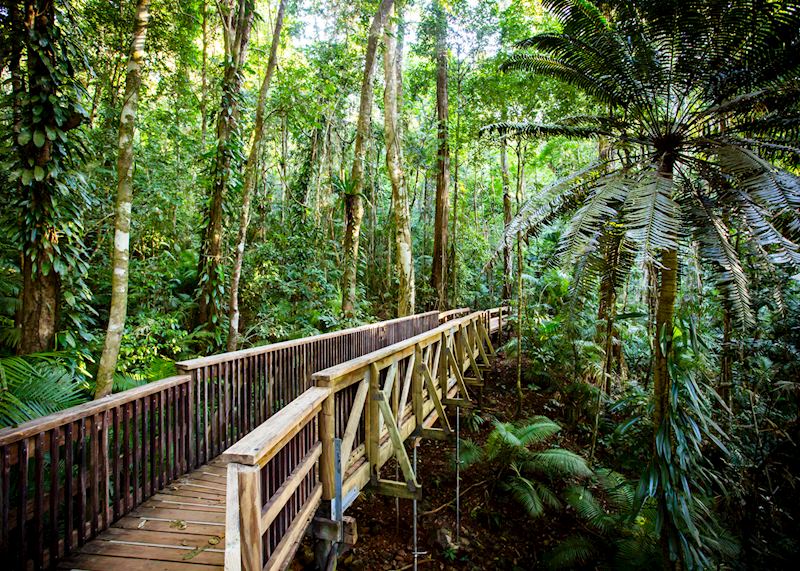 Lizard Island: for opulence on the ocean
One of the most northerly islands in the reef, Lizard Island offers an exclusive stay with just one property where your every need is catered for seamlessly. Creamy-white beaches, tree-covered hills, and waters like liquid glass that teem with life: it's somewhere that definitely requires no filter. And, you'll stay in a spacious, elegantly designed room, suite, or villa, some of which have direct access to the beach or a private plunge pool.
When you're not relaxing in your luxurious lodgings, indulging in a spa treatment, or unwinding by the pool, there's a huge variety of activities to choose from here. You can take diving and snorkeling trips into the inner or outer reef with expert guides, explore the island's Clam Gardens with the resident naturalist, or visit Casuarina Beach and Watson's Bay for a chance to snorkel alongside green sea turtles.
For something more leisurely, spend a few hours in a glass-bottomed sea kayak or drift peacefully on a paddleboard. Nature walks take you across the island for a chance to discover more about the local ecosystem. You could also head out in a private motor-powered dinghy to visit secluded beaches, enjoying a picnic specially prepared for you. And, I particularly recommend visiting the Lizard Island Research Station to learn how the coral reef is being studied and conserved.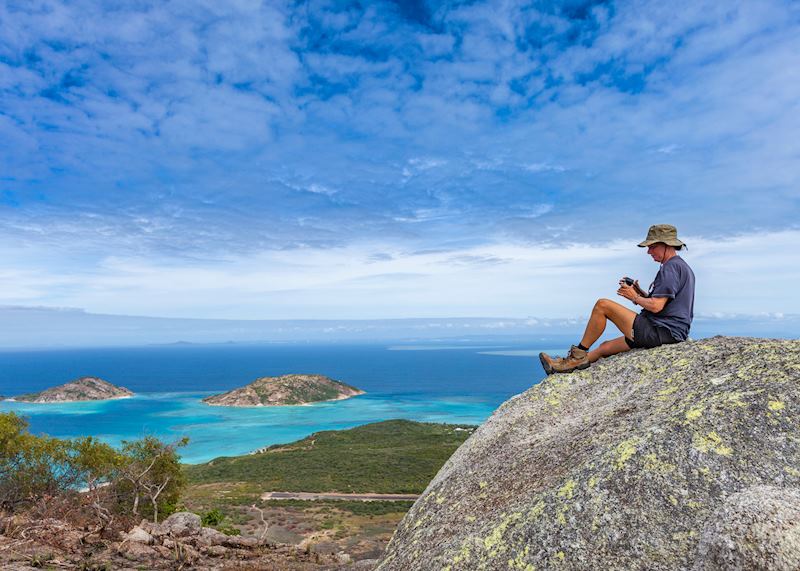 Port Douglas: for variety & convenience
The most convenient place to access the reef if you're looking to explore it in just a day is Port Douglas — a great option for families or for those who don't want to focus solely on the reef. A former gold-mining town, I find that it's a more laid-back option than nearby Cairns, and its Four Mile Beach has golden sand ideal for peaceful strolls.
The boat trips take around an hour and a half to reach the outer reef, where you'll get a chance to snorkel or dive among many varieties of coral, purple parrotfish, and sea cucumbers. Some of the boats are sizeable, but I can arrange for you to head out on a more intimate vessel, if you'd like. Alternatively, you could soar over the reef by helicopter to get a sense of its scale, with flights taking off from the town throughout the day.
Nearby, you can take hikes in the world's oldest surviving rainforest, the Daintree Rainforest. With its lush ferns, huge kauri trees, and tropical bird calls filling the air, it feels like you've entered a scene from Jurassic Park, minus the dinosaurs. That said, you might spy salties (saltwater crocodiles) if you take a boat trip along the Daintree River.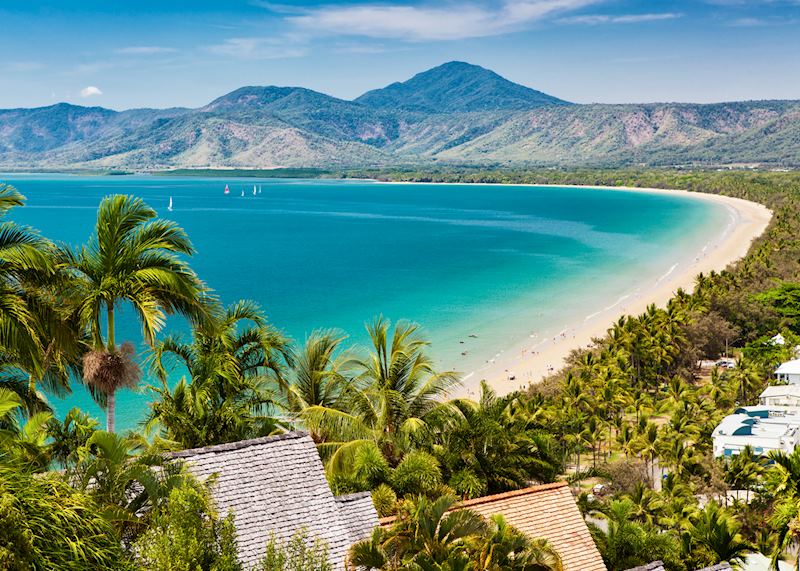 Hamilton Island: for a good-value island experience
Further south, Hamilton Island gives you the experience of staying off the mainland without the hefty price tag of some of the more exclusive islands. While more developed than other islands, it still has the relaxed feel of a beachside town, and with its own airport, is easy to reach from the mainland.
What I also like about Hamilton is the wide range of stays and activities you can choose from, whether you're visiting as a couple, family, group of friends, or solo adventurer. You can take nature walks in its bushy interior, paddle a sea kayak around the shoreline, join dolphin and whale-watching trips, and enjoy helicopter rides over the cobalt-blue Coral Sea.
Nearby, you can also spend time on Whitsunday Island's Whitehaven Beach, whose dazzling-white sand merges with azure water to form a scene that I can only describe as paradise.
The reef itself is an hour or so away by boat, so it's worth putting aside a whole day to head out and immerse yourself in the rich underwater world, whether you choose to snorkel or scuba dive.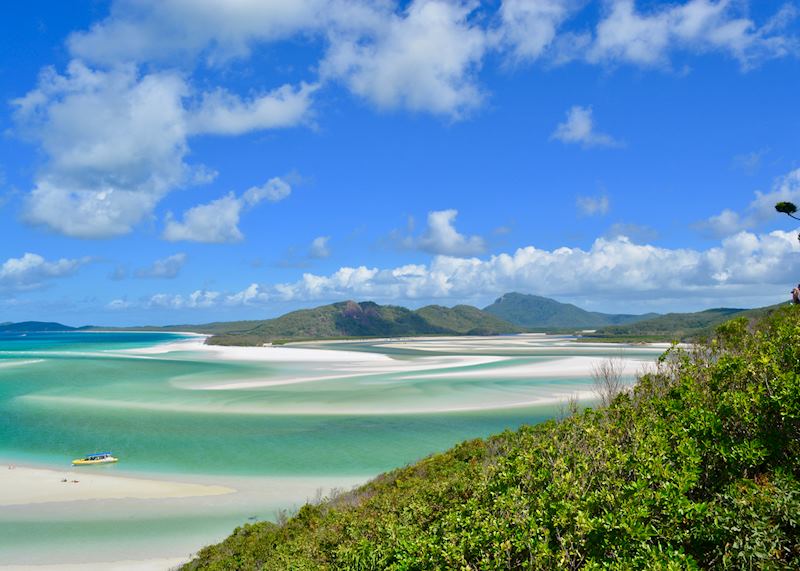 Cruising the Whitsundays: for an intimate island-hopping adventure
You might prefer to set sail on a three-night catamaran cruise for a chance to explore the Whitsundays both above and below water. You'll stay in one of Whitsunday Getaway's four en-suite, air-conditioned cabins, hopping between the islands and their pinch-yourself-perfect white-sand beaches. And, of course, you'll have plenty of opportunity to snorkel and dive among the coral with professional dive instructors by your side.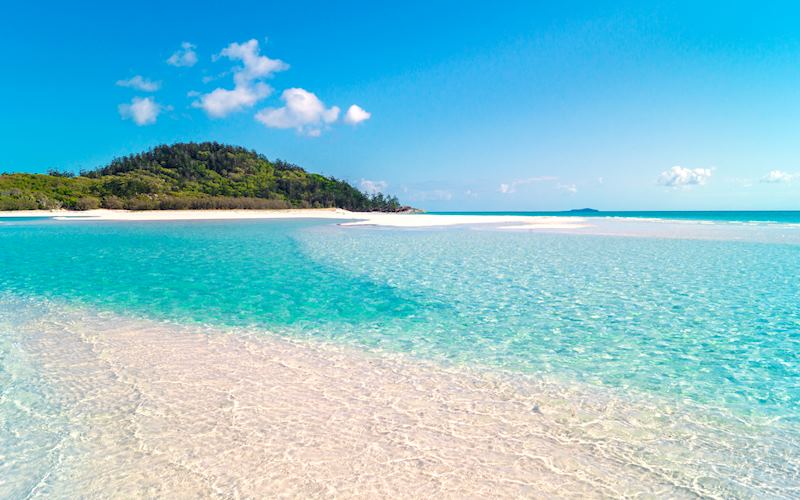 Lady Elliot Island: for an eco-stay focused on conservation
Oval-shaped Lady Elliot Island, in the far south of the reef, is ringed by white sands and pristine coral. Accommodation here is on the simpler, more rustic side, with rooms, tents, and cabins designed to have minimal impact on the environment and take you completely off grid (you won't find Wi-Fi or a TV here). I think all of this enriches your experience.
The island's location means you can wade right out to the reef from the beach, without the need for lengthy boat trips. I can confirm that this novelty does not wear thin during your stay — it feels like such a privilege to be able to casually stroll out from your cabin and within a few minutes find yourself absorbed in the Great Barrier Reef's kaleidoscopic habitat.
As well as a offering solar-powered, low-footprint stay, Lady Elliot has a team of expert guides who go above and beyond to teach you about the ecosystem and what's being done to help conserve it.
The island is particularly known for its manta rays, and guides can take you out on snorkeling safaris to see them glide kite-like in front of your mask. They'll also explain how you can photograph the rays to contribute to Project Manta, one of a few citizen science projects you can get involved with here that aid reef research.
There are many other marine species that thrive on and around the coral here, too, from parrotfish and clownfish to huge green turtles, so you're likely to spot something new each time you snorkel or dive. You could also paddle a kayak, join guides on foot to learn about the island's flora, fauna, and history, and head out at night to spot nocturnal creatures like ghost crabs and trace constellations in the sky.