Well-maintained roads, little traffic, wide-open skies, good signage, and a scenic roll-call of everything from coast to vineyards to Outback: Australia's a rewarding place for a road trip.
The most obvious is the Great Ocean Road, but plenty of quieter options exist. Our specialists have picked out three equally fulfilling alternative routes, which can act as standalone trips or slot into a more ambitious itinerary.
A South Australia scenic drive can easily work as a self-contained trip or an Outback alternative to visiting the Red Centre. You can also adapt a southwest road trip, perhaps simply venturing down to the Margaret River region before circling back to Perth. And, our suggested loop of the Top End can weave into a longer trip focusing on Australia's wildernesses and wildlife highlights.
Time your drive in the southwest for August and September (if you wish to coincide with wildflower season) or November for peak whale watching. Meanwhile, the Top End is best visited in the Austral winter (June to September) and South Australia is at its finest in its summer (between November and March).
Route 1: The southwest loop — Albany, Pemberton, the Margaret River and Perth
1,050 km (652 miles), five nights minimum
By Vina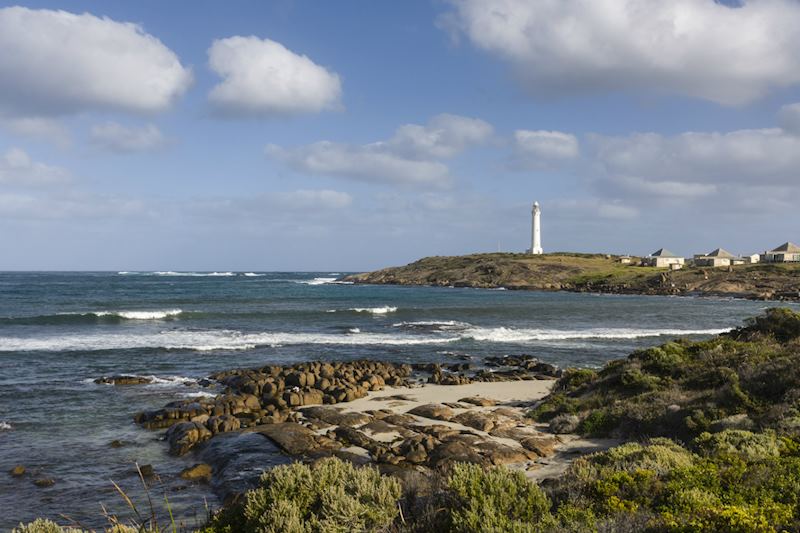 The drive in brief
Flying into Perth, your first drive of the trip is also the longest — five to seven hours streaking diagonally across the cape of Western Australia to the former whaling town of Albany.
After that, the legs get more leisurely. The next stint takes you west along the coast and through national parks of native forest to Pemberton. A straight run will take you two hours, but four allows you time to stop and explore the coastline's coves, viewpoints and rock formations.
At Pemberton, you're in the home of the karri, one of Australia's tallest hardwoods. From here, you head roughly northwest, ideally detouring slightly to take in the sight of the Southern Ocean crashing into the Indian just off Cape Leeuwin. Then you enter the vineyard-braided Margaret River region. I suggest making a day of the drive, and then staying in the Margaret River region for two nights minimum.
The last stage takes you north to Perth, a meandering two-hour drive with a short burst on the freeway as you near the city.
What to see and do en route
Around Albany and Pemberton
Part memorial, part museum, Albany's National Anzac Centre is an eye-catching modern structure of stilted cuboids and open-air walkways that occupies a peaceful spot overlooking King George Sound.
The coastal drive to Pemberton is dotted with numerous lookouts and short, easy walks. You can descend to view the gaggle of oversized boulders that make up Elephant Rocks (the resemblance is there with a bit of imagination). Or, lounge awhile in the shallow, spearmint-blue water of Greens Pool, a good swimming spot.
The national parks around Pemberton offer excellent mountain biking trails, but its best attraction is the 600 m (1,969 ft) Tree Top Walk. This elevated boardwalk (which is wheelchair and stroller accessible) wiggles between the gnarly trunks and tufty canopy of karri trees.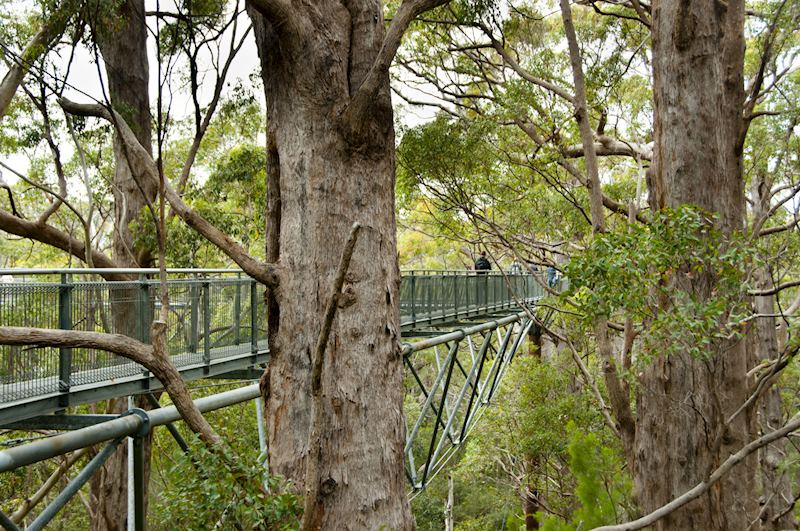 Around the Margaret River
Leaving Pemberton behind, I suggest stopping at Hamelin Bay to observe its family of manta rays, which swim right up to the shoreline.
In the Margaret River region proper, I recommend taking a small-group wine and food tour. Your driver-guide will take you around big-name vintners, boutique wineries, artisan cheesemakers, and other regional producers (epicureans, take note: truffles are big in Western Australia).
The region also offers some fine coastal walking, especially in August and September when its wave-lashed headlands are ablaze with a pink carpet of pincushion coneflowers. You can hike part, or all, of the Cape to Cape Track, one of Australia's Great Walks. Look for bottlenose dolphins from the clifftops. Alternatively, you could take the short walk to Injidup Natural Spa, a series of teal-blue natural bathing pools.
Finally, there are two particularly rewarding stops on the road back to Perth. Have lunch in Busselton, a seaside town with a wooden jetty rambling 2 km (1.2 miles) out to sea, from which you can sometimes spy breaching humpbacks and minkes. Then, before you enter Perth proper, I'd linger in Kings Park for a bird's-eye view of the central business district and its waterfront.
My preferred place to stay
I'm particularly fond of the Rosewood Guesthouse in Margaret River township. Its hosts welcome you with tea and biscuits, and will recommend local places to eat (you can walk into town easily). The Rosewood also makes the best banana pancakes I've ever tasted.
Route 2: South Australia's winelands and Outback — Adelaide, the Barossa Valley, and Ikara-Flinders Ranges National Park
851 km (529 miles), five nights minimum
By Matt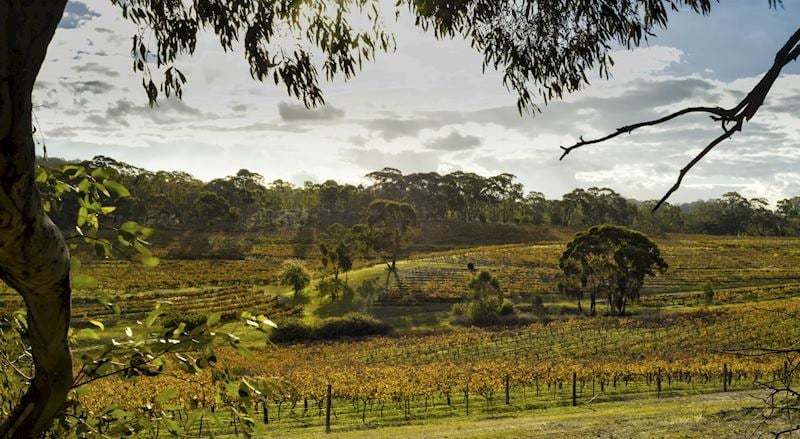 The drive in brief
Fly into Adelaide. You'll drive an hour north, leaving the city sprawl to enter the neat vineyards and bosomy green hills of the Barossa Valley. After a couple of days here, continue north, watching the landscape mutate into scrub bush and finally the ochre-red earth that's so synonymous with the Australian Outback.
The drive to Ikara-Flinders Ranges National Park (known as 'the Flinders') is a long one — five hours — but you can stop in the Clare Valley, a quieter wine-producing area than the Barossa.
You need three days or so to explore the Flinders sufficiently, a sun-baked area of sandstone bluffs, gorges, waterholes and bush tracks, before heading back to Adelaide. Take the six-hour direct but not terribly scenic highway, or return via the backroads, stopping off at outpost towns like one-street Orroroo. You can, alternatively, stop in the Clare Valley on the way back to break the drive.
What to see and do en route
Adelaide and the Barossa Valley
Don't leave Adelaide until you've nosed around the city's 150-year-old Central Market. You can sample local produce here, including some bush-tucker fare that's a comeback as a sustainable ingredient. Try freeze-dried green ants — they sound unpalatable, but I find they taste like crisp green apples. You can also take a 20-minute tram ride to the seafront suburb of Glenelg to watch the sun set in a blaze of bright orange over the Southern Ocean.
Visiting wineries is par for the course in the Barossa. But, you can also pop into one of the area's thriving microbreweries — a leftover from the German migrants who set up home here in the 19th century.
The Flinders
You can explore the Flinders' landscapes and wildlife on guided bush walks and safari-style game drives: expect to see plenty of kangaroos, wallabies and emus. Keep an eye out for fuzzy, striped emu chicks, and hardy Outback trees such as the yucca, which looks like a Dr. Seuss creation.
Try to experience the Flinders from the air, too. This is the best way to take in the scale of Wilpena Pound, a gargantuan natural bowl formed by sedimentary rock synclines. On a 30-minute scenic flight, you'll see why it's called a pound — it has a single entrance and exit point, and was once used by settlers to pen livestock.
My preferred place to stay
In the eco-villas at the Flinders' Rawnsley Park Station, you fall asleep under a blanket of stars thanks to skylights above the beds. Try the lamb and tasting platters at the excellent on-site Woolshed restaurant. There's also Arkaba, a former homestead turned luxury lodge set in expansive grounds.
Practicalities of driving this route
Don't drive into the Flinders in the early morning or at dusk, when emus and kangaroos are more active (you can easily hit them with your car). I'd also take a good podcast or playlist as the radio signal is patchy.
Route 3: The Top End — national parks and aboriginal lands
900 km (559 miles), five nights minimum
By Jenna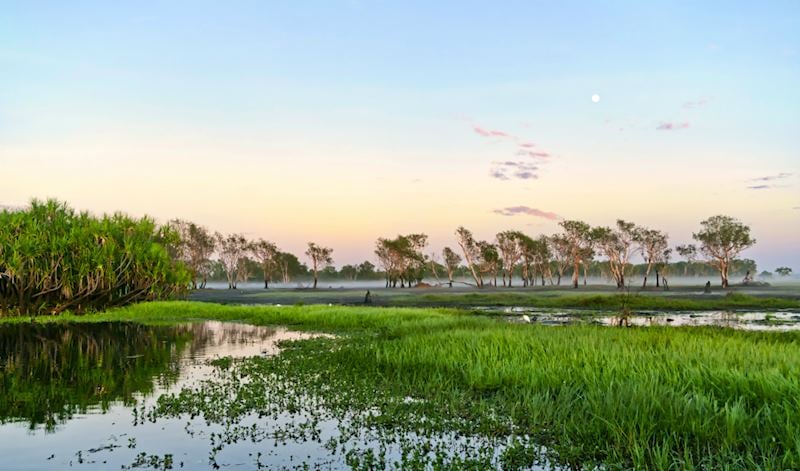 The drive in brief
Flying into Darwin, you'll drive for about two hours to Litchfield National Park, a sandstone plateau with monsoon forests, watering holes and 3 m (10 ft) high magnetic termite mounds.
Backtracking slightly, you next take in Berry Springs Nature Park, stopping to cool off in its easy-to-reach waterfalls and natural pools.
Then, drive on to Jabiru in Kakadu National Park (a two-and-a-half-hour stretch). Wallabies skitter by the roadside, the earth turns redder, and you pass through Outback towns with quirky monikers (like Humpty Doo).
From Jabiru, you can explore the floodplains and escarpments of Kakadu National Park and take a side trip to Arnhem Land. I'd then drive to Cooinda (40 minutes from Jabiru) to see Kakadu's billabongs at their best on a sunrise nature cruise, before schlepping back to Darwin (about three and a half hours).
What to see and do en route
For me, this road trip has two main draws: the quality of aboriginal rock art you'll see in the Top End, and the wildlife.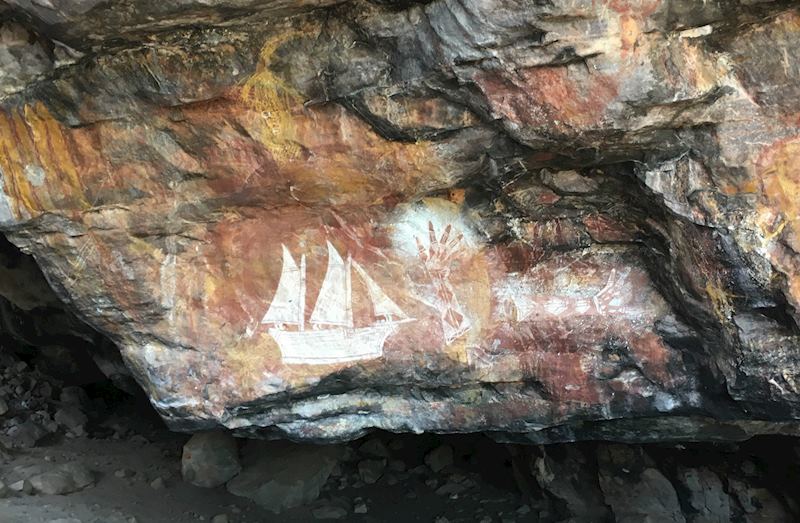 Rock art
Whet your appetite by visiting Kakadu's Nourlangie Rock Art Site. You'll see 'Lightning Man', a splayed ancestral figure painted in an 'x-ray' style (depicting its internal anatomy, notably its ribs). Meanwhile, at Ubirr, you can see evidence of hand stencils used to create paintings. But, as impressive as these sites were, they couldn't compete with what I saw in Arnhem Land.
Arnhem Land requires a permit to enter, so few domestic and international visitors make it that far. You can opt to explore it safari-style in 4x4s with Davidson's, who have strong relationships with the area's communities. They'll take you to some of the remotest rock art in Australia, and some deeply sacred sites. You'll need to take short charter flights to reach their base.
I drove into Arnhem Land to visit on a day tour, and was still astonished by the rock art I saw. It looked freshly painted, despite being about one thousand years old. One piece showed a startlingly clear European-style sailing ship, and there were depictions of flowing, stringy-limbed spirits known as mimis.
Aboriginal people would use paintings as warnings, records, and teaching tools. My tour took us to an isolated community, the Gunbalanya. At their working arts centre, the guides recounted how men and women would traditionally focus on different arts and disciplines. Later in the day, I was impressed by a rock wall with spears still sticking out of it — a remnant of an exclusively male custom with its origins in hunting and combat.
Wildlife watching
For the best of the region's wildlife, take a Yellow Water Nature Cruise in Kakadu National Park. You skim the billabongs at sunrise with a guide of aboriginal descent, who provides the aboriginal names of all the creatures you encounter.
As the day's heat dissipates the layer of fog blanketing the floodplains, you might see wild horses running in the near distance, and huge saltwater crocodiles skulking next to your boat. I like the endemic darter birds. They dive for fish, and then toss their catch into the air before eating it whole. You'll see them drying out their (non-waterproof) wings, as cormorants do.
My preferred place to stay
Break your journey from Berry Springs to Kakadu at Wildman Wilderness Lodge for a stay that's more elegant and comfortable than most along this route. It offers safari-style luxury tents and numerous activities such as fishing trips and tours of Kakadu.
Bamurru Plains ups the ante even more. One of the Luxury Lodges of Australia, its dining and safari suites rival Africa's finest tented camps.
Read more about trips to Australia

Start thinking about your experience. These itineraries are simply suggestions for how you could enjoy some of the same experiences as our specialists. They're just for inspiration, because your trip will be created around your particular tastes.
View All Tours in Australia