By Australia specialist Amanda
Sporty, great-outdoors-loving Australia is the stuff that dreams are made of for active families with an adrenaline-seeking streak. You might choose to learn to surf in Bondi Beach, or spend an afternoon hiking up the Sydney Harbour Bridge.
If you have children who are just becoming awakened to the natural world, Australia is a place that can feed their imaginations. Here, they can observe crocodiles in their natural habitat, far away from the confines of a zoo. They can float over a sheltered coral reef and come eye to eye with a green turtle, or walk among a rainforest canopy and be dwarfed by its greenery.
Getting around Australia as a family
Despite Australia's huge size, travel between all the destinations I talk about in this guide is surprisingly straightforward.
An efficient network of domestic flights means that you can fly directly from Sydney to Darwin (for Kakadu National Park). You can then take a direct flight from Darwin to Cairns (for the Great Barrier Reef and the Daintree Rainforest), before driving south to the Atherton Tablelands.
Another option would be to fly directly from Sydney to Adelaide, from where you'd drive to Flinders Ranges. You could then take the Ghan train across the Outback to Darwin.
Southeast Australia
What to do as a family in Sydney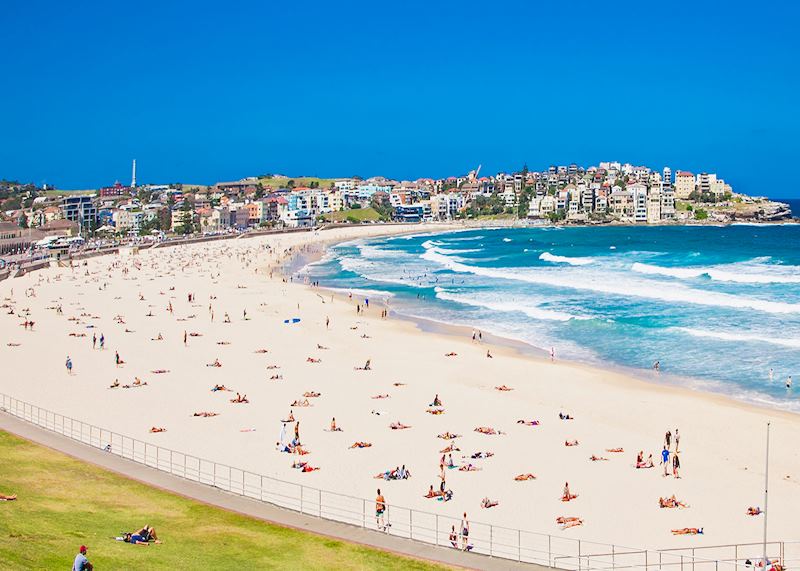 I'll kick off with Australia's largest city, as it's likely to be your entrance or exit point to the country. Glossy waterside Sydney, which spools toward the Pacific in a series of characterful bays, suburbs and parks, is a place in love with the open air and an active lifestyle.
Families can get a feel for this by visiting the laid-back, sporty beach suburb of Bondi. There, a medley of brunch spots and ice-cream vendors complement the surf clubs, saltwater sea baths (good for young swimmers not yet ready to brave the waves), skate parks and outdoor gym areas.
You can walk down a gentle coastal path of tawny, weathered sandstone to Bronte, a beach community lying farther south. Alternatively, try your hand at surfing for the first time — Bondi's small summer swells are ideal for beginners and children, and it's possible to arrange whole-family lessons. The instruction is so good, you're likely to be able to stand up on your board after just one class.
Young children will enjoy the attractions of Darling Harbour, with its zoo and aquarium, while families happy to drive an hour or so out of the city might enjoy taking a trip to the eucalyptus forests of the Blue Mountains. Here, you can take short bush walks to lookouts and ride the Katoomba Scenic Railway, a funicular that chugs down a former mining track at an exhilaratingly steep 52-degree angle.
Climbing Sydney Harbour Bridge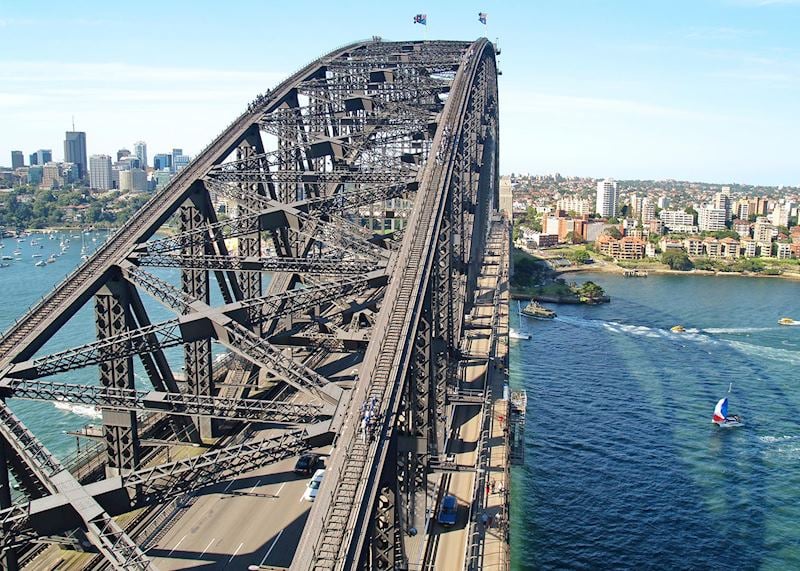 Of all the city's family-friendly activities, the chance to climb Sydney Harbour Bridge (BridgeClimb, as it's named) is the one I'd most recommend. Open to children aged eight and over (though height restrictions apply), it's a journey to the top of the colossal steel through arch bridge that has become a symbol of Australia.
You climb up a series of walkways, ladders and a gradually inclining staircase, strapped to a safety line, glimpsing along the way bolts and nuts as large as your head. Your guide will explain the engineering feats involved in building the bridge and recount stories of the construction workers and past climbers, including one hardy 100-year-old participant.
The views — even if you're afraid of heights, like me — are the ultimate reward. The Opera House's sail-like roof, Sydney Harbour meandering off into the distance, and the huddle of skyscrapers in the central business district, including the golden orb of Sydney Tower, dominate one view. Look the other way and you'll see mountain ranges just smudging the horizon.
Family hotels in Sydney
The Harbour Rocks Hotel, in the heart of the historic one-time convict settlement, the Rocks, provides a convenient central location for families. It has a clean, minimalist decor and is close to the start of the BridgeClimb as well as the ferry and bus terminus of Circular Quay.
The Red Centre & Outback
Flinders Ranges: for an Outback experience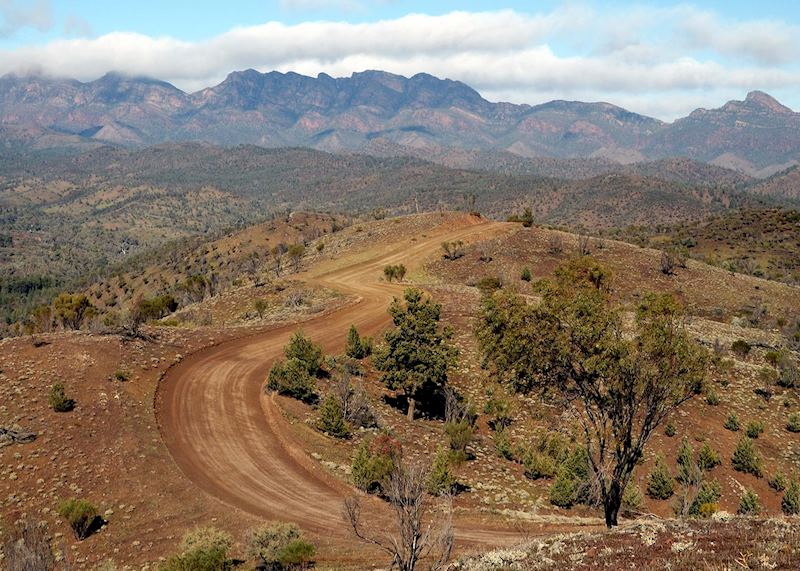 The dusty, Martian, virtually uninhabited Outback is all part of Australia's mystique, and it's possible for families to experience it in a non-commercial way, without journeying a million miles from civilisation.
A six-hour drive north from the city of Adelaide will bring you to Ikara-Flinders Ranges National Park. It's a place of barren sandstone mountain ranges surrounded by surprisingly fertile scrubland dotted in acacias and 'grass trees' — prehistoric-looking bushes resembling fuzzy Van Der Graaf generators.
Rawnsley Park Station looks onto Wilpena Pound, a natural rock arena that's a distinguishing feature of the Flinders Ranges mountains. With its clutch of eco villas, the station is a great place to stay and absorb the savagely beautiful landscapes. You can hike up hillsides fragrant with the scents of eucalyptus and lemongrass, go biking, and take 4x4 tours to find fossils in dry creek beds and to spot red kangaroos and emus.
To really push the boat out, you could take a small plane tour of the region. From above, you can appreciate the crater-like formation of the Wilpena and watch it change shades with the sun's movements.
The Northwest
Crocodile spotting and Aboriginal culture in Kakadu National Park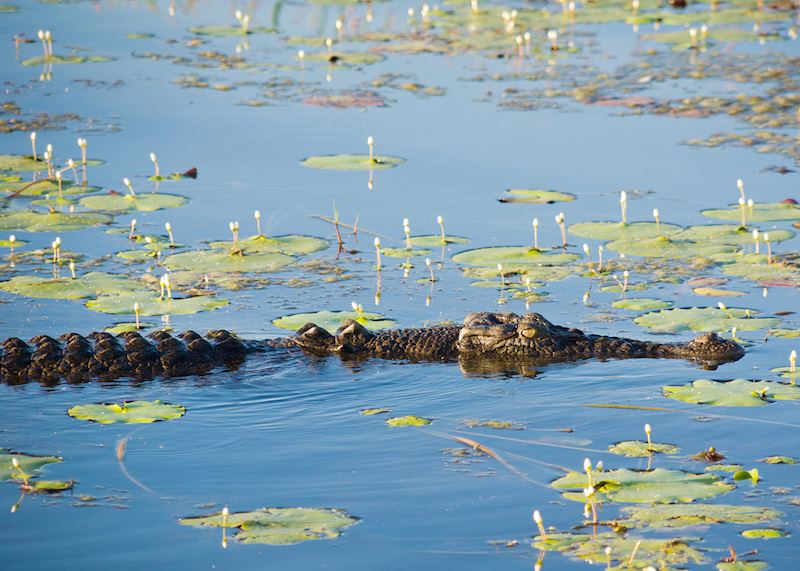 A vast area in Australia's Northern Territory, the size of Switzerland, the Kakadu combines a huge variety of ecosystems from savannah to mangroves to mudflats, divided by great jagged sandstone escarpments. Waterfalls hurtle over ridges. Quiet, brackish billabongs shelter all kinds of birdlife, from red-winged parrots to red-tailed black cockatoos, as well as many frog species, such as northern dwarf tree frogs with their bright lime skin.
As someone who grew up in a densely populated area, such emptiness and the vast, unknowable wilderness came as a bit of a shock. 'You could travel on every road in this park,' explained my guide, 'and you'd still only have seen 1% of it.'
A big draw are the park's river systems and floodplains (known collectively as the 'Yellow Waters'), which were created by the prehistoric inhabitants. The saltwater crocodile is king here, so much so that you can only wild swim in certain freshwater holes. I recommend taking an early morning Yellow Waters motorboat tour to observe them in their habitat.
I saw many crocodiles swimming or floating, seemingly frozen, in the water, their muscular bulk looking menacingly powerful. Boats get as close as they can while keeping a respectful distance, and guides will help you distinguish between the real deal and so-called 'logodiles'.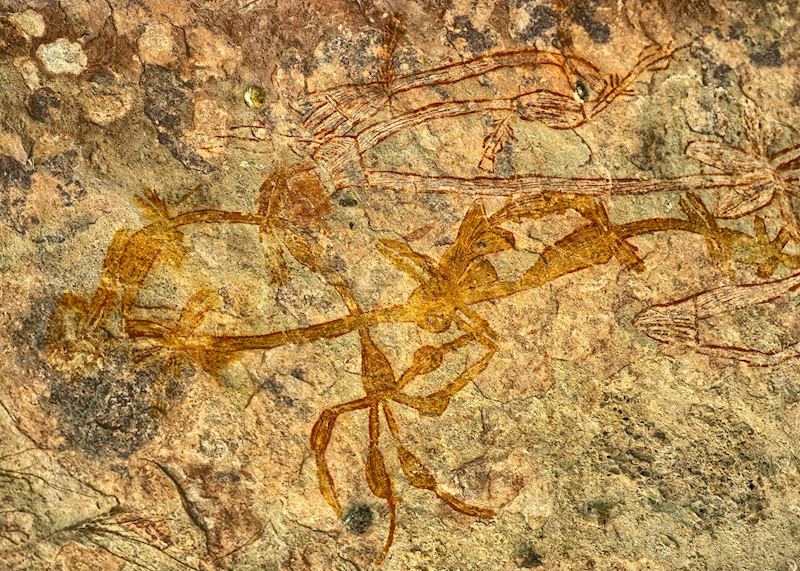 You can explore the park by driving from Darwin, although you really need to spend a few days here to make the most of the region and get a feel for the Aboriginal culture. Aboriginal people have a strong presence in Kakadu, compared with the rest of Australia. Community guides such as Sab Lord, who was raised among local Aboriginal people, will show you rock-art sites and tell you about the Aboriginals' relationship with the land.
At the Warradjan Cultural Centre, located off the Kakadu Highway, is an Aboriginal-run art collective, you're able to watch the artists crafting their work using local, natural materials gathered from the land. I bought a necklace made out of a seed husk, coated in a paint made from earth.
Family hotels in Kakadu National Park
The Wildman Wilderness Lodge is a great option for families, with an infinity pool and expansive grounds inhabited by over 60 wild wallabies. The property also runs billabong tours on its fan boats, and trips to fishing spots.
Getting to Kakadu National Park
The park is a three-hour drive from Darwin International Airport. Guided tours of the park, which include an overnight stay there, are also available.
The Northeast
The Daintree — where the rainforest meets the reef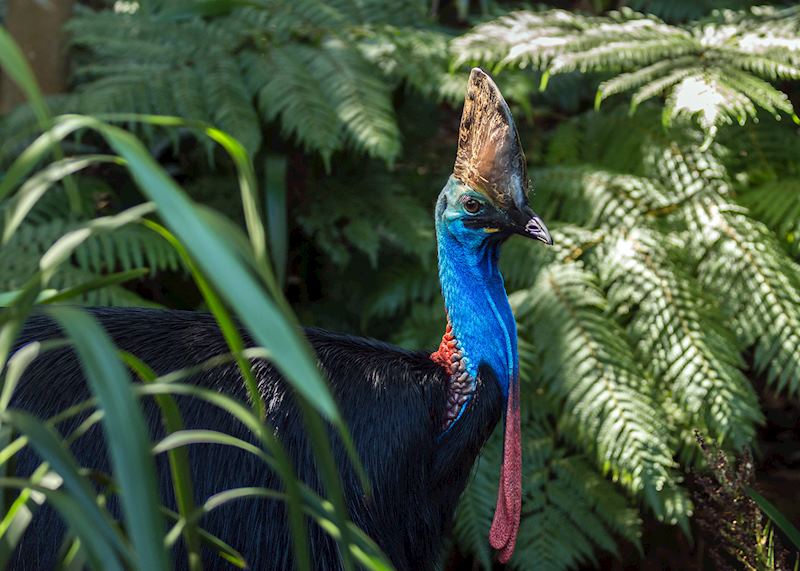 A vast area of tropical rainforest blankets Queensland in northeast Australia, stretching to meet the Great Barrier Reef offshore. This is the Daintree, a 135-million-year-old forest that shelters the majority of Australia's mangrove species.
Following a trail on one of the many canopy boardwalks (guides are optional) sometimes feels a bit like stepping into the set of The Day of the Triffids. Giant, blue quandong trees soar above you, strangler figs wrap themselves around huge-girthed trees, and sinuous (imaginatively named) 'wait-a-while' vines trail their way down to the understorey in clumps, clinging to anything that passes. It's a haven for wildlife, too: crocodiles inhabit the creeks, and you might glimpse some cassowaries stalking through the vegetation.
You can explore the area by driving the winding road from Cairns to Cape Tribulation, stopping at lookouts. Try to make time to call in at the Daintree Ice Cream Company, to the north of the Daintree River, which makes desserts using exotic local fruits such as the black sapote (a type of persimmon nicknamed the 'chocolate pudding fruit') and jackfruit (part of the fig and mulberry family).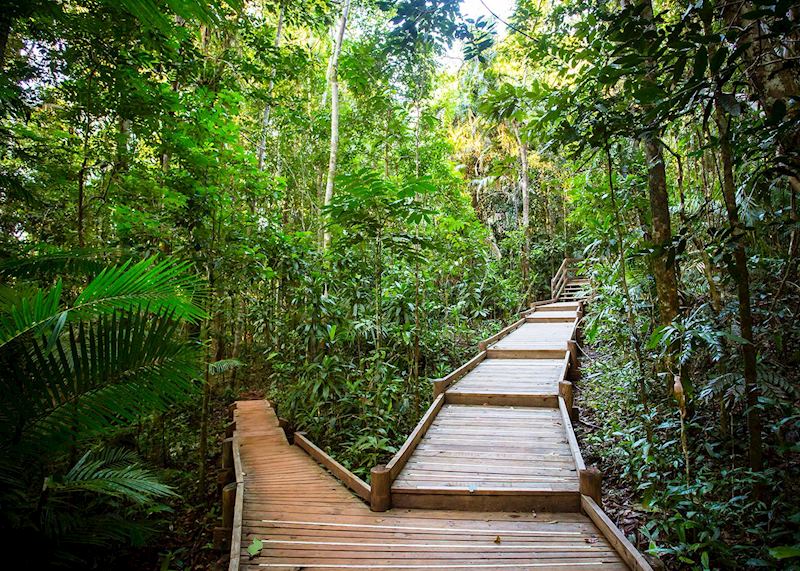 For me, one of the best ways to experience the Daintree is to join the Daintree Dreaming Tour, where you'll spend a day with a local Aboriginal family, members of the Kubirri Warri Clan. They'll take you for nature walks in the forest, teach you about traditional hunting and gathering techniques and show you how to hunt for bushtucker food such as crabs, fish and mussels.
Family hotels in the Daintree
Thala Beach Nature Reserve, a 15-minute drive south of Port Douglas, is an ecolodge where you stay in treetop cabins amid eucalyptus trees or stilted seaview bungalows. The property offers many complimentary activities, including stargazing sessions, and has a large stretch of private beach.
Getting to the Daintree
The rainforest is a one-and-a-half-hour drive from Port Douglas and a two-and-a-half-hour drive from Cairns. Some hotels offer private transfers.
Snorkelling on the Great Barrier Reef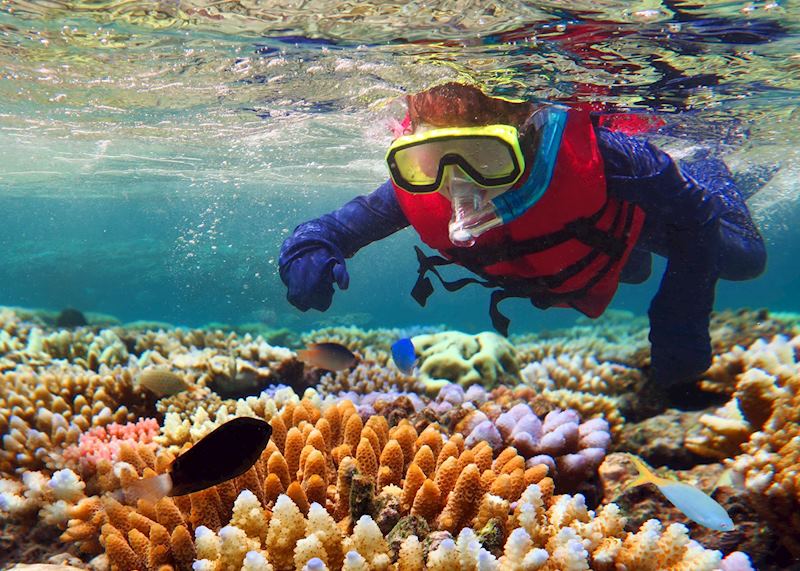 The Great Barrier Reef is a vast underwater ecosystem, but it's still possible to get a sense of its biodiversity and cornucopia of corals and marine life in one day. Getting to the outer reef is a journey of several hours and usually necessitates several days' worth of exploration. A more convenient option for families is to take a catamaran trip to the Low Isles on the inner reef.
Departing from Port Douglas, you'll sail by catamaran to the Blue Lagoon. This sheltered area of both hard and soft corals is home to some kaleidoscopic marine life, from angelfish and anemones to giant clams and green turtles. It's great for snorkelling, although there's also the option of viewing the corals and creatures from a glass-bottom boat.
An on-board marine biologist will help you identify what you're seeing. There are also plenty of opportunities to sleep off lunch on Low Island. It's a coral cay with a crop of palm trees and flaxen sand, and nothing else — a real castaway island.
Family hotels near the Great Barrier Reef
I advise families to stay in Port Douglas, rather than Cairns, as it has natural beaches and a quieter atmosphere (Cairns can be a bit of a party town). I especially like the Mandalay Luxury Beachfront Apartments, which have access to two private swimming pools and tennis courts.
Getting to the Great Barrier Reef
Many boat trips to the reef depart from the marina at Port Douglas.
Relaxing in the Atherton Tablelands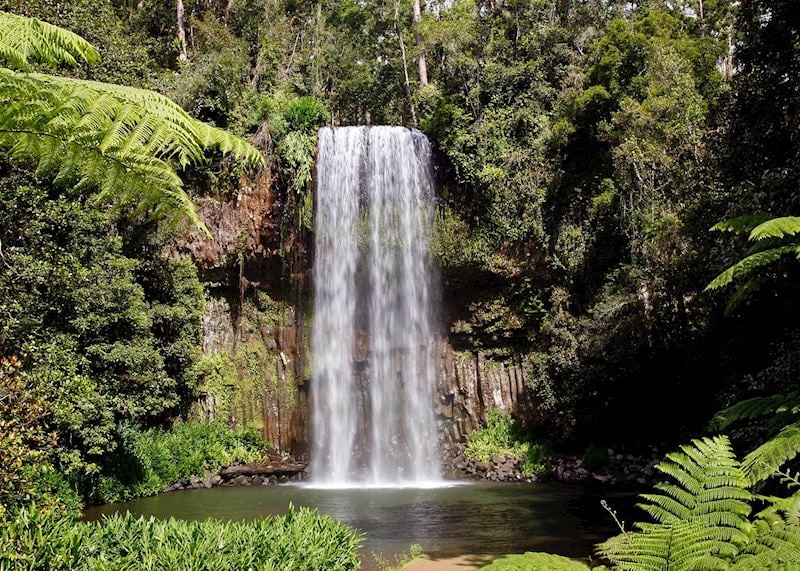 If you're after a restful yet scenic place to relax in at the end of your trip, this Queensland region just inland from Cairns is a good solution. Tropical forests, mirror lakes, caves, waterfalls, secluded swimming holes and outcrops pepper an area of mountain ranges and farmland.
The drama isn't lacking, either — take the Millaa Millaa Falls, which plunge in a great foaming white-water screen into a secluded swimming hole that you may just find yourselves sharing with platypuses. Or the curtain fig tree, a monster-sized strangler fig, left freestanding on roots that form a many-stranded giant fringe.
Yet unlike, say, Kakadu, it's a compact place, with the main points of interest only a short drive away from each other (around 20 minutes). It's the Australian wilderness, but in a manageable, bitesize package.
Family hotels in the Atherton Tablelands
The Rose Gums Wilderness Retreat is my choice of family hotels. Its treehouse-style cabins include breakfast hampers and tennis rackets are available to use. Its owner, Peta, provides guests with good maps and is happy to point out the area's attractions.
Getting to the Atherton Tablelands
If you're coming from Port Douglas or Cairns, take the inland route rather than the coastal route. The drive from Cairns to the Tablelands takes around two and a half hours.
Start planning you family trip to Australia

Start thinking about your experience. These itineraries are simply suggestions for how you could enjoy some of the same experiences as our specialists. They're just for inspiration, because your trip will be created around your particular tastes.
View All Tours in Australia