Paro-based Nidup has been guiding our clients all over Bhutan for many years, illuminating everything from city sightseeing to longer treks out into the country.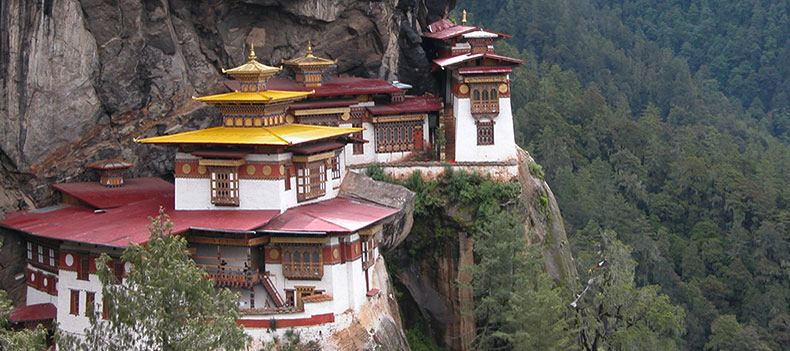 Tell us about your childhood...did it shape your love for nature and trekking?
Yes, definitely. I was born and raised in the hills of Kalimpong in West Bengal, India — with Kanchenjunga (the world's third highest peak) not far away. I also spent time in Paro, Bhutan, surrounded by mountains — both extremely beautiful places.
What path did you take after leaving school?
I spent a lot of time in India working for the Government. Part of my job was to do with geographical mapping and country borders, which meant I spent a lot of time looking at the mountains and countries surrounding me. In 1993 I moved into a tourism role and in 1999 I left India to become a guide. I've never looked back.
What tempted you in to becoming a guide?
I wanted to meet people from all over the world and not only share my passion with them but also learn about their cultures and meet lots of new characters. I am definitely a people-person and enjoy spending time with everyone I meet. I also love being outdoors.
What makes your job as a guide so special to you?
I meet new people all the time and they teach me so much. As a guide I share lots of knowledge but I learn so much too, often about flowers or bird species from visitors; it's a great way to interact, break the ice and learn.
How would you describe a typical day in Bhutan?
Everything in Bhutan is open from 9am(ish!) so I tend to meet clients from 8:30am in the morning and begin sightseeing. We enjoy lunch and a rest around 1:30pm before continuing if they want to see more. 4pm is usually the end of the day for me unless they are keen to explore or we are doing a day walk. Sightseeing is tiring so relaxing is an important part of the trip too.
Of all the walks you enjoy with clients, which is your favourite?
The Tiger's Nest walk is iconic and I love it every time. It's a unique place and a real highlight for so many people. It's not an easy walk for some, but worth every step. I like that so many people can do it, if you get tired we just stop for tea halfway and enjoy the views.
Where is your favourite cultural place to take clients?
Zorig Chusum in Thimpu. The school teaches the 13 traditional arts and crafts to children, ensuring ancient customs are continued. They do embroidery, carve, read scriptures — it's great to see our culture preserved.
When would you say is the best time of year for clients to visit Bhutan?
Early autumn or late spring are best but things do change year on year, we feel the climate changing slowly. These months are usually sunny and cool, great conditions. For photographers who want to see the best mountain views, November or mid-February are best.
Do you have any top tips or advice for visitors?
I always advise people to have layers with them, good socks and sturdy walking boots. A waterproof, windproof coat is essential, as is sunscreen.
Finally, what's the next destination on your own travel wish list?
There is a trek from Darcha to Lamayuru in Ladakh, which takes between 20 and 30 days. You climb to over 5,000 metres but I know the views will be incredible. I'm happiest when trekking!
Tailor-made itinerary ideas in Bhutan
Uncover the main highlights of Bhutan including Thimphu, Punakha and time in Paro to relax at the end of your tour.

Explore the main highlights of Bhutan travelling from the little visited east to the better known sites around the western part of the country. This itinerary will give you an insight into Bhutan only few visitors get.

Uncover the main highlights of Bhutan including Thimphu, Punakha and time in Paro to relax at the end of your tour.
Further reading