Summer is on the horizon — if you haven't planned your family trip yet, now is a good time to start. We asked our specialists where they like to go over the summer with their families. Here are their suggestions, from snorkelling among the brilliant marine life at the Great Barrier Reef to spotting caimans in the depths of the Amazon Rainforest.
Queensland and the Northern Territory, Australia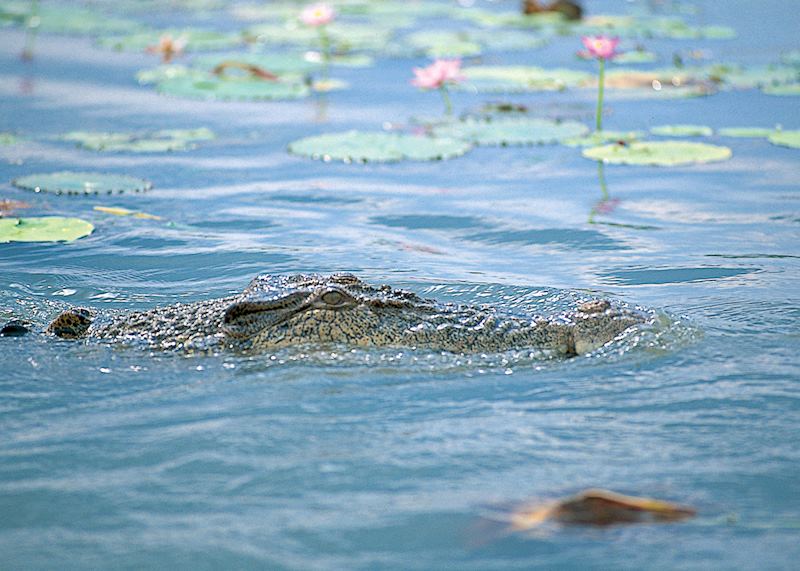 By James from our Australia and New Zealand team
I think July and August are the best months for families to visit Australia. The extended school break gives you enough time to take in the continent's vast diversity. When I went last August with my two children — seven and nine years old at the time — we were there for 19 days and visited both Queensland and the Northern Territory.
Queensland's attractions are mostly outdoors. We took advantage of Noosa's tropical beaches to relax and indulge in kayaking and paddleboarding before driving north to K'gari (formerly Fraser Island). The local Aboriginal clan calls the island 'K'Gari' (Paradise) for its inland lakes, aquamarine waters and lush rainforest — the only one in the world to grow on sand.
Even farther north, Port Douglas is a great base for exploring the teeming marine life around the Great Barrier Reef, a particular treat for those raised on repeat viewings of Finding Nemo. For land-based adventures, we took ranger-guided walks in the Daintree Rainforest, where the trees grow right down to the beach.
After more than a week there, we headed to the Northern Territory, known locally as the 'Top End'. In Kakadu National Park, we took a dawn cruise through the Yellow Water Wetlands where we saw knobble-backed crocodiles gliding serenely through the water — a shivery delight for herpetologically inclined youngsters.
The park is also known for its Aboriginal art, some of it dating back 15,000 years. Ubirr in particular combines ancient art with panoramic sunsets.
Where to stay
When families go to Australia, I always suggest staying in an apartment. The Mandalay Beachfront Apartments combine convenience and comfort in Port Douglas.
Masai Mara, Kenya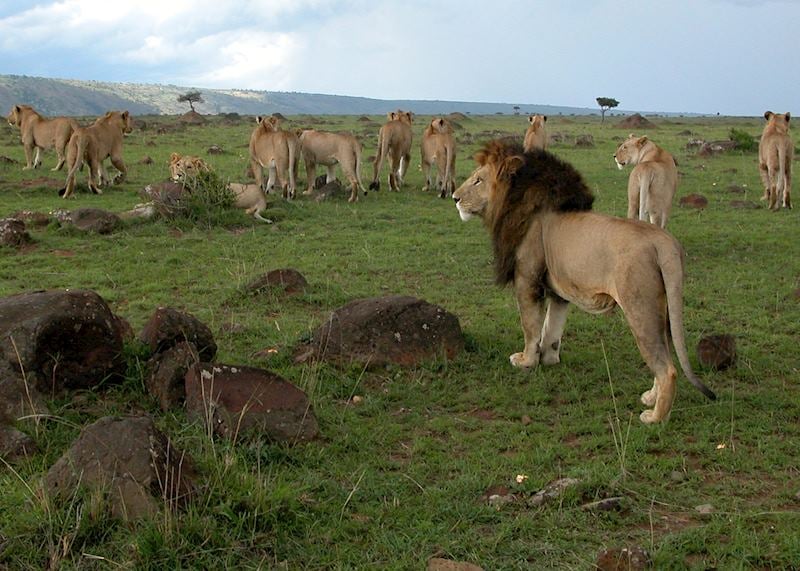 By Kenya specialist Mark
In July and August, the Great Migration moves through Kenya's Masai Mara. Immense throngs of wildebeest mill across the landscape while lion and cheetah slink along the fringes of the herd, looking for prey.
Happily, Kenya's lodges and camps are well-equipped to deal with children's needs. Many have spaces specifically designed for families, with interlinked rooms or tents that share a common lounge but still offer parents some privacy. And the senior guides have years of experience dealing with children.
Many family-friendly lodges provide hands-on activities for younger guests. These might involve going into safe areas of the bush with a member of the local Maasai community to learn skills like shooting a bow and reading animal tracks.
For teens, the Laikipia Plateau is a privately owned reserve that's a little quieter, even during the high season. There are plenty of activities for energetic adolescents, including horse riding, mountain biking and overnight walking tours. Families can even go tubing down the (crocodile-free) river.
July and August are the busiest months in Kenya due to the Great Migration so safaris during this time need to be booked well in advance.
Where to stay
The Asilia Naboisho Camp in the Mara Naboisho Conservancy is an intimate camp with a family tent that can accommodate up to five. Families of four or more are guaranteed a private safari vehicle, giving you more flexibility.
Argentina and Brazil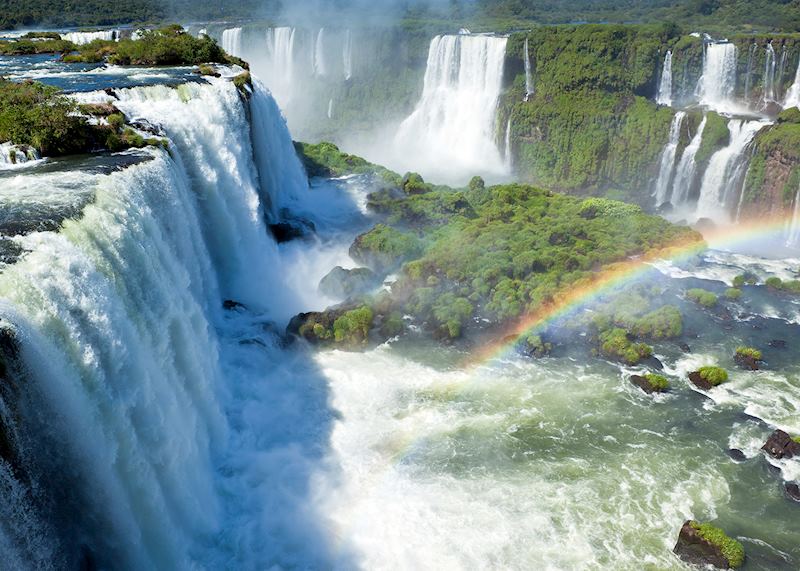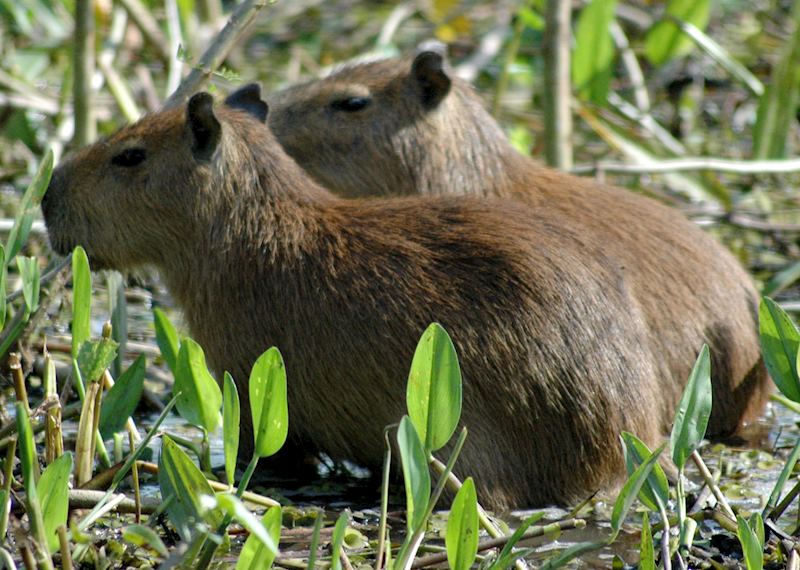 By Latin America specialists Georgia and Aliza
Even though July and August are winter in South America, the Amazon remains a hot and humid destination year-round. The wildlife there captivates children, teens and adults alike, and most eco-lodges offer plenty of hands-on ways to experience the jungle and waterways. There are guided walks, river safaris, piranha fishing, and nocturnal expeditions to spot caiman lurking in the dark waters.
Of course, the dense foliage of the rainforest can make it hard to spot wildlife. The Pantanal is a vast and largely unpopulated wetland, with a similar abundance of animals that are much easier to see thanks to the open ecosystem. You'll find slinking jaguars, bumbling capybaras and strutting jabiru storks.
Farther south, at the border between Argentina and Brazil, Iguazú Falls is the largest series of waterfalls in the world. Spelling differs depending on which side of the border you're on, but the sight and rumbling sound of the enormous cataracts is equally impressive no matter where you stand.
After absorbing all these natural wonders, families often want some time to relax and enjoy Brazil's storied beaches. Just a short drive from Rio, the island of Ilha Grande offers pristine Atlantic rainforest and palm-studded beaches with a relaxed atmosphere. Much farther north, Praia da Pipa is known as a surfing destination, but its cliff-backed beaches and aquamarine waters are also a good place to unwind at the end of a trip.
Where to stay
Wake up to the sound of howler monkeys at dawn when you stay at the low-key Amazon Lodge, which floats on the Juma River, deep in the rainforest. Thanks to the water's slightly higher acidity, there are few mosquitos here.
Ontario and Québec, Canada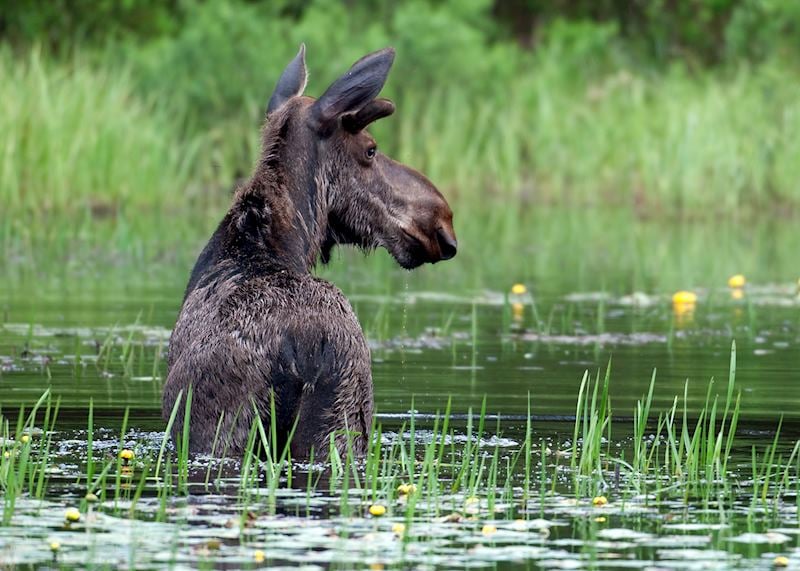 By Canada specialist Jamie
The Rockies' mountain scenery tends to get most of the attention when families are planning a Canadian summer holiday, but I think that the eastern provinces of Ontario and Québec arguably make a better destination. Not only are the flights shorter, but the east is less crowded.
In Lake Ontario, the Toronto Islands are just a short ferry ride from Toronto. Comprising 15 different islands that are interconnected by bridges and paths, the archipelago is car-free. You can hire bicycles to explore the nature trails, lighthouse, gardens and playgrounds. Canada's capital, Ottawa, offers gentle boating on the Rideau Canal and white-water rafting trips nearby.
For exploring Canada's natural wonders, I suggest smaller parks like Killarney National Park and the Bruce Peninsula National Park. They have fewer crowds than their more popular western counterparts, with gentle trails that are easier for little legs than the steep slopes of the Rockies. At Fathom Five National Marine Park at the top of the Bruce Peninsula, families can look at shipwrecks in crystal-clear waters through the floor of glass-bottomed boats.
At Algonquin Provincial Park, children can look for moose or participate in a wolf howl, calling to the wildness and listening for responses from distant wolf packs. In Québec, you can also go whale watching from Tadoussac, at the confluence of the St. Lawrence River and the Saguenay Fjord, or stay in a lodge and try mountain biking, canoeing and fishing.
Where to stay
Located in Québec Province, Lac-à-L'Eau-Claire is a family-focused hotel with an inn as well as condos and cottages. Families can enjoy the warm and sunny weather with hikes, kayaking, fishing and lounging on the lakeside beach.
California, USA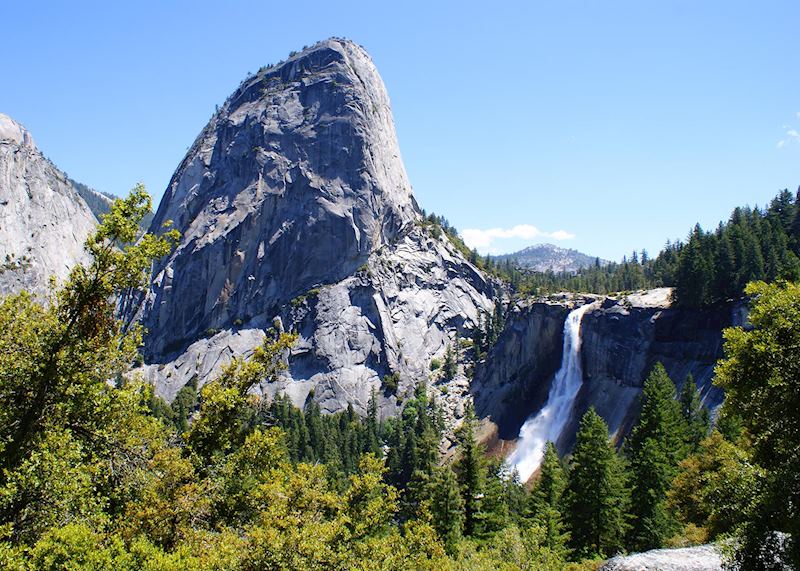 By USA specialist Alex
Summer in California means guaranteed sunshine, without the risk of tropical storms and hurricanes that haunts other parts of the country. Additionally, the state boasts a wide variety of sights and activities to appeal to almost everyone.
The cities alone have enough to fill a visit. In San Francisco, you can cycle over the Golden Gate Bridge, eat at Fisherman's Wharf and visit Alcatraz. In LA, explore Hollywood or visit one of the city's theme parks. Monterey Bay's aquarium was used for inspiration in Finding Dory, and San Diego has sun-gilded beaches.
But beyond the cities is a wide array of different ecosystems, carefully protected in 34 national parks: the sere deserts of Joshua Tree or Death Valley, the fairytale giants of Sequoia or Redwood, and the coastal beauty of the Channel Islands or Point Reyes. The jewel in the crown, however, is undoubtedly Yosemite National Park.
Yosemite can seem unreal at first. The bears tower over even a tall man, the trees rise to the height of mountains and the mountains seem to scrape the sky. It's so large that it can be overwhelming, which is why I suggest a private tour. Your guide can tailor your trip to your family's interests, whether that means animal spotting, short hikes for distractible youngsters or panoramic vistas for budding photographers.
Where to stay
The rustic cabins of Evergreen Lodge in Yosemite were designed with families in mind. After exploring the park during the day, children and adults alike can sing songs around the bonfire while roasting s'mores, enjoy a relaxing game of tennis or unwind by the pool.
Rome, Florence and Venice, Italy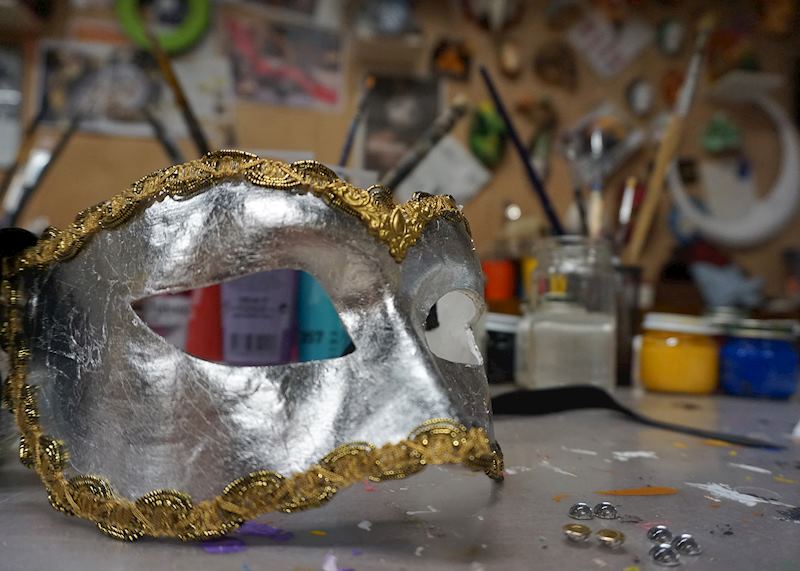 By Italy specialist Shannon
When I'm planning trips for families, I hear two constant concerns over and again: children who are picky eaters and teens (or tweens) who won't put down their smartphones. Italy solves both those problems.
From pasta to gelato, Italian food is instantly familiar and usually tempting to even the fussiest eaters. In fact, food is one of the major attractions in Italy, whether it's eating a slice of pizza in Rome's Campo de' Fiori or rolling out their own linguine at a private cooking class. What's more, the regional cuisines are flexible enough to easily accommodate vegetarians, and sophisticated enough to keep adult palates happy, too.
As for distracted teens, Italy can engage even the most jaded adolescent. From gladiator fights at the Colosseum to the gondolas in Venice, these are sights they've encountered endlessly in history classes, TV shows and movies. Additionally, I always suggest to families that they fill their schedule with interactive activities. It's hard to tweet if your hands are busy making tortellini or building a traditional Carnivale mask.
Where to stay
Villa Cora offers a family room and a pool. Its serene location just outside of Florence's downtown area makes it a good place for families to unwind after a busy morning. Staff also offer milk and cookies to younger children in the evenings as a special treat.
Trip ideas with Audley
Kenya and Zanzibar Archipelago
Start thinking about your experience. These itineraries are simply suggestions for how you could enjoy some of the same experiences as our specialists. They're just for inspiration, because your trip will be created around your particular tastes.