By USA specialist Alex
Nature is the showstopper in the Pacific Northwest, from the snow-dusted stratovolcanoes that sit solitary in grassy plains to the farmers' fields bursting with juicy crops. So, whether you're an all-out wilderness enthusiast like I am or someone who likes to enjoy the natural world with a dash of indulgence, you'll find opportunities aplenty to hike, cycle, wine, and dine across Washington and Oregon.
Most visitors choose to go during the balmy glow of summer, but there's something special about visiting as the season changes into windswept walks and harvest cheer. So, here are my top five reasons to plan a trip to the Pacific Northwest during autumn.
1. Crimson foliage
Prior to visiting the Pacific Northwest, I always associated striking fall foliage with New England. But the forests of Washington and Oregon possess the same autumnal allure — just without the crowds. From early October to November, the canopies slowly turn into a watercolour painting of moss greens, scarlet reds, amber yellows, and apricot oranges.
For satisfying underfoot leaf crunching, I suggest heading to Olympic National Park, a short drive from Seattle, to stroll through its temperate rainforest. I can arrange for you to go hiking with a private guide, who'll take you deep into the rainforest. There, you'll witness the usually moss-covered bigleaf and vine maples dipped in all the shades of fall, with a flurry of fungi peeking out of the ferns below.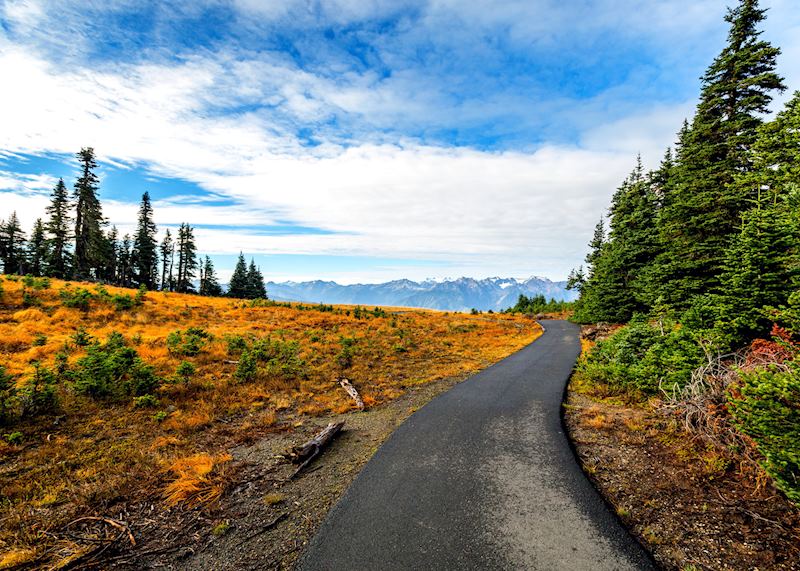 2. Wine harvests
Unlike the grandeur of California's Napa Valley, Willamette Valley in Oregon feels much more intimate — small, family-run wineries surrounded by forested foothills, angular mountains, and a smattering of small, quaint towns. Visitors don't swarm here like they do to California, so I find you get to fully appreciate the vineyards and tasting experiences without the hurry. You also get to speak with the winemakers and owners themselves rather than a member of staff dedicated to visitors.
In September and October, the busiest visitor season is over, but the real action is (weather-permitting) in full swing: the grape harvest. As each grape reaches its peak of ripeness, the vineyards turn into a frenzy of hand-pickers dashing from vine to vine in a race against the clock — and the weather. Staying at Allison Inn and Spa, you can watch the whirlwind unfold from your balcony and, if you need a break from the rush, unwind with a soothing wine-grape treatment in the spa.
Then, rejuvenated, you can head into the action. Many vineyards host harvest events, including grape stomps, open houses, and harvest dinners. But I can also arrange for you to visit with a private sommelier guide who'll tailor the day around your preferences. I'm a red wine kind of guy, so the local speciality — a light and floral pinot noir — is all I need. But if you'd prefer to swirl a crisp white wine instead, your guide can take you to the best wineries for chardonnay, riesling, and pinot blanc.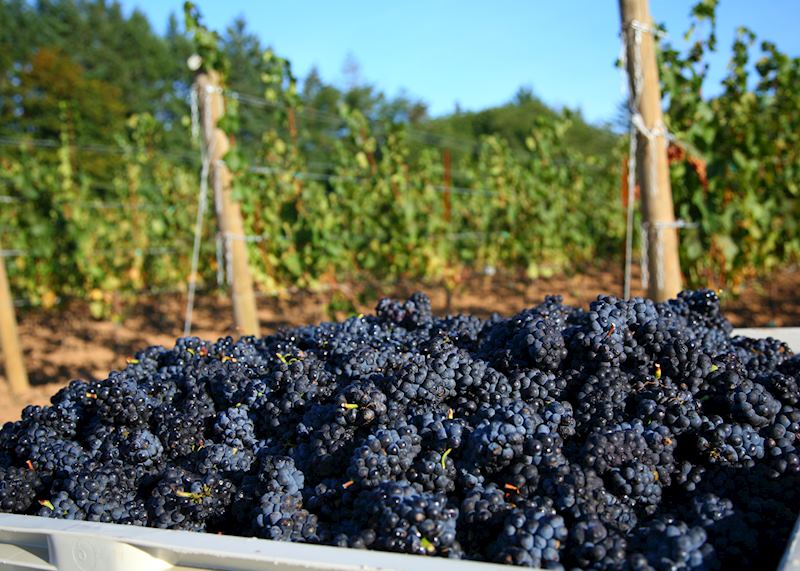 3. Farm-fresh food
In the Pacific Northwest, home-grown and local is always best, so farm-to-table restaurants are plentiful. During autumn's harvest season, you can expect an array of hearty dishes prepared with hyper-local ingredients, including juicy gala apples, earthy hazelnuts, sweet pears, and fresh-caught Pacific salmon.
For me, Bend is one of the best places for farm-to-table dining — not just for the food and drinks themselves, but also for its surroundings. Here, everything revolves around the great outdoors, from snow-capped volcano peaks and rushing rivers to still glacial lakes and endless forests. And with that comes a passion for the natural world and a dedication to local, seasonal produce.
So, whether you're after sustainable delicacies, local pub grub, or carefully sourced craft beers, Bend is the place to go. You could even follow the High Desert Food Trail in and around Bend on an e-bike for a sustainable culinary adventure. Along the route, you'll find dozens of restaurants, cafes, and breweries that support local farmers.
I then recommend heading to Portland, where you'll have a completely different culinary experience. Here, food trucks reign supreme, so you'll find all manner of street foods, from brisket breakfast tacos to vanilla custard-topped waffles. On my last trip, I tried a sweet and salty concoction of peanuts and cola — a slightly mind-boggling drink, but a delicious thirst-quencher nonetheless.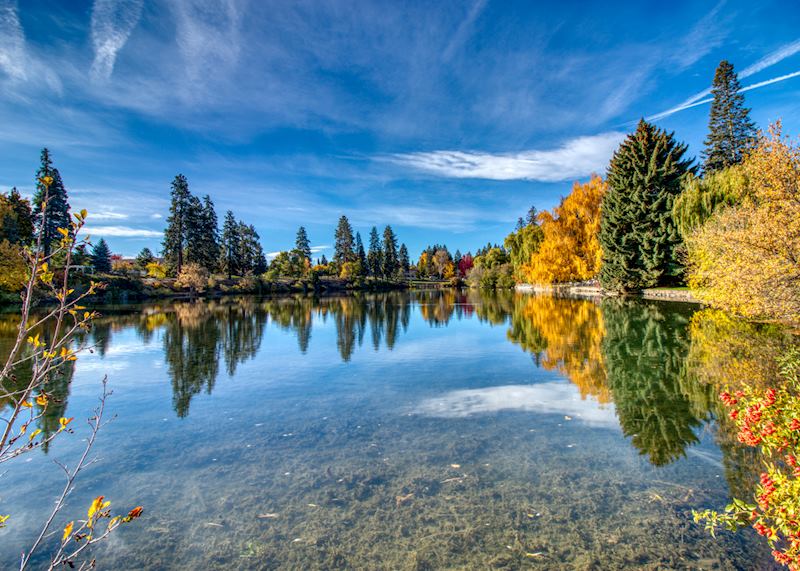 4. Breezy outdoor adventures
Hiking and cycling under the summer sun certainly has its draws, but for a less sweltering experience, the Pacific Northwest in autumn is breezy bliss. Early October is the sweet spot before the wet weather arrives and after the majority of visitors have returned home.
Whether you prefer gentle strolls or challenging treks, you'll find a trail in Smith Rock State Park to satisfy your alfresco spirit. As you explore, you'll pass snaking bends in the aptly named Crooked River, volcanic cliff formations that seem to protrude out of nowhere, and clusters of bushy evergreen trees lining the route.
You could also join the stream of avid climbers attempting to scale a host of craggy spires and slabs. It's said to be one of the best places in the country to do it and, having completed a few routes there myself, I agree.
For a more relaxed outdoor affair, I suggest a guided cycling tour around Hood River Wine Country. It's less abundant than Willamette Valley, but Hood River's scenery is just as striking. Along the route, you'll get to soak in views of apple-laden orchards and harvest-ready vineyards with the pyramid-like Mount Adams and Mount Hood as your backdrop. Then, you can enjoy a wine-paired lunch to reset and refuel.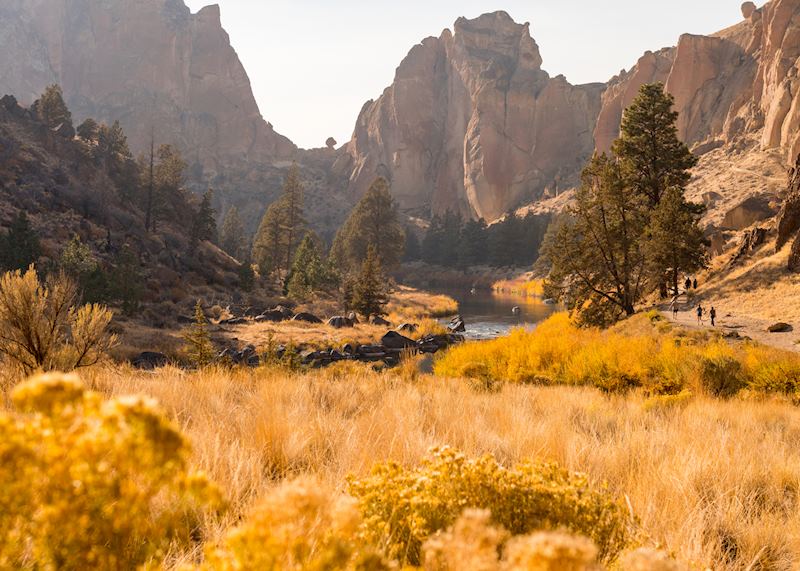 5. Fall festivals
Autumn is a time of celebration throughout the Pacific Northwest, with harvest bringing an abundance of ripened crops. As such, there are a plethora of events to attend across the region, including wine festivals, Oktoberfest celebrations, and good old-fashioned community harvest gatherings.
Each harvest festival has its own quirks, but you can expect jovial live music, farmers' markets brimming with goods, and more pumpkins than you can shake a leafless autumnal stick at.
In my opinion, the best part of these harvest festivals is the food — and not the wholefood variety. I'm talking autumnal indulgences like toasty apple cider doughnuts, glossy caramel apples, and butter-crust apple pies. Come to think of it, apples seem to be the star of the show, and the Pacific Northwest's fall festivals really do them justice.