By USA specialist Alex
An off-radar alternative to California, the Pacific Northwest (primarily the states of Oregon and Washington) encourages you to spend whole days exploring the great outdoors. In one trip, you can take in conical volcanoes that rise from flat plains, tour vineyards that produce some of the USA's finest wines and hike through temperate rainforest that shelters indigenous Roosevelt elk, bears and eagles.
A highlight for me is driving along the wild Pacific coastline, which is scattered with wave-cut rock formations, driftwood and dunes. And, you can bookend your trip with time in two of the USA's most forward-thinking, laid-back and characterful cities: Seattle and Portland.
How does a trip to the Pacific Northwest work?
Two weeks gives you plenty of time to take in the region's highlights and lesser-known spots. Our 15-day self-drive trip idea gives you a sense of what your trip could look like. Alternatively, you could combine the Pacific Northwest with time in northern California.
What to do in the Pacific Northwest: my recommendations
Food tours in Portland and Seattle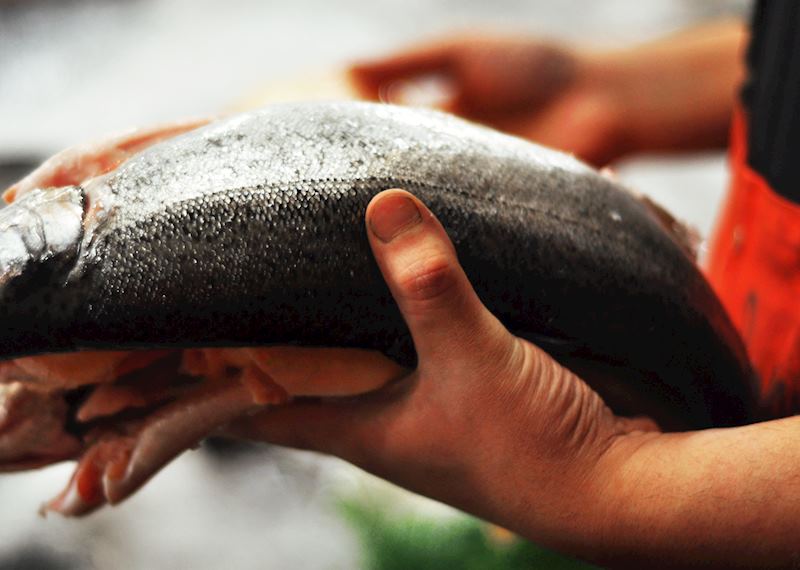 Easy-going, liberal and idiosyncratic, Portland and Seattle feel different to other US cities. You'll notice that independent boutiques and eateries are thicker on the ground here than in many other places. And, with both cities enjoying waterside locations and leafy surroundings, it doesn't necessarily feel like you're in a busy metropolis.
Parks, galleries, shops and museums vie for your attention, but I find it's the food and drink that stand out in both cities. Microbreweries continue to pop up everywhere, and with Portland being the birthplace of the food truck, you'll find literally hundreds of them dotted around. You can sample a few on an 8-km (5-mile) guided cycle tour, pausing to try waffles, fried potatoes and crêpes as you go.
Meanwhile, in Seattle, I recommend joining a guide to explore Pike Place Market. Known for being the home of Starbucks, it's also a great place to try a variety of fresh artisanal food. Thanks to your guide's links with stall owners, you'll be able to jump the queues and sample a variety of dishes — I particularly liked the fresh sushi, doughnuts and Russian pie (similar to a Cornish pasty).
While you're there, pause to watch the market's renowned tradition: fishmongers flinging their catch from the display case to the back of the stall for wrapping. The technique began after the original owner decided to save time and exertion by throwing the fish rather than carrying it round the back.
Hiking in Olympic National Park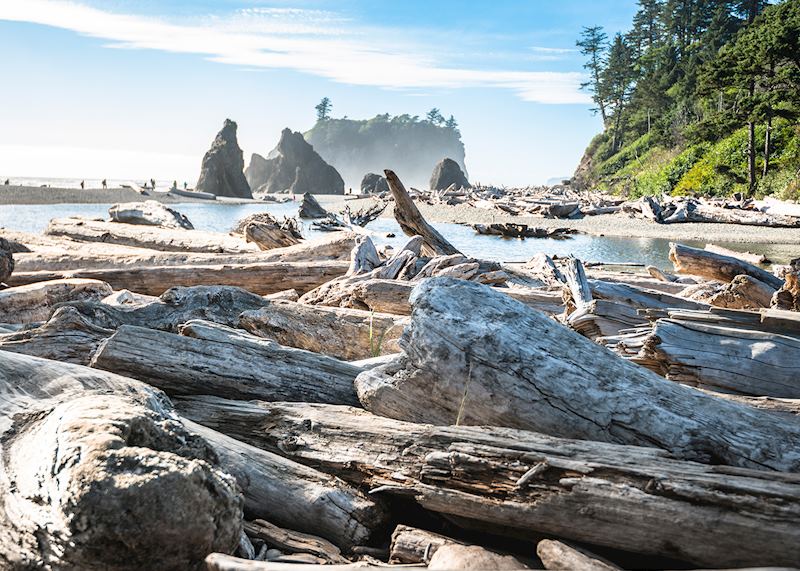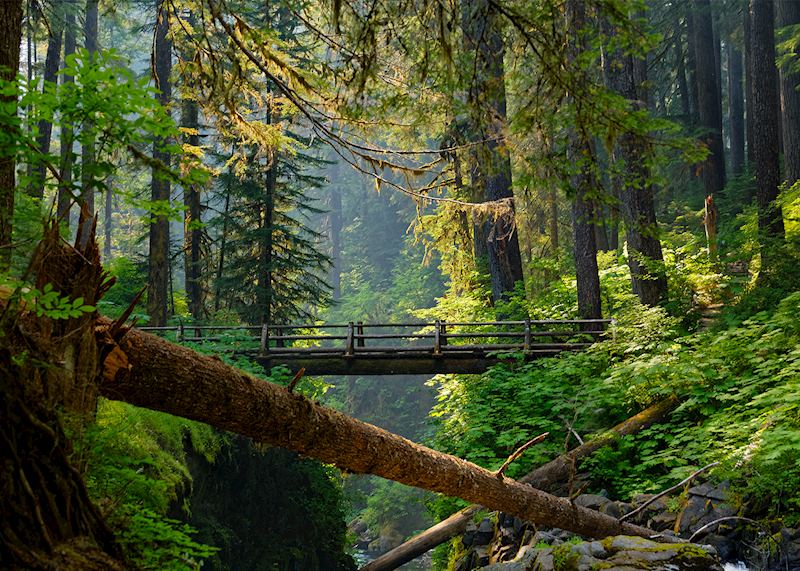 The only place in the contiguous USA where you'll find temperate rainforest, Olympic National Park is a couple of hours' drive west of Seattle, hugging the Olympic Peninsula. You'll find a dense canopy of moss-draped hemlock, maple and spruce trees, while ferns give the forest a prehistoric quality. In the heart of it all, Mount Olympus rises above the treeline — one of more than 260 glacier-riven peaks within the park's boundaries.
The park also encompasses a strip of coastline scattered with driftwood, where you can take wild, windswept walks and beachcomb for long-lost treasures. Ruby Beach is one of the best-known stretches, named for the red crystals in its sand.
With very few roads in the park, I recommend splitting your time between the south and the north. It's easy to explore independently, but I suggest hiking with a guide to learn more about the park's ecosystem.
In the south of the park, I joined a small-group walk from Lake Quinault, led by a park ranger. We spent three hours walking among huge trees and mossy rocks while our guide told us about the park's geology, history, wildlife and plant life.
In the north, you can stroll beaches while looking for bald eagles, and walk to Sol Duc Falls, whose pearly waters plunge into a narrow gorge. You can also explore the shores of Lake Crescent, the second-deepest lake in Washington.
Dune buggy rides and scenic drives along Oregon's coast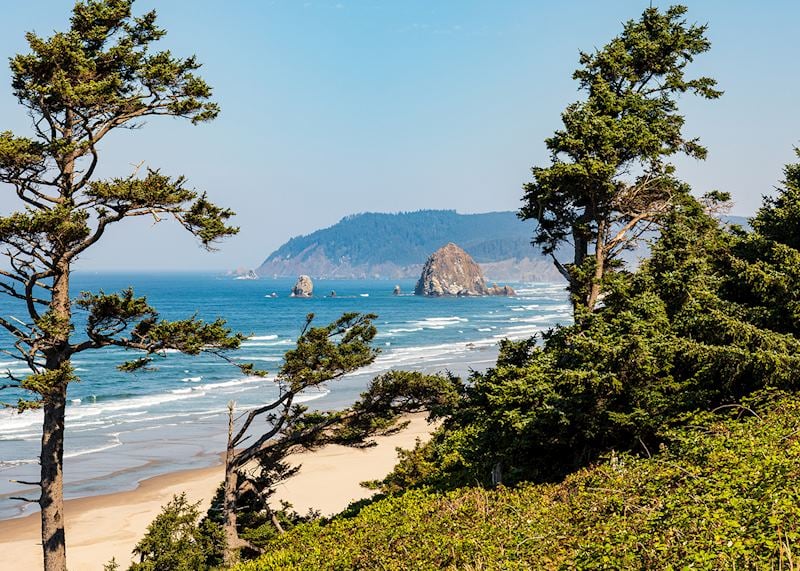 Driving along the Pacific Coast Scenic Byway, which hugs the length of Oregon's coastline for 584 km (363 miles), is undoubtedly one of my highlights when visiting the region. It's reminiscent of California's Big Sur (though much quieter) with its craggy headlands, sandy beaches and crashing waves, and I recommend driving it over several days so you have time to appreciate the views.
You can stop off at eye-catching rock formations for photographs, such as the 72 m (235 ft) Haystack Rock, a prominent sea stack off Cannon Beach. Pause to see rusted shipwrecks, visit lighthouses or explore rock pools and sea caves. It's also worth visiting characterful coastal towns like Cannon Beach and Newport to browse independent shops and visit galleries and museums.
Part of the coastline — the Oregon Dunes National Recreation Area — encompasses the USA's largest expanse of sand dunes. An exhilarating way to take them in is to drive across them as part of a dune-buggy tour, departing from the town of Florence. These large open-air buggies seat up to 20 people and navigate the dunes as though they were gentle waves.
It's by no means an adrenaline-packed experience, as you travel fairly slowly. But, it gives you time to appreciate the scenery as your guide tells you how the dunes were formed and about the flora and fauna that thrive among them.
White-water rafting on the Rogue River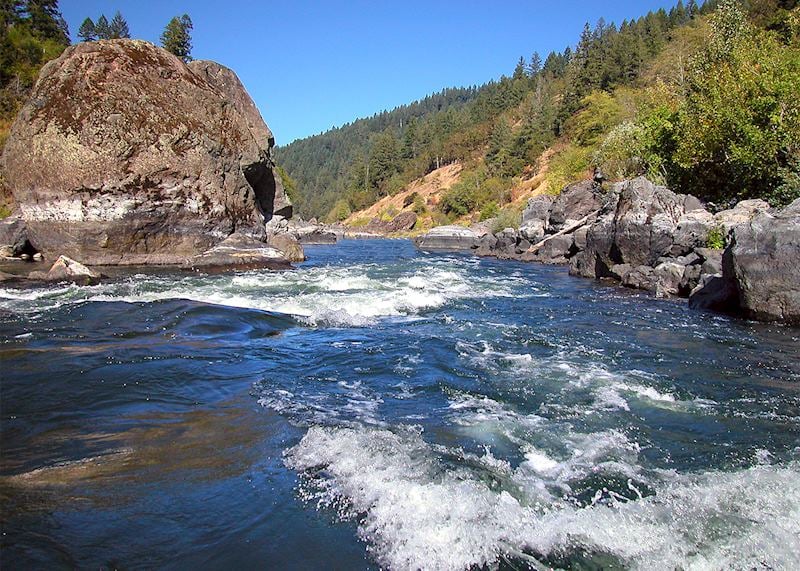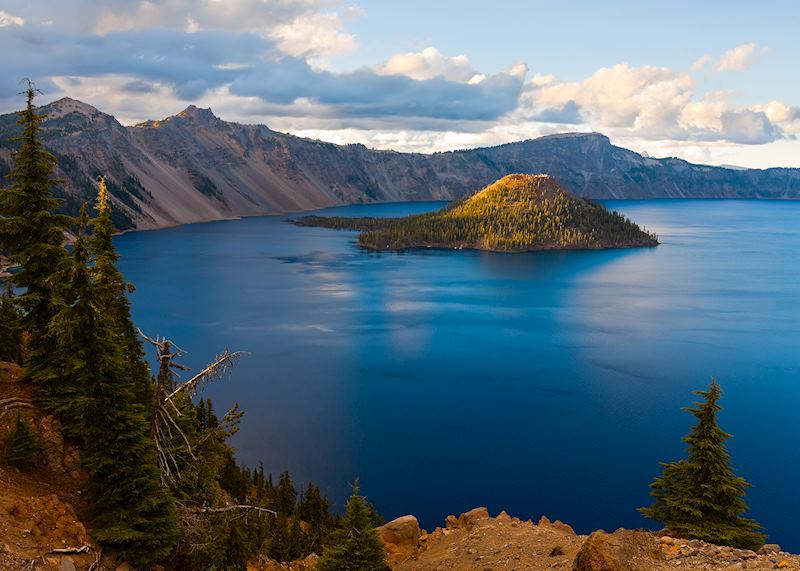 Heading inland, you can base yourself close to the aptly named Rogue River, to ride its fast-flowing, frothy waters. A variety of white-water rafting options cater to your experience level and preferences, from relatively gentle grade 2 and 3 rapids that are suitable for families to skin-soaking grades 4 and 5.
The river takes you on a twisting route through canyons and gorges that feel truly deserted. Trees that have succumbed to the water lie scattered on the banks, and every so often your guide will help you navigate around a boulder or small waterfall. You hear about your surroundings from your guide as you go.
Once you're back on land and dried off, I recommend heading northeast to the mountain town of Bend. Home to lots of galleries, microbreweries and farm-to-table restaurants, the town sits on the edge of the Cascade Mountains, so there's plenty of opportunity for hiking and other outdoor activities.
En route to Bend, you could stop off at Crater Lake — America's deepest lake. Known for its exceptionally blue water, the lake partly fills a caldera — the remains of a volcano that collapsed more than 7,000 years ago. If you've ever read Wild by Cheryl Strayed, you'll know the lake as a pivotal point for her epic walk along the Pacific Crest Trail. You can follow the 53-km (33-mile) Rim Drive along the lake's edge, or get out and explore some of the surrounding walking trails for views over its mirrored surface.
Exploring the Columbia River Gorge and Hood River wine region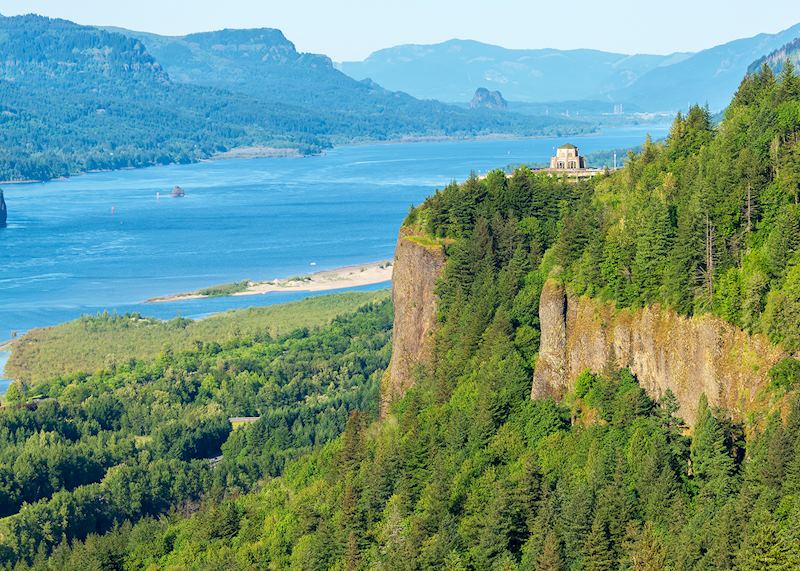 Forming the boundary between Washington and Oregon, the Columbia River Gorge is, in my opinion, one of America's most overlooked natural treasures. A mile-wide split in the land, the gorge is backed by mountains on both sides, while great torrents of water spill over its steep basalt cliffs into the Columbia River below.
One of the best ways to take it in is by driving along the 113-km (70-mile) Columbia River Highway, pausing at viewpoints or to follow trails through firs and ferns.
You can also join a guided tour of the gorge, setting off from Portland. Over six hours, you'll follow the highway and take short interpretive walks to some of the gorge's 70 waterfalls, including Multnomah Falls — one of the country's tallest. Your guide will tell you about the gorge's formation and help point out some of the wildlife that thrives here, which includes bald eagles and ospreys.
The tour also visits two boutique wineries around the Hood River. The region produces some of the USA's best wines, and you'll get to taste a few while learning how they're made.
Best time to visit the Pacific Northwest
While it's good to visit the Pacific Northwest any time between May and October, I particularly like being there in late September or early October. True, temperatures are cooler and rain more likely than in the summer months of June to August, but you'll encounter fewer visitors and have the added bonus of seeing the landscape take on the rusty shades of fall.
Read more about trips to the Pacific Northwest in the USA

Start thinking about your experience. These itineraries are simply suggestions for how you could enjoy some of the same experiences as our specialists. They're just for inspiration, because your trip will be created around your particular tastes.
View All Tours in The USA