Porcelain-pale sand dotted by boulders and shaded by curving palm trees… Intimate coves of sky-blue water that teem with silvery schools of tropical fish… Thriving reefs populated by ponderous turtles… Jungle-clad mountains alive with rare birds…
Any description of the Seychelles sounds like an idyllic tropical island getaway, but the islands have subtle but important differences. Where you stay — both the island and the hotel you choose — has a big influence on your visit. That's why I've broken down my top picks for best hotels across four different islands. I suggest including at least two islands in your trip to really experience the Seychelles at their best.
Mahé: a tiny capital, a Hindu temple & jungle-clad mountains
Though it's the largest of the Seychelles' 115 islands, Mahé is actually quite small — its capital, Victoria, is the smallest capital of any country in the world. You might choose to stay here if you want a wider range of things to do, restaurants to eat in, and people to meet, locals and other visitors alike.
You can take a private tour of the downtown to see the country's only Hindu temple, a historical spice garden, and a local distillery (there's a tasting, too). You can also stroll under the rare coco de mer palm in the Seychelles National Botanical Gardens, or for something a bit wilder, take a guided hike through the jungles of mountainous Morne Seychellois National Park.
Constance Ephelia: the widest selection of activities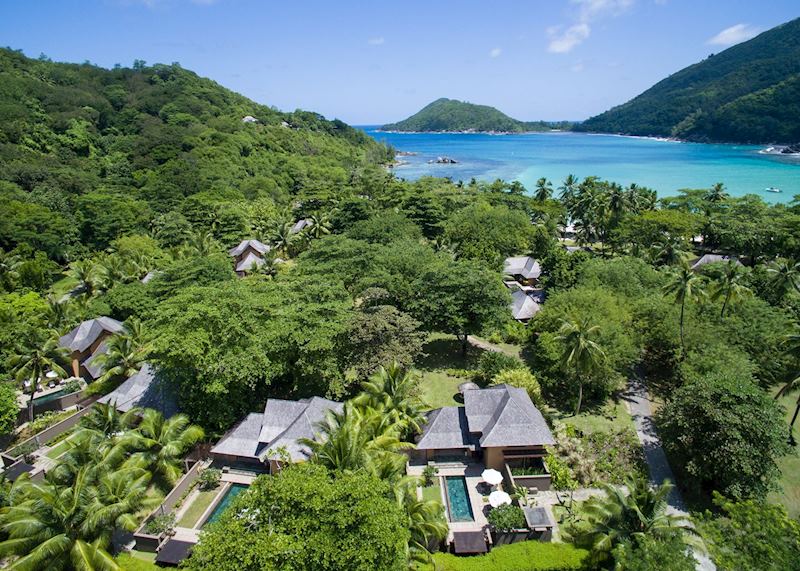 With 267 suites and villas, Constance Ephelia is the largest of the hotels I suggest, but I chose it because of the wide menu of things to do that you'll only find at a resort of these proportions. Despite its generous size, the architecture is thoughtfully designed to provide a sense of privacy, especially in the village-like clusters of villas perched up on the hillside. It's always easy to find your own space to relax in solitude, if that's what you're after.
There are two private beaches, with thick bands of trees shading white-gold sand the slopes into aquamarine water. Additionally, the resort overlooks the marine park of Port Launay, a protected area with a lively population of angelfish, moray eels, sweetlips, as well as the occasional sea turtle.
Don't miss: the daily feeding of the giant tortoises that live on the hotel grounds.
Anantara Maia Seychelles Villas: an ethos of unabashed indulgence
The motto at Anantara Maia Seychelles Villas is 'whatever, whenever, wherever' and every moment you spend here is shaped by that ethos, from the alfresco spa to the restaurant with no menu — instead, you chat with one of five different chefs, who'll suggest a dish based on your mood that day and the daily catch.
The 30 sprawling villas are widely scattered among the rainforest, and each one comes with a private pool, a spacious outdoor living area, sunken outdoor bath, and private butler. Anantara sits right on Anse Louis, a vast sweep of sugar-soft sand that curves around a secluded bay — there are no other hotels nearby, so the beach feels very secluded. The bay is part of the Maia peninsula, home to some of the best diving and snorkeling on the island.
Don't miss: the open-air spa pavilions.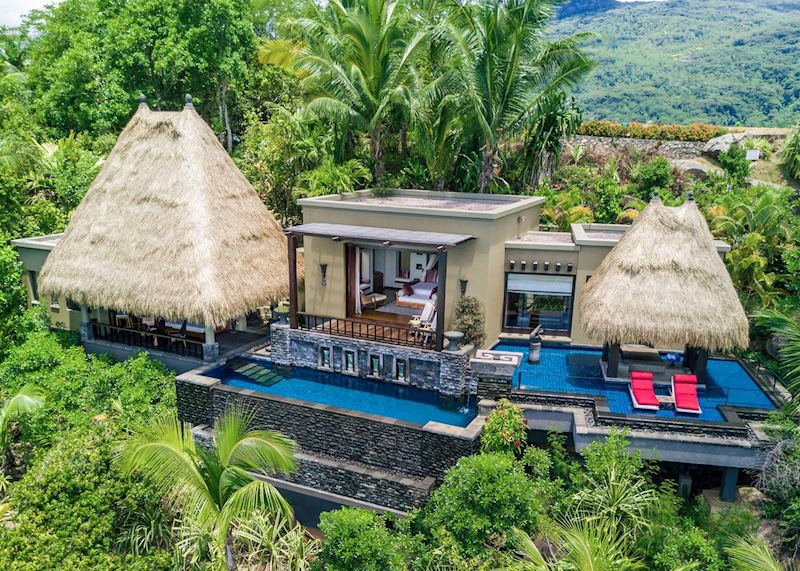 Carana Beach Hotel: seclusion & sea views
This is the ideal spot for those who want to explore Mahé but still get away from the bustle. Tucked into a private cove, this intimate hotel boutique feels remote though still just a quick taxi ride from Victoria. There are just 40 spacious chalets, and I particularly loved the open, airy feel of the decor which featured lots of light blonde wood, frosty sea-glass, and blue-green hues.
I also love the food here — many of the ingredients are shipped from the gardens of the hotel's sister property on Denis Island (see more below) and the chefs make the most of the exquisitely fresh produce. My last visit included a four-course lunch, including a fragrant creole fish curry.
Don't miss: the beachfront swimming pool.
Praslin: world-class beaches, rare black parrots & nuts of unusual size
The concept of 'best beach' is a subjective ranking, of course, but the beaches on Praslin top my personal list. Powder-fine sand in long sweeps and tiny coves, framed by charcoal-gray boulders and lapped by the gentlest of waves.
There's more to Praslin than just postcard-worthy beaches, however. The majority of the inland area is a national park to help preserve the habitat for rare endemic birdlife, including the Seychelles black parrot, the Seychelles blue pigeon, and sunbirds. The park also includes the Vallée de Mai, one of only two places where the coco de mer grow in the wild.
These palm trees are impressive, with huge leaves that clatter in the wind. Even more notable, though, are their nuts, which are the largest in the world and grow to about the weight of an adult golden retriever. Not only are the nuts huge, but their bulbous shape is rather suggestive, especially when taken with the tree's exceptionally phallic catkin.
Hotel L'Archipel: remote privacy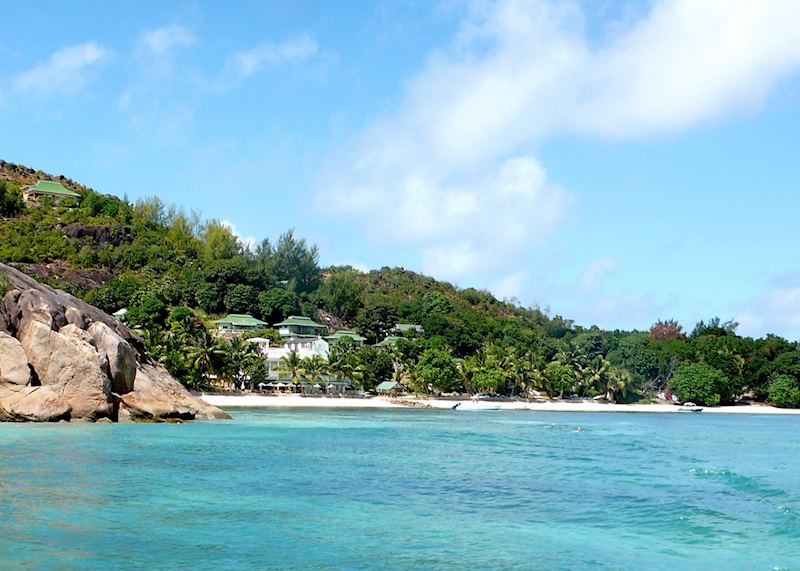 Gently cupped in the curve of a natural amphitheater and surrounded by mature tropical gardens, L'Archipel faces a tiny, secluded beach that's far from any crowds. Rooms are sprinkled along the beach and up the hillside, connected by twining paths that bloom with bright bougainvillea and brilliant hibiscus trumpets. Each has a clean, crisp decor to complement the sunset-facing views of the Indian Ocean out the generously sized windows, or off your private balcony.
For me, it's all about the location here. You feel remote and isolated, but you're just a 20-minute stroll from a clutch of restaurants, serving an array of fresh-caught seafood.
Don't miss: the sunsets.
Hotel Raffles Seychelles: modern beachside opulence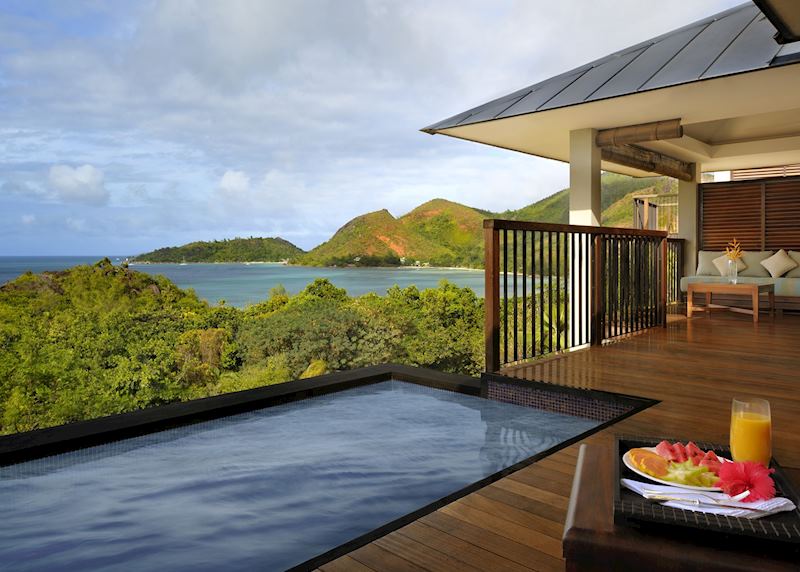 Perched above Anse Takamaka on the north coast of Praslin, Hotel Raffles Seychelles embraces outright barefoot indulgence. Widely spread across a jungle-clad hillside that runs alongside the beach, the 86 villas each have their own pool and a generous sense of privacy — you get around on the sprawling grounds via golf buggy. Most also enjoy a view of the ocean and the nearby Curieuse Marine Park, a deserted island that's been turned into a nature sanctuary for the Aldabra giant tortoise.
The hotel offers a wide menu of activities, but this is one of the most relaxing places I've ever been, and I rarely leave the grounds. Instead, I soak up the beauty and the tropical sun and eat my fill — there's an Asia-fusion eatery, an exceptional sushi restaurant, and in-villa dining for when even the brief buggy ride to the main area is too much work.
Don't miss: Curieuse Restaurant's Asian-fusion menu.
La Digue: sleepy villages, blonde beaches & the rare paradise flycatcher
If Praslin is laid-back, La Digue is positively indolent. This is the island you visit if you want to slip into pure island relaxation. Development seems to have bypassed La Digue entirely and there are very few motor-powered vehicles — instead most people get around via bicycle. You can't even fly in — instead, you arrive via a brief ferry ride or a helicopter jaunt.
The only thing to do here, really, is lounge on the beach. But what beaches! The most popular (and most photographed) is Anse Source d'Argent, which boasts time-worn boulders, graceful palm trees, and brilliant-white sand shelving gently into sun-warmed waters. It's so beautiful that it can get busy — well, busy for La Digue, anyway. But there are dozens of other comparable beaches to choose from, from tiny little bays to grand crescents, many of them completely deserted. With a little exploration, you're certain to find one that suits your tastes.
You can take a break from the endless perfection of the beaches by kayaking along the shore, snorkeling among the lively reefs, or walking through the villages to admire the brightly painted houses. You can also hike in the La Digue Veuve Reserve, a sanctuary for the rare paradise flycatcher, and visit L'Union Estate Farm, a traditional copra mill and plantation house.
Le Repaire Boutique Hotel: intimate idleness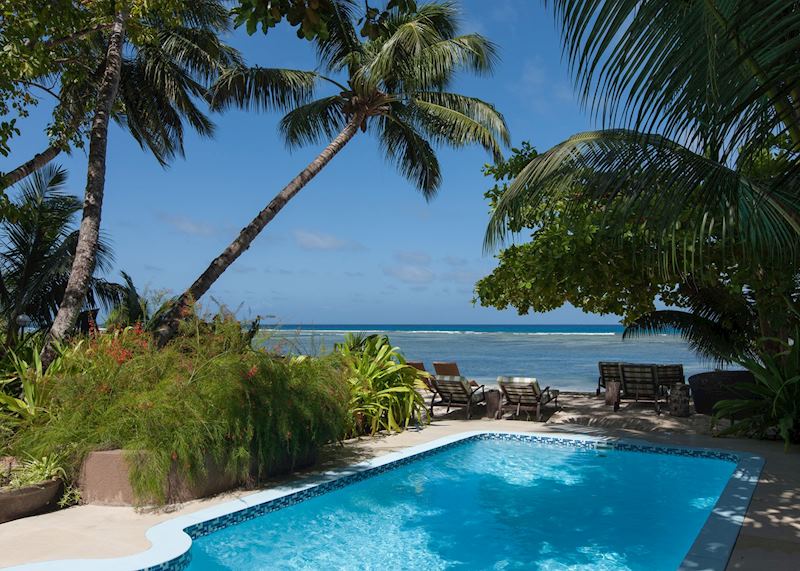 A short stroll from the jetty, Le Repaire is a small boutique hotel that perfectly embodies the island's relaxed atmosphere. You can lounge under the takamaka trees, lounge by the two pools, you can lounge on the beach, or lounge in your airy room, simply taking in the views.
If you insist upon doing something more energetic, there's excellent kayaking, snorkeling, and diving to be had — the house reef is thriving. Additionally, the hotel can also arrange guided hikes, fishing cruises, and other, more energetic activities. But, to me at least, that defeats the purpose of visiting La Digue in the first place.
Don't miss: the hotel's authentic Italian restaurant.
Le Nautique Waterfront Lodge: just seven rooms on the beach
Le Nautique Waterfront Lodge earns its name with an ocean-blue roof and jaunty blue-and-white decor that reflects the beach just out the door. It's just a short walk from Le Repaire, on the west coast of the island, with incomparable views of the sun as it sinks into the Indian Ocean. There are just seven rooms, all overlooking the water, and even the restaurant has a water view.
As with Le Repaire, the thing to do here is to relax by the pool or on the beach, though there's snorkeling and diving equipment available, and bicycles to rent.
Don't miss: sunset from the restaurant.
Denis Private Island: remote privacy on a wildlife preserve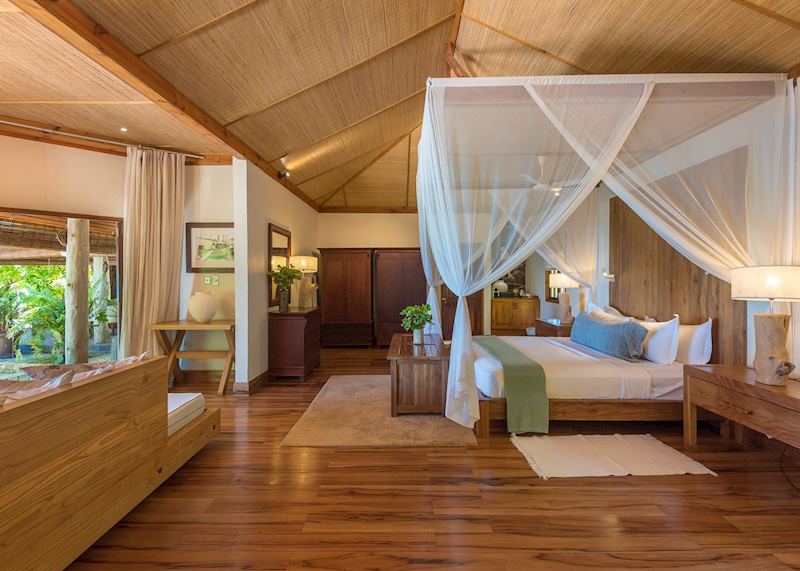 Some people define barefoot luxury as a complete escape from the world. They're looking for a destination that's entirely removed from the everyday hustle and bustle, a place where they can completely disconnect. If that's you, I suggest Denis Private Island.
A tree-covered coral cay about a 30-might flight from Mahé, Denis is remote, isolated, and entirely opulent in a stripped-back fashion. There's no Wi-Fi — in fact, no reception of any sort, except at the main lodge — and just 23 cottages dotted amid the dense foliage. The only people on the island are hotel staff and visitors and there's just one flight a day.
Which is not to say you're roughing it — despite the Robinson Crusoe atmosphere, the rustic cottages are finished to a high quality, and you'll enjoy exceptional food, much of it grown right there on the island. There's also a beachfront spa, and you can also opt for treatments in your room, on the beach, or under the casuarinas trees. For something more ambitious, the hotel's staff are happy to arrange for fishing trips, snorkeling and diving equipment.
Finally, the island's environmental credentials are second to none. You can spend time with the rangers who have worked to create a sanctuary for bird species like magpie robins, paradise flycatchers, noddies, and a population of lumbering land tortoises. It's also a popular nesting spot for sea turtles, which you might get to see, depending on when you visit — the rangers are thrilled to talk with visitors about their ongoing conservation efforts.
Don't miss: an outing with the rangers.
Read more about trips to the Seychelles

Start thinking about your experience. These itineraries are simply suggestions for how you could enjoy some of the same experiences as our specialists. They're just for inspiration, because your trip will be created around your particular tastes.
View All Tours in The Seychelles