The Chobe region of Botswana, and in particular the river of the same name that runs through it, is renowned for providing the ideal floodplain habitat to giraffe, buffalo, zebra, big cats and especially — large herds of elephant. In addition there is abundant and varied birdlife.
One of the best ways to enjoy and experience this area and to bring back with you a tangible memento of your visit, is by going on a dedicated photographic safari. Audley can arrange a tailor-made itinerary to the Chobe region that can include time with the experts of Pangolin Photo Safaris.
Pangolin is run by photographers for photographers, regardless of experience. Operating all year round, they will provide an abundance of photo opportunities under their skillful guidance. Furthermore, you don't even need to bring your own expensive camera as they will provide you with a state-of-the-art camera and zoom lens.
A Pangolin photo safari is ideal if you wish to improve your skills and return home with photographs that you can be justly proud of.
Start planning your safari in Botswana
Botswana, Zambia and South Africa
Start thinking about your experience. These itineraries are simply suggestions for how you could enjoy some of the same experiences as our specialists. They're just for inspiration, because your trip will be created around your particular tastes.
View All Tours in Botswana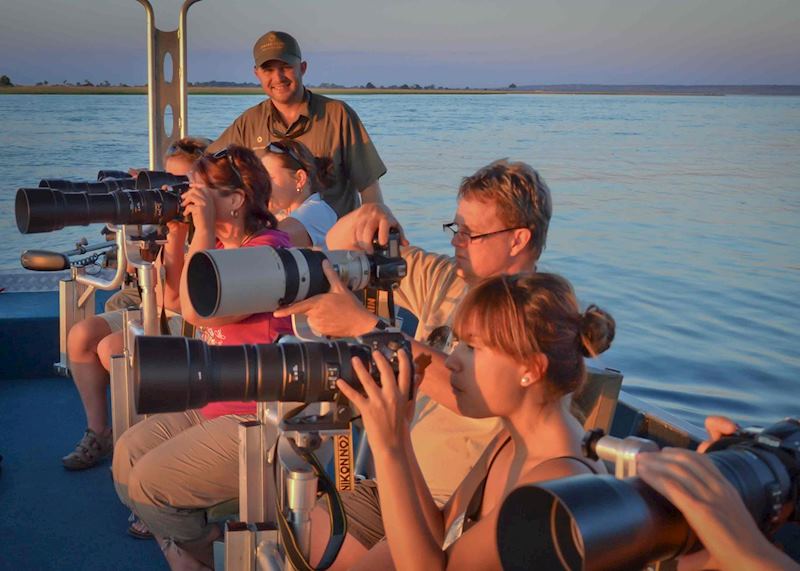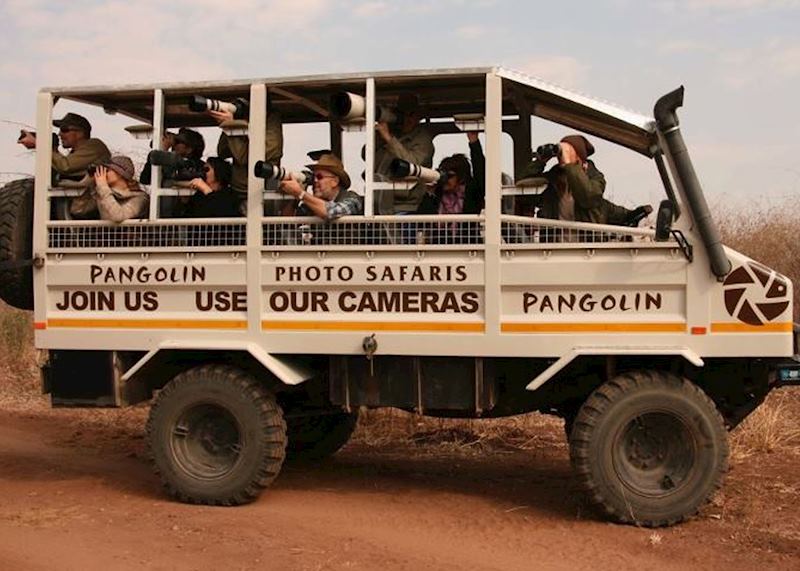 By boat
Using a custom designed boat with a maximum of eight seats in single file down the boat, allows you to view and photograph the wildlife from both sides.
On board a professional wildlife photographer will explain how to use the equipment, including how to frame your images, lighting and composition and various other useful tips. They will also point out important animal behavior so you know what to look out for before you start snapping.
Regardless of taking photographs, cruising along the Chobe River is a wonderful and serene way to enjoy the wildlife.
On land
You have the option of either a morning or afternoon trip which takes you out on a custom designed vehicle on a photography focused game drive. There are a maximum of eight seats on the custom designed vehicle, with several mountings or beanbags with which to support your camera.
Whether you are on a land or water photographic safari, refreshments are included during the trip (tea and coffee on morning excursions, soft drinks, local beers and wines in the afternoon) and at the end of the trip all of your photographs will be burned onto a personalized DVD and delivered to your safari lodge or camp.
Of course, seeing a large array of wildlife can never be guaranteed but the staff at Pangolin will endeavor to make your photographic safari a memorable one.
Further reading