Cruising in Central America and Mexico is a wonderful experience and allows you to see some amazing sights impossible to visit any other way and the great guides that accompany you on the boats ensure you will get the most from your explorations.
Small ships are best: they can access regions and obtain close-up views that none of the large cruise ships can offer and there is a friendly conviviality on board among passengers who tend to be more motivated to take in the surrounding beauty than be distracted by entertainments on board.
We have chosen our travel partners carefully to offer you the best in small ship cruises that will take you to the best locations en route. Some cruises are more active than others and not all operate year round so please ask your specialist for further details.
Cruise boats in Central America and Mexico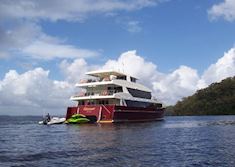 The Discovery is owned and operated by Panama Marine Adventures (PMA) and is a 33-meter purpose built catamaran capable of traveling up to a speed of 18 knots.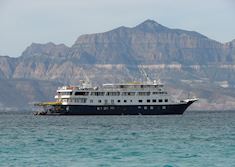 This 86-guest yacht-style boat with 43 cabins offers clients casual elegance with a good selection of upscale amenities.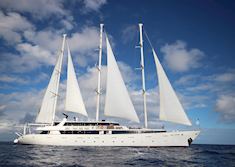 Lindblad Expedition boats
For over 50 years, Lindblad Expeditions has been running boat trips in conjunction with National Geographic. They offer intimate small-ship expedition cruises all over the world that, unlike traditional cruises, give you the opportunity to encounter the most pristine and inspiring places up close with seasoned experts who know them best.
No matter where you choose to explore, each expedition cruise features an unmatched combination of adventure travel technology as well as well-appointed cabins, regional and sustainable cuisine and friendly, personal service.
Lindblad's philosophy
Their philosophy is 'We believe the more closely our guests are able to connect with a destination, the more valuable an effect it will have on their lives and all the more they will come to care about and protect it for future exploration.'
The following boats are the ones we use with Lindblad.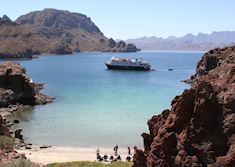 Lindblad Expeditions' National Geographic Sea Bird can reach places inaccessible to larger ships due to its small size.
Further reading