At age 12, I went to the Netherlands and Germany to play soccer. After that, travel became a bit of an obsession, and since then, I've pursued every travel opportunity that has come my way.
After attending St. Lawrence University and studying abroad in Austria, I worked in international education for six years before finding Audley. My love for the outdoors and adventure led me to join the Iceland, Ireland, South Africa, and UK teams. From rappelling down the side of a waterfall in Iceland to lying on the edges of cliffs in the UK and Ireland to encountering a hyena only a few feet away in South Africa, there have been no shortages of once-in-a-lifetime experiences in these areas of the world for me.
When I'm not sharing my love and passion for travel with others, you can find me skiing in Vermont, riding my bike to the beach, or enjoying the newest must-see film.
Speak to Brittany
Start planning your tailor-made trip with Brittany
Q&A with Brittany
What's the best local dish you've tasted?
I have never been a fan of beef jerky, and wasn't too eager to try biltong assuming it would be just the same, but I recently discovered how different they are. Biltong is more like a preserved steak which is then sliced to eat, and, like steak, you can choose to have your biltong wet (soft), medium or hard (well done). The meat is cured with vinegar and spices and then air-dried before being cut into thin slices. You can choose classic beef or opt for regional specialities such as venison, ostrich, kudu, springbok or oryx.
What's your most vivid travel moment?
I was sitting in the back seat of the safari vehicle when we came upon a leopard with her cub gently pushing and pawing at one another. As I was watching these two leopard interact, a vervet monkey started to taunt them from a tree above. What happened next, I will never forget. The mother leopard climbed up the tree and jumped from branch to branch chasing after the monkey while her baby and everyone in our vehicle watched from below. She didn't catch the monkey, but it was probably one of the most awe-inspiring moments of my life.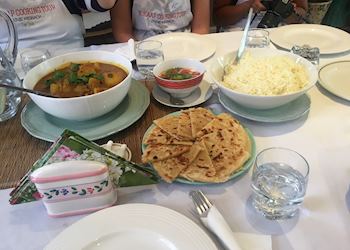 Your best piece of travel advice?
I'll happily admit I'm a big foodie, but I think this tip applies to everyone visiting a new city. I highly recommend that you take a food tour on the first day you arrive. The food tour will not only help orient yourself, but also give you lots of insight into local culture, introduce you to less well-known areas of the city, and give you plenty of ideas for what to look out for on menus and streets stalls during the rest of your stay. It really is one of the best ways to get to know a city.