My passion for travel was sparked on a trip to the Middle East. I arrived in Cairo and fell in love with the rhythm of the city. It was completely different from my small town upbringing, and inspired my interest in Arabic language, culture and art.
As an undergraduate, I majored in Arabic language and literature. After my freshman year, I went to Morocco for the first time and found my second home. Living with a family in the old city of Rabat, I became attuned to daily life and reveled in the dynamics of traditional marketplaces, the comfort of homemade couscous on Friday, and the beauty of Moroccan architecture. I was awarded a Fulbright grant in 2018 and moved to Rabat for a year integrating into Moroccan life and touring the country before joining Audley with the hope of sharing my passion for the region with others looking for unique, local experiences.
Speak to Sharidan

Start planning your tailor-made trip with Sharidan
Q&A with Sharidan
What's the best local dish you've tasted?
Harira is one of the most comforting and delicious Moroccan meals. It is a soup traditionally served at sunset during Ramadan to break the fast. Every family has their own way of preparing the soup, but it always has a tomato base, some lamb meat, chickpeas, lentils and fresh herbs. It is best served with a complete Ramadan spread of dates, hard-boiled eggs, msemen (a semolina based flatbread) and chebekia (a honey-drenched sesame cookie). The entire meal is like a symphony of traditional Moroccan tastes.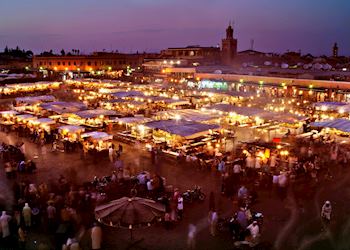 Which book, film or artwork captures Morocco the most?
The films of Moroccan director Nabil Ayouche are memorable examples of social commentary and offer a rare glimpse into the lives of Moroccans who are often overlooked. His most recent film, Razia, is an homage to Moroccans across generations, religions and backgrounds, and weaves together narratives to establish a view of Morocco today. The photography of Hassan Hajjaj — displayed at Riad Yima in the old city of Marrakesh — also captures a modernist view of Moroccan traditions, mixing nostalgic references with a Pop Art mood to create an effortlessly cool look at what it means to be Moroccan.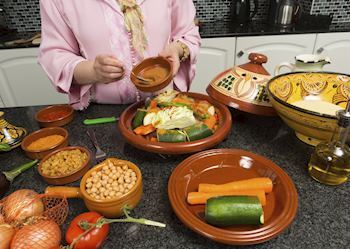 Your best piece of travel advice?
While Moroccan restaurants are plentiful, suit all budgets and offer a range of experiences, the finest meals are made in a home kitchen. Taking a cooking class with a local chef, or joining a family for a traditional meal is the best way to taste Moroccan food, and to experience cultural practices surrounding mealtimes and family life.