From the buttery yellow light of spring morning to a mellow harvest sun over a vineyard in the autumn, California earns its nickname as the Golden State in every season. Here, we've asked our USA specialists which time of year they prefer to visit California, and how to make the most of your time once there. Their ideas span a variety of interests, from national park hikes to Michelin-starred dining and epic coastal road trips that let you soak up the glories of the rugged Pacific Coast.
Where to go in California in spring (March to May): the central Pacific Coast
By Franki
Spring's an excellent time to drive the central stretch of the Pacific Coast Highway (Highway 1) between Monterey and Santa Barbara. Temperatures are warming, there are fewer visitors to contend with than in summer, and everything feels fresh and vibrant, with wildflowers dotting the landscape.
A road trip along the Pacific Coast Highway needs no introduction — the route curls along the wave-lashed coast with steep hills on one side and sparkling ocean on the other. And, because there'll be fewer vehicles on the road at this time of year, you can go at your own pace and pause on a whim to take in the view, plus you'll have your pick of ocean-view hotels.
Monterey
Staying in the historic town of Monterey, you could take a boat trip out to look for orcas, humpback and gray whales; visit the conservation-focused aquarium, which rescues and rehabilitates sea otters; and make the most of the fresh seafood — I always grab a portion of creamy chowder, served in a bowl made of crusty bread.
Carmel-by-the-Sea
Just a bit further along the coast is Carmel-by-the-Sea, where you could take a guided horse ride on Pebble Beach, ride an e-bike around 17-Mile Drive and Point Lobos, or join a food and wine-focused walking tour that weaves between the town's many high-quality restaurants, wine-tasting rooms, and independent cafes.
Big Sur
The rugged Big Sur section of the coast is where the road gets windier, the cliffs and mountains steeper, and the scenery wilder. I suggest joining a private guide for a hike to really appreciate this area's natural beauty. The route is tailored to your interests, fitness level, and how much time you have.
I followed the Tanbark Trail through ancient redwood forest, then hiked to a viewpoint overlooking the deep-blue ocean, pausing for a picnic of locally sourced foods. As you walk, your local guide can tell you about the area's ecosystem.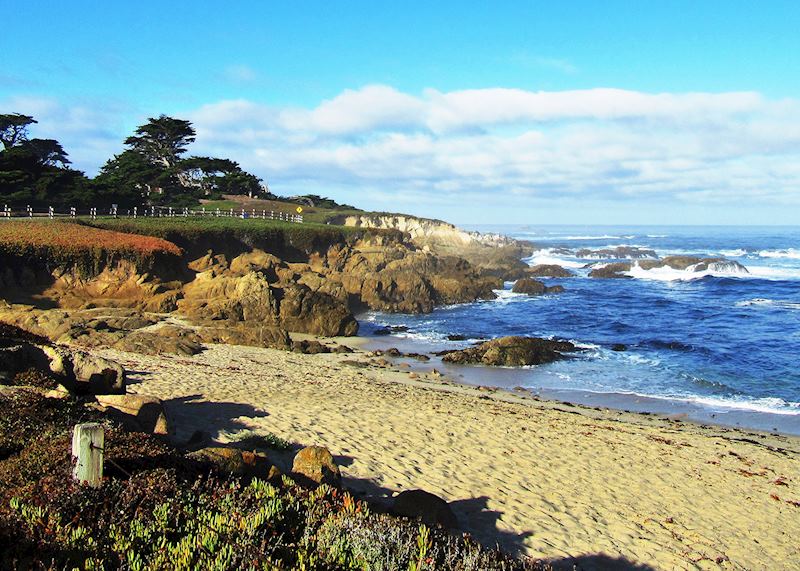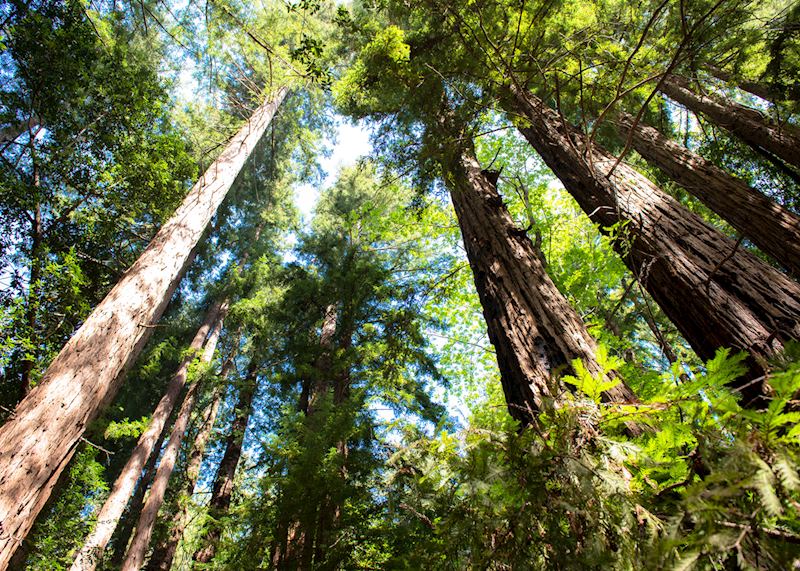 San Luis Obispo
The laid-back town of San Luis Obispo has art galleries aplenty and holds a farmers' market every Thursday. It's also close to the Edna Valley wine region, where you can sample Chardonnay and pinot noir while learning about the wine-making process. If you'd rather have some beach time, Pismo Beach or Morro Bay are also good options along this section of the coast, both offering wide golden sands.
Santa Barbara
An hour and a half's drive south and you'll reach the dazzling-white, Spanish-influenced town of Santa Barbara, known for its high-end boutiques, low-key wineries, and gold-sand beach.
One experience I highly recommend here is a wine-and-chocolate tour. Your local guide accompanies you on an easy stroll through the streets while filling you in on the city's varied past, from its Indigenous roots to its Spanish-colonial influences. Along the way, you call in at a family-run winery to enjoy several tastings, and stop for some locally made chocolate, pastries, or ice cream.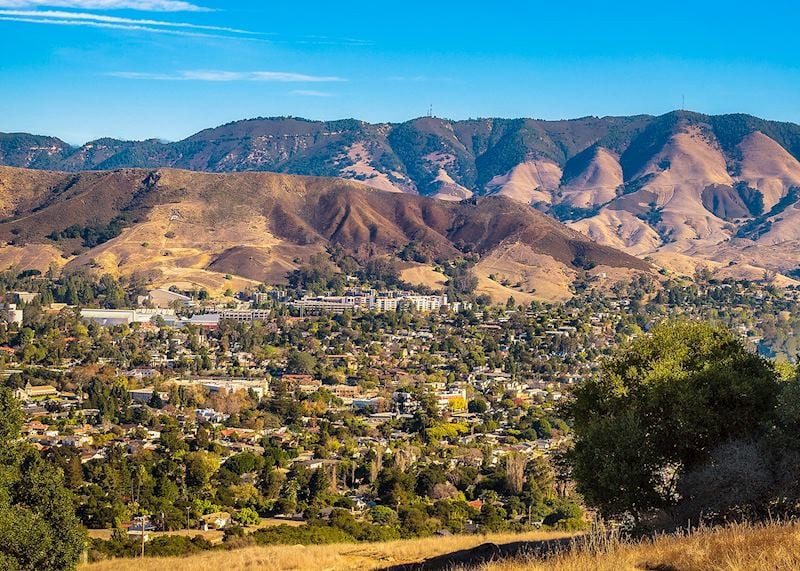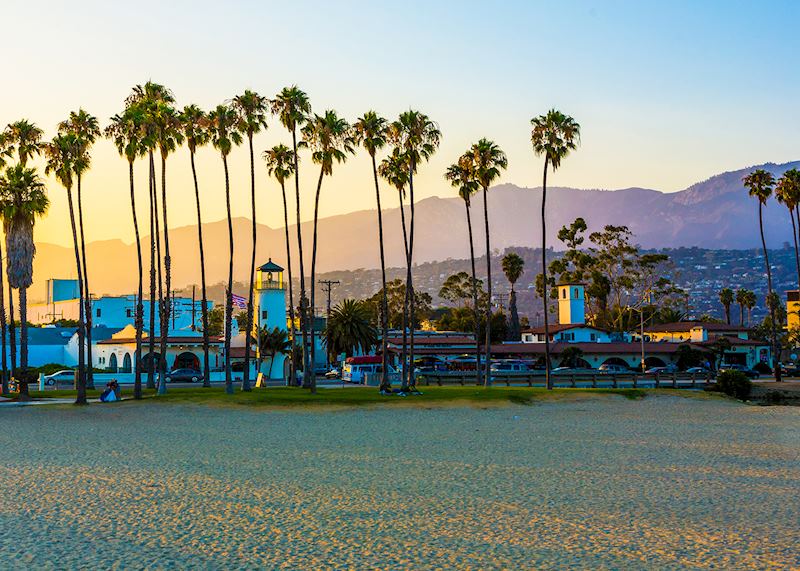 Where to go in California in summer (June to August): northern California
By Ewan
It's no surprise that when summer arrives, southern California tops many people's lists, enticed by the promise of sun-kissed golden beaches, alfresco seafood, and glittering ocean. That's why I recommend a road trip in northern California, where you'll find quieter corners that are still just as beautiful and offer plenty of ways to fill your days.
Sonoma County
Sonoma County may be renowned for its vineyards (and, of course, I recommend you visit some of the 425 wineries in the region for a few tastings), but it's also home to more than its fair share of Michelin-starred restaurants — I can help you book a table in advance of your visit.
You could stay at Beltane Ranch, a family owned farm and winery. As well as tasting some of the excellent wine from its private cellars — paired with organic food from its grounds, you'll have a chance to tour the farm and meet its resident cows, sheep, donkeys, and chickens while learning about its operation and heritage.
The northern Pacific Coast Highway
Following the Pacific Coast Highway north, you'll still have the seemingly endless ocean views, but with barely any traffic compared to further south. You might pause for strolls on driftwood-strewn beaches or for a walk along Bodega Bay's coast, where there's a chance to spot whales offshore.
You'll eventually reach the historic seaside town of Mendocino, where wooden 19th-century buildings cluster around a rocky headland. Stay here for a night or two and explore the various walking and cycling trails, or you can paddle a kayak into the bay's sea caves.
Redwood National Park
Basing yourself in the small fishing town of Trinidad, you can spend time exploring Redwood National Park. The trees here are among the tallest and oldest in the state, if not the country, and walking among them always reminds me of the power of nature. Your guide will tell you about their history as well as helping you spot wildlife like elk and bald eagles.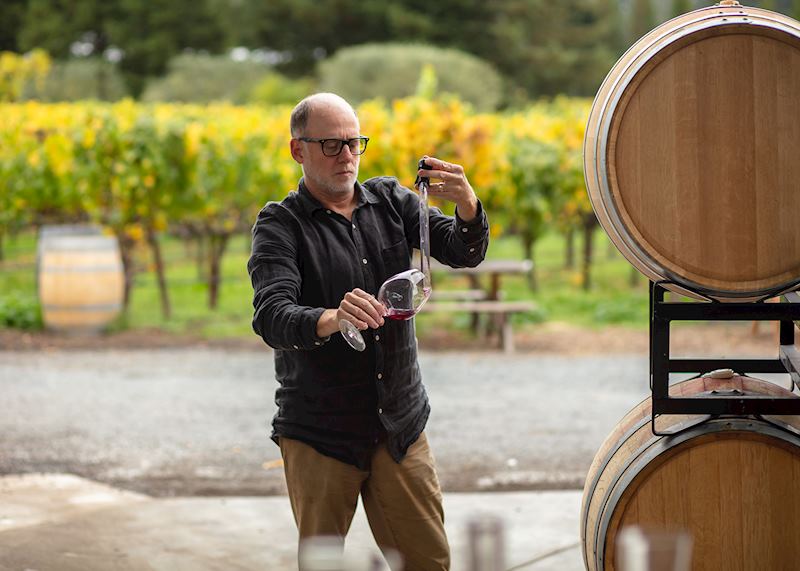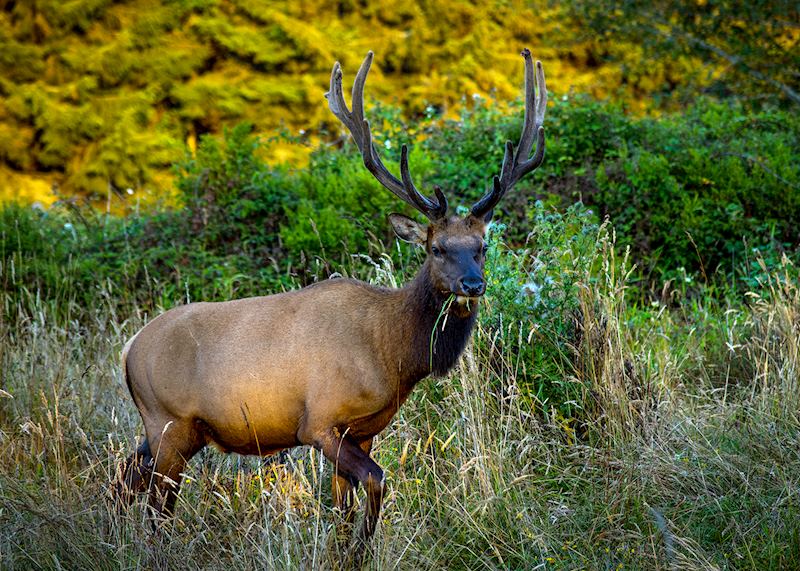 Mount Shasta & Lassen Volcanic National Park
Further inland, Mount Shasta is a 4,321 m (14,179 ft) dormant volcano whose conical peak is often covered in snow. Surrounded by glassy lakes, firs, alpine meadows, and waterfalls, it's somewhere you can hike or mountain bike in near-solitude — I like the 3 km (2 mile) trail that follows the McCloud River to a trio of waterfalls.
Just a couple of hours' drive south, Lassen Volcanic National Park is another place to stretch your legs, this time with several volcanoes in sight along with steaming fumaroles, wildflower meadows, and lakes so clear you can make out every stone beneath the water.
Lake Tahoe
Enjoy some rest and relaxation around the shores of Lake Tahoe. The electric-blue waters are also ripe for kayaking, boat trips, or even paddleboard yoga, while the surrounding forest is backed by mountains and laced with hiking and biking trails.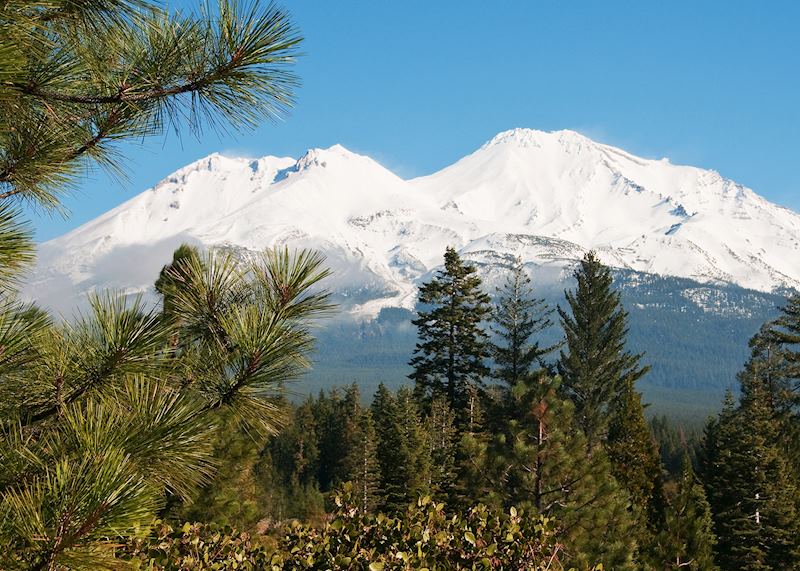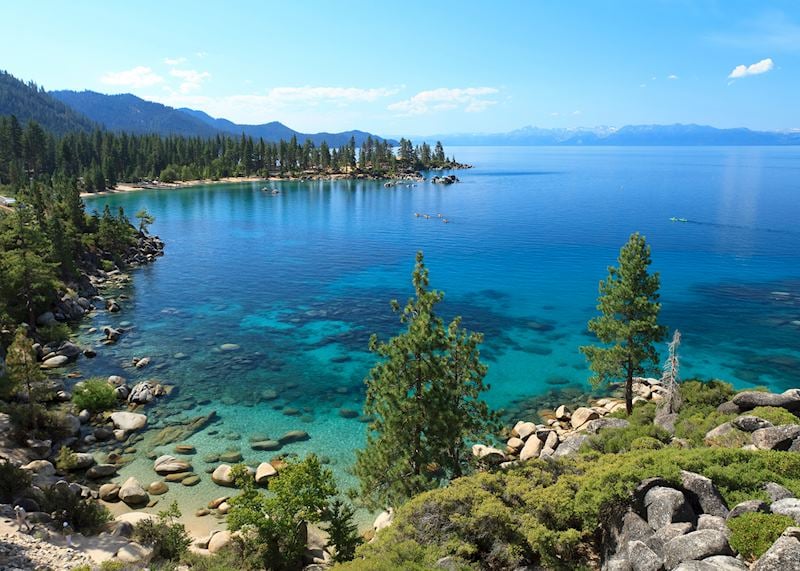 Where to go in California in autumn (September to November): food, wine & national parks
By Karl
As summer fades, California's landscape glows gold and ochre and temperatures cool to create ideal hiking conditions, with most trails seeing lower footfall than during summer. It's also harvest time, so food and wine is in abundance. Your road trip could focus purely on wine tasting, but I like balancing this with time exploring the great outdoors.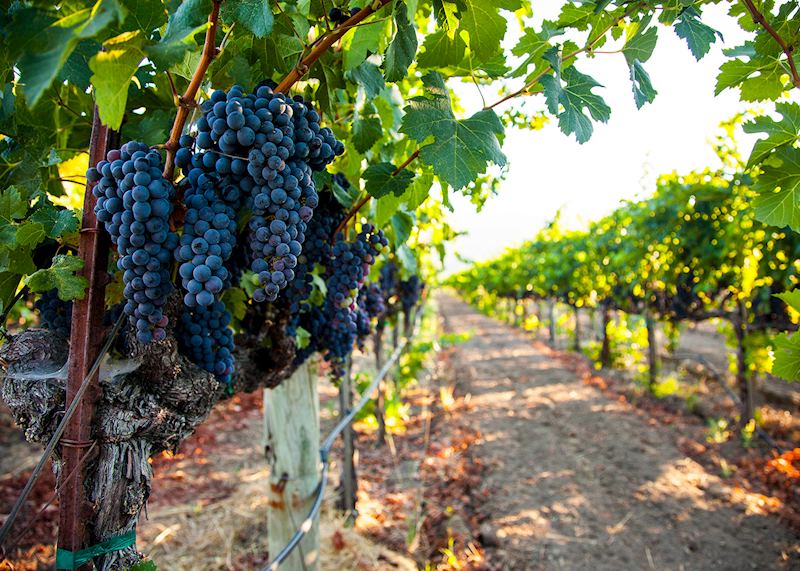 San Francisco
I never tire of visiting San Francisco — its waterside location, melting pot of cultures, leafy parks, and fresh-that-day seafood are just a few things that keep me going back. To make the most of the newly harvested produce in its restaurants and markets, I suggest taking a food tour inside the Ferry Building. There, you'll find a variety of eateries, as well as a regular farmers market where you can meet local producers and sample some of their delicacies.
Alternatively, enjoy a food tour in Chinatown — the largest outside of Asia, and the oldest in the country. You'll visit carefully chosen restaurants and bakeries to try a number of Cantonese, Mandarin, and Szechuan dishes, from dim sum to Hong Kong-style egg tarts and char siu pork buns.
Napa Valley
Napa Valley is synonymous with wine, particularly cabernet sauvignon and Chardonnay. With a private guide, you can visit a mix of wineries for tastings, from low-key family run places to long-established sprawling estates. You'll have the chance to learn about the wine-making process and enjoy a picnic lunch in a vineyard. Alternatively, rent a bike to cycle between them at your own pace.
Seasonal farm-to-fork cuisine is a way of life here, too. Riding the elegant Napa Valley Wine Train is one way to explore the valley while enjoying a gourmet lunch aboard its vintage early 20th-century cars. Or, I could book you a table at one of the 11 Michelin-starred restaurants here.
If you're visiting in September, you might catch Calistoga's Harvest Table event. The town's main street, Lincoln Avenue, hosts a 300 m (1,000 ft) table laden with produce from local restaurants and wineries for guests to dig into.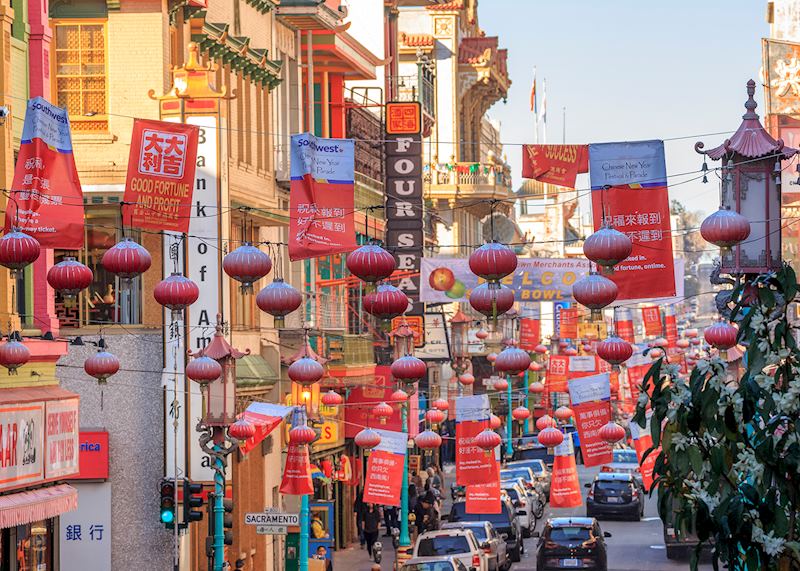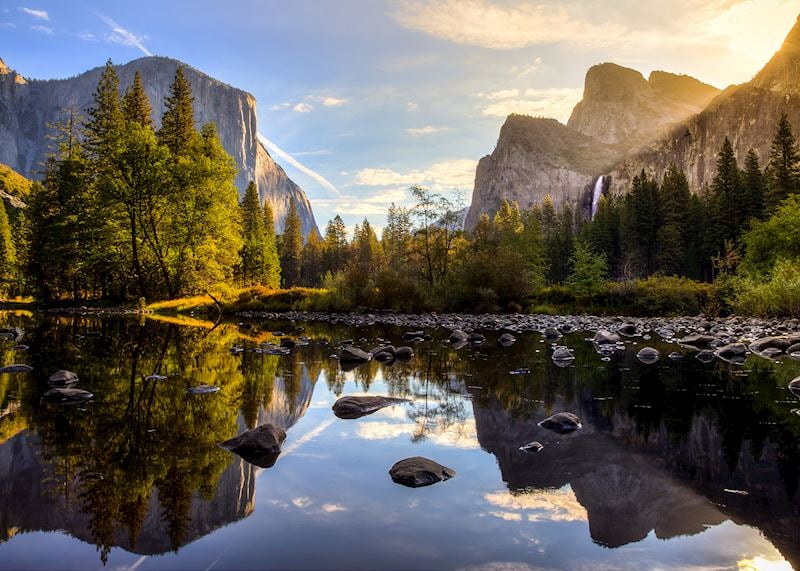 Yosemite & Sequoia national parks
Yosemite's sheer cliffs, frothing waterfalls, and dense pines never fail to impress me, but if I could choose, I'd visit in early autumn, when the leaves are dappled orange, yellow, and red.
I recommend spending a day with a private mountain guide who knows the park intimately and has many stories to tell from their explorations. They'll help choose the best hiking route for you, explaining the geology of the park and pointing out wildlife as you explore.
You could also explore Sequoia National Park, around three and a half hours south of Yosemite. The redwoods here are on a different scale, with five of the ten largest trees in the world growing within the park's Giant Forest, among them the General Sherman — the largest single-stem tree by volume on the planet. It's a good idea to visit the Giant Forest Museum to learn more about the park's trees and other flora for a greater appreciation of this ancient ecosystem.
Where to go in California in winter (December to February): southern California
By Carl
Temperatures may plummet and snow may fall elsewhere in the state during the winter months, but along the southern coast and in the arid desert regions, you'll still experience warm, sunny days and a wide range of things to do. You can adapt our California explored itinerary idea to include all of these places on one trip.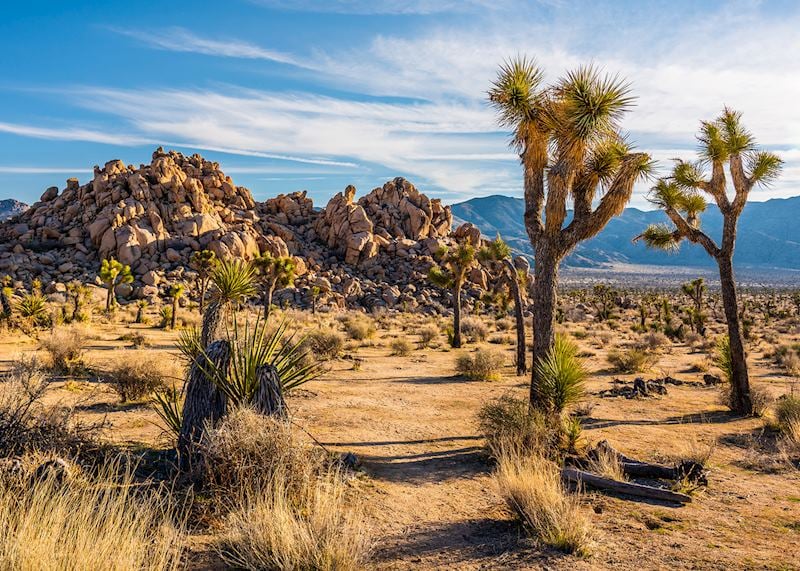 Los Angeles: West Hollywood & Santa Monica
During your time in LA, I suggest basing yourself in the laidback beach suburb of Santa Monica so you can balance a more relaxed atmosphere with the glitz and glamour of Hollywood.
Staying here, you can rise early to join a dawn yoga class on the beach, brave the cooler water and take a private surfing lesson with a professional instructor who'll show you the techniques needed to ride the waves, or pedal an e-bike along the waterfront, led by a local guide who'll share insights on what it's like to live in LA's outskirts.
It's also easy to head into the city, where you might tread the Walk of Fame, tour a movie studio, or hike the Hollywood Hills at sunset with a guide who'll share anecdotes from the film world. I also loved touring the city in a vintage Cadillac, with a private driver ready to show you the sights that most interest you.
San Diego
Home to several sandy beaches and surf-ready spots, San Diego is also great for whale watching, with thousands of gray whales migrating here over winter. You can join a boat trip with guides who'll help you spot them alongside dolphins and any other marine life. For something more active, you can go kayaking from the suburb of La Jolla, where you might be joined in the water by seals and sea lions.
I also like taking a stroll around Balboa Park or, if the weather isn't playing ball, visiting the museums that sit in its leafy grounds. Hop between the Museum of Natural History, the Air & Space Museum, and the Museum of Art, whose broad collection is particularly focused on Spanish-influenced art.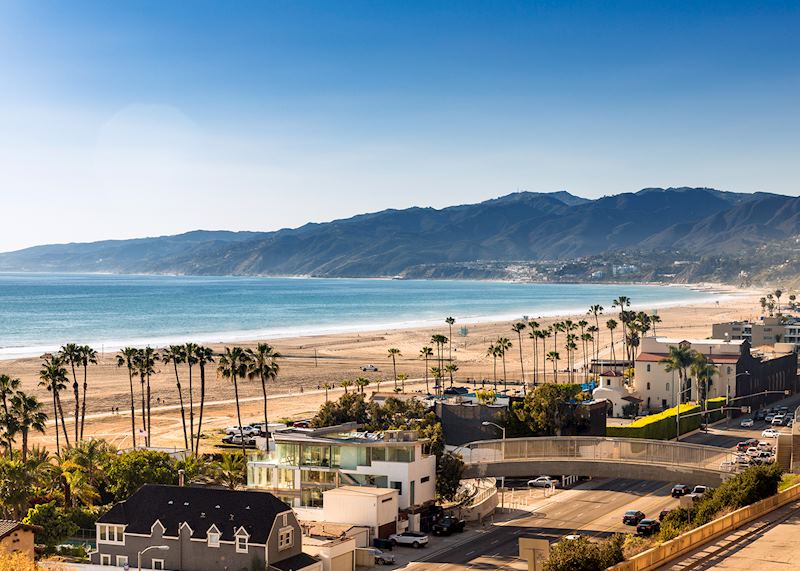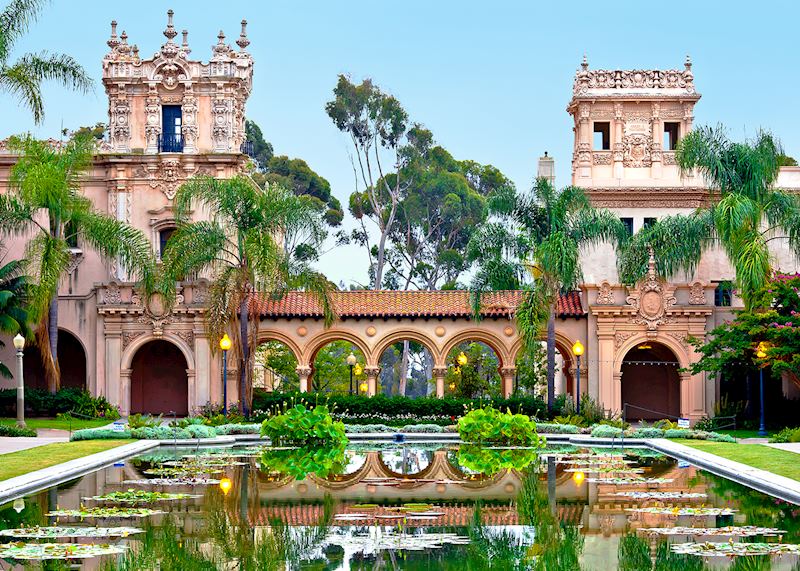 Palm Springs & Joshua Tree National Park
Oasis-like Palm Springs is surrounded by scrubby desert and the abruptly steep San Jacinto Mountains. Once a popular retreat for Hollywood royalty, the town still offers a wealth of activities, both active and relaxing.
You might call into galleries along the El Paseo Art Walk, take in the mid-century modern architecture on guided city tours, soak in soothing hot springs, or ride the rotating Palm Springs Aerial Tramway from the Coachella Valley floor to the top of San Jacinto Peak for views over the surrounding desert.
Nearby, I suggest hiking some of the trails that cut through Joshua Tree National Park, accompanied by a botanist guide who'll open your eyes to the desert-adapted vegetation that thrives here, including the otherworldly Joshua trees, cacti, and other desert succulents. And, after sunset, the unpolluted night sky bursts with stars.
Read more about trips to California

Start thinking about your experience. These itineraries are simply suggestions for how you could enjoy some of the same experiences as our specialists. They're just for inspiration, because your trip will be created around your particular tastes.
View All Tours in California