By specialist Casey
In Croatia, you can feast on garlicky lamb, truffle-scented cheeses, vegetables roasted over a wood fire and grilled seafood straight from the sea. Though it's less internationally celebrated, Croatian food shares many similarities with Italian cuisine. Both are rich in olive oil and fresh seafood, and their simple preparations let the quality of local ingredients shine through.
Even on a casual visit, you'll get to enjoy some of Croatia's cuisine. But, there's enough scope for you to take an entire culinary-themed tour of the country, focusing on the many varieties of local food and regional wines, and homing in on gastronomic experiences.
Cooked under the lid — peka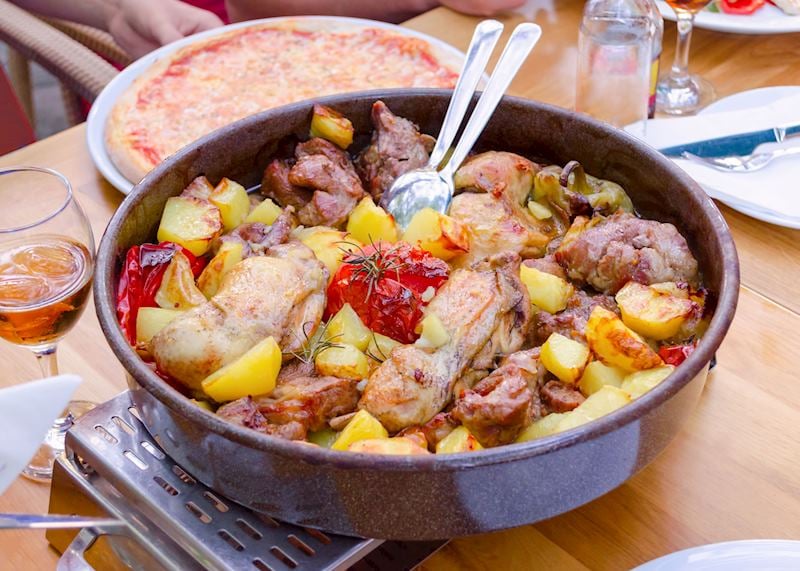 Though it's considered Croatia's signature dish, peka is a very simple meal. Vegetables and meat are tossed with olive oil and herbs, put in a large round cast-iron dish and covered with a bell-like dome. The contraption is roasted in a wood-fired oven, with glowing embers heaped on top.
Though peka is available at plenty of restaurants, it's traditionally made at home, in a fireplace or a special outdoor oven. To really experience peka, I suggest you find some time in your trip for a peka meal with Marin Vukorep.
A sturdy, well-tanned man, Marin welcomed me into his home in effusive Croatian that my guide interpreted for me. He lives in a farmhouse about a 30-minute drive from Dubrovnik, with a patio that's surrounded by flowering vines and that overlooks the distant mountains.
I nibbled on fresh figs as Marin showed me around his farm, introducing me to the frisky goats who live there. Then I got to sample the goats' milk in the form of creamy-sharp white goat cheese spread thickly on crusty bread as he explained the process of cooking ispod peke, which literally means 'under the lid'.
As I sipped nutty-sweet butternut squash soup, he carefully cleared the still-hot embers off the pan's domed lid, brushing them aside so as not to get any ash in the food. Then, using a special tool, he hooked the lid off, freeing a fragrant waft of herbaceous steam.
Finally, he moved the large pan to the table with a great flourish. Huge pieces of lamb literally fell apart at the touch of my fork, collapsing into rich shreds amid the rosemary-flecked potatoes and green vegetables. The whole thing was served with more bread, which had a sturdy crust and a chewy, pale-gold interior ideally suited for soaking up the drippings.
As I tucked into my meal, Marin made a long and heartfelt toast that my guide translated as expressing gratitude for new friends and good food, and a wish for happiness in the future.
Wine and oysters tour on the Pelješac peninsula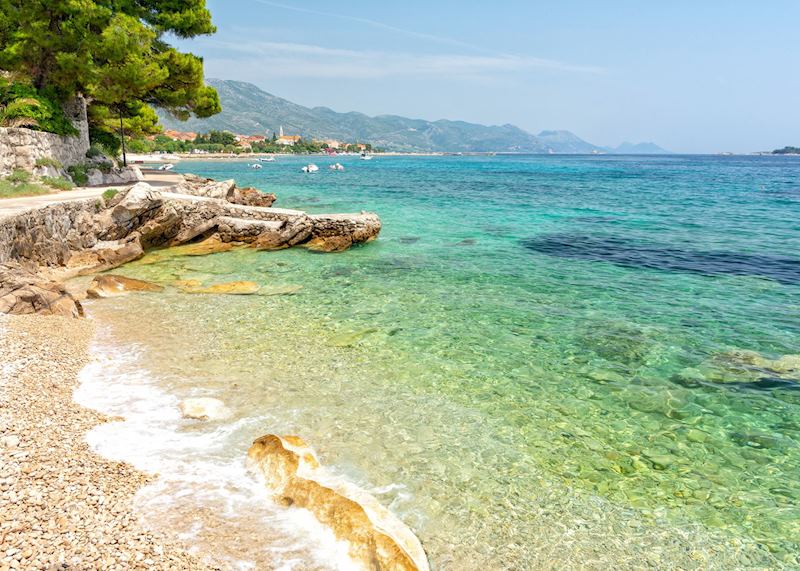 Croatia shares the same balmy Mediterranean climate that produces such storied bottles in Italy, and you'll find an assortment of exceptional wines wherever you go. Despite this excellence, Croatian wines are practically unknown internationally. I've heard several explanations for this, but in the end, I think it's because they want to keep it for themselves.
If you'd like to learn more about the wine-making process here, we can arrange a visit to one of the many small family-run vineyards scattered across the countryside.
The Miloš family — son Ivan and father Frano — sport matching beards and similar shocks of dark hair. Together they produce five different reds including plavac mali, the most prominent local wine made from the small blue-tinged grapes that grow abundantly here. Locals will tell you, with great pride, that it's the ancestor of the zinfandel grape, a claim that's hotly disputed elsewhere but taken for gospel among Croatia's vintners.
In a small stone tasting room, I sampled all five options. Well balanced and full-bodied, all five reds boasted dark cherry notes and hints of blackberries and spices, though one of the older bottles I tried also had a lovely woodsy finish.
After the tasting, my driver took me to an oyster farm in Ston, where I met Damir, a young man sporting an apron over his casual shorts and sandals. He greeted me with a wide grin and helped me into the long white motorboat to ferry me to the dock across the bay.
There, he pulled up ropes that were thickly clustered with oysters and explained how his family raises these coveted shellfish. For the tasting, his uncle Denis escorted me to a wooden table right at the waterside.
The Adriatic seems saltier than any other sea I've ever visited, and that clean mineral taste was distinctive in all three varieties of oysters I tried. Perhaps it was merely the exceptional freshness — the oysters had been in the water just minutes before I arrived on dock. The oysters, plump and briny and slightly sweet, paired beautifully with a selection of vibrant white wines from Croatia's islands.
Hunting for truffles in Istria
Two small, excitable dogs dashed through the leaf litter on the forest floor, kicking up last year's oak leaves under their tiny paws. Suddenly, the larger dog, named Brum, stopped and started frantically pawing at the rich, dark soil. I was on a truffle hunt and we'd just struck gold — a black truffle.
Mysterious and ethereal, both black and white truffles are abundant in Croatia's oak forests, but I was visiting in early autumn when you could only find the black variety according to my guides, Visnja and Mirko. They hunt for truffles amid the wooded countryside around their Istria farmhouse, located a 45-minute drive from Rovinj.
After Brum found the dark, knobby tuber, Visnja and I decided to call it a day and head back to the house for a well-earned lunch. Her mother, Vanda, had been busy in the kitchen as we tramped around the woods, and I sat down to a veritable feast that began with a selection of truffle-infused cheeses.
That was followed by a pan of softly scrambled eggs; their pillowy, creamy curds were heavily drizzled with truffle oil and then sprinkled liberally with shaved truffles. Next came the meat course: a beef roast that was thickly covered in the signature ingredient. Finally, dessert was a truffle-infused ice cream. The vanilla's floral headiness and the dairy rich creaminess created a perfect backdrop for the earthy complexity of the truffles.
A market tour and gourmet chef's lunch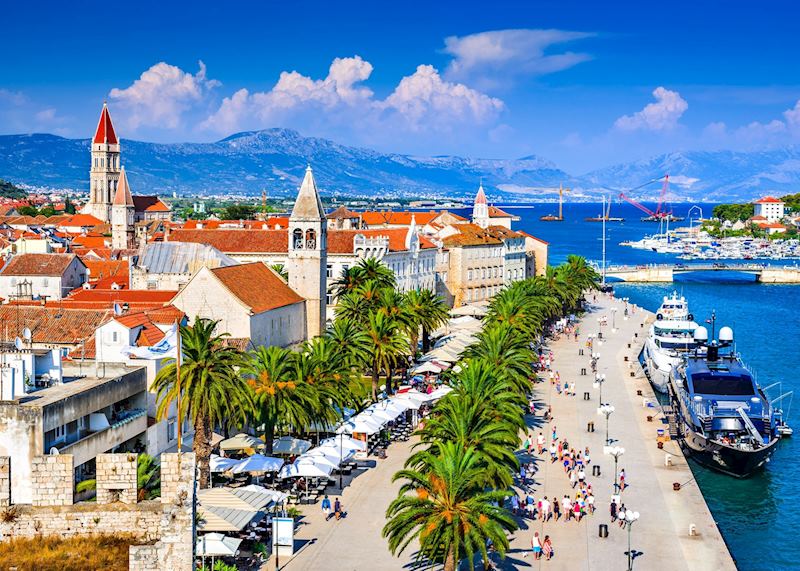 I met Robert at the market in Trogir, about a 40-minute drive from Split. Wearing a black cap and chef's jacket, as well as a ponytail, chef Robert looked every inch the charismatic chef that he appeared on MasterChef Croatia, where he earned the number three slot during the year he competed.
As my culinary guide to the market, he moved through the crowded stalls with the speed and ease of someone on his home turf. He greeted vendors by their first name as he pointed out the best places to buy cheese and meats and explained how to choose good quality oil — all as he picked up ingredients for my lunch.
Once he'd loaded up, Robert left to start cooking and my guide took me on a walking tour of the city. I got to see the 15th-century city walls and the imposing Kamerlengo Fortress, as well as the traditional klapa singers performing a cappella at the loggia.
After the tour, my driver took me out to a small stucco cottage nestled in a vineyard where I was greeted by Ivan, Robert's good friend and an experienced sommelier. Ivan explained that this was the exact vineyard that had resulted in the revelation that plavac mali grapes were the forerunners of zinfandel (he doesn't even acknowledge any controversy).
I sat down at a large outdoor table to a salad of fresh figs and mushrooms on a bed of spinach, accompanied by a glass of delicate white wine. This was the start of perhaps the greatest culinary experience in my life as Robert created five gourmet courses, each paired with a matching wine specially chosen by Ivan to complement the meal.
Over the course of a long, leisurely afternoon in the Adriatic sunshine, I enjoyed shocking pink beetroot risotto with mussels, grilled squid bathed in local olive oil, and a big piece of bluefish served with sweet potatoes and Swiss chard. The pièce de résistance was a tender, rich flan spiked with rose liqueur and served alongside fresh sweet figs.
Learning to make soparnik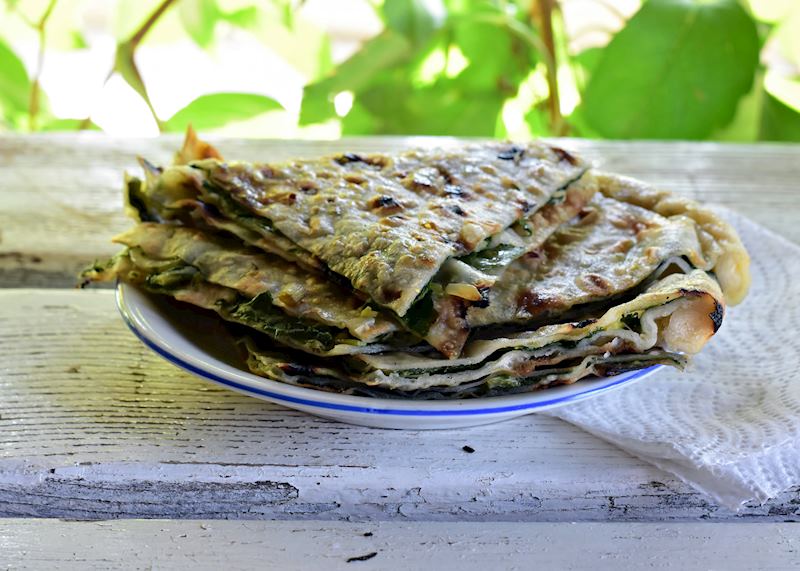 Unlike peka, which is eaten across the country, soparnik is a regional delicacy found in the Poljica area, between Split and Omiš. To learn more about this local dish, you can visit Anka at her house just outside of Sinj.
A slim woman with curly grey hair, Anka is one of just a few dozen people 'officially' allowed to make and sell the dish, which is protected as an aspect of Croatia's intangible pieces of cultural heritage by the European Commission. She began by making a simple flour dough that she rolled out so thinly it looked like a piece of paper. Once it was the size of a manhole cover, she strewed the dough with garlicky greens and topped it with another round of dough before coating the top with olive oil.
She then carefully cleared a spot on the hearth, brushing away the glowing embers. With a deft flick of her wrist, the whole uncooked soparnik slipped off the pan and onto the hot hearth, where she carefully piled red-hot coals and pale white ashes on top.
When she judged it done, Anka carefully brushed the ashes and coals off before pulling the finished product out of the fire. Pouring a generous dollop from an old teacup, she used her hands to spread olive oil over the delicately charred top crust, which was pockmarked with golden brown spots and even a few blackened blisters. The scent of hot oil and cooked garlic filled the room.
Cut into diamond shapes, the soparnik made a pungent start to the meal, which also included braised beef served over polenta with cheese from the nearby island of Pag.
Read more about trips to Croatia

Start thinking about your experience. These itineraries are simply suggestions for how you could enjoy some of the same experiences as our specialists. They're just for inspiration, because your trip will be created around your particular tastes.
View All Tours in Croatia
Further reading