By Audley India specialist Alison
Kerala is a lush patchwork of paddy fields, tea plantations and meandering backwaters, which offers you a very gentle introduction to India.
Its laid-back charm and unhurried pace of life are evident as you make your way along inland waterways, wander around spice plantations, walk in the hills or relax on the beach. There's a rich cultural heritage and architecture harking back to the Portuguese, Dutch and British colonisers who fought to take charge of the region, each leaving their mark. And, Keralan cooking is superb - inspired by the coconuts and spices that grow in the tropical conditions and the bountiful catches of seafood from the Malabar Coast, which bounds Kerala's coastline.
Things to do in Kerala, my selected highlights
Explore the busy streets of Cochin

Fishermen working on their nets in Cochin
Made wealthy by the spice trade, Cochin is the main entry point to Kerala by air, the region's largest natural port and an atmospheric place to visit.
Traders from all over the world came here and their grand mansions, churches, synagogues and mosques line the streets of old Fort Cochin to this day. Interspersed are lively shops, galleries and cafés, it makes the bustling old city a delightful place to wander.
There's a great choice of restaurants serving excellent seafood and lots of antique shops. I particularly loved visiting the Dutch Palace, where murals cover much of the walls, depicting scenes from the epic stories of the Ramayana and Mahabharatha.
Cochin was built on a series of islands, broken fragments of the mainland where it meets the Arabian Sea, and you can also go on a sunset boat tour around the bay.
Experience local life at a homestay
Tranquil Hideaway is set within remote and lush rainforest
One of the highlights of a trip to Kerala is the option to stay with a local family. Sharing their meals and seeing local life through their eyes, you'll gain an insight into life here. All homestays offer private en suite rooms.
Dewalokam, about 90 minutes' drive from Cochin, is one of the best homestays I have stayed at. It is set on an organic farm and has eight simple but elegant, air-conditioned rooms in the main house and three further rooms in a traditional cottage in the forest.
The food here is superb, with ingredients coming from the farm, and hosts Jose and Sinta go above and beyond the call of duty to make your stay a rewarding one. There's a small pool, yoga every morning and the possibility to visit local schools or join in with work on the farm.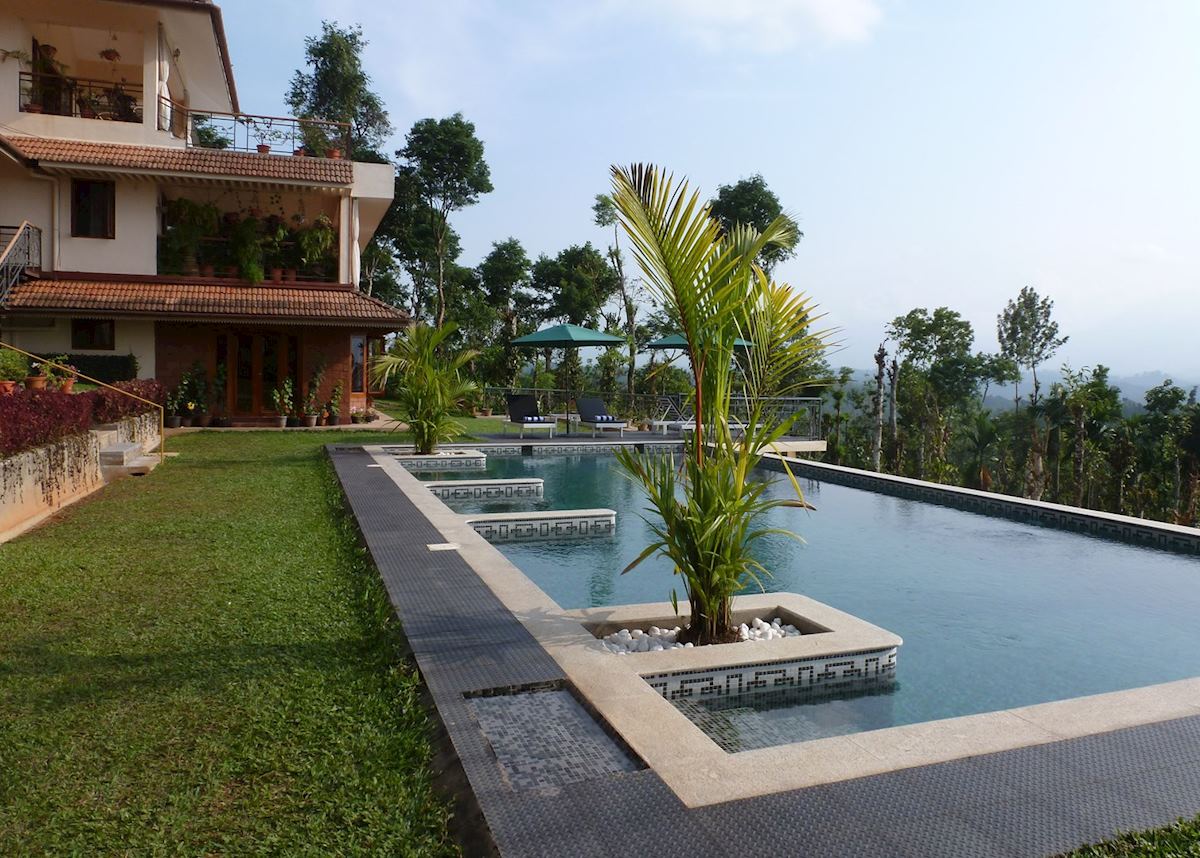 The pool at the Amaryllis homestay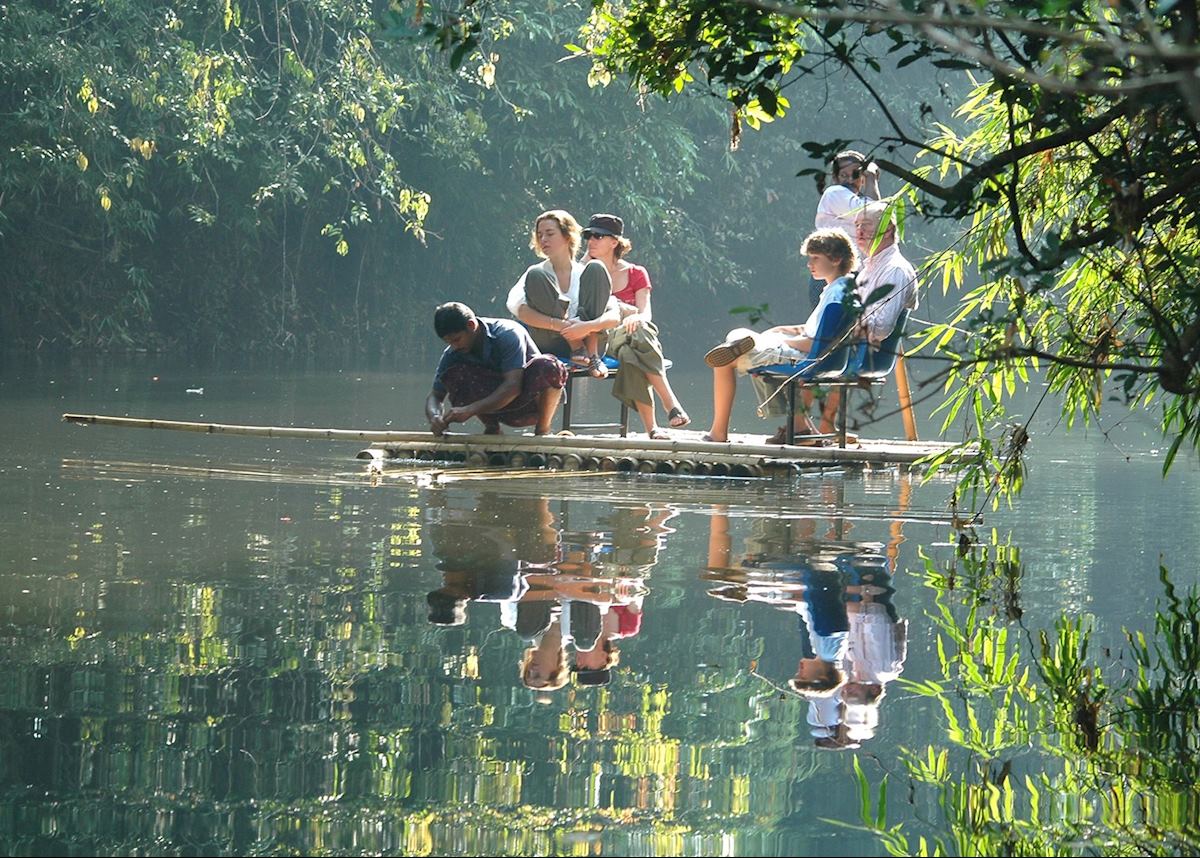 A family enjoying the river at Dewalokam
In less visited north Kerala, about six hours' drive from Cochin, high in the Western Ghats, Tranquil Hideaway, and its sister property, Amaryllis, are other fantastic choices. Both are run by members of an extended family who offer a really personal insight into life in this remote and unspoilt area.
Tranquil Hideaway is built in traditional style on a large coffee plantation, whereas Amaryllis is more modern and surrounded by farmland where hosts Victor and Jini grow coffee, pepper, nutmeg, cinnamon and fruit. Victor has worked on plantations all his life and is extremely knowledgeable about spice and coffee cultivation. He is also a member of the historic Ooty Club and can take guests to visit this relic of the Raj.
As well as the guest rooms, both Tranquil and Amaryllis have tree houses set in the grounds, where you can wake to panoramic, elevated views of the estates.
Take a walk in tea country
Tea plantation in Munnar
Kerala is home to south India's largest tea growing region, on the edge of the Western Ghats. At its heart is Munnar, a former British hill station, surrounded by hillsides blanketed in tea bushes.
Set in the mountains about three and a half hours east of Cochin, the elevation in this part of the country is reflected by weather that is refreshingly cool and ideal for walking. There is a host of trails in the hills and I'd recommend two nights here so you can visit a tea estate and have time to explore on foot.
If you're keen on walking, Ecotones is a lovely sustainable property with pretty cottages and quirky mud houses. You can wander along the estate's walking trails, borrow bikes and visit local spice plantations. For more luxury, my preferred option would be Spice Tree for its elegant rooms, which come with a private Jacuzzi or plunge pool.
Sail through the backwaters of Kerala

Houseboat on the Kerala backwaters
Kerala's backwaters are a labyrinth of rivers and canals that lace through forests, spice plantations and paddy fields. Exploring these waterways on a converted rice barge offers a glimpse of the unhurried charm of everyday life here. You will pass people fishing, doing their washing and working on the palm-tree fringed banks. The spacious wooden houseboats are converted to carry passengers and, generally, have one to three simple air-conditioned cabins with en suite showers.
Most trips begin in Alleppey, about an hour south of Cochin, and you can choose to spend just an afternoon on the boat, but you'll get a better insight into the area by staying overnight. Typically, you'll board in time for lunch, spend the afternoon cruising, explore narrower waterways by canoe as the sun sets, enjoy dinner on board and then return to your starting point just after breakfast.
You can also take a three day cruise on the MV Vrinda, a more luxurious option for exploring tranquil rural backwaters away from the well-travelled routes. You'll transfer onto smaller boats to explore the more slender channels and can enjoy traditional dance performances in the evening.
Relax on one of Kerala's beaches

Fishermen on a Kerala beach
You are as likely to see fishermen hauling in their catch as other visitors enjoying the sun on Kerala's beaches. These are working shores, and the sea can be choppy and not always safe for swimming. However, there are some beautiful places to relax for a few days on the coast, watching local life around you unfold.
Marari beach, about an hour south of Cochin, is a sleepy former fishing village with just a handful of hotels. The best accommodation here is Marari Beach Resort, an eco-friendly hotel with individual thatched cottages built in the style of a traditional village. There's a large pool and spa, daily yoga sessions and three restaurants using ingredients picked from the hotel garden.
Kovalam is livelier and found in Kerala's far south, about five and a half hours' drive from Cochin, with a string of restaurants and cafes lining a promenade. Although the beach does get busy, you can retreat to the tranquillity of the Vivanta by Taj, which is set in beautiful landscaped gardens just outside town. The stylish modern suites and villas are extremely comfortable and the hotel has its own tiny backwater area.
Less visited and largely undiscovered, northern Kerala's beaches are some of the best in the state. The Neeleshwar Hermitage, about eight hours' drive north of Cochin, is a luxurious spot with 16 thatched cottages right on the beach. It offers Ayurvedic spa treatments and runs a choice of cultural programmes and cookery classes.
Keralan cuisine

A dish of tiger prawns
The food is one of the things I love about Kerala. It's very different from north Indian food, not so rich and with a fresher taste. Coconut is a central ingredient and fish and seafood are a speciality with huge tiger prawns, superb lobster and plenty of pearl spot (a species of cichlid) from the Keralan backwaters.
Each family has their own preferred dishes and if you stay in several homestays you'll be treated to a great variety of food. Traditional meals are served on a banana leaf and made up of a series of little dishes - possibly up to 20 for a special occasion. One of the dishes I most look forward to when visiting, though, is meen varuthathu, marinated fish wrapped in a banana leaf and cooked on a grill.
Best time to visit Kerala

The mountains of Kerala
The best time to visit Kerala is between January and March. By April, temperatures are uncomfortably high and the main monsoon season starts in June. October to December is also a good time to visit, especially if you wish to travel to northern India as well, although you may catch the tail end of the second monsoon, which can result in short evening showers.
Extending your trip

Leopard in Nagarhole National Park in the southern state of Karnataka
Kerala combines well with a trip around the magnificent sights of India's Golden Triangle and is just a three hour flight from Delhi. Alternatively, from Neeleshwar it's easy to cross into Karnataka state to visit Nagarhole National Park, which is home to wild elephants, tigers, macaques and many bird species.
From the tea country, you can travel four hours by road into Tamil Nadu to visit the towering Meenakshi Temple at Madurai, or start or end your trip in Bangalore and visit Mysore, the ostentatious ancient city of the Wodeyar Maharajas.
Start planning your trip to Kerala
---
Start thinking about your experience. These itineraries are simply suggestions for how you could enjoy some of the same experiences as our specialists. They're just for inspiration, because your trip will be created around your particular tastes.