By India specialist Tara
Kerala's unhurried pace of life is evident across its inland waterways, spice plantations, forested hills and mustard-yellow beaches. The architecture harks back to the Portuguese, Dutch and British colonialists who fought to take charge, each leaving their mark. And, Keralan cooking is inspired by the coconuts and spices that grow here, and seafood from Kerala's western Malabar Coast.
This southern state proves a gentle introduction to India for first-timers, or a contrast if you've already visited the north — my chosen highlights can combine into a two-week classic Kerala tour.
Cochin, Kerala's historic port city

A port since 1341, Cochin reaped the rewards of the spice trade, attracting dealers from across the world. Their mansions, churches, synagogues and mosques line the streets of the old Fort Cochin district to this day.
With an international airport and good road connections, the city still holds sway in the region and is likely to be your first stop.
A walking tour with a local resident is a good way to get to know the city. This way, you'll take in not only the historic architecture, but the markets, shops and cafés that have grown up in-between.
Most places you'll visit across Kerala are rural, so I'd make the most of the shopping here, from the sari emporiums on Mahatma Gandhi Road, or M G Road for short (every city has one) to the jewellery showrooms at Jewel Junction.
Cochin is built on a series of islands, broken fragments of the mainland where it meets the Arabian Sea. Come evening, you can take a cruise around the bay, watching the sunset through the silhouettes of Chinese fishing nets.
Afterwards, dine at a waterfront restaurant — I frequent Brunton Boatyard's terrace grill for fresh seafood and chuttulli meen (a Keralan-Jewish fusion dish of stuffed fish).
Local hospitality in a homestay

For me, one of the highlights of a trip to Kerala is staying with a local family in a homestay — so much so that I often plan trips around their availability.
All the homestays we use, including my two recommendations below, have the privacy of sizeable rooms with en suite bathrooms.
Dewalokam Homestay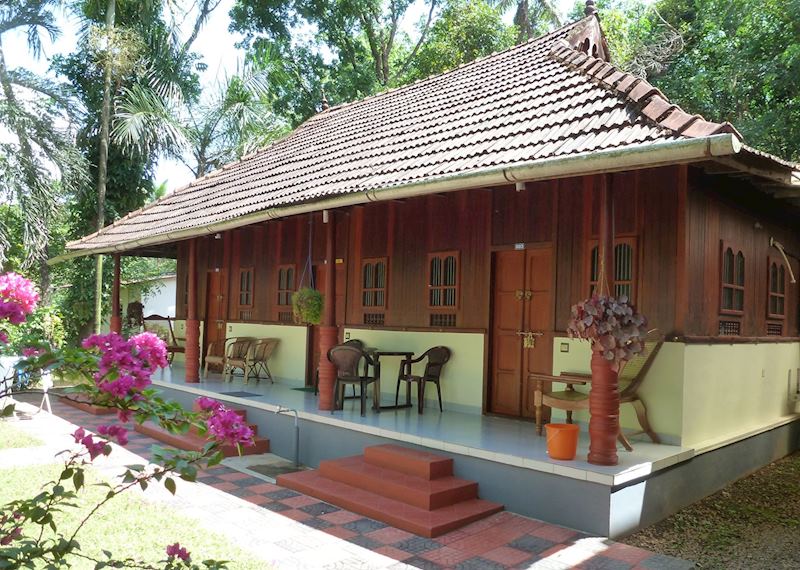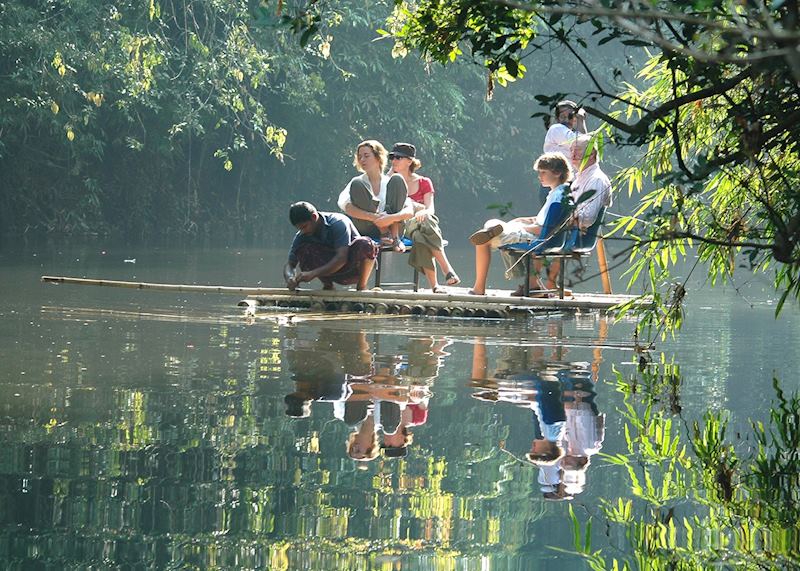 Set on an organic farm about 90 minutes' drive from Cochin, Dewalokam is surrounded by nothing but forest, farmland and the teal-watered Kaliyar River. You'll hear the bleating of the farm goats when you wake, and the click of jungle crickets in the evening. During the day, there's a river to swim or raft across, a freshwater pool, and the opportunity to help milk the cows.
Eight simple but elegant air-conditioned rooms occupy the main house, with three further rooms set in a traditional cottage in the forest.
Owners José and Sinta are very hands-on, taking you on guided tours of the farm and to visit the nearest village. They seem to know everyone, so you'll frequently find yourself stopping to say hello and drink tea.
In the evening, everyone sits down at one giant table, passing around bowls of coconut-based curries, tandoori chicken and fish moillee (a tomato and ginger sauce). If you'd like to see how the dishes are created, cooking lessons run daily.
Philip Kutty's Farmhouse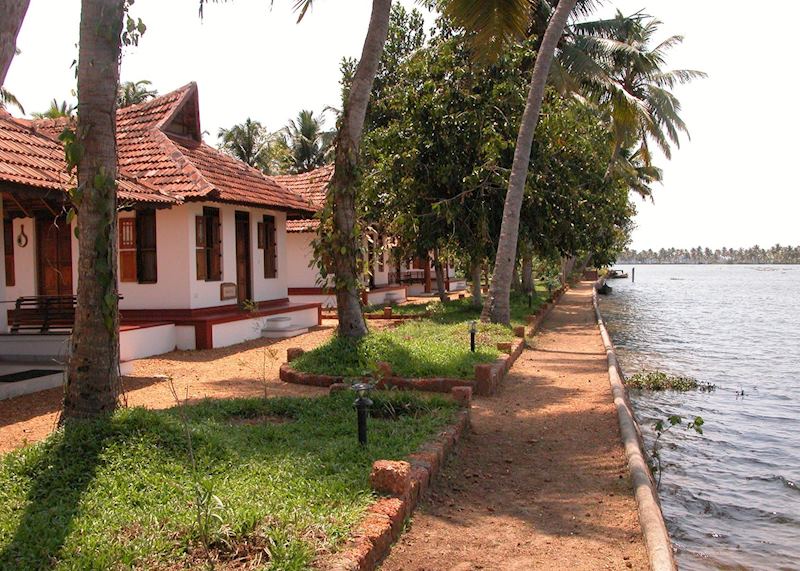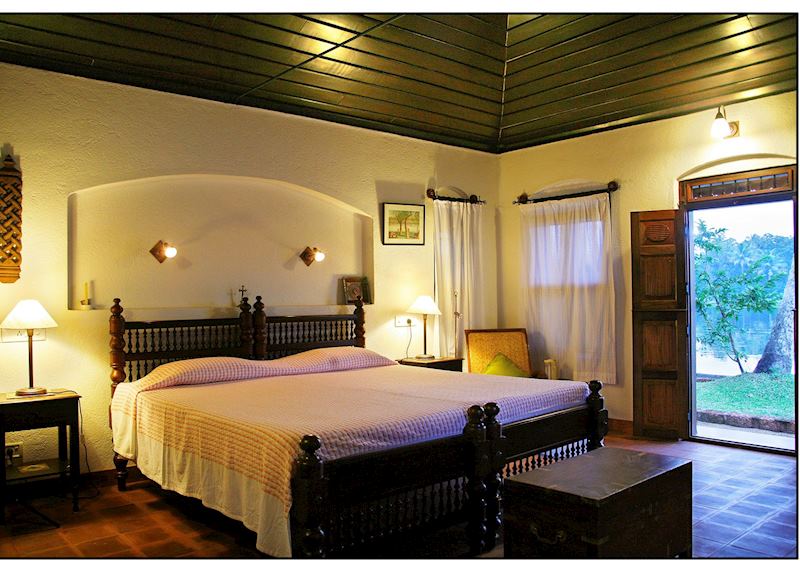 While Dewalokam feels like a homestay with a small farm, Philip Kutty's is a farm with rooms. Seven whitewashed cottages face the waterway on an island of reclaimed farmland on Vembanad Lake in the backwaters.
You're punted across to the island by long canoe and greeted by the owner, Anu, who's helped by her mother-in-law and children.
Touring the farm, you might see workers climbing up into the coconut trees using footholds made from old husks. In the evening, you can take a boat out onto the water — the sunsets are suitably impressive, but the moonrise steals the show on a clear night.
There's a focus on slowing down here, in the shape of yoga classes and Ayurvedic treatments. You'll enjoy communal dinners, spot kingfishers and, if you're lucky, witness a nightscape lit by fireflies.
If you do get fidgety, there are bicycles and fishing rods to borrow — and you're welcome to help bring in the farm's Chinese fishing nets.
Walking in Munnar's hills

I'm a huge advocate of Munnar, a former British hill station that sits at the middle of south India's largest tea-growing region, on the edge of the Western Ghats. The town is about three and a half hours east of Cochin, where the weather is refreshingly cool and ideal for walking.
There's a tea museum and small spice market in Munnar, but the lure is the surrounding hills, blanketed by tea bushes and, as you climb higher, topped with thick forest. Spend two or three nights here and you can tackle some of the trails, which range from short tea-field wanders to peak-tackling hikes.
I stay at Ecotones, a sustainable property with a mix of turmeric-shaded cottages and thatched-roof mud houses, built by craftsmen from the nearby Muthuvan community. The owner, Manouch, is an avid ornithologist and often on hand to point out some of the 146 species seen here.
I got up at the crack of dawn one day, and, led by Manouch, hiked in the dark to a nearby peak. As the sun rose, it began to pick out the treeline below, before illuminating the views right across the Western Ghats.
Backwater cruises on a houseboat
Kerala's backwaters are 1,500 km (932 miles) of rivers and canals that lace through forests, spice plantations and paddy fields. Exploring these waterways on a converted rice barge offers a glimpse of the unhurried pace of everyday life here, as you pass people fishing, doing their washing and working on the palm-fringed banks.
Most trips begin in Alleppey, about an hour south of Cochin, and you can spend just an afternoon on the boat or stay overnight. Typically, you board in time for lunch and cruise throughout the afternoon, stopping to explore narrower waterways by canoe. It can be busy on the main waterways, but houseboats soon spread out as you journey onward.
The boat docks toward the end of the afternoon and you'll either disembark or, if you're staying overnight, sit down for dinner. I ate freshly caught fish and a trio of coconut curries on the deck of my houseboat, topped off by the sunset that followed.
The spacious wooden houseboats hold one to three simple air-conditioned cabins kitted with en suite showers. After sunset, there's not a huge amount to do (and lighting the boat like a Christmas tree tends to attract mosquitoes), so be prepared for an early night. You're then fresh to catch the sunrise before breakfast and disembarking.
Kerala's best beaches

You're as likely to see fishermen hauling in their catch as you are other visitors enjoying the sun on Kerala's beaches. These are working shores — the sea can be choppy and isn't always safe for swimming. If you're looking for a pristine beach bedecked with loungers, Kerala combines well with the Maldives.
If, on the other hand, you're seeking a coast with character, stick with Kerala. Marari Beach, about an hour south of Cochin, is a fishing village with a handful of hotels.
The best of the bunch is Xandari Pearl, a laidback, elegant hotel with spacious villas laid out between carefully tended gardens. Designed with relaxation in mind, there's a focus on yoga, meditation and Ayurvedic massage, and the restaurant use ingredients picked from the hotel farm.
If you're prepared for a long drive, northern Kerala's beaches are among the best in the state, and, thanks to their location, relatively undiscovered.
Neeleshwar Hermitage, about eight hours' drive from Cochin, has 16 thatched cottages right on the beach. You're encouraged to fall into the slow-moving Keralan lifestyle here, aided by morning yoga, Ayurvedic treatments and hammocks swaying in the palm groves.
Food experiences in Kerala

There's good reason so many Indian cookbooks are dedicated to Kerala's regional cuisine. It's very different from north Indian food, not so rich and fresher in taste.
Coconut is a standard ingredient, and seafood a specialty. Expect tiger prawns bigger than your hand, lobster and plenty of pearl spot (a species of cichlid) from the Keralan backwaters.
Each family has its own preferred dishes, meaning you'll be treated to a variety of food if you stay in several homestays (almost all also offer cooking lessons).
Traditional meals are served on a banana leaf and consist of a series of little dishes — sometimes up to 20. I most look forward to meen varuthathu, marinated fish wrapped in a banana leaf and cooked on a grill.
Best time to visit Kerala
It's best to go to Kerala between January and March. By April, temperatures are uncomfortably high, and the main monsoon season starts in June.
October to December is also a good time to visit, especially if you want to cover northern India as well. It's worth noting that you might catch the tail end of the second monsoon season, which can result in short evening showers.
Extending your trip

You can combine Kerala with a trip through north India, as it's just a three-hour flight from Cochin to Delhi. Alternatively, from Neeleshwar, it's easy to cross into Karnataka state to visit Nagarhole National Park, which is home to elephants, macaques and a long list of bird species.
From Munnar, you can travel four hours by road into Tamil Nadu state to visit the towering, technicolour Meenakshi Temple at Madurai. Or, start or end your trip in Bangalore and visit Mysore, the ostentatious ancient city of the Wodeyar Maharajas.
Start planning your trip to Kerala

Start thinking about your experience. These itineraries are simply suggestions for how you could enjoy some of the same experiences as our specialists. They're just for inspiration, because your trip will be created around your particular tastes.
View All Tours in India