The rolling hills and tea plantations of Munnar provide some of the highest vistas in southern India and are ideally suited to walking. Walking options are available at all levels and lasting from two to five days, plus there are two centre treks which incorporate the Periyar region to the south of Munnar.
Your starting point for a two-day trek is around 11 miles (18 km) from Munnar at an altitude of around 5,000 feet (1,500 m). You gradually climb to a height of over 8,200 feet (2,500 m). passing through protected forests and reserves that are home to wild elephants, sambar, sloth bear and the endangered nilgiri tahr.
You overnight in high-quality tents and warm sleeping bags are provided, as temperatures fall in the night.
Start planning your walking trip to India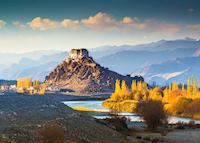 A trip to the mountain kingdom of Ladakh, taking in beautiful scenery, high altitude passes, deserts and monasteries.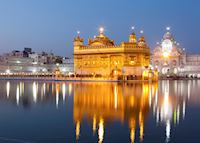 Explore the diverse foothills of the Himalaya including Amritsar, Dharamasala and time in Shimla to relax and experience the remains of the British Raj.
Enjoy the full diversity of India's western Himalaya, taking in colonial history in Shimla, Tibetan culture at Dharamsala, the Sikh's Golden Temple in Amritsar and a Hindu ceremony on the Ganges.
---
Walking in India: Where to go