The Indian Ocean's star-quality beaches often eclipse its other draws, such as the range and quality of the region's cuisine. There are similarities across the ocean, but that freshly caught red marlin might be grilled on the beach in Seychelles, served as carpaccio in the Maldives or cooked into a curry in Mauritius.
Focusing on the Seychelles, Mauritius and the Maldives, our specialists take you through each region's culinary distinctions, narrowing down some of the best places to eat, delicacies to seek out, and food experiences.
Food in Mauritius
By Anna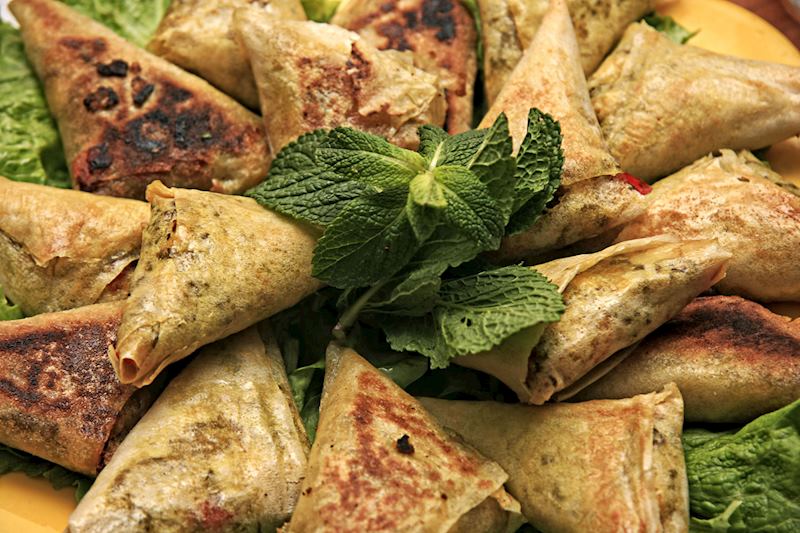 I could write pages on Mauritian food: the island is the size of greater London, and has a heady mix of cultures and cuisines to match. There are crusty French rolls and locally grown coffee for breakfast, salade de palmiste (heart of palm salad) or samosas for lunch. Dinner could be fish curry served with a homemade selection of pickles, or an exquisite arrangement of smoked marlin carpaccio.
Between meals, there's rum to sample, tea plantations to tour, and coconut-based cocktails to accompany the sunset. The size of the island means you can take guided tours to explore, and many hotels have culinary experiences so good, it would be a shame not to combine staying in a few.
Best food experiences in Mauritius
Fine dining at La Demeure Saint Antoine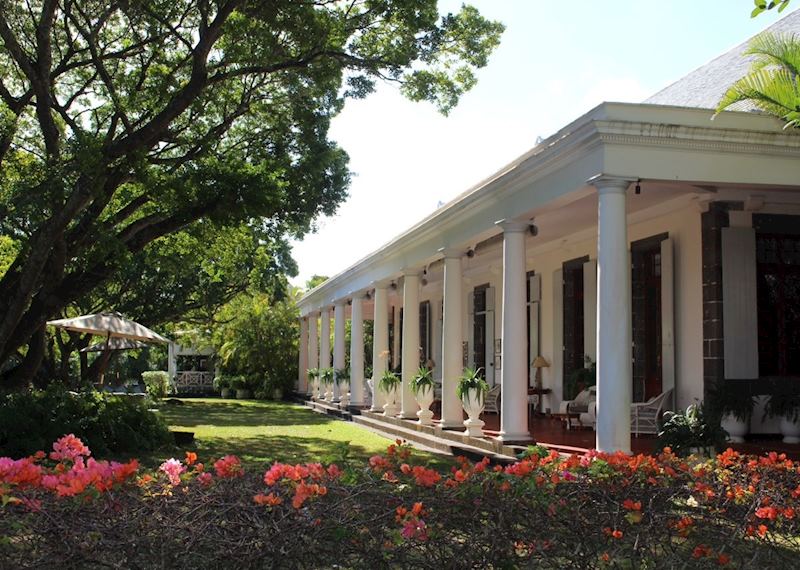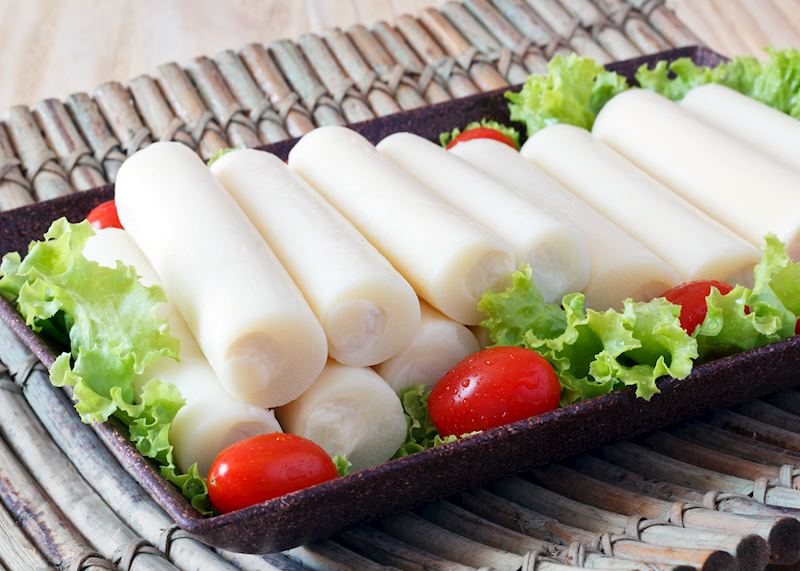 When I dined at La Demeure Saint Antoine, the French Ambassador to Mauritius was entertaining a group of diplomats on the candlelit veranda. This might sound like blatant name-dropping, but it sums up this French-colonial family house once owned by François de Chazal de la Genesté, advisor to King Louis XV.
Although, it's not overtly fancy. This is a single-storey house that's now a low-key restaurant, with an à la carte menu and a service that's so slick you don't notice the bread basket being refilled. Dishes are a French-Mauritian fusion, such as palm hearts and hollandaise sauce, and venison curry with lemongrass and mango salsa.
There are four en suite rooms in the adjoining house, which lead onto a wrap-around veranda dressed with chaise longues and wicker sofas. Stay the night and you can take a morning walk among the venerable banyan trees in the garden, and breakfast on warm, crusty French bread.
Local cooking at La Kaze Mama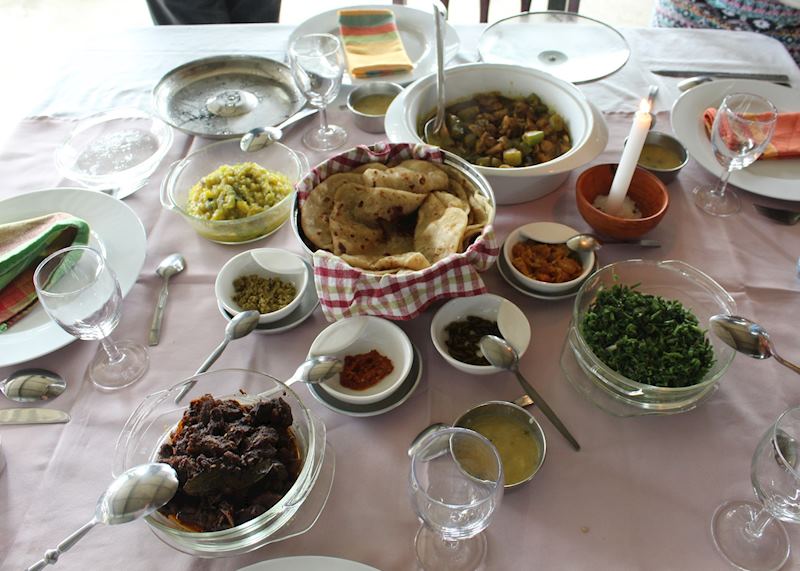 On the quieter south coast of Mauritius, Shanti Maurice has created a genuinely Mauritian intimate dining experience. At dusk, you're led through the hotel's herb garden to a small collection of wooden tables illuminated by fairy lights.
Here, a group of sari-clad women greeted me, and introduced me to their spread of Mauritian specialties. There was marlin and kaffir lime leaf salad, breadfruit dumplings and pumpkin cooked in Creole sauce (a tomato-based curry).
Farata (Indian-inspired flatbreads) are cooked to order on a hotplate and, to finish, you could try mango sago, a spongy dessert made from palm stems. This should, I was told by my waiter, Sirvesh, be accompanied by a cold bottle of local Phoenix beer.
Hands-on Creole dining in Mauritius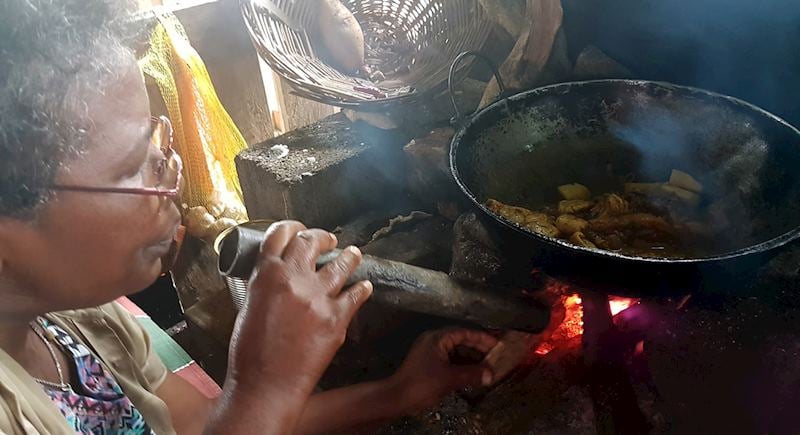 Mauritian grandmother Marie-Michelle cooks up Creole specialties over an open fire from her traditional alfresco kitchen in central Mauritius, and you can join her to glean a little of what that involves.
Creole cooking entails a lot of slow simmering and marinating, so you won't create dishes from scratch. Instead, Marie-Michelle shows you the process and shares her recipes for dishes like wild boar and chicken curries, mango pickle, and farata. You're then enlisted to help with the final preparations before sitting down together to eat.
Sampling Mauritius's produce, from tea to rum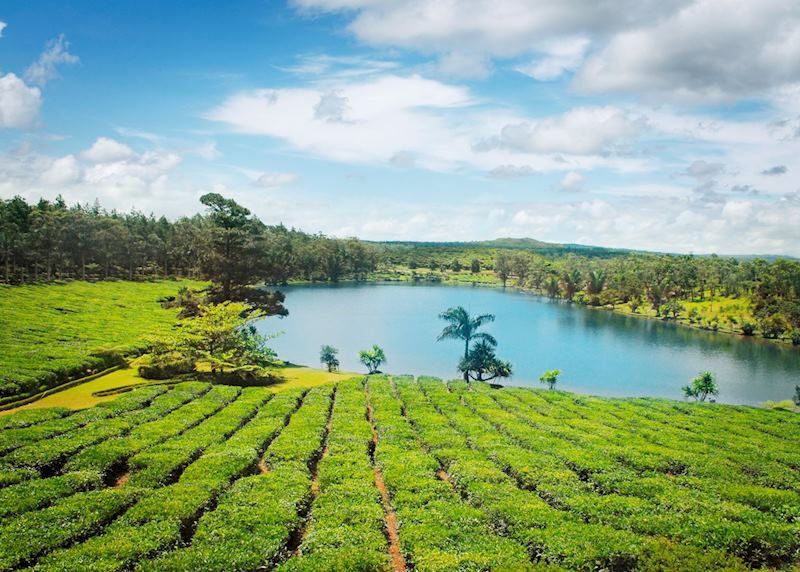 The island's history has been carved out by the crops grown here, from sugar fields originally toiled by slaves to tea picked by indentured Indian workers. A number of these old plantations have been preserved and are open to visitors.
At Bois Cheri Tea Factory you can watch the industrial tea-making process, before sitting down for a three-course tea-infused meal followed by a selection of brews. (Don't expect to get plain black tea — the Mauritian staple is a vanilla infusion.)
On the south of the island, the Rhumerie de Chamarel still cultivates its own sugarcane to make rum with. You can take a guided tour around the gleaming copper vats in the distillery before sampling the rum — healthy glugs of all ten varieties (as well as four liqueurs).
L'Aventure du Sucre is an old sugar factory that's now a museum. It's the size of an aircraft hangar, so you'll need a few hours to do it justice. The history of sugar is explained in an impressive series of videos and interactive exhibits. You're then encouraged to sample all 12 varieties of Mauritian sugar, as well as chew on a fresh chunk of sugarcane.
Food in the Maldives
By Hannah
You won't come across chunky tomes written about Dhivehi (traditional Maldivian) cuisine, but it isn't overlooked. À la carte menus incorporate key ingredients like coconuts, fish and taro, as well as specialties including fragrant garudhiya (tuna soup).
As each Maldivian hotel is its own little island world, there's a focus on carefully crafted fine-dining experiences. This is a destination for gastronomists, where the restaurants could easily grace the cover of a design magazine.
Best food experiences in the Maldives
Fine dining at The Lighthouse Restaurant, Baros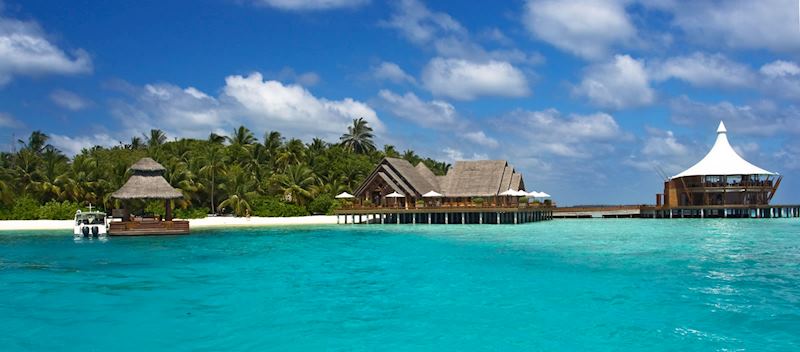 Baros's circular restaurant sits on a jetty, softly illuminating the surrounding water, and has become renowned across the Maldives. With a focus on seafood, it tempts you with everything from freshly shucked oysters to tiger prawns served with a tangy passion fruit and mango coulis.
I can recommend the salmon stroganoff, which was flambéed with cognac and lemon by my table. As you dine, you can see reef sharks scanning the seabed below, searching for their own dinner, and the occasional snapper rippling the surface.
Dine on a sandbank in the Maldives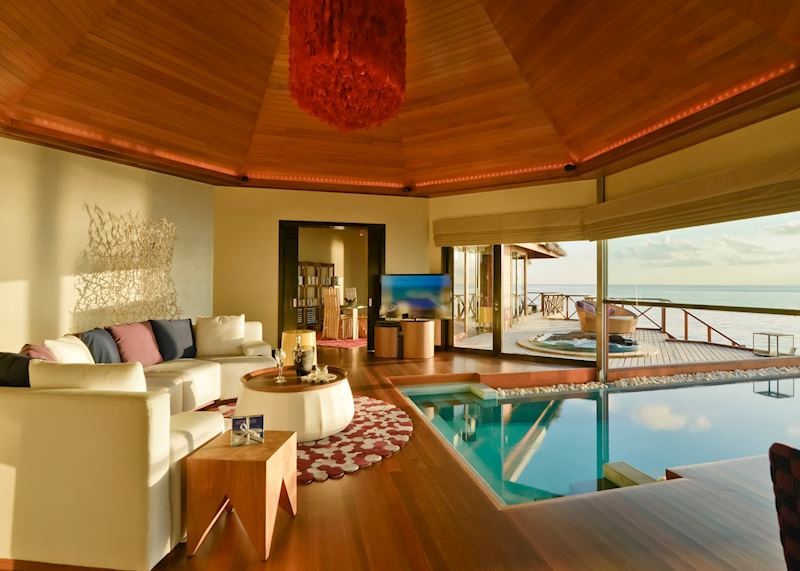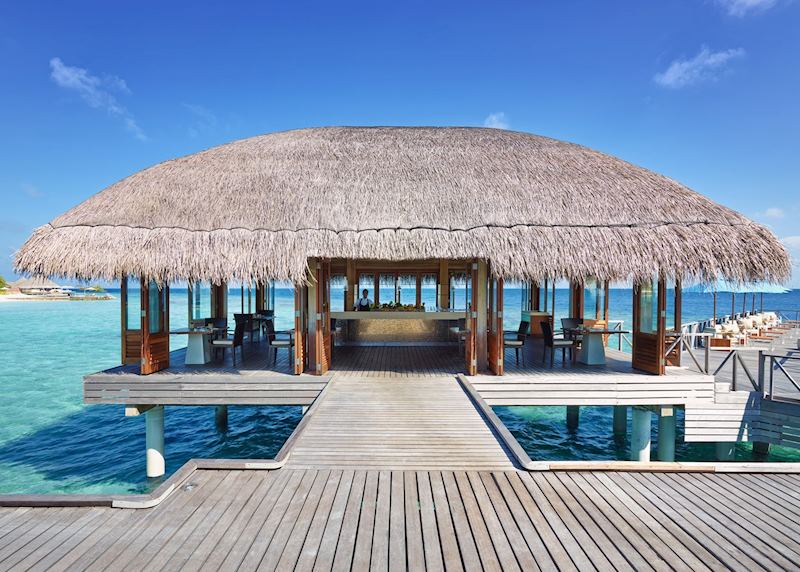 If you're seeking secluded dining experiences, your own private sandbank is a venue that's hard to beat. With thousands of sandbars sprinkled across the ocean, most hotels offer a castaway experience of sorts.
Huvafen Fushi can arrange torchlit dinner on a patch of sand dressed with nothing but a single table and grill, where your private chef will sear tuna and tenderloin steaks.
For complete privacy, opt for a picnic lunch. You're marooned with a hamper of salads, sandwiches and cakes, and can laze among piles of cushions while Champagne chills in an ice bucket nearby.
Dine underwater at Conrad Maldives Rangali Island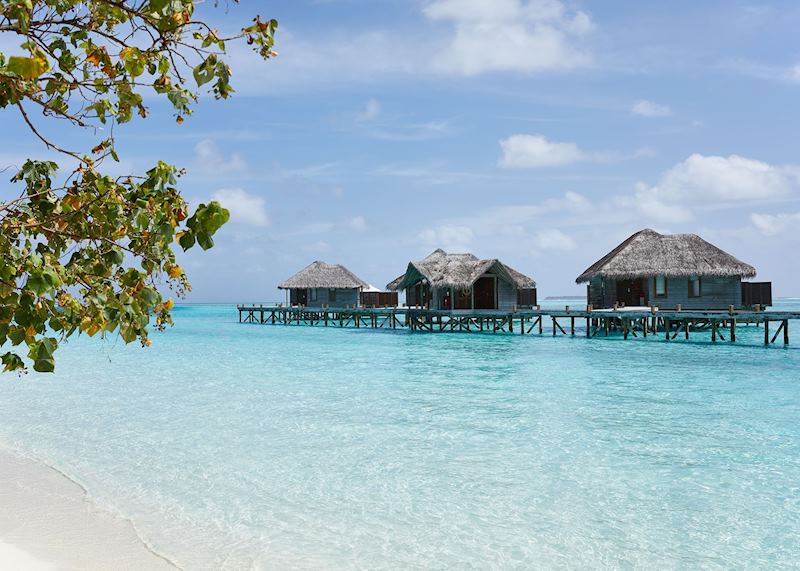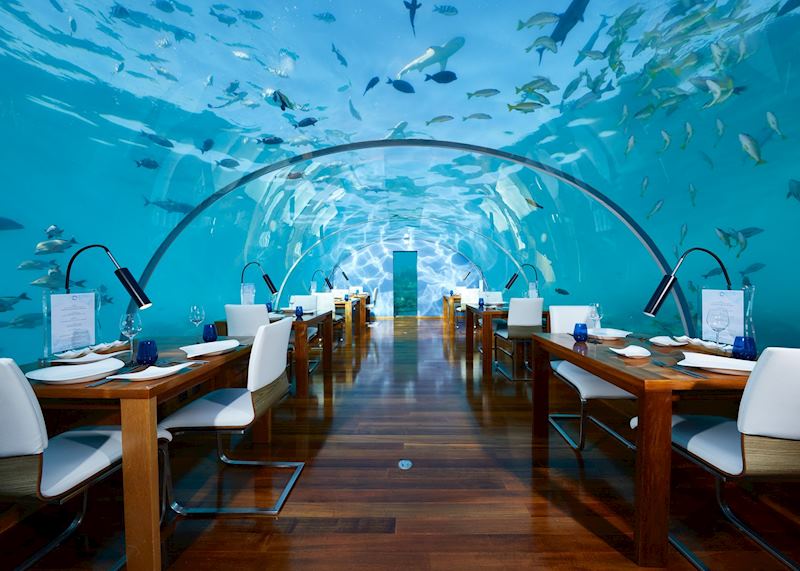 It might sound a tad gimmicky, but there's something special about eating while a shoal of silverfish flicker by. And, with the ocean at your side, anything from green turtles to giant oceanic manta rays can turn up.
Conrad Maldives Rangali Island's Ithaa has just eight tables set underwater in a tunnel of glass. The set lunch and dinner menu is a fusion of European ingredients, like truffles and caviar, and local influences including sea snails, sea beans and coconut. You can also dine privately.
Food in the Seychelles
By Savina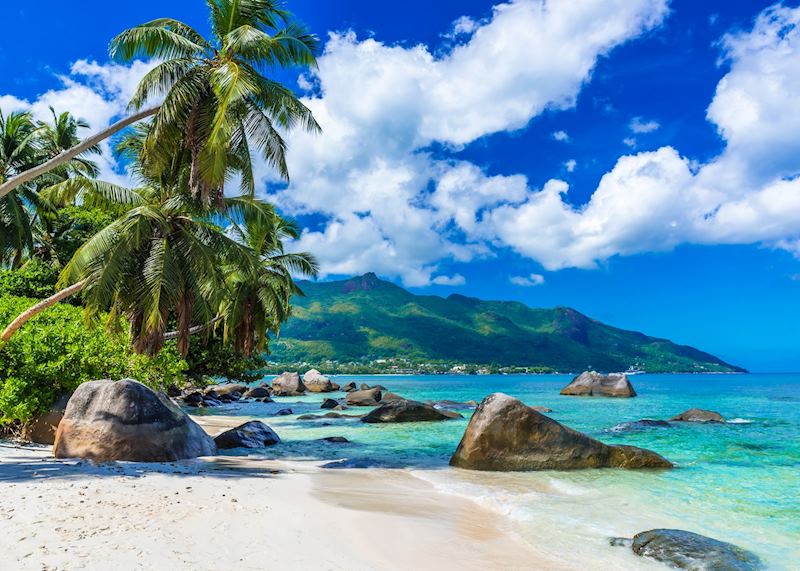 The crux of dining in the Seychelles is which island you're staying on. The largest island, Mahé, has spice plantations and rum distilleries to explore, as well as resorts that offer fine-dining experiences akin to the Maldives.
The easily explorable La Digue claims the best local restaurants and homemade Creole specialties, while private islands grow much of their own produce.
Regardless of the experience, there's one common theme: seafood. It's the second biggest industry after tourism on the islands, and I'd say that around 80 percent of dishes on a menu are seafood.
Best food experiences in the Seychelles
Seychellois Creole signatures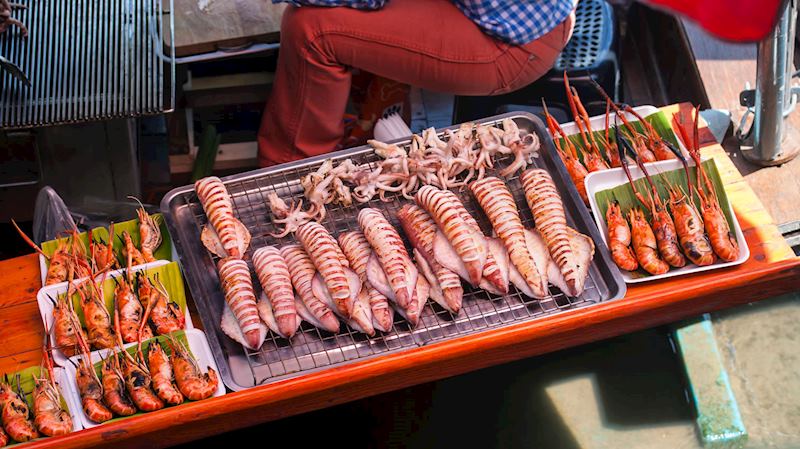 Like the cuisine in Mauritius, Seychellois food is Creole, influenced by African slaves. But, the islanders are mostly Christian — so you'll see a bit more pork and beef on menus, as well as the key Indian Ocean staples: fish, coconut and, well, more fish. Look out for the small plastic-chair-and-table restaurants, serving up fresh green job fish and parrot fish.
At weekends, families gather on the beach to grill fish and breadfruit. A bumpy green fruit (once cooked it has the texture of dough) there's a local saying that once you've tasted breadfruit, you'll never want to leave the Seychelles.
While hotels serve local dishes, the best way to sample the cuisine proper is by getting out and exploring. Hire a bike on La Digue and you can cycle around the island on its forgivingly flat roads.
Look out for the food trucks parked along the coast, selling coconut-based curries and rice piled with salted fish. Vendors sell coconuts from beachside tables, scalping them for you to sip the liquid inside.
For an evening meal I suggest Belle Vue, a thatched-roof Creole restaurant that looks across the undeveloped east of La Digue, to the ocean and islands beyond (they will arrange transfers from your hotel). Here, you can sample grilled parrot fish, fresh-tuna sandwiches and gently spiced octopus curry.
Home-grown produce on Denis Island
This indulgent private island is so focused on being sustainable that it runs twice-daily island tours around the topic. You'll see organic gardens laden with avocados, tomatoes and lychees, and farms producing everything from yoghurt and preserves to bacon.
This all feeds into the island's restaurant, which has an ever-changing à la carte menu (I strongly recommend the Creole fish soup).
On Fridays, you'll be whisked off in a golf cart to a secluded part of the island set up with a barbecue and lit by the yellow glow of oil lamps. A medley of Creole dishes are grilled over the fire and laid out in a reclaimed longtail boat. You can finish with a nip of calou (traditional Seychelles palm wine).
Mahé's spice gardens and rum plantations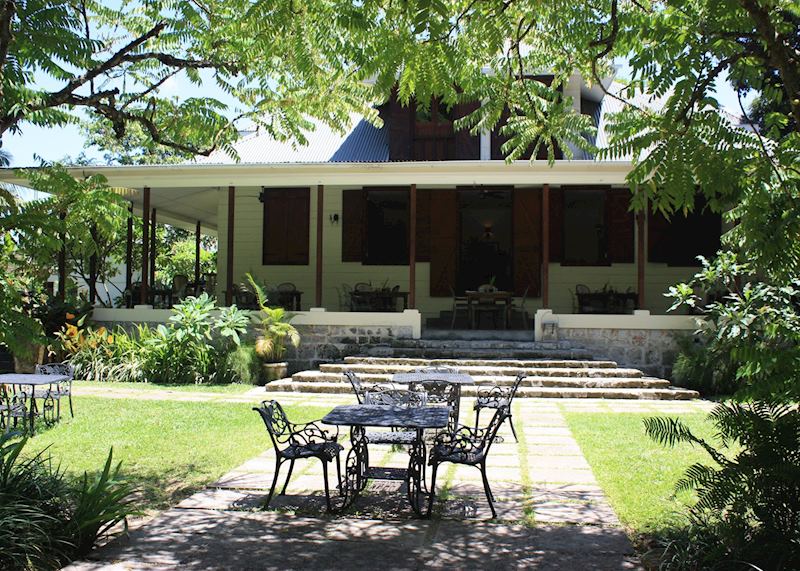 The largest island in the Seychelles, Mahé was once a patchwork of colonial plantations, growing crops from sugar to cinnamon. On a private tour of Mahé, you can dip into the country's trade history, which still influences the cuisine.
At the Takamaka Rum distillery, you can sip rums made from the surrounding sugar plantations, which are now run by small co-operatives.
Nearby is le Jardin du Roi, a spice garden created by the 18th-century French entrepreneur Pierre Poivre. Its small museum introduces the legacy of the Seychelles' spice trade, as well as a range of spices, you'll find medicinal plants, fruits and flowering trees in the gardens.
Start planning your trip to the Indian Ocean

Start thinking about your experience. These itineraries are simply suggestions for how you could enjoy some of the same experiences as our specialists. They're just for inspiration, because your trip will be created around your particular tastes.
View All Tours in The Indian Ocean