Travelling has always been a huge part of my life. My mum would take every opportunity to take us all away as a family, so luckily, exploring new places has been the norm for me since I was small.
After graduating from university, I eagerly packed my bags to embark on my year-long travels to Australia, New Zealand and parts of Southeast Asia. I quickly discovered that I am happiest when travelling and when that isn't possible, talking about travel at work.
Working in the Concierge department enables me to do just that, by helping clients decide where they should explore next based on their own interests. Since taking my gap year, I have explored many other places such as Sri Lanka, South Africa, the USA and Italy, enabling me to speak generally and advise on many different wonderful parts of the world with clients at Audley.
Speak to Paige

Start planning your tailor-made trip with Paige
Q&A with Paige
What's the best local dish you've tasted?
I went on an Africa safari for my honeymoon and we stayed at an incredible lodge in Kruger National Park, where we ate like kings. Every single meal tasted incredible but the most memorable meal was springbok on a bed of pap with vegetables. The meat fell off the bone and every mouthful was so good that I savored every bite. If you ever see springbok on the menu I highly recommend.
What's your most vivid travel moment?
I once stayed in a secluded and cosy property in in the Grampians National Park. One morning, just after dawn, I made a coffee and sat outside for ten minutes before a big day of hiking. Despite thinking I was alone, it turns out I wasn't. After hearing a rustle nearby I noticed that I was accompanied by a small family of kangaroos; a mum, dad and joey. They came incredibly close and the four of us sat together enjoying the peace and tranquility. Safe to say it'll be a hard coffee spot to beat.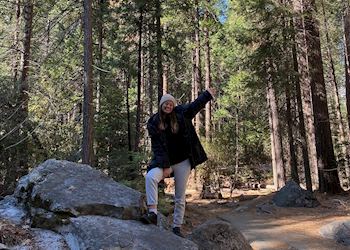 Where would you like to travel to next?
Being a lover of beautiful scenery, Yellowstone in the USA is top of my list. I'd love to road trip this part of the country and stay in a ranch. There's wildlife here that I've never seen, so spotting bears and wolves in their natural habitat would be a dream come true.