By Jordan specialist Olivia
I've always thought that Jordan was one of the world's most cinematic destinations. From the hidden stone city of Petra to the Martian-like desert of the Wadi Rum, it's been the setting for many of the movies that I loved as a child (and adult). That immediate familiarity, and the sense that you're on an adventure, are just two of the things that make it such a good destination for families.
Jordan's hotels are also ideal for families, with plenty of interconnecting rooms, spacious pools, and kids' clubs to keep little ones entertained. Additionally, you'll have the same driver throughout your trip so they'll get to know your family's needs and be able to adjust on the fly, depending on the children's energy levels that day. For example, they can add in a few stops so those with restless legs can run around.
Amman for families: where to stay & what to do
Almost without exception, trips to Jordan start in Amman. Many people hurry through to get to Petra, but I suggest spending at least two nights here. Rushing with children is rarely a good idea, and taking your time will give you a chance to become acclimated to the time change. Plus, you'd otherwise miss the wonderful city of Amman.
Even though Jordan doesn't have the same gastronomic reputation that Morocco enjoys, the walking food tour here is a great way to make your first acquaintance with the local menus. The first stop is usually at a local bakery to watch them deftly spinning bread dough (like a pizzaiolo in Italy) before they slap it on the inside of a clay oven that's been heated to blistering temperatures by a wood fire. The result is chewy, charred, and a great introduction to Jordanian cuisine.
From there, you'll continue through the narrow streets of the souq, exploring and sampling. You might nibble moutabel, which is something like baba ganoush, or indulge in a slice of kanafeh, the national dessert, made from tender semolina and rich mild cheese and sweetened with fragrant rose syrup.
Amman is also a great base for visiting Jerash, which might be the best-preserved Greco-Roman city in the world. Any child who has had even a passing interest in Greek or Roman mythology (or Percy Jackson) will likely be delighted by the chance to walk through mostly intact streets and step between the pillars that once held the roof to the Temple of Artemis.
I think the best hotel for families here is the Grand Hyatt Amman. The rooms are spacious and indulgently comfortable, with plenty of flexibility. Additionally, the main restaurant here serves well-crafted Italian classics — a good fallback option in case the food tour wasn't a hit with all members of the family.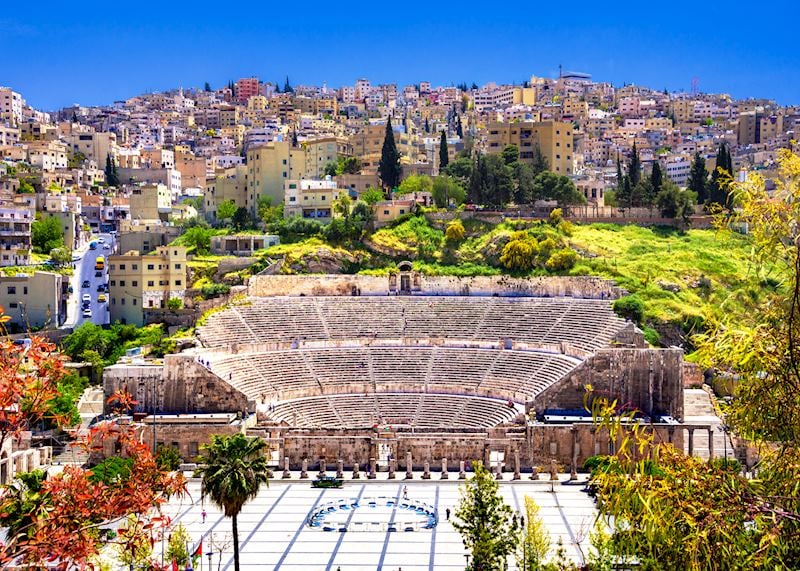 Petra for families: where to stay & what to do
Of course, Petra is the main attraction in Jordan and I suggest spending at least two full days here. You'll most likely arrive from Amman at night, and though it's tempting to rush right over, I suggest holding off. Walking through the long, narrow Siq and entering the city for the first time as the dawn breaks over the rock-carved Treasury is the sort of moment that's worth the wait.
I usually arrange for a guide on the first day, to give you the lay of the land and help you understand the ancient, elusive history of this city. You can spend the morning popping into the echoing tombs and clambering over the rock-strewn sand, playing at being explorers.
However, it's a big city and I find that most people — no matter their age — get tired in the afternoon, especially under a very hot sun. You can retire to your hotel to cool off in the pool before anyone starts to meltdown in the heat, and return the next day.
On the second day, if you're feeling ambitious and everyone in your party has the energy for it, you can climb to the site known as the Place of High Sacrifice. The view from here takes in the whole city, the massive tombs reduced to toy sized by the lofty height.
While most visitors prefer to stay in a hotel near the entrance to Petra, if you're with children, I suggest you look a bit further afield. One good option is the Old Village Hotel & Resort, a 19th-century village that's been carefully restored into a comfortable hotel, the stone buildings concealing spacious rooms with modern amenities. It's a great option for families who are looking for that sense of adventure throughout their trip.
The Petra Marriott is just as spacious and comfortable, and the panoramic views of the valley more than make up for its somewhat conventional style. I like to sit with a drink and watch the changing light from the setting sun as it moves across the rosy-golden sandstone.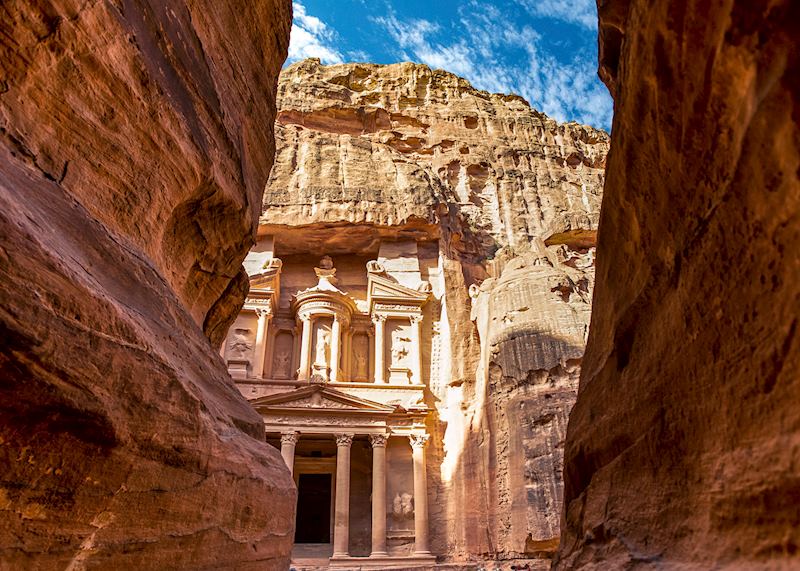 The Wadi Rum for families: where to stay & what to do
With warm, red-ochre sand, corrugated rock canyons, and sweeping panoramas, the Wadi Rum will be instantly familiar to almost anyone who's watched a film in the past few decades. You'll have seen its otherworldly landscapes in everything from The Martian to Dune and Disney's live-action Aladdin.
There are a handful of desert camps dotted around the rocky red expanse, but for families I strongly suggest choosing Memories Aicha Luxury Camp. Tucked into a fold in a towering cliff, the camp offers two options: a traditional (albeit unusually spacious) canvas tent or a private geodesic dome.
The domes' futuristic transparent panels offer an unparalleled view of the starry night sky as well as the barren landscape, giving you a sense that you're on Mars or maybe in a galaxy far, far away. (Last time I was in the Wadi Rum, swathes of the camp were blocked off for the film crews shooting The Rise of Skywalker, where it stood in for the desert moon Pasaana.)
Regardless of which you choose, the interior is lavishly decorated in a rich style that echoes the traditional Jordanian aesthetic, with glimmering pierced lamps, intricately carved wooden furniture, and plush draperies. The comforts are thoroughly modern, however, with air conditioning and private bathrooms.
While you're here, you can enjoy all sorts of desert adventures, from a camel ride to a guided 4x4 tour through the most impressive landmarks, including graceful stone bridges and pre-Islamic petroglyphs. The tour has plenty of stops for children to scramble on the rocks and play in the sand, as well.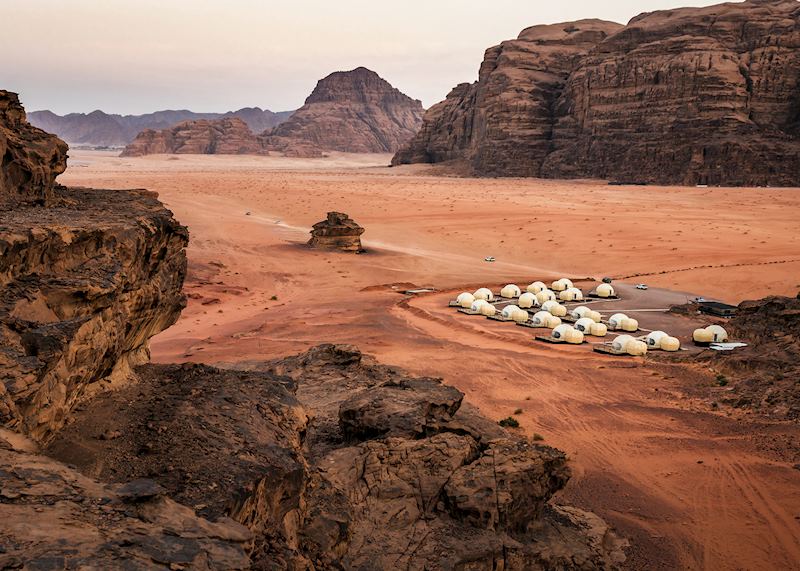 The Red Sea for families: where to stay & what to do
After days of exploring, most families (at least most parents) want some time to relax. From the Wadi Rum, it's a relatively short drive to Aqaba, Jordan's only coastal city, where you can unwind on a beach. The city enjoys a balmy microclimate, which means it usually stays warm and sunny even when other parts of the country are dealing with grey, cold, and drizzle.
There's not much to do here besides lounge in the sun — by the pool or on the beach — so your choice of hotel is of paramount importance. I suggest Mövenpick Tala Bay, which has airy modern rooms, a private beach, and a number of pools and restaurants for you to choose from. It's located just outside the city proper and so never feels crowded or busy. There's a kids' club, so children can stay busy while parents enjoy some well-earned time at the spa.
If, after all that, you still have some energy, the Red Sea is also an exceptional diving and snorkelling destination — the heat-tolerant coral reefs in the Aqaba Marine Park are thriving. The hotel's dive facility can help you explore the underwater sights, which teem with shrimp, nudibranchs, and the occasional turtle.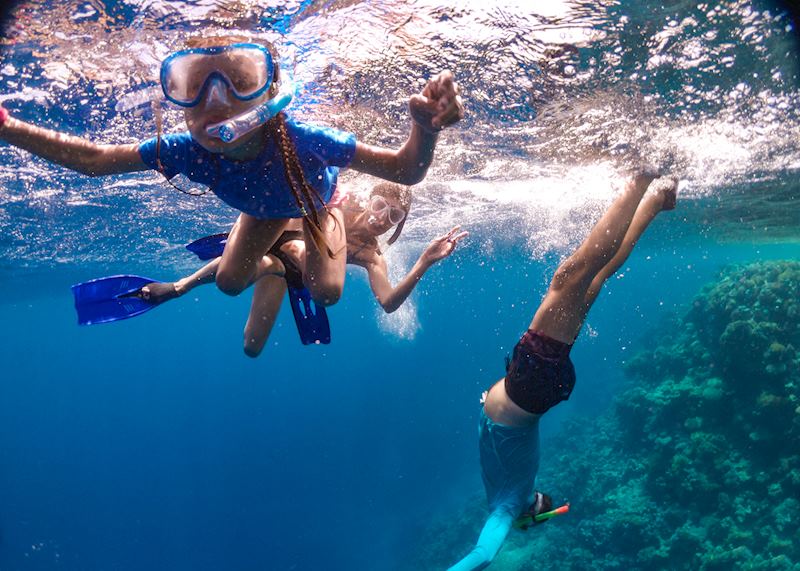 Best time for families to visit Jordan
June, July, and August in Jordan can get extremely hot, so it's not a good option for a summer break unless your whole family is comfortable in temperatures that often soar over 40 C (104 F). But, if you can take the heat, it's a great time to visit since you're likely to have Petra mostly to yourself.
The months from December to February are cold — often below freezing — and can see snow and rain. Again, if you're comfortable in that sort of weather, then winter is a good time to go, when you're likely to be one of the only visitors.
However, there's a reason most people visit during Jordan's spring months. The weather is comfortable across the country and warm on the tiny coast, though nights can get cold if you visit in March. Additionally, the country's valleys are alive with wildflowers. You can learn more on our Best time to visit Jordan page.
Start planning your family trip to Jordan

Start thinking about your experience. These itineraries are simply suggestions for how you could enjoy some of the same experiences as our specialists. They're just for inspiration, because your trip will be created around your particular tastes.
View All Tours in Jordan
Further reading