We want to share with you the experience of a typical day on an expedition cruise in the Arctic or Antarctic.
This is based on our own experience and that of our clients and aims to give you an idea of what a quintessential day during a polar expedition cruise will be like. Of course most cruises will have full days at sea to and from your destination, which will not be like the day described below, but overall we think it gives a good idea of what to expect.
Waking up
Your day will start with an early morning wake-up call around 7am which is piped through to your cabin. It may be whale sounds, the dulcet tones of the expedition leader or music: either way, you need to get up because the polar world is out there for you to see and you won't want to miss a moment. Take a cup of tea out on deck and enjoy the silence and solitude.
Breakfast
Breakfast is 'buffet-style' so make the most of it as you will soon be spending time out in the cold. As with the vast majority of meals on board these expedition vessels, breakfast is in one sitting and is free seating.
Getting ready
Now it is time to start the process of getting ready for your morning disembarkation. This means carefully layering your clothes: thermals, fleeces, jackets, hats, gloves and more. Gauging it right is a bit hit and miss, especially as the weather can change almost in an instant, but remember that you can always remove layers when onshore but you can't go back to get more. Now grab your camera, put a chocolate bar in your pocket and waddle to the gangways.
Disembarking
There may be a little bit of queuing on board before actually stepping onto the gangway so you may feel a little hot in all your outdoor gear before going down the steps and getting onto the Zodiac (a rigid-hulled inflatable dinghy with an outboard motor), but all of the expedition crew are well practised at getting everyone off (and back on) the boat efficiently.
Out and about
So, you're off the boat — now what? You could be doing one of several things: taking a walk on land to a magnificent viewpoint, enjoying a Zodiac cruise below towering icebergs or spectacular bird cliffs, just finding a quiet spot to sit and take it all in, or maybe you are being adventurous and going kayaking in the frigid waters. Logistics differ depending on location but you will usually be in small groups with an English-speaking expedition guide.
Back to the boat
Although you won't want to, you have to go back to your expedition vessel and be counted back on board. A cup of hot chocolate will no doubt be waiting for you, especially if it has been a particularly cold morning.
Lunch
Time for lunch, generally another buffet, followed by time to relax, eat and share stories about your morning excursion.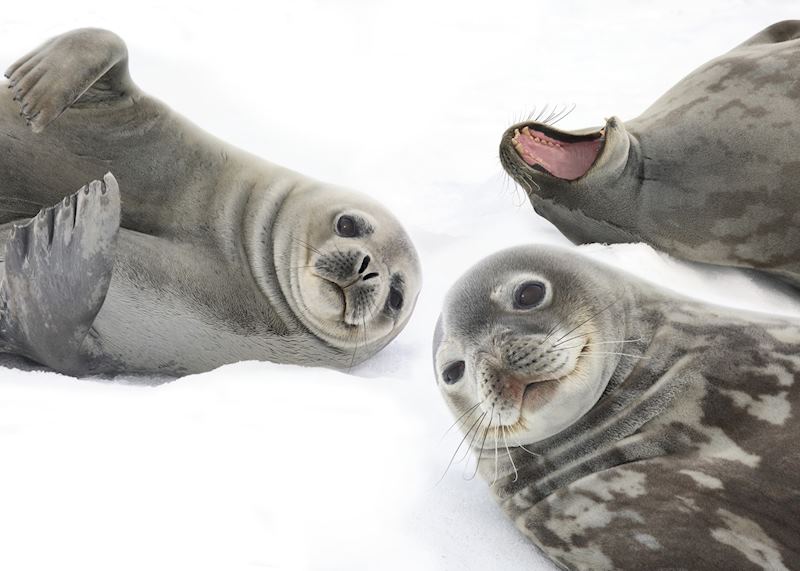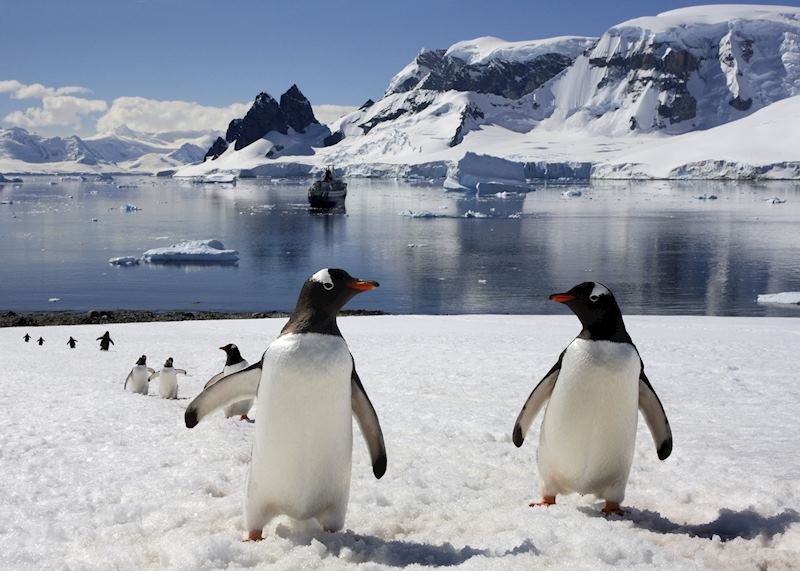 Lecture, siesta or deck time?
As the boat sails to your next destination there may be a bit of a choice to make about what to do now. You could choose to attend a lecture by one of the expedition guides on their specialist polar subject, be it glaciology, birds or history. Alternatively you may want to have a bit of a snooze, or perhaps you will decide to wrap up warm again and take your place on deck. You may even have the deck to yourself as everyone else sleeps, reads or sits in a lecture.
Getting ready (again)
Time to layer up again for the next excursion. This is when you will be glad you brought two pairs of everything, as this morning's clothes are probably still drying off.
Disembarking (again)
Same again — go to the disembarkation area, down the steps, onto the Zodiac and off to explore the next fascinating destination.
Warming up and drinks before dinner
Time now for a hot shower, a change of clothes (clean and dry is all that is required as on board life is very casual) and maybe a drink in the bar with your fellow travellers.
Dinner
Usually this will be à la carte table-service, although if the sun is shining it could be a barbecue on deck. Take your coat and camera with you though as you never know what animals could come into view whilst you are eating and you may need to make a quick exit to the deck!
Evening
After dinner the expedition leader will probably do a recap of the day and prepare you for the following day's excursions. Then it is time to relax in the bar, observation lounge or on deck. Remember that it will also remain light long into the night, if not for all of it, which in itself is a remarkable experience.
Sleeping
An early night is probably best as you will have another early start in the morning. The boat will probably be sailing on to the next destination so the gentle movement should rock you to sleep.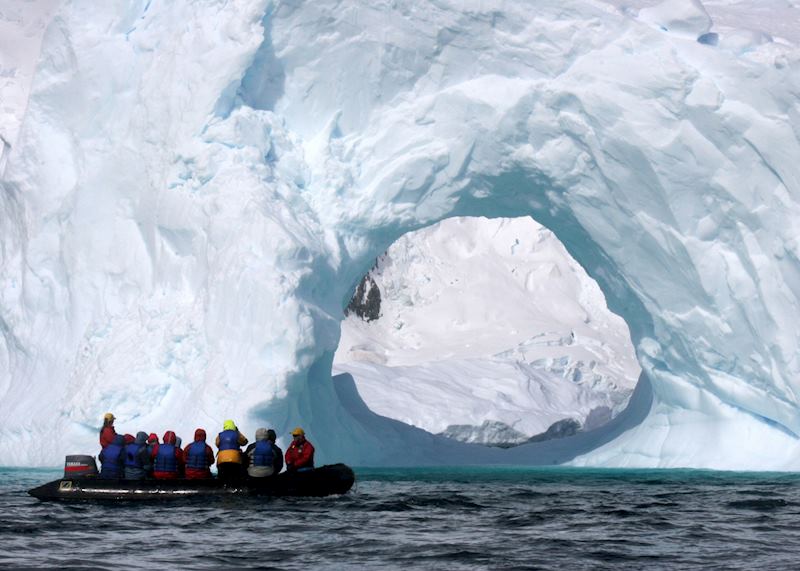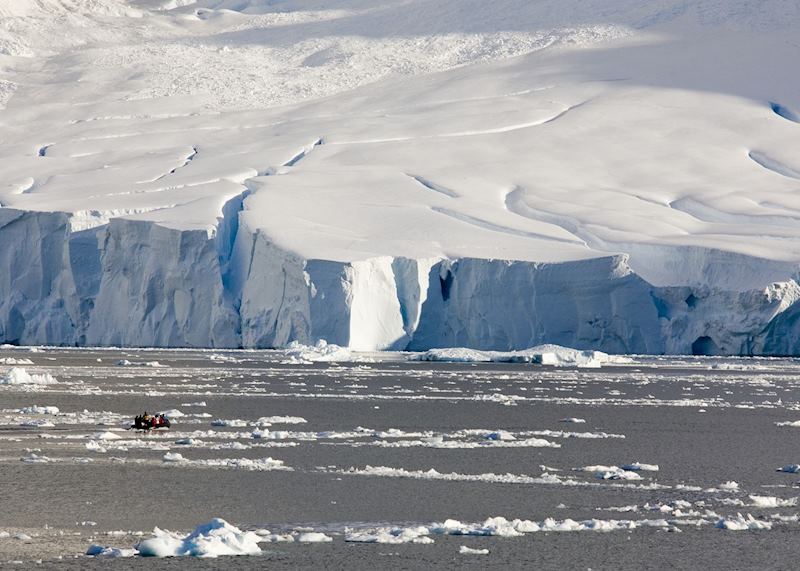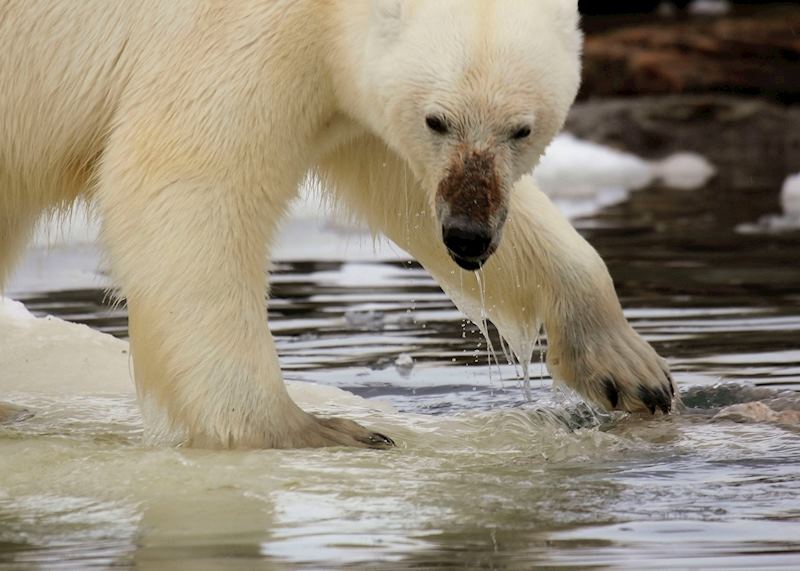 Deviations from a typical polar day
Many days aren't typical at all as amazing things can happen in these wondrous natural environments which can throw the day's plans awry. A non-exhaustive list, compiled by us and past clients, includes:
A midnight wake-up call piped to all cabins to put coats on over pyjamas to go on deck to see an amazing display of the aurora borealis (northern lights).
Everyone jumping up from dinner to rush to the deck to see a pod of orcas portside.
Spending four hours one afternoon with the engines off, standing on deck watching two huge fin whales feeding and playing.
Stopping in pack ice to let the lone male polar bear approach the boat and pad gently all around it, sniffing in the direction of the kitchens.
Splashing about in the volcanically warmed waters off Deception Island in Antarctica or jumping into iceberg-filled waters for a real shock to the system.
Plan your holiday in Antarctica or the Arctic
Start thinking about your experience. These itineraries are simply suggestions for how you could enjoy some of the same experiences as our specialists. They're just for inspiration, because your trip will be created around your particular tastes.
Further reading