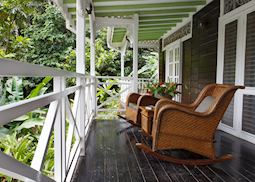 Saint Lucia
Set among 135 acres of remote rainforest, cocoa fields and tropical gardens.
The hotel offers guests maximum luxury with three-tiered outdoor pools and an onsite spa.
There are only 16 large private cottages spread out on the plantation.
Learn more about how cocoa is planted, harvested and transformed into chocolate in an onsite heritage tour.
Bamboo restaurant rustles up traditional Caribbean dishes with an authentic farm-to-table ethos.