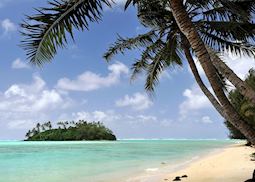 Cook Islands
The flight between Rarotonga and Aitutaki gives you superb views of the reefs weaving their way through the Pacific Ocean.

The Punanga Nui Market on a Saturday is a great place to find some local arts and crafts.

Relaxing in Aitutaki — if ever there was a place to find picture-perfect desert island scenery, this is it.

Snorkelling on the north-western side of Rarotonga, where you can walk out among the coral.