Thailand has one of the highest percentages of protected land of any nation in the world. The National Parks Act of 1961 established Khao Yai as the first official wildlife sanctuary and today the country boasts over 100 national parks, with 19 of these being marine parks.
The ecological diversity of Thailand's national parks is remarkable. While today the larger species such as the Asiatic bear and Asian tiger are rather elusive, there are still great viewing opportunities available, including hornbills in Doi Inthanon, wild elephants in Khao Yai and giant manta rays in the Similan Islands.
From comfortable rainforest camps to spa resorts, we can offer a wide range of accommodation options from which to explore these areas. The level of activity can also be tailored to suit your pace and interest.
Start planning your trip to Thailand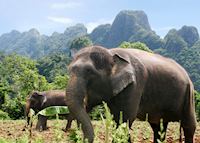 Discover the less developed and unexplored parts of Thailand including Bangkok on a city safari, the stunning Khao Sok National Park and the quiet beaches of Khao Lak.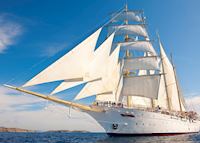 This itinerary combines the best of Thailand's north and south, giving opportunity to explore the huge city of Bangkok, mountains of Chiang Mai and the beautiful unspoilt Similan Islands.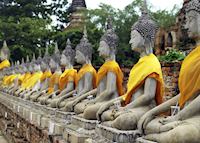 From the capital of Bangkok head into the central region to visit the ancient capital of Ayuthaya, uncover the historic significance and stunning natural beauty of Kanchanaburi and trek through Khao Yai, the country's oldest national park. End with a few days relaxation on the charming island of Koh Lanta.
---
Popular national parks in Thailand
Thailand's national parks are places of unspoiled tranquillity that are particularly rich in both tropical flora and fauna.
From the country's oldest national park, Khao Yai, to the impressive but less-known Kaeng Krachan, these are places where you can see wild elephants, deer, bears gibbons, boars, hornbills and even tigers.
Other popular national parks include Doi Inthanon, home to Thailand's biggest peak at 2,595 metres, Khao Sam Roi Yot, one of the country's most popular coastal parks, and Kaeng Krachan, the largest and most accessible park in the Thailand.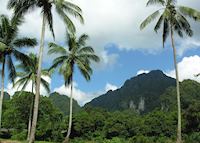 Only a two hour drive from Phuket airport, Khao Sok National Park's wildlife includes gibbons and hornbills. It is also home to the rare Rafflesia, the world's largest flower.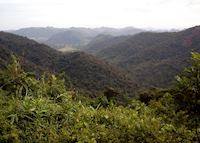 Established in 1961, this is Thailand's oldest national park and is highly regarded by naturalists. There are some 200 wild elephants, as well as sambar and barking deer, gaur, wild pigs, bats, gibbons and macaques.
Recommended accommodation
With Audley, where you stay is very much part of the experience and whenever possible, we try to track down accommodation with character. We regularly inspect the accommodation we use, updating our knowledge on existing properties and researching new alternatives.
Here, we feature some of our most interesting properties, although we recommend and use many others to suit all budgets and tastes.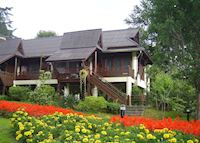 The Doi Angkhang Nature Resort is positioned in an ideal location for exploring Doi Angkhang and its untouched surroundings on foot or by mountain bike.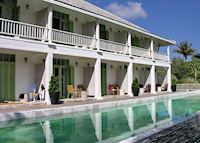 A wonderful new addition to the small range of boutique hotels in the Khao Yai National Park area, the Hotel Des Artists was formerly a private home until the owner was persuaded by his friends to share it with a wider audience.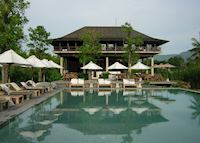 A luxurious contemporary resort, well situated for exploring Khao Yai national park. A range of wildlife and trekking tours can be arranged from the hotel.