By Arctic specialist Tom
The first time I visited the Arctic, I assumed that the landscapes would be unchanging throughout the trip, and similar to Antarctica. Wrong.
As our ship hugged the coast of Spitsbergen — the largest island in Norway's Svalbard archipelago, located at 78 degrees north in the Arctic Ocean — I stood on the bridge and looked out at snow-covered mountains and glaciers. They towered behind expanses of grey, ochre and moss-green tundra. Further north, we passed sea stacks, ice cliffs and the ice cap of Nordaustlandet Island. The ice was constantly changing — the size, the shapes, the otherworldly scale of it.
Forget whatever connotations the term cruising brings to mind. Svalbard expedition cruises are voyages into an ocean at the end of the world. Exploring the barely touched landscapes, and the hardy wildlife that inhabits them, is what they're all about.
Where exactly do you go on an Arctic expedition cruise to Svalbard?
Most expedition cruises aim to circumnavigate the Svalbard archipelago, a cluster of Norwegian-owned islands deep within the Arctic Circle, but this is always provisional. Weather can cause schedules to change, but so too can any information the expedition leader receives about potential wildlife sightings. Sometimes vessels will divert to see any wildlife in the locality.
What you'll experience on a tour of the Arctic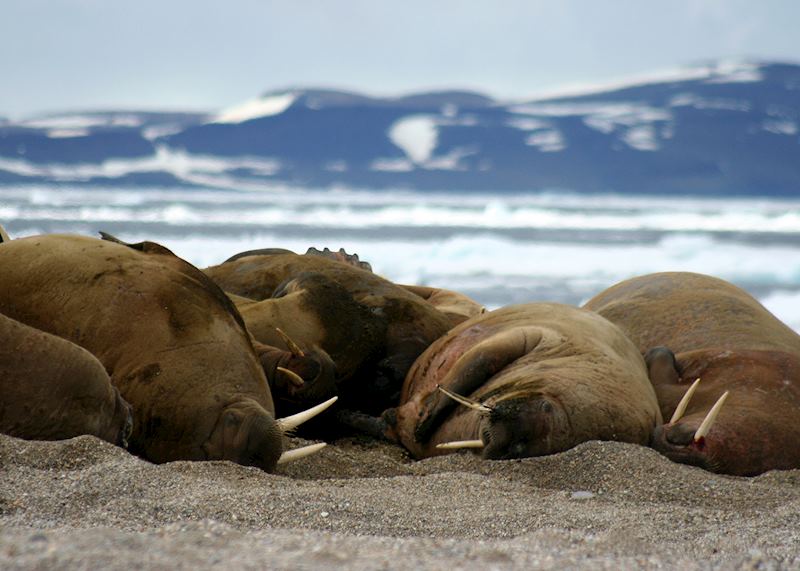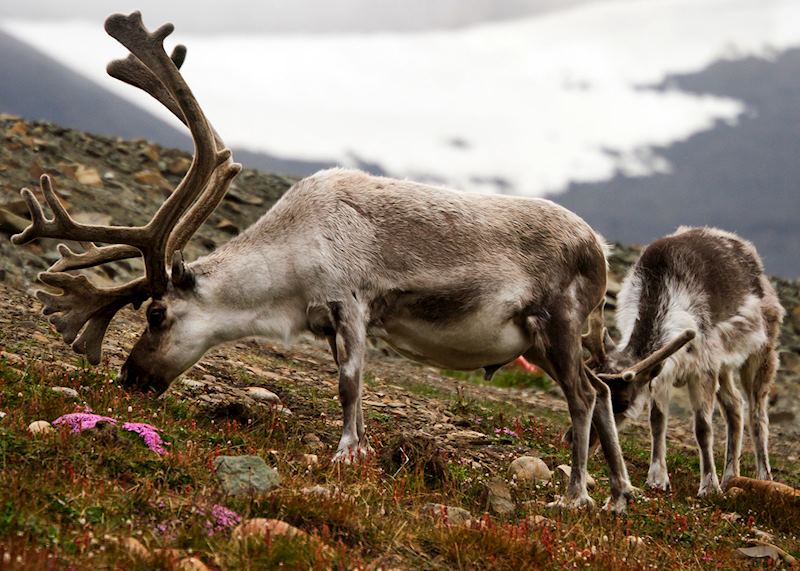 Not only has Svalbard the highest concentration of polar bears in the Arctic, it's also home to colonies of seals and walruses, many species of whale, land mammals like Arctic foxes and reindeer, and migratory seabirds.
Wildlife aside, in Svalbard you're immersed in some of the most varied of all polar landscapes. The sense of remoteness and wilderness is palpable as soon as you embark at Longyearbyen on Spitsbergen, the world's most northerly permanent settlement. Huge areas of land are free from snow and ice, and you'll see a mass of tundra, exposed beach and striated rock in shades of russet and pewter.
The glaciers feed into the ocean, and in places you can see how far their snouts have retreated over the last 30 years, leaving a rocky moraine. Muscular mountains, some as high as 2,000 m (6,581 ft), rise up inland, their tops often lost in cloud.

Off the north coast of Spitsbergen, past the great fjords, you're likely to reach sea ice. The frozen sea stretching off into the horizon is a key hunting ground for polar bears. Ships sometimes purposefully head north in search of sea ice and so increase their chances of finding these creatures.
Some boats make their way across to the far-flung islands of Phippsøya, where enormous walruses line the beaches. Kvitoya, to the east, rises up out of the sea at impossibly sheer angles, like a great white bollard.
All around Svalbard, you'll also pass hundreds of smaller, unnamed islands, known only to a couple of hundred walruses. If it isn't iced up, you'll sail the narrow stretch of water dividing Spitsbergen and Nordaustlandet, the Hinlopen Strait. Its waters attract blue, minke and beluga whales. On its east coast, a wall of ice runs unbroken for 160 km (nearly a hundred miles), while precipitous crags house hundreds of thousands of nesting Brünnich's guillemots.
A typical day on an Arctic expedition cruise

Sailings from Longyearbyen depart in the afternoon. You'll have some time to explore this town of low-lying, brightly painted buildings with fewer than 2,000 inhabitants, where snowmobiles replace cars. Try to visit its two excellent museums: the mining museum tells the story of the town's industry and the Spitsbergen Airship Museum is devoted to the history of airship flight to the North Pole.
On the first full day at sea, you're woken around 7am by the main expedition leader via intercom. After breakfast, you'll get kitted up, and assemble for the first trip out of the day.
In groups of ten, you'll travel ashore via Zodiacs (motor-powered dinghies) or cruise the ice floes, looking at ice or rock formations. Sometimes, landings on the mainland or ice floes aren't possible due to weather or the proximity of wildlife. For example, if a walrus 'haul out' (a place where walruses gather) is nearby, you'll observe them from the water. So, don't despair if you don't always get ashore — all of my best wildlife sightings were from a Zodiac.

On land, you'll walk across the tundra and visit points of interest like trappers' huts and old whaling stations. A more strenuous walk of just under 5 km (around 3 miles) is open to those interested. Guides will point out the tiny Arctic flowers, saxifrage, that carpet swathes of tundra. Reindeer can sometimes be seen grazing nearby, and those with a keen eye may spot an arctic fox. Svalbard has no history of Inuit culture, so reindeer aren't skittish or perturbed when they spot humans.
You'll be accompanied by an armed expedition leader at all times, in case of an unexpected encounter with a polar bear. In these very rare cases you'll be led quietly back to the Zodiacs.
After lunch on board and some downtime, you'll set off on a second round of land- or water-based outings in the afternoon.
If you already have some experience in kayaking, I'd recommend signing up to the optional kayaking trips onto the water. Often departing from the ship itself rather than a Zodiac, they allow you to get away from engine noise, and explore harder-to-reach ice floes and peninsulas.
In the evenings, after dinner, on-board experts give talks on everything from glaciology to wildlife photography.
Wildlife experiences in Svalbard
A tundra walk and a little auk colony

One day, landing on the northern coast of Spitsbergen, my guide led us across the tundra to the remains of some airship hangars and other abandoned buildings. In the early 1900s, airships attempting to reach the North Pole would set off from here, and as many as 400 people lived at the base.
Continuing past the structures, we began to climb steadily uphill, tramping over tundra sodden with melting permafrost. We reached a higher elevation where a solitary wooden trappers' hut stood. Looking out over the treeless, scrubby tundra, you could imagine it being a good vantage point for spotting prey. Some huts are still used by scientists, but to describe the conditions as basic would be an understatement. Trappers would have spent an Arctic winter in this beguiling but brutal landscape.
Walking further, we came across a group of boulders, the result of a collapsed cliff. Our guide explained that such rockfalls made ideal homes for the robin-sized little auk. These birds are small enough to slip into and nest in the gaps between rocks. We were able to climb up close to the colony, and watch the little auks zipping in and out of their hiding places.
Blue whales, birdlife and Arctic foxes in the Hinlopen Strait

At the steep Alkefjellet Cliffs, I spied two Arctic foxes creeping among the hundreds of thousands of Brünnich's guillemots. In general, when you're around bird colonies in the Arctic, keep an eye out for foxes, their snowy winter coats a muddy brown in summer, who like to pick off eggs and chicks. The guillemots' nests filled every cranny of the cliffs, while aggressive skuas swooped in to prey on them.
Once, when we were crossing the strait, a call rang out over the ship's intercom. The captain had spotted a pod of blue whales. Whales, for me, are best seen from the ship rather than a Zodiac, as they move at speed. You can also get a better view of them from being higher up.
The captain managed to track the whales for a couple of miles. We watched them swimming ahead of us and blowholing, until they fluked and dived down.
Close encounters with polar bears

Polar bear sightings are never guaranteed, but ships' crews are skilful at adapting plans to give passengers the best chance of spotting one.
The best sighting I've ever experienced came unexpectedly one morning on the third day of an expedition cruise. The intercom instructed us to get ready quickly as we'd be heading out in the Zodiacs. Sure enough, when I looked out from deck, a buttery yellow dot was curled up on the shoreline.
On the Zodiac, we were able to get within viewing distance of the male polar bear as it lounged on the shore — we were so close, I had to fiddle quickly to replace the zoom lens on my camera.
The size of its massive haunches and its general bulk struck me — you were immediately conscious of its latent strength. It was above freezing that day, and polar bears overheat easily. After 20 minutes, it lost interest and lay down in a pile of snow to cool off.
Expect to be woken at night if there's a sighting too. We were once woken by the intercom at 2am as a mother and her cub had come into view on an ice floe alongside the ship. With the sun dipped below the horizon casting an eerie half-light (the sun never sets in the Arctic summer), I stood on deck with binoculars and watched the cub play.
Choosing your Svalbard sailing and vessel

I recommend taking an expedition cruise that's ten days long, although seven day routes are possible too. This gives you just about enough time to circumnavigate Svalbard. Small ships, of no more than 150 passengers, also enhance your experience, as you have a better chance of getting out regularly in the Zodiacs.
Extending your Svalbard expedition cruise
You can combine a short route around Svalbard with a trip to East Greenland. Here, you can explore the vast fjords of Scoresby Sund and Kaiser Franz Josef, look out for musk oxen roaming on the shore, and visit remote Inuit settlements like Ittoqqortoormiit.
The really intrepid can journey to the North Pole on the nuclear icebreaker 50 Years of Victory.
You can also explore the fabled Northwest Passage by expedition cruise.
When to go on an Arctic tour
Expedition cruises to Svalbard only operate during the summer months of the Northern Hemisphere (June-August).
Start planning your Arctic cruise

Start thinking about your experience. These itineraries are simply suggestions for how you could enjoy some of the same experiences as our specialists. They're just for inspiration, because your trip will be created around your particular tastes.
View All Tours in The Arctic