By Caribbean specialist Francesca
Before visiting the Caribbean, I assumed the islands were similar, with long stretches of golden sand and plenty of rum. In fact, each island has its own identity, experiences and characteristic beaches. After island-hopping across the Caribbean, I'd seen shades of sand from volcanic black to pearly white. And, yes, there is a lot of rum, but you'll also find carefully collated wine collections and artisan coffee.
As a honeymoon destination, the Caribbean's variety enables you to find an island that suits your style. This shines through in the choice of hotels, from an all-inclusive private island resort to a converted 18th-century plantation house. An extensive network of short flights and ferries means you can easily incorporate a few different destinations into your honeymoon. You could trek through Saint Lucia's jungle, see turtles hatching on Grenada and relax on the private island of Petit St Vincent, all within a few leisurely weeks.
Honeymoons in Saint Lucia

Saint Lucia makes an ideal starting point to the Caribbean — especially if you want to explore. The south of the island, marked by the two volcanic Pitons (cone-shaped mountains) jutting from the jungle, is laced with a network of hiking trails.
I took a leisurely three-hour rainforest hike in the shadow of the Pitons, my guide naming plants along the way. We found spiky red bromeliads, giant ferns and the occasional orchid. You can climb the Gros Piton (the big brother of the pair), which takes about five hours. The view, I was told by my guide, is the best on the island.
Honeymooners' hotels on Saint Lucia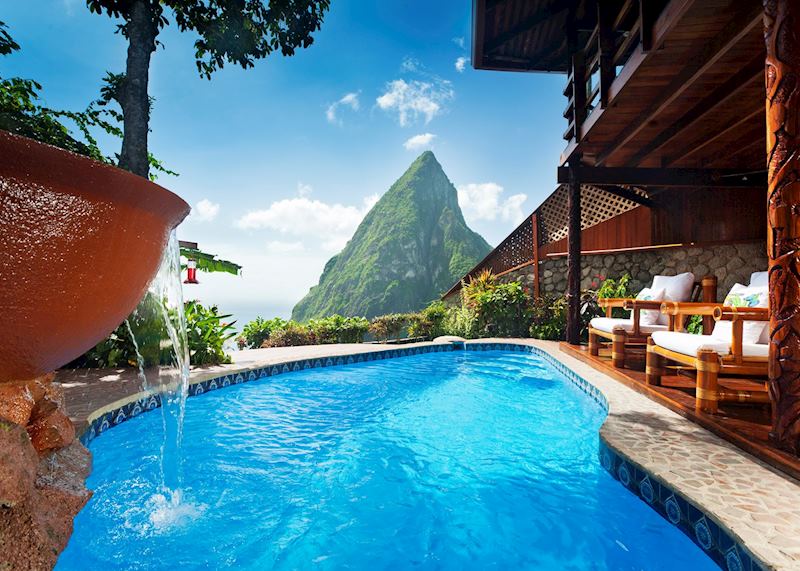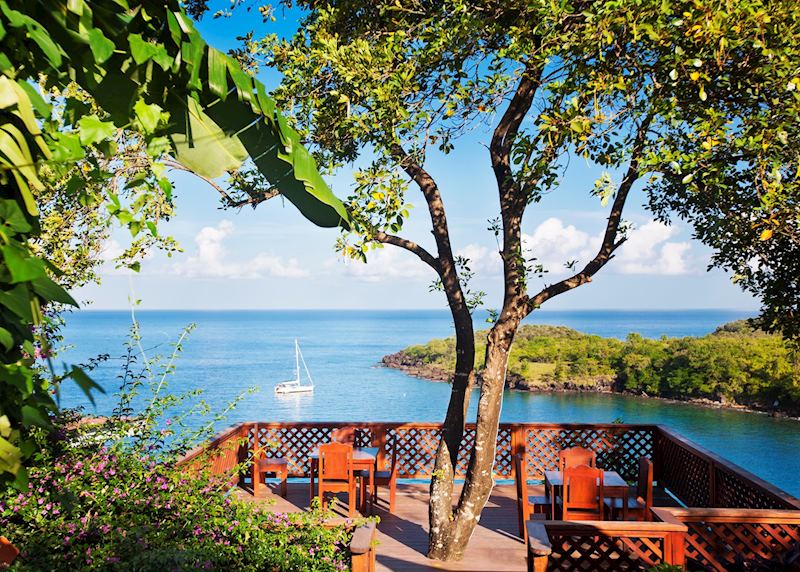 In my opinion, the best view on the island was from my four-poster bed at Ladera. This hotel is perched high up along a ridge, giving every room a view of the Pitons. Uninterrupted jungle plunges right down to the ocean below. Each room is three walled with one side completely open to the view. Right up in the hills, it's an ideal base for hiking and walking.
Relax at a boutique beach hotel
Saint Lucia is also a great option if you're looking for a more boutique beach stay. Ti Kaye, meaning 'little house' in Creole, has only 33 cottages spread across a hillside, and it certainly feels personal. An adults-only hotel cocooned in rainforest, it's a secluded escape. Keen divers can explore the hotel's own shipwreck, which is covered in hard and soft corals.
Saint Lucia combines well with Grenada, with twice daily flights between the islands. The local Caribbean airline is LIAT. Locals will tell you this stands for: 'leaves island any time', as planes tend to run to a rather relaxed schedule.
Honeymoons in Grenada

An island of plenty, Grenada is known as the 'Spice Isle' for its nutmeg, but you'll also find cocoa, cinnamon and a rainbow of fruits growing here. It's less developed than other Caribbean islands, with a dense rainforest interior and white-sand beaches dotted with driftwood and clusters of rock.
If you're keen to travel independently, Grenada is easily explored by hire car. You can drive around Grand Etang Lake, right in the middle of the island, and take a walk into the surrounding hills, or try the local produce at a chocolate factory or rum distillery. There are many waterfall pools or secluded coves to cool off in.
Watch turtles nest
Visit Grenada between April and July, and you might see the island's leatherback turtles arriving to nest. I waited for hours on an ever-darkening beach before seeing a distinctive ridged shell emerging ungracefully from the water. Six more females followed, burying their cache of eggs in the sand. Newly laid eggs stay guarded by volunteers until they hatch around 80 days later. Turtle-watching trips can be arranged from most hotels.
Honeymooners' hotels on Grenada

In my experience, the best place to stay for honeymooners on the island is the grand Spice Island Beach Resort. A refined, elegant hotel, the staff look after you so well you'll want for nothing. Guests stay on an all-inclusive basis, but there isn't a buffet in sight — the two restaurants serve a range of à la carte meals. I stayed in a Sea Grape Suite, right on the sand with the bright blue ocean peeking between the palms.
Honeymooning in Antigua

A former British colony, Antigua was named by Christopher Columbus and developed by Lord Nelson. If you'd like to spend time investigating the colonial side of the Caribbean, Antigua is peppered with pastel-painted plantation buildings and starkly British architecture. Antigua is also a good choice if you like a lively nightlife and a choice of restaurants.
Honeymooners' hotels on Antigua
Nelson's dockyard was once Britain's Caribbean naval base. It's now a busy port town with museums, shops and fine-dining seafood restaurants. In the evening you can enjoy a cocktail whilst watching the boats dock for the night. The Inn at English Harbour is set on a quiet sweeping beach nearby — complimentary transfers are provided to the dockyard. Built in the style of a 17th-century plantation house, the hotel is furnished accordingly with traditional shuttered windows and gleaming mahogany floors.
Short flights are available for hopping onward to Saint Kitts and Nevis. If you'd like to learn more about the history of the Caribbean, these islands make a good pairing.
Honeymoons in Saint Kitts and Nevis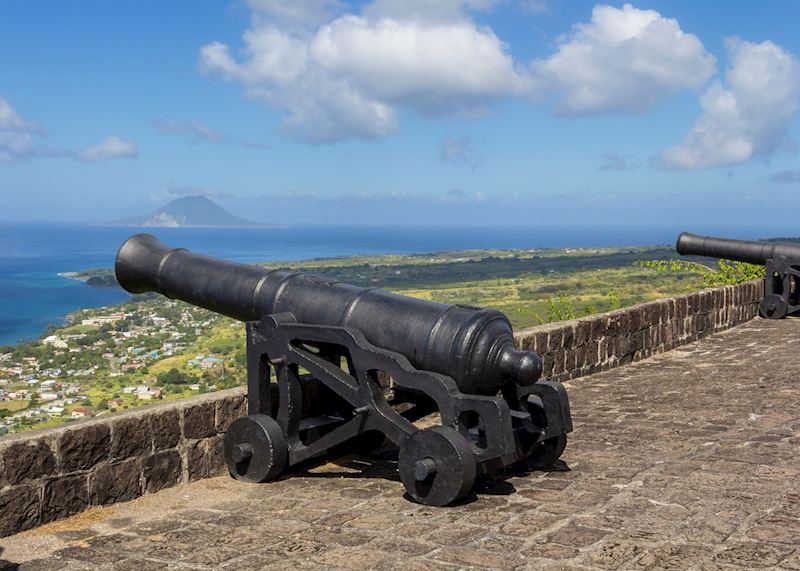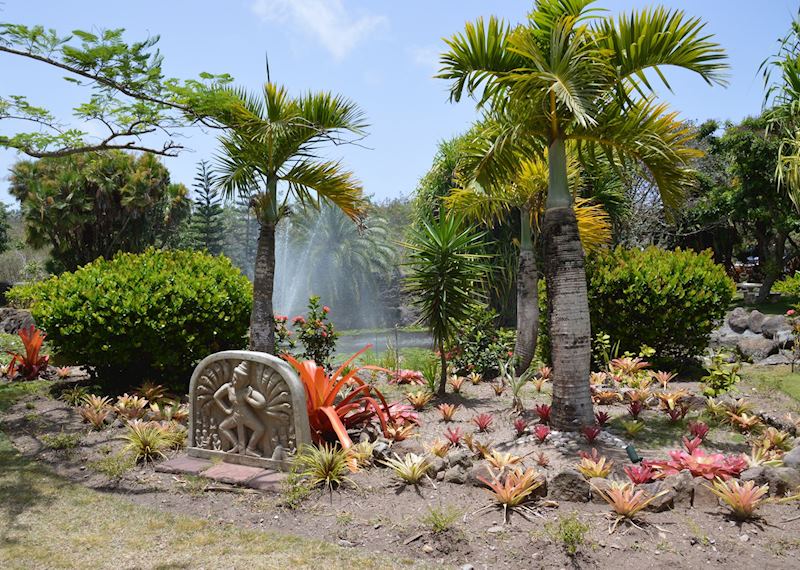 Both Spain and England's first Caribbean colonies were built on the dual-island nation of Saint Kitts and Nevis, leaving a legacy of military forts and European architecture. Once the leading producer of sugar, they became two of the Caribbean's richest islands, as well as an appealing travel destination for the celebrities and elite of 17th-century British society, who came to soak in the volcanic springs and enjoy the local seafood. The focus on food and drink has endured, and resulted in an island culture revolving around fine dining experiences.
Saint Kitts, the larger island, has a succession of sugar plantations which have been converted into hotels dotted around its jungle-covered volcanic peaks. Nevis is a sleepier affair, with low-key beach hotels and restaurants worth making the trip for.
Honeymooners' hotels on Saint Kitts and Nevis

I'm always a little wary of larger hotel chains' generic qualities, but the Four Seasons Resort on Nevis's west coast sets itself apart. The low-rise collection of cottages spread right across the coast is interspersed with gardens, three meandering swimming pools and private verandas. Almost every whim of a honeymooning couple can be met, from spa treatments and sunset boat cruises to private horse-riding lessons on the sand.
While the service is exemplary, the main draw of the hotel for me is its location on Pinney's Beach. A short walk along the silvery sand from my beachfront room, I found a strip of local restaurants and bars. These alfresco, brightly painted wooden shacks may look simple but the food is freshly caught, dug or picked that day.
I enjoyed a lobster crostini at a place called Turtle Time — spiny lobsters found in the nearby coral are a speciality. Tipped off by hotel staff, I also tried Sunshine Bar for a 'killer bee', the island's most popular cocktail. With a heady mix of honey, orange juice, local rum and black pepper, I'd only recommend one. Locals and visitors mix along Pinney's Beach, and at the weekend you can enjoy live music.
Sleep in a quaint English cottage on Saint Kitts

The first thing I noticed on arriving at Ottley's Plantation Inn was the buttercup-yellow main house, trimmed with white plantation shutters. Then you become aware that it's surrounded by a well-tended mango orchard.
Hidden behind the mango trees is an old English cottage, once used by plantation staff. Its original brickwork, tiny doorways and floral fabric made me think of a Beatrix Potter illustration. The separate lounge, kitchen and terrace give you plenty of space.
A hotel well versed in weddings and honeymoons — they hold weddings throughout the year — you'll find the staff keen to make their honeymooning guests' stays special. I'd suggest booking a table for Sunday brunch served within the walls of an old sugar factory, served with champagne and fresh pastries.
Enjoy freshly picked food on an organic farm
If dining experiences are a focus of your honeymoon, it's difficult to beat staying at Belle Mont Farm. A farm like no other, its modestly titled guesthouses are, in fact, luxurious individual villas with private pools looking out to sea. On checking in, a crate of local fruits, freshly squeezed juices and homemade biscuits were waiting for you — and refilled daily.
There's a real emphasis on food here, as almost everything for the kitchen is grown on the hotel's organic farm (anything else is sourced as locally as possible). A relaxed restaurant sits within the hotel grounds, and a seafood restaurant at the farm's private slither of rocky coast a short drive away. Book a seat at the farm dinner and you can eat in the middle of the vegetable patches, alongside a handful of other guests, passing freshly cooked dishes around the table.
For a unique experience, take a breakfast nursery tour. One of the hotel's farmers, who has spent a lifetime farming Saint Kitts, will show you around the fields and plant nursery. Your guide will be keen to find out about you as well as share stories of island life. You'll then arrive to a breakfast with homemade jam, pastries and juice, set out under a 200-year-old mango tree.
Honeymoons in Barbados

A country of extremes, Barbados has a continuous string of hotels and resorts on its west coast, and a rugged, undeveloped east coast. I'd suggest skipping the busy west coast — it's better suited to families — and making the most of some of Barbados's characterful properties elsewhere.
Honeymooners' hotels on Barbados
Stay by the rugged Atlantic coastline
The Atlantis was one of the first hotels to go up on the rocky east coast of Barbados, welcoming guests from the late 19th century. Built next to the east coast railway, it has since been carefully restored, and incorporates many buildings from the now-disused station. I took a leisurely walk along the old tracks, which have been converted into a promenade hugging the coast.
There are more manicured beaches elsewhere on the island but, if you're looking for somewhere secluded, well away from the hum of a jet-ski or the touting of a T-shirt seller, this is the place. I tackled the short — but relatively steep — walk uphill to the nearby Andromeda Botanic Gardens, which is twinned with the Royal Horticultural Society. Run by a local botanist, the gardens are occasionally closed when he fancies a nap.
Relax in a local family-run hotel

One of the main reasons I enjoy the Caribbean is the chance encounters with local people: a friendly recommendation for dinner or gardening tips for tropical blooms. Stay at the family-run Little Arches Boutique Hotel and you'll feel like you have suddenly gained new friends. The ten-room converted house is on the south coast of the island, just a short walk from Enterprise Beach, arguably the whitest, softest sands on the island.
I wandered off to the beach (it's across a road) to find staff following with a sunbed for me — nothing seemed like too much trouble. The hotel has a Spanish feel, with terracotta walls and mosaic bathrooms. The rooftop restaurant is so good, people travel down from the restaurant-laden west coast to eat there. I'd suggest a garden suite for honeymooners, which has a private courtyard with a Jacuzzi.
If you want to experience a typical Caribbean evening, Oistins fish fry is a short walk from Little Arches. Every Friday, the entire population — or it certainly feels like it — heads to the coast to enjoy freshly barbecued fish and meat cooked over little tin stoves on the side of the road. A heavy reggae beat fills the air, increasing in pace as the evening progresses.
Honeymoons in Bequia on St Vincent and the Grenadines

An island I hadn't actually heard of before investigating the Caribbean in more detail, Bequia benefits from its unknown reputation, unspoiled coast and sleepy, old-world vibe. The beaches are framed with rugged greenery and the hotels are few and far between. It's a direct flight from Barbados, and I find the contrast between the busier Barbados and less-trodden Bequia works well.
Honeymooners' hotels on Bequia
I've heard Caribbean islands criticised for their overdevelopment — for some areas, I'd certainly agree. Bequia Beach Hotel is a step back to a time when few visited the Caribbean, and hotels were simply surrounded by sleepy local villages and the jungle. The beaches aren't carefully manicured, giving them a wilder feel, and inland the landscape is a patchwork of rainforest, coconut groves and the occasional colonial ruin.
The hotel itself is a traditional Caribbean fusion of airy whitewashed rooms and heavily polished colonial furniture. A hotel popular with couples, there are plenty of secluded nooks and crannies to claim as your own for the day. The service is friendly yet discreet, making the hotel an ideal choice if you want to cut yourselves off from the rest of the world.
Honeymoons in the British Virgin Islands

The Caribbean has luxurious hotels aplenty, but I find few do luxury honeymoons better than the British Virgin Islands. Its scattering of tiny islands was once a playground for sailors and pirates; now you'll find top-notch yachts and exclusive island escapes.
Guana Island
Personally, nothing says honeymoon more than staying on a private island. Guana Island has 14 Spanish-style villas and cottages dotted along a hillside, looking toward the ocean. On arrival, I was presented with a booklet of self-guided walks to explore the jungle-covered island interior, with a pointer to the resident land turtles and organic farm.
I rarely saw more than a couple of fellow guests on the island's seven beaches, which are all as pristine as you could hope for. The main beach is dressed with hammocks and an honesty bar for you to mix your own cocktails. The service is as intuitive as you'd expect from a luxurious resort, and the staff like to add a few surprises for honeymooners.
Cruise on your own luxury yacht

If a private island stay isn't quite exclusive enough, you can charter your own yacht. The route is decided by you and your private skipper, depending on for how long you're honeymooning. Sleeping on board, you dock by beaches only accessible by sea, or in a lively port for cocktails. Your on-board chef can cook freshly caught fish, local specialities or even meals from home, it's your call.
Slipping into the clear waters, you'll discover some of the most diverse and vibrant marine life in the Caribbean — snorkelling or diving equipment can be provided. With many uninhabited islands on the archipelago, you can ask your captain to cast you away for the day. For a little more action, sail to Smuggler's Cove — once a hideaway for Blackbeard — for a pirate-themed cocktail.
When to honeymoon in the Caribbean
From December to early May, the Caribbean enjoys clear, sunny skies and an average temperature of 28°C (82°F). From June to November, you're at risk of heavy rain, with September the peak month for hurricanes. If you're interested in cricket, a number of high-profile cricket tours play across the Caribbean in March (if you're not, it's a time best avoided due to higher flight costs).
Start planning your honeymoon in the Caribbean
Antigua and Saint Kitts and Nevis

Barbados, St Vincent and the Grenadines and Grenada

Saint Kitts and Nevis, Antigua and British Virgin Islands
Start thinking about your experience. These itineraries are simply suggestions for how you could enjoy some of the same experiences as our specialists. They're just for inspiration, because your trip will be created around your particular tastes.
View All Tours in The Caribbean