Albert, Middle East Specialist
I've had a passion for travel ever since I was young, however, it was a semester spent abroad studying Arabic at university in Fes in Morocco and Amman in Jordan which first ignited my passion for North Africa and the Middle East.
While in Fez I lived with a local family and was able to fully immerse myself in the culture of Morocco, eating home-cooked Moroccan food, drinking coffee day and night, learning and using the local slang, as well as celebrating festivals and birthdays the true Moroccan way. As I became more fluent in Arabic, I gained a deeper understanding of Morocco and Jordan and their inhabitants, while also developing an unshakeable appetite for exploration and adventure in North Africa and the Middle East. I fell deeply in love with the culture, food, architecture, people, landscape and mint tea, though usually taking mine with far less sugar than the locals.
Speak to Albert

Start planning your trip to Morocco with Albert by calling 01993 838 359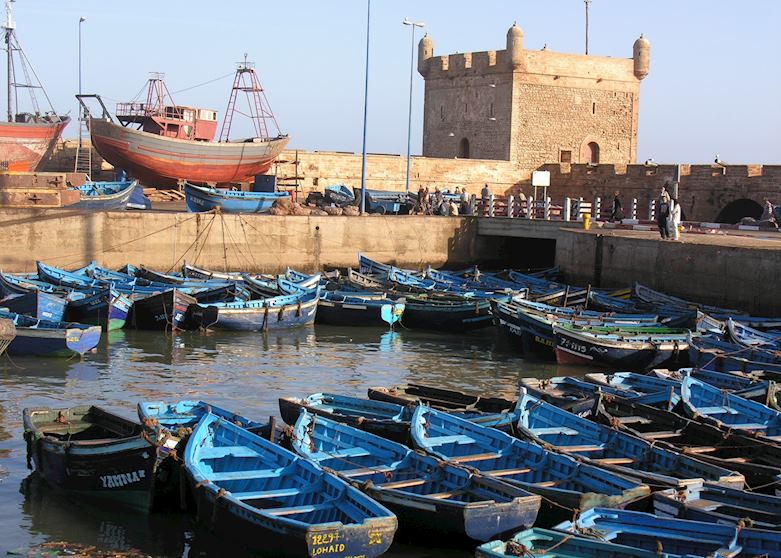 Morocco
A sleepy, little beach town that is the perfect antidote to the hustle and bustle of Marrakesh, Essaouira is an easy-going but atmospheric fishing town on the Moroccan coast. Don't miss the chance to take a camel ride along the beach, in the sea and through wooded groves with Mustapha, a camel trainer with a natural affinity and connection with his animals that is truly impressive. After the ride, relax on the beach, swim in the sea or, for a real treat, dine on some of Essaouira's finest fish and seafood at La Table by Madada.
Morocco
Only accessible by 4x4, the Gold Sands Camp in Erg Chebbi is in the heart of the Moroccan Sahara. It's one of the most memorable places I've stayed in the country and despite being located among towering dunes, it has a feeling of great intimacy. Your 'room' is a traditional Bedouin tent and a stay offers a taste of nomadic life but with touches of contemporary comfort. By night it's possibly one of the best places for stargazing in the world and as the traditional music erupts from around the fireplace it's hard not to feel as if you've been transported to another world.
I'll never forget when…
On my first trip to Fez I arrived after midnight. I was driven to the old medina where my suitcase was put in a trailer and I was told to follow on foot. The sights, sounds and smells of the labyrinthine alleyways were all alien to me and I struggled to get my bearings as the laneways twisted and turned endlessly. I finally arrived at my hotel and drank my first Moroccan mint tea, equally excited and daunted about emerging into the maze once again in the morning to explore everything it had to offer.