A hieroglyphics sticker pack given to me at the age of five ignited my passion for Ancient Egypt, while a fascination with all things Middle-East-related closely followed. This led me to study Arabic and Persian at university, one year of which I spent living in Amman, Jordan, where I became more familiar with the culture, history and cuisines of the region. I also explored as much as I could in my free time, which included weekend trips to Jerusalem, holidays in the UAE, study trips in Oman, as well as travel to Israel, Turkey, Iran, Egypt and Morocco. I can confidently say that something these vastly varied countries have in common is a long and illustrious history, rich and inspiring cultures, and above all, some of the warmest and most hospitable people I've ever met. I'm so excited to share this passion with you and can't wait for you to experience it for yourself.
Speak to Marina

Start planning your tailor-made trip with Marina
Q&A with Marina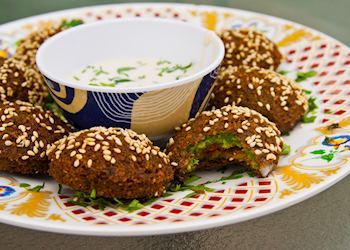 What's the best local dish you've tasted?
The Middle East is well known for its range of cuisines and fragrant spices. One of my preferred foods has to be ta'amiya, Egypt's answer to the more well-known falafel. Easily available along all good shopping streets, Egyptians pride themselves on cooking their ta'amiya using fava beans, instead of chickpeas, which are more commonly used to make falafel. Light and crispy on the outside and soft and creamy on the inside, fried with coriander and spring onion, ta'amiya provides the perfect lunch snack alongside some baladi (local Egyptian bread), tahini paste and salad.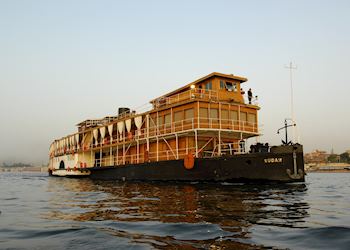 Which book, film or artwork captures Egypt the most?
I'm a huge Agatha Christie fan, so although it's a bit of a cliché and perhaps slightly morbid, I'd highly recommend reading Death on the Nile before visiting Egypt. It's a classic murder-mystery thriller with Christie's infamous plot twists along the way. She wrote the novel while touring Egypt in the 1930s, staying in notable hotels including Marriott Mena House in Cairo, the Old Cataract Hotel in Aswan, and while sailing on the Steamship Sudan, one of the Nile's finest cruisers.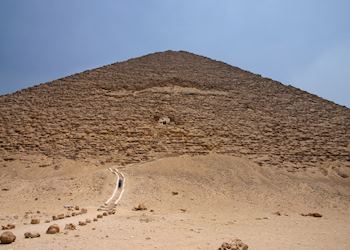 Your best piece of travel advice?
I'm not much of a morning person, but when you're visiting the pyramids near Cairo an early wake-up is well worth it. When I was there recently we arrived at the Dahshur pyramids by around 8am and had the place to ourselves. It really added to the tranquillity of the area being able to wander around at our own pace without the fear of being hassled, and made it so easy to imagine how the Bent and Red pyramids would have looked to King Sneferu who built them thousands of years ago.