By Audley Seychelles specialist Vicky
Rock stars, royalty and newsworthy couples are prone to disappearing to hidden corners of the Seychelles to enjoy time off in unequivocal opulence. A few notches down from these heights, there are plenty of alternatives that still offer a top-class level of luxury.
Journeying across the archipelago, I've sought out the most luxurious resorts in the Seychelles, and picked out two of the most notable. I suggest island-hopping between them, making use of the good connections between islands, for the ultimate trip.
For out-and-out luxury: Maia Luxury Resort and Spa, Mahé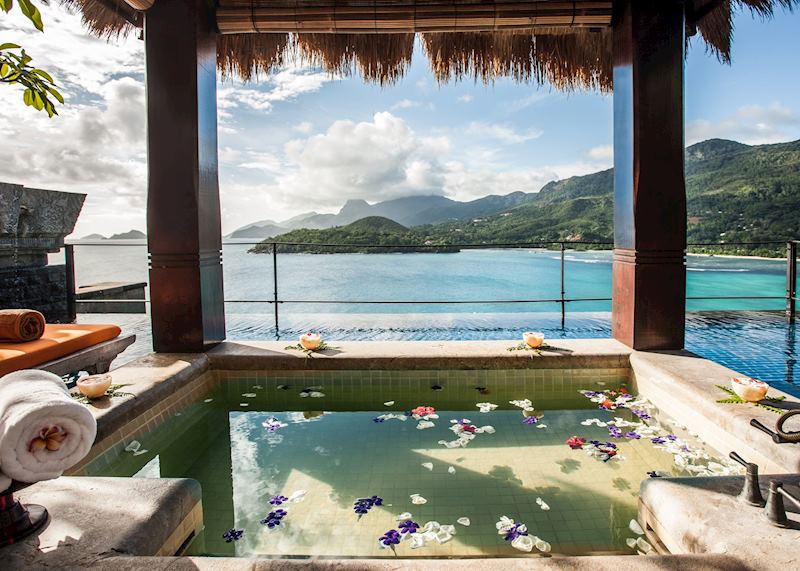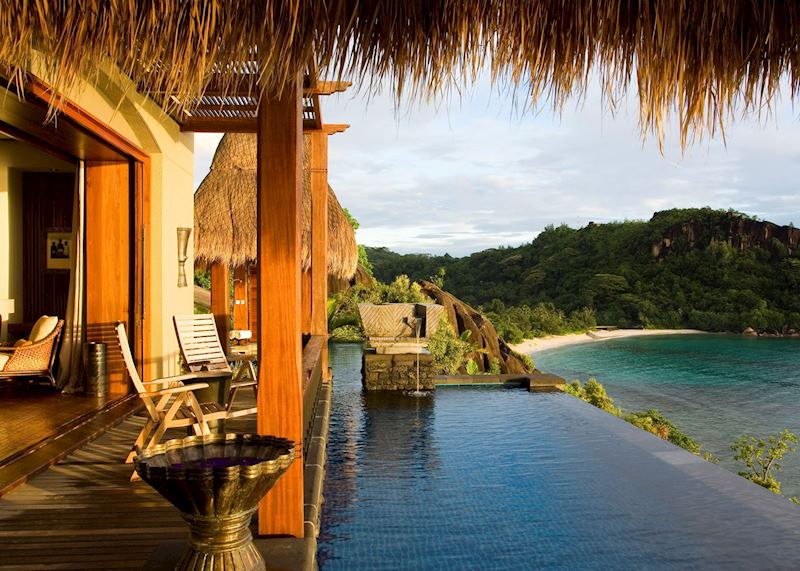 Arriving at Maia Luxury Resort and Spa, you're whisked straight to your villa for check in at your private pagoda overlooking the Indian Ocean. After being served a welcome drink (garnished with an edible flower from the surrounding gardens), your personal butler will discuss your needs. A newspaper delivered each day? How do you like your morning coffee?
Tucked away on a secluded peninsula, I felt like I was staying on a private island when, in fact, the hotel sits on the main island of Mahé, a one-hour drive from the airport. The private villas are set amid thick foliage on a hillside that rises up from the pale, pristine sand of Anse Louis Beach. The bath-temperature water was the same shade as the blue Curaçao cocktail I enjoyed with dinner.
The ocean panoramic villas are perched near the top of the peninsula, with infinity pools overlooking the water below. You're quite a way from the resort's facilities, but carts are on hand to drive you around. Down on the coast, the Maia signature villas have gardens that lead straight onto the beach (thick hibiscus bushes give you plenty of privacy).
Your personal butler can arrange canoeing or hiking trips, water sports hire, and boat trips to the surrounding islands. Honeymooners will be indulged, and there are plenty of ways to celebrate a special occasion — the extensive selection of spa treatments is a good start.
There's no dedicated children's club, but there are special activities ranging from art classes with an artist flown over from a nearby island, to child-friendly spa days. At Christmas, you can watch Santa Claus arrive by helicopter to give presents.
Dine in opulence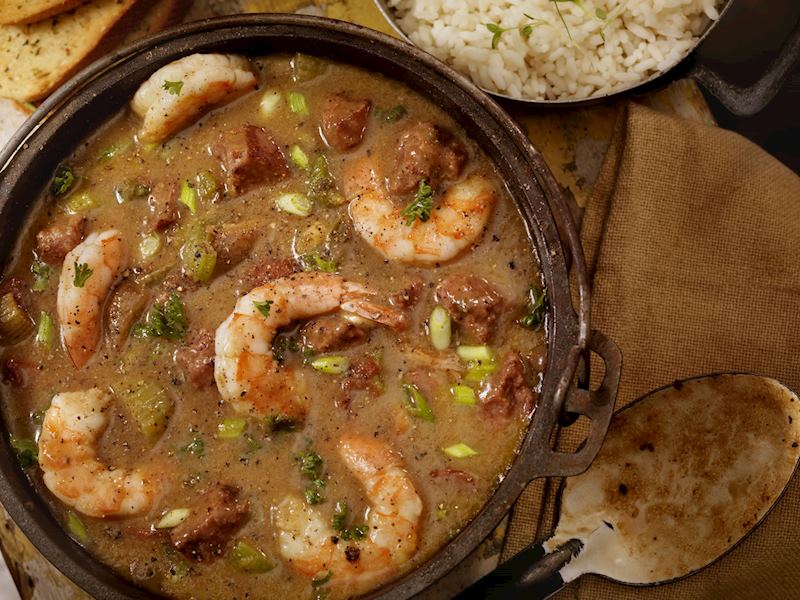 One of the things that Maia does best is food. At the start of your stay, you'll have a personal meeting with the head chef to discuss your eating requirements — any diet you follow, certain foods you avoid or simply which dishes you love to eat. Your meals will be tailor-made accordingly. As a self-professed sushi connoisseur, I enjoyed plates of fresh, beautifully decorated fish.
Meals can be enjoyed in the privacy of your villa or in the Tec-Tec Restaurant, which has a creative menu of Creole-, French- and Mediterranean-inspired dishes. If you want a more exclusive experience, you can dine privately on the hotel's helipad with views across the resort or tucked away on the beach. The crème de la crème is a table set up in the open-air spa, overlooking a waterfall that cascades into the jungle below.
For barefoot luxury: Denis Island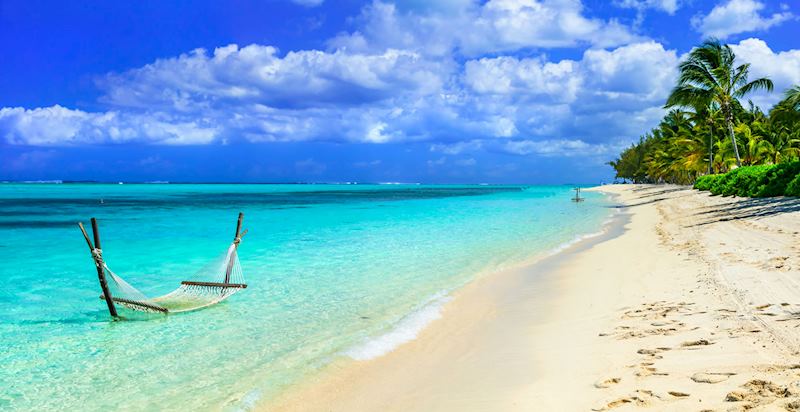 It takes a while to find Denis Island on the map: it's a tiny, shark-fin-shaped dot 100 km (60 miles) north of Mahé. Surrounded by nothing but the inky-blue Indian Ocean, it's one of the remotest private islands in the world.
The daily 30-minute flight from Mahé has a cargo of excited new guests, staff and crates of hotel provisions. As the plane lands on the island's grass runway, the owners and their team are lined up to greet you, before you're escorted into a waiting golf cart and driven to the reception area.
The staff live on the island, worshipping in a specially built chapel and playing cricket on the airstrip: this island gives off a relaxed, community feel. Just 25 villas can be seen peeking out of the island's lowland forest, each with an alfresco bathroom and more outdoor space than I knew what to do with.
You'll get your own bike to cycle along the (blissfully flat) sandy trails that cut through the forest. The untouched beach stretches right around the island — there are sun beds by your villa — with some of the softest sand I've walked on. The water sports team are on hand to help you paddle, snorkel or dive the island's turquoise waters. I spent an afternoon navigating the coast on a paddleboard.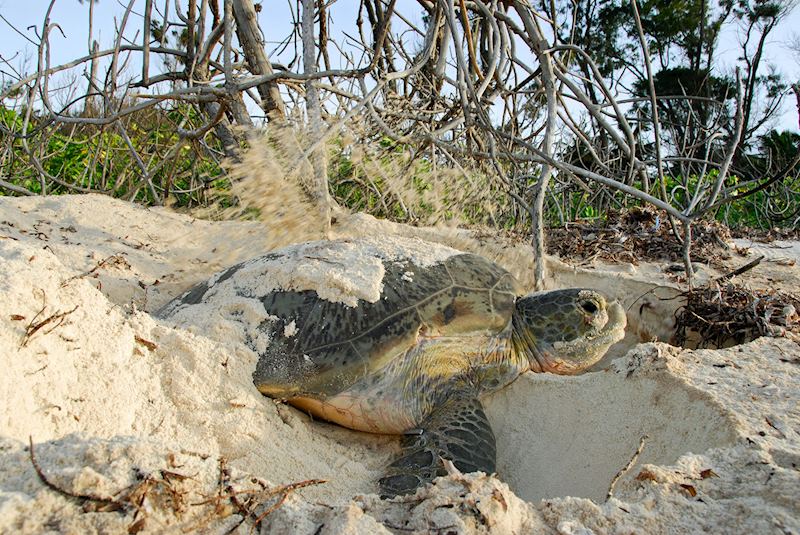 If you'd rather spend your days in a more languid state, you can arrange a tailor-made spa treatment. There's no menu as such: the therapists will discuss your requirements and design something to suit, often gathering fresh ingredients from the island. Some villas also come with a private massage pavilion.
With a focus on protecting the island's delicate environment, Denis aims to be as sustainable as possible. I joined the general manager to tour the island's farm, which grows the majority of the fresh produce used in the restaurant. As well as heavily laden fruit bushes and some of the largest tomatoes I've ever seen, there were chickens picking their way through the undergrowth and newborn piglets squealing away.
Much of the island's furniture is made on-site using coconut trees that aren't endemic, which is slowly returning Denis to a more natural state. The Green Islands Foundation, a Seychelles-based non-profit organisation, is working with the hotel to protect local wildlife, including the hordes of sea turtles that arrive to lay their eggs each year (October to January). Wake early and you can join the rangers' rounds to spot wildlife.
Deep sea fishing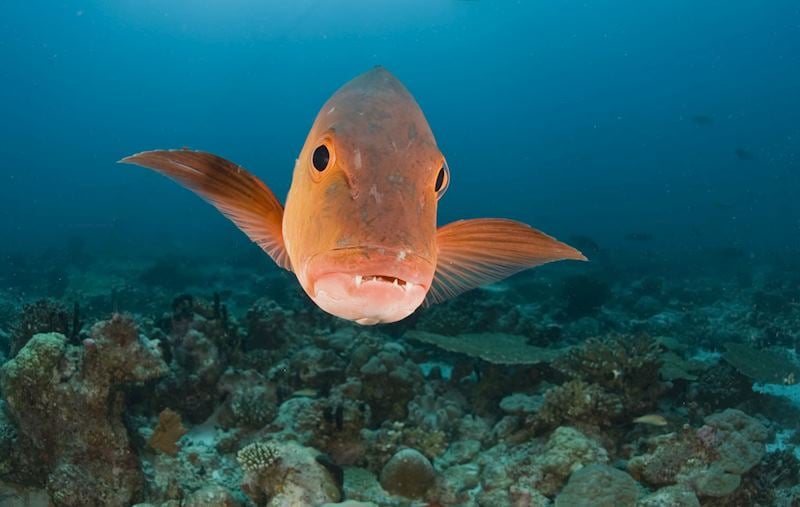 A short boat ride from Denis is the drop-off where the ocean floor plunges 2,000 m (6,561 ft) at the edge of the Seychelles Plateau. I chartered a boat to try my hand at deep sea fishing. As a complete novice, I found it a relatively simple skill to learn as the rods were fixed to the side of the boat.
It's obvious when you've arrived at the drop-off as the sea changes from a bright aquamarine to an inky indigo. It didn't take long before I had a bite on the line, although it took far longer than I'd expected to reel it in. Denis operates strict conservation rules, dictating that only a select few varieties of fish can be kept and, even then, juveniles must be released. Mine was a huge adult red snapper, which I enjoyed freshly grilled that evening.
Explore further: fly on to Abu Dhabi

You can add a touch of adventure to your trip by contrasting white beaches with the honeyed hues of the Liwa Desert. It's just a four-and-a-half-hour flight from Mahé to Abu Dhabi and, from there, a two-hour drive to the Qasr Al Sarab Desert Resort by Anantara.
This desert-fortress of a hotel rises out of the Liwa sand dunes like a mirage. Choose a pool villa and you can lie in your own oasis overlooking the rose-gold ridges, your private butler on call to bring refreshments.
There's ample opportunity to explore the surrounding dunes. Take a guided desert walk to learn more about the Bedouin people who once lived here. If you'd rather take the local transport, you can opt for a traditional camel trek or a more modern 4x4 ride across the desert. Thrill-seekers can try dune bashing (extreme 4x4 driving) or ride down the dunes on a bicycle, sand board or sled: take your pick.
Start planning your luxury Seychelles trip

Start thinking about your experience. These itineraries are simply suggestions for how you could enjoy some of the same experiences as our specialists. They're just for inspiration, because your trip will be created around your particular tastes.
View All Tours in The Seychelles