Whether shaped by the Pacific Ocean, volcanic soils or the dogged determination of early vignerons, New South Wales's wine regions produce some of the finest vintages in the country. But there's no sign of them resting on their laurels. You'll find winemakers here are forward-thinking, innovative and above all, passionate about their craft, with new varieties appearing on the scene and up-and-coming regions vying for attention.
We've rounded up six of the best wine regions in the state, from well-known areas within easy reach of Sydney to off-the-radar places only locals frequent, to help you decide where to clink glasses.
The Hunter Valley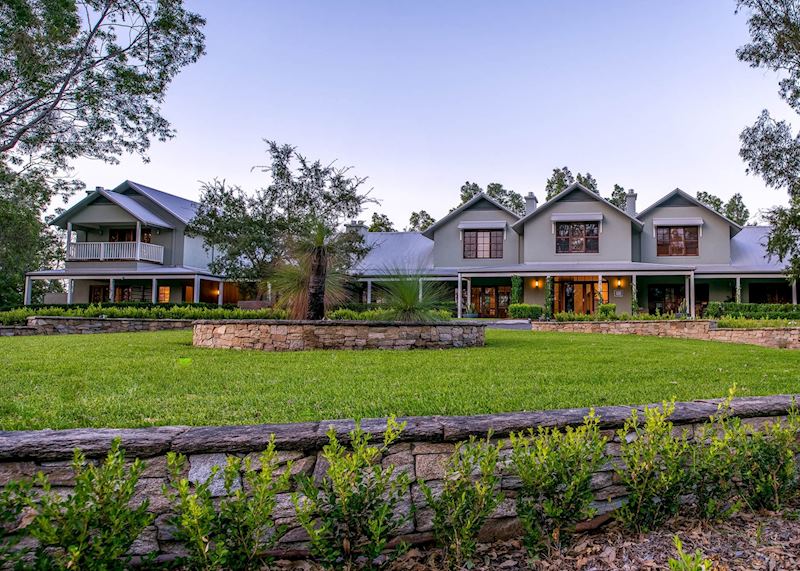 Best for: Visiting well-established wineries with a proud heritage
More than 200 years ago, viticulture pioneers with a dream established Australia's first vineyards in the Hunter Valley, despite the hot and humid climate. Today, their legacy surrounds you as you explore a hilly landscape threaded with vines — including some of those very first vineyards, still going strong since the 1800s.
You'll find more than 150 cellar doors to knock at, where you can taste wines including the region's renowned unoaked sémillon and classics like Chardonnay and medium-bodied shiraz, which have seen a recent resurgence in popularity.
Delve behind the scenes to learn the intricacies of winemaking on a private tour — your guide will match you with wine estates that best appeal to your preferences. You could also hire an e-bike to pedal between vineyards independently, visit a few options on horseback or by horse-drawn carriage, or float above the vineyards by hot air balloon at sunrise before toasting your landing with a crisp glass of sparkling white wine.
You can visit the Hunter Valley at any time of year, but time your stay with the Hunter Valley Wine and Food Festival in May and June and you'll find the best of the best is ready to sip.
Where to stay in the Hunter Valley: The 12-suite Spicers Vineyards Estate sits on its own vineyard, backed by mountains. It has an indulgent spa as well as a restaurant that serves farm-fresh gourmet dishes.
Shoalhaven Coast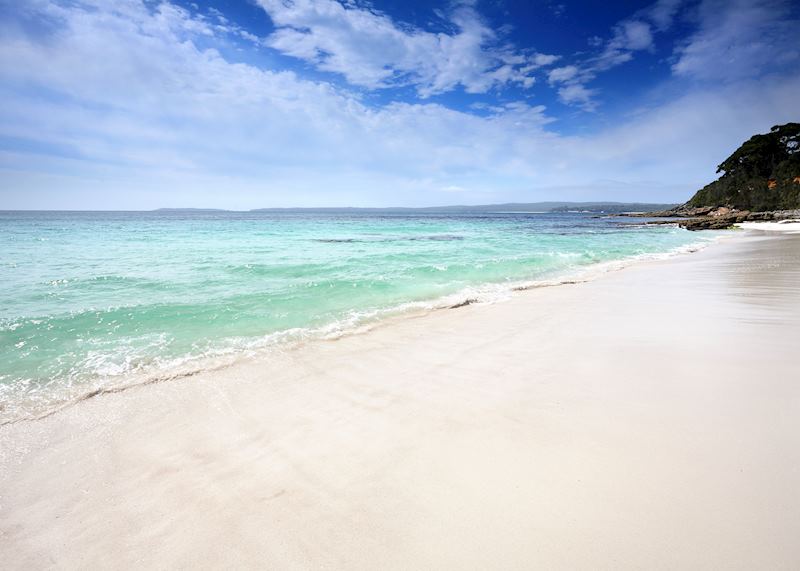 Best for: Sipping wine among coastal scenery
Renowned for its white sands, wild national parks and rippling green hills, the Shoalhaven region stretches along Australia's Oyster Coast (yes, it's known for its fresh oysters, too). Over the past 20 years, it's become home to a burgeoning viticultural scene, producing the likes of Chardonnay, sauvignon blanc, chambourcin and sémillon.
More recently, new varieties have appeared on the scene, including arneis, sangiovese, viognier, tannat and tempranillo, making it one of the most innovative regions to go wine tasting.
You can follow part of the Shoalhaven Coast wine trail, which stretches from Kiama in the north to Milton in the south, passing through emerald valleys and coastal plains. Call in at cellar doors to meet forward-thinking vignerons who'll tell you more about their craft, and pause to sip wine while overlooking the sparkling ocean. We particularly like visiting the family-run Cupitt's Estate, which has a restaurant, bar, microbrewery and fromagerie as well as a celebrated winery and cellar door.
What also stands out about the Shoalhaven wine region is its focus on sustainability. Silos Estate has led the way, achieving carbon-neutral status in 2008, with a view to eventually become carbon negative. It uses fully renewable energy sources, as well as rainwater and recycled water throughout the estate.
Where to stay in Shoalhaven: Paperbark Camp, in Jervis Bay, has just 13 luxury canvas tents, each set on elevated decks among eucalyptus and paperbark trees. You'll eat well here, with its restaurant serving seasonal dishes featuring indigenous ingredients, matched with local wines.
Southern Highlands
Best for: Pairing wine with farm-fresh food
Within easy reach for a day trip from Sydney, the Southern Highlands region couldn't be more different from the city. Here, the land gently undulates and is peppered with quaint towns, family-run farms, pockets of forest and vineyards producing some of the finest cool-climate wines in the country, from pinot noirs and pinot gris to traditional-method sparkling wines.
While the wine industry here is relatively recent, harking back to the 1980s, you'll find around 60 wineries and 17 cellar doors among the hills. You can join a local guide in visiting some of the wine estates for private behind-the-scenes tours and tastings, whether it's a masterclass in pinots or tasting a few vintages produced at a laid-back sheep farm.
The region's also renowned for its paddock-to-plate food scene thanks to its rich volcanic soil. Many fine-dining restaurants have close ties with local farms. Or, you could cut out the middleman and have lunch at a homestead, enjoying home-cooked food while learning more about the rural way of life here.
When not eating and drinking, you might like to explore the region's forests and waterfalls, looking out for wildlife including kangaroos, wallabies, koalas and, if you're lucky, the elusive platypus.
Where to stay in the Southern Highlands: Peppers Manor House is a stylish 43-room countryside retreat built in the 1920s. Its restaurant focuses on serving fresh farm-to-table dishes from the local area.
Lesser-known wine regions in New South Wales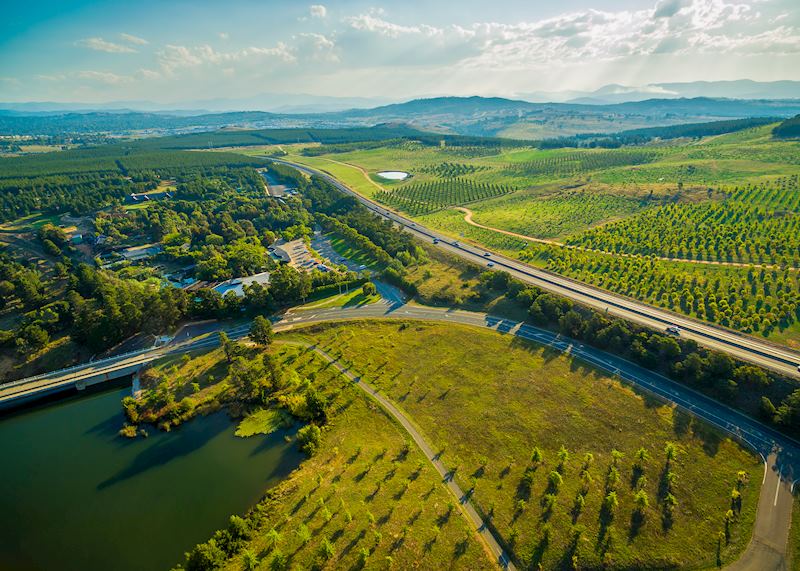 There are a few up-and-coming corners of New South Wales that are still relatively off-the-radar to visitors, but where those in the know escape to for some of the country's best and most varied wines. What's more, you can reach all of them within a four-hour drive from Sydney. Introducing…
Orange
Three and a half hours west of Sydney, Orange is a lively, well-presented town full of restaurants, boutiques and art galleries. It's also surrounded by over 80 vineyards and 30 cellar doors. The diverse terroir here produces an impressive clutch of cool-climate wines, including Chardonnay, pinot noir, pinot gris and shiraz.
You'll also be spoiled for choice when it comes to food, whether you're looking for fine-dining or farm-to-table. Visit during the annual Orange F.O.O.D. Week festival in April or the Orange Wine Festival in October to taste the region's finest.
Mudgee
Set off from Sydney, drive over sandstone cliffs and through the wild beauty of the Blue Mountains, and three and a half hours later you'll arrive in the country town of Mudgee. Its orchards, olive groves and well-tended gardens make for a welcome change of scene from the city, and with 65 vineyards and more than 35 cellar doors, you'll find plenty to please your palate.
Alongside fruity Chardonnay and the region's signature shiraz and cabernet sauvignon, you'll find recent stars of the Australian wine scene, riesling, sangiovese, vermentino, barbera and tempranillo, as well as crisp pinot grigio.
Canberra District
While Canberra itself needs no introduction, relatively few (outside of Australia) are aware of the wine region that lies just a half-hour drive from the capital. You'll find, among hills with distant views of the Snowy Mountains, vineyards that were first planted in the 1970s by scientists who were researching viticulture.
Their efforts have seen the continued production of cool-climate wines, including riesling and shiraz, which you can taste at around 30 cellar doors. The sense of experimentation has remained, too, with Lark Hill Winery being the first Australian vineyard to plant the Austrian grape grüner veltliner, producing a highly esteemed wine.
Get me there: You can visit the Hunter Valley, Shoalhaven or the Southern Highlands as part of a wider trip in New South Wales, using Sydney as a gateway.
Read more about trips to New South Wales

Start thinking about your experience. These itineraries are simply suggestions for how you could enjoy some of the same experiences as our specialists. They're just for inspiration, because your trip will be created around your particular tastes.
View All Tours in Australia