There's more to Tasmania than the devilish marsupial that bears its name. Alexandra, from our Australia team, is just back from the island and shares all the bright new things happening there – from experimental restaurants to award-winning whiskey distilleries and immersive wildlife experiences. And, while Tasmania is often saved for second- or third-time visits to Australia, Alexandra tells us why it should rise to the top of your must-visit list.
Now is the time for Tasmania
Until fairly recently, Tasmania had lacked a lot of the high-end stays and innovative dining you find on Australia's mainland. However, my most recent visit showed me that this has started to change and Tasmania is experiencing a real renaissance.
Cut through by the beamy River Derwent, with the aura of Mount Wellington towering in the background, the capital city of Hobart has been the hub of Tasmania's revival. There's a thriving arts community and an uptick in hip new eateries, with produce supplied by the island's verdant farmlands. But signs of Tasmania's renewal are spilling out beyond the city, with new tours and hotels rising up in the far reaches of the island as well.
Much of this was precipitated by Covid, when Tasmania saw a boom in domestic travel. More Australians going there created a buzz, and it's now seen as the place to be, yet it still hasn't been oversaturated with visitors — I'd say there's never been a better time to go. Tasmania isn't as far away as you might think, either — just a hop, skip, and flight from the mainland, it only takes 90 minutes to get here from Melbourne.
Ripe with unusual wildlife and untamed landscapes, Tasmania is, in my opinion, one of the most scenic places in Australia. It's quickly becoming my go-to locale for cultural and culinary offerings, too.
Farm-to-table dining in Tasmania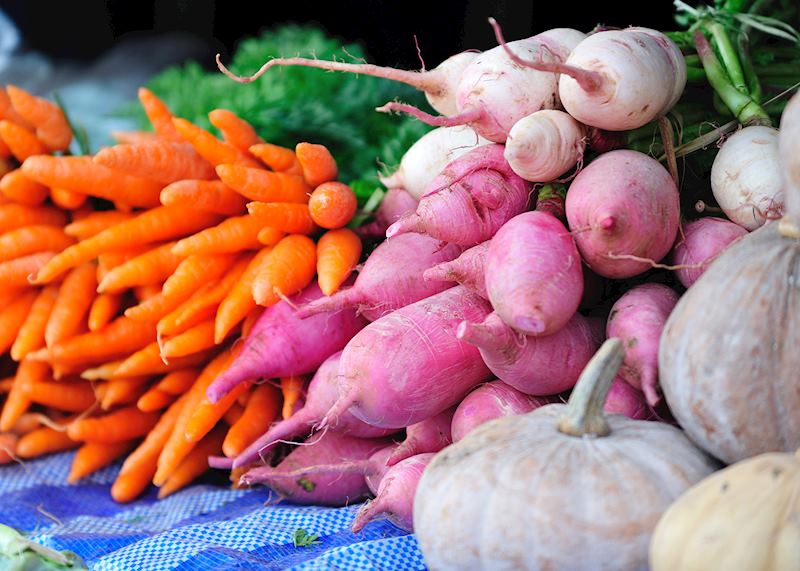 Tasmania is known as the Apple Isle, priding itself on its bounty of locally grown produce. In most restaurants, everything served uses ingredients grown on the island, making the allure of fresh farm-to-table dining almost a given.
The newest, most up-and-coming restaurant in Hobart is Peppina, part of the much-anticipated opening of The Tasman hotel. Not just for hotel guests, it's a very popular choice for locals, so booking is essential. The head chef Massimo Mele (born and raised in Naples, Italy) curates an Italian menu offering the best seasonal ingredients from local producers, all ethically sourced. Mary Mary is the Tasman's secret drinking spot, effortlessly classy, serving cocktails from an extensive spirit library.
Another spot everyone's talking about is Van Bone, set outside of Hobart, but worth the 50-minute drive. In fact, a jaunt here allows you to take in the Tasmanian countryside. Hugged between gently rolling hills and a long sweep of shoreline, the earthen stone walls of Van Bone's striking modern architecture is juxtaposed by its natural surrounds. Fire reigns supreme here, with every item on the menu being cooked over charcoal or in the restaurant's wood oven. Definitely make a reservation well in advance.
Out on the north end of the island, the riverside city of Launceston has welcomed the Black Cow steakhouse. Set within an Art Deco-style butcher's shop, the aptly named bistro celebrates Tasmanian local beef, serving up grass-fed, hormone-free steaks.
If whiskey is your tipple, you're in the right place. Today, there are more than 50 whiskey distilleries on the island. Just one of the many whiskey producers in Tasmania, Lark Distilleries has put its name on the map after it was named best Australian Whiskey and made the final four in the International Whiskey and Spirits Competition.
Rooms with a view in Tasmania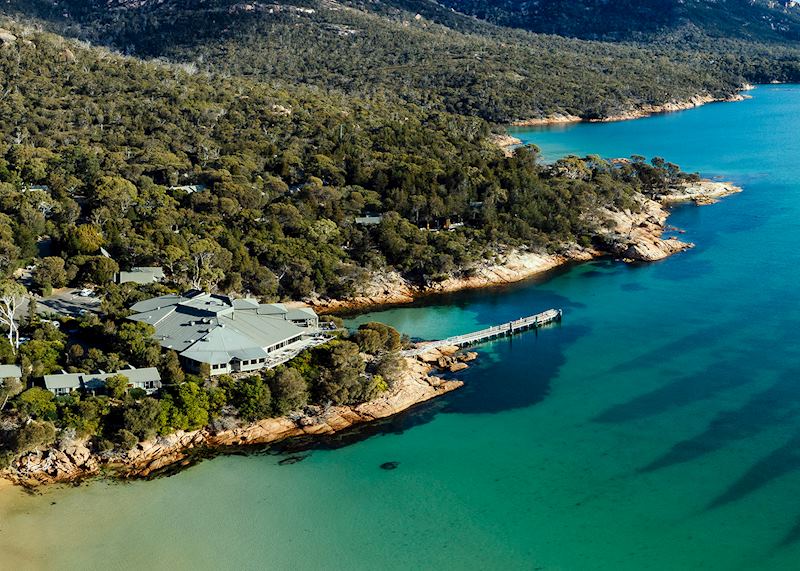 The buzz is all around The Tasman hotel, rivalling Macq01 as the top property in Hobart. Set in the chic Salamanca area, the hotel combines what was once an 1840s Georgian hospital, a 1940s Art-Deco building, and a modern-day addition. The buildings have been fully restored and brought back to life, and objects d'art unearthed in the restoration are now displayed in the hotel to showcase the building's history. I found there was a feeling a warmth, class, and effortless service throughout.
I spent two days in Freycinet National Park, on the island's east coast. A little peninsula poking out into the Tasman Sea, the area is defined by undulating hillsides of green scrub traipsing down into wide half-moon bays. It's very remote, and you often have the beaches to yourself.
Set within this expanse of coastal wilderness is the new Coastal Pavilions at Freycinet Lodge. The bay-view rooms offer grounded elegance and immersion within the natural setting of Freycinet National Park. Boasting an outdoor bathtub, separate living area, and private deck, Freycinet Lodge's pavilions are ideal for a romantic getaway.
Tasmania's peaks, rainforests & wildlife
I discovered a slew of new half-, full-, and multi-day private tours of Hobart and its surrounds, as well as tours to Maria Island, Freycinet, and Cradle Mountain, all led by expert local guides. One I particularly recommend allows you to take in temperate rainforests with towering eucalyptus and the multi-tiered cascade of Russell Falls. You might also want to make time for a stop at the Agrarian Kitchen for a farm-to-table lunch on Friday to Sunday.
Bird lovers will rejoice, as the woodlands of the Derwent Valley are brimming with birdlife, from mute swans to kingfishers. And, in Mount Field National Park, you can try to spot wallabies, wombats, and echidnas.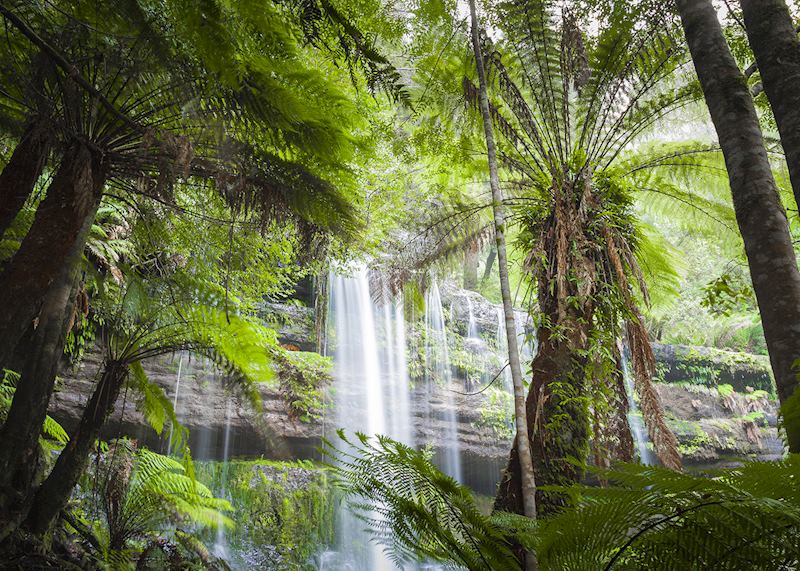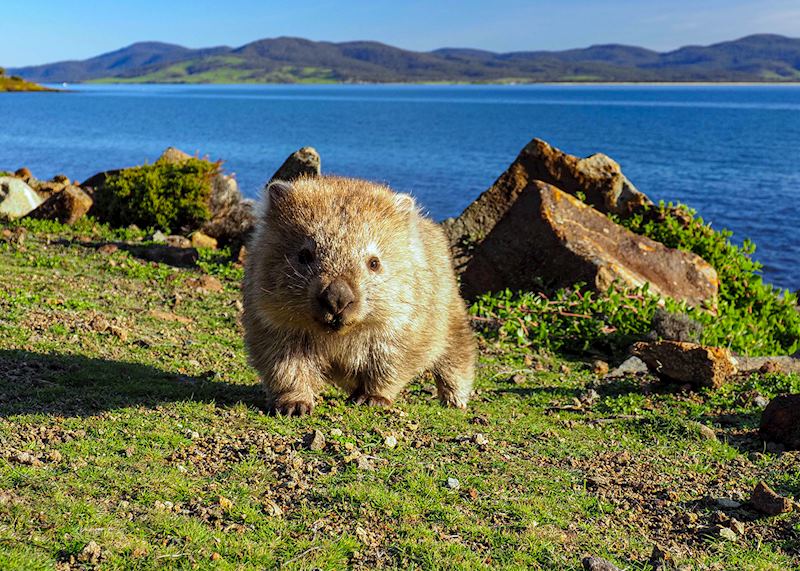 Planning your visit to Tasmania
I spent ten days in Tasmania, but you don't have to devote an entire week of your Australia trip to enjoy its many charms. You could spend a few nights in Hobart and drive up to Freycinet, stopping along the way to saunter over the hiking trails at Maria Island.
Get me there: Explore Tasmania on this classic self-drive tour