A big part of a luxury trip to Canada is your location. You might be perched on rocks gazing out across the iceberg-scattered North Atlantic, wandering through old-growth forest on the cusp of Clayoquot Sound, or hiking in the midst of the Canadian Rockies, a helicopter your only means of transport.
Our Canada specialists have chosen four places to stay that understand the country's main appeal — its natural beauty — and give you a new, elevated way of experiencing it. At each, you'll find staff who deliver a highly personal service, and guides who are experts in their field.
Heli-hiking in the Canadian Rockies, Alberta
By Lauren
Spending a few days heli-hiking deep in the Canadian Rockies allows you to explore beyond the well-trodden trails surrounding Banff and Jasper — or any trails for that matter.
You're taken by helicopter to one of three lodges set on mountainsides inaccessible by vehicle (other than the robust 4x4s that transport your luggage). This was my first taste of riding in a helicopter. As we soared over deep glacier-clad valleys and chains of steep-sided mountains, it became apparent just how expansive and largely untamed the Rockies are.
You spend the first afternoon settling into your lodge. I stayed in Cariboos, a 28-room, family-run lodge. Its wood-and-stone interiors, roaring fires and outdoor whirlpool are evocative of a traditional alpine chalet, but whose high levels of service and locally sourced food could match any five-star hotel.
Most people stay for three nights, enjoying two full days of guided hiking. You're provided with all the waterproof clothing and hiking equipment you might need.
Your stay is completely flexible, though. You might prefer to spend a morning out on your deck overlooking the fir-smothered mountains or take a canoe out onto the lodge's freshwater lake.
You hike in groups of no more than 11, which are sorted according to fitness levels and interests. Hikes vary from 1 to 15 km (0.5 to 9 miles), and while some scale mountains and glaciers, others stick to the gentler terrain of alpine meadows.
The helicopter flies you over the mountains to secluded spots high above the treeline. The guides who lead your hikes seem to know every dip, incline and boulder. As they talk about the mountains and lead you along an uncharted route, it becomes clear that this is more than just a job to them, it's a lifelong passion.
They'll head out in their spare time to plan out new routes, or run ahead to see if there's anything of interest worth a detour.
On one hike, I ate my packed lunch on a glacier, which glistened silver in the sun. The silence and stillness of my surroundings really drummed in the remoteness.
You return to the lodge (and the whirlpool) in the late afternoon. Dinner is a communal sit-down with your fellow guests and the guides. Afterwards, you can sit outside by the campfire, looking at the stars as the lodge manager, John, plays country songs on his guitar.
Waterfront glamping at Clayoquot Wilderness Lodge, Vancouver Island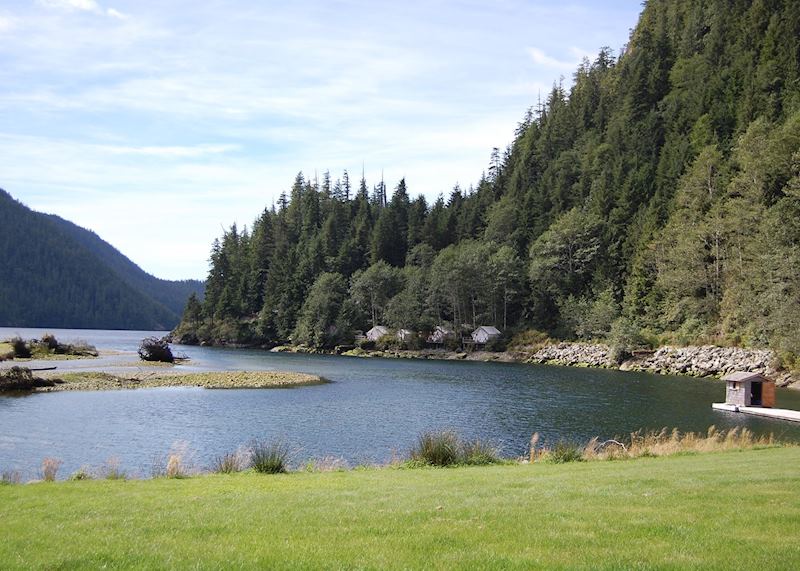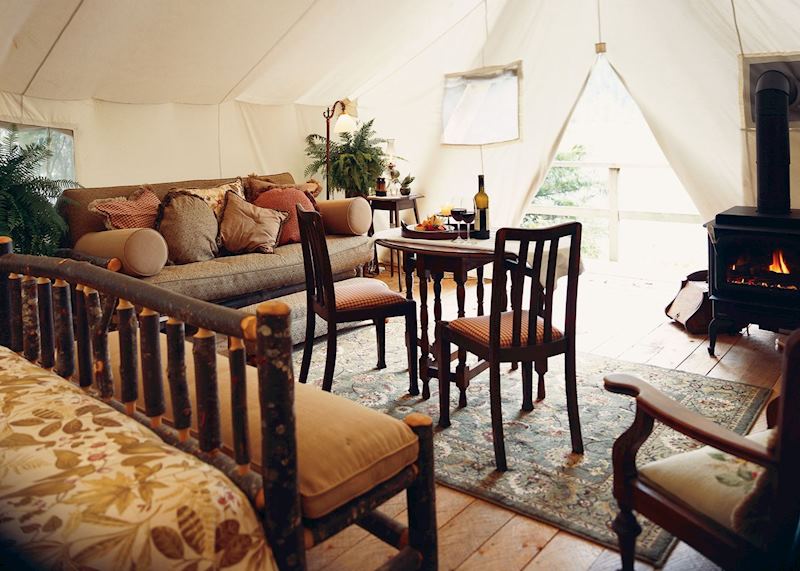 By Anna
Clayoquot Wilderness Resort sits on the edge of a forested inlet in the UNESCO-designated Clayoquot Sound Biosphere Reserve. Even getting to the property — by seaplane from Vancouver — feels intrepid.
Arriving on land, you're chauffeured to the resort by horse-drawn wagon, a nod to the days of early exploration. Positioned along the water's edge and scattered among temperate rainforest are 25 generously sized canvas tents, each with a private deck.
I entered my tent to find a large double bed, polished wooden floors laid with rugs, cabinets and armchairs, as well as an en suite bathroom with heated floors and a private outdoor shower. Antiques, oil lamps and an iron stove complete the turn-of-the-century feel.
The resort's main building has floor-to-ceiling windows and rooftop seating looking out over the sound. Here, you can enjoy locally sourced food and home-grown produce, such as vegetables from the grounds, and wine pairings from British Columbia's Okanagan wine region.
There's also a spa complete with cedar hot tubs, saunas and massage rooms, and each morning you can join yoga and meditation classes on the waterfront deck.
The first evening, you can sit down with staff and discuss how you'd like to spend your time, and they'll shape a schedule around your interests.
You could take a Zodiac out at low tide to spot bears foraging for crabs and clams along the shoreline. It's often possible to get within a few feet of them, as they flip stones and prise open shells.
If you travel farther out, you can go in search of whales, porpoises, Steller sea lions and seals. Gray and humpback whales migrate to these waters during the summer, though some grays are resident year-round. You might also see orca pods curving up out of the waves.
On dry land, you can go hiking, horse riding or mountain biking through the rainforest, or try your hand at archery.
To get even farther away from everything, helicopters can take you to a secluded spot of your choice. You might want to spend time on a deserted driftwood-strewn beach, exploring sea caves or enjoying a private dinner set up on the sand. Or, you could be dropped off at Kennedy Lake with an experienced wilderness guide to kayak along the Kennedy River out to the ocean.
Ranch stay at Siwash Lake Wilderness Resort, British Columbia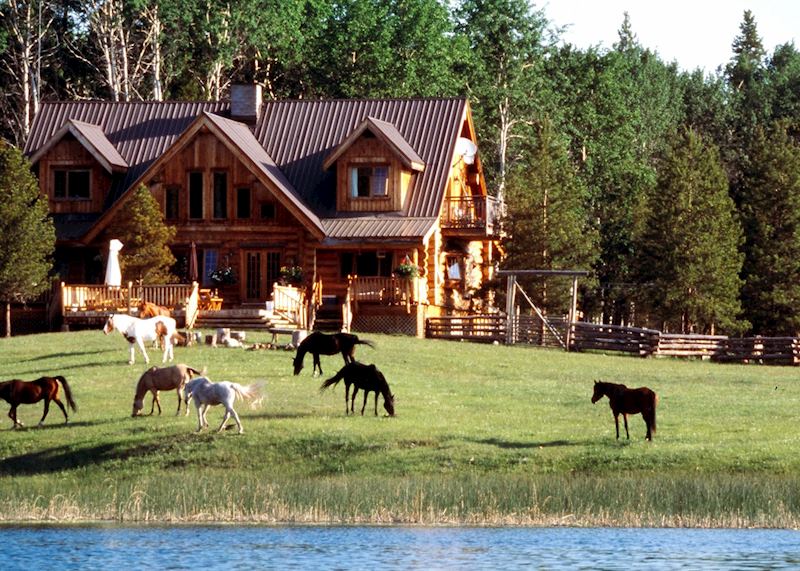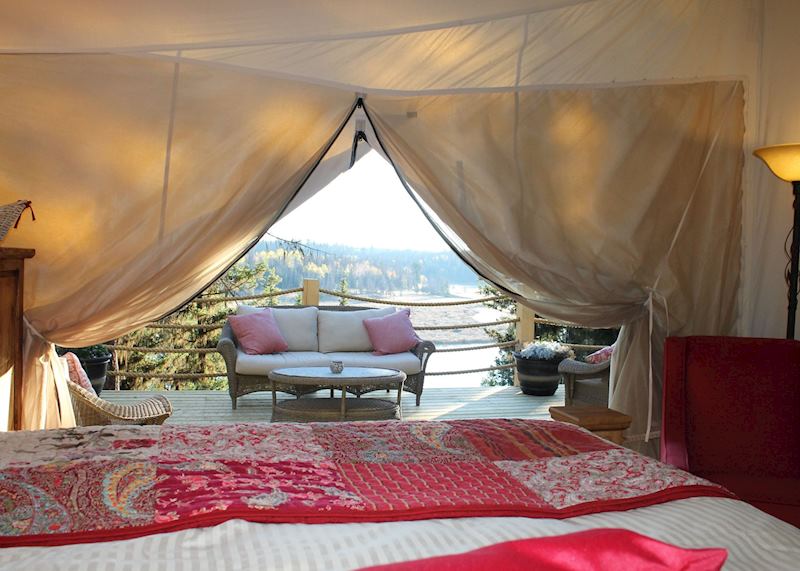 By Nathalie
Halfway between Vancouver and the Rockies, Siwash Lake Wilderness Resort basks in a landscape of lake-strewn meadows. A forest fire in 2017 damaged some of the surrounding countryside, but it shouldn't impact your stay.
The ranch-style property has a sense of history thanks to its location on the old Cariboo Gold Rush Trail, which was carved out of the land by determined gold prospectors during the late-19th century.
The traditional barn-style suites, white-canvas tents and wooden ranch house remind you of these pioneering days, though with decidedly more home comforts. And, with space for just 15 guests, there's an intimate ambience throughout the property.
Gourmet picnics, fine-dining dinners and a wide range of activities are included in your stay. Staff will tailor each day to your interests, whether you want to go trout fishing, kayaking or paddleboarding on Siwash Lake, or try target shooting and archery.
The most popular pursuit is horse riding — the ranch has a long history of offering guided rides for all abilities and will match you up with a horse for the duration of your stay.
You can learn about horsemanship from the equestrian guides, who'll help you to progress from gentle walks to trotting or even cantering across meadows. More challenging trails will suit experienced riders, who are free to explore at their own pace.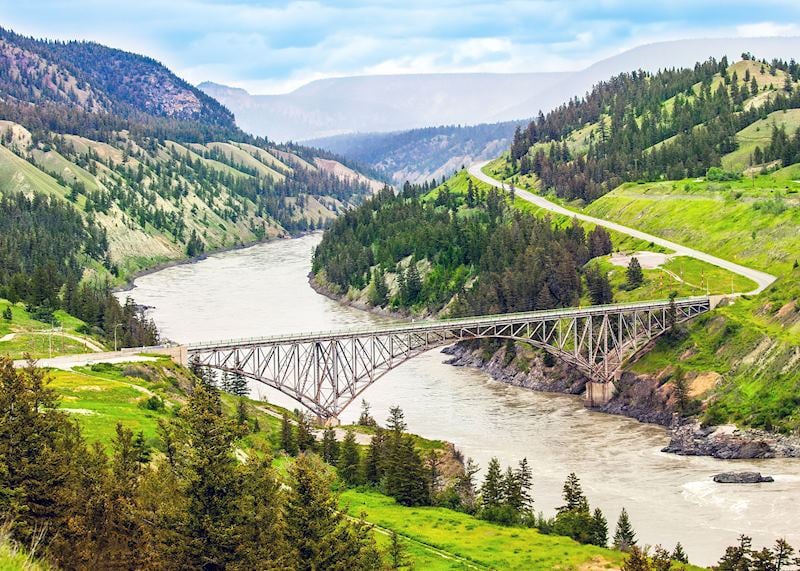 Another option is to join a guided hike with a naturalist, who'll help you track wildlife such as deer and moose and tell you about the area's ecology. You'll hike to some of the nearby waterfalls, and perhaps take a dip in their bubbling pools.
The ranch owners' son also holds wilderness survival skills workshops. He'll lead you out into the forest to build a shelter, forage for food and light a campfire (he'll also tell you the drill for encountering a wild animal).
At the end of each day, the inky, star-spattered night sky draws your eyes upwards. The ranch encourages guests to spend a night at tented camp, set a ten-minute walk from the main resort on the ridgetop overlooking Siwash Lake. From your tent or the camp's deck you can look up and begin to interpret the constellations above.
Remote coastal stay at Fogo Island Inn, Newfoundland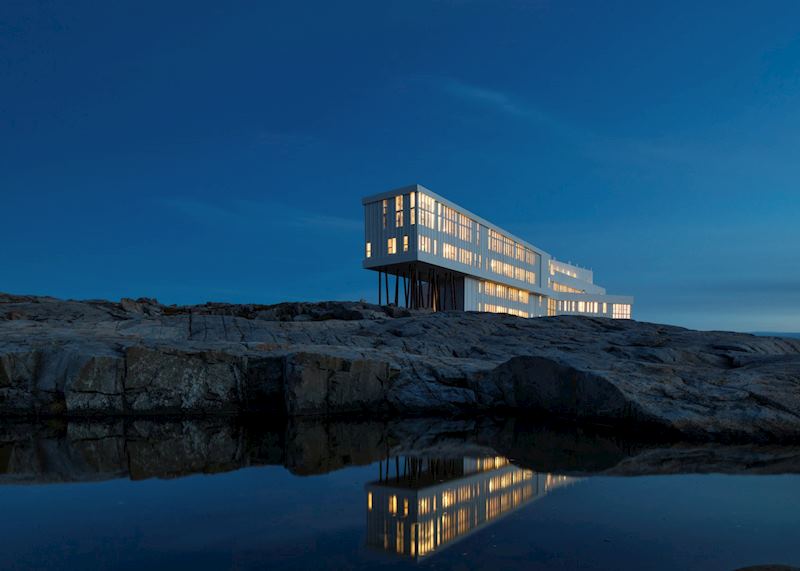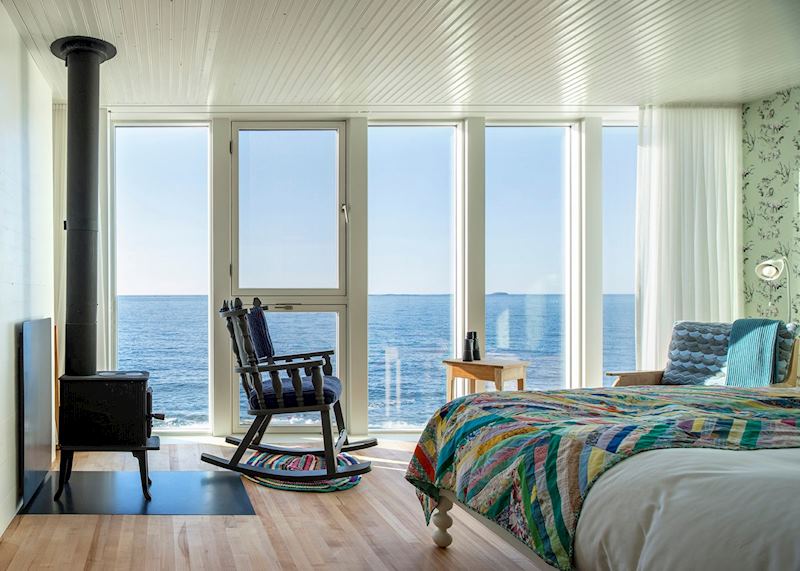 By Jon
The ferry crunched its way through layers of ice, carving a path in the frozen water to an island even more remote than Newfoundland's northern tip, from where I'd just come. I was heading to Fogo Island, a shard of land so cut off from the rest of Canada that the islanders' voices retain the Irish lilt of their ancestors, and a cluster of three or four saltbox houses counts as a village.
You can only reach Fogo Island via this hour-long ferry trip. It's not always an icy crossing, but the feeling of journeying to the edge of the world remains the same (in fact, there's a museum on the island dedicated to some people's beliefs that this is, indeed, one of the four corners of the Earth).
The island has become almost synonymous with Fogo Island Inn, an architectural showpiece perched on rocks on the island's north coast. Its partially stilted, whitewashed-wood design takes elements from the fishing shacks and saltbox houses dotted across Newfoundland's coastline, but with a contemporary twist.
The inn was opened by successful businesswoman and native of the island, Zita Cobb, as part of the Shorefast Foundation. It aims to restore and maintain Fogo's economic and cultural well-being. Most of the staff are from the island, and the hotel's furnishings — from rocking chairs and cushions to crocheted rugs and patchwork quilts — were handmade by local artisans.
Through your room's floor-to-ceiling windows you look straight out across the North Atlantic Ocean, with nothing but rolling waves (or, in March, pack ice) separating you from Greenland. Seabirds sweep across the sky, rain clouds cast shadows on the water and, in June, icebergs bob on the ocean's surface. You might even glimpse a whale through the binoculars left beside your armchair.
You can also enjoy these views from the steaming rooftop hot tubs, over a dinner of locally and sustainably caught cod in the dining room, or from the campfire that's lit on the rocks at sunset.
I love the exceptional attention to detail and personal service you experience at the inn — the staff remember your name and ask about your day, a breakfast tray is left at your door each morning, and the activities coordinator will plan your time according to your interests.
Activities vary according to the season. You might join boat trips to see icebergs, whales or long-abandoned fishing villages. Follow coastal hiking trails or join guided foraging walks through marshland to pick wild berries. Take a tour of Fogo's landmarks and settlements with an islander. Or, visit local arts and crafts workshops to see artisans at work.