By Central Asia specialist Chris
The Silk Route officially starts in China and takes you into the far northwest of the country, giving you a completely different perspective on the Middle Kingdom ― one that most visitors to China won't experience. In three or four weeks you'll span China's width, looking back on thousands of years of history through art, architecture and cultural practices.
You'll be entering regions that feel more Arabian than classically Chinese, and you'll see sights you might not immediately associate with China, such as lofty sand dunes. The route also takes you via Xian, giving you a chance to call in at the Terracotta Warriors before you head northwest.
The highlights I've pulled out below can be experienced on a straightforward trip across western China.
If you're interested in exploring the Silk Route beyond China, our guide to the Silk Route highlights of Central Asia explains what to see, as a priority, in this part of the world and how the travel logistics work (clue: you'll need a mixture of trains, planes and automobiles). You could then undertake a much longer and more comprehensive Silk Route trip by continuing from northwest China onto the main Silk Route stops of Central Asia, including Kyrgyzstan and Uzbekistan.
What was the Silk Route?
Contrary to what the name suggests, the Silk Route was no single road. It was a collection of routes taken by silk traders journeying from China into Central Asia, and even as far as the Middle East, Europe and the Indian subcontinent.
Nowadays, the word evokes images of trundling carts or camels laden with spices, tea and jewels, but other goods, such as ceramics and condiments, were exchanged along the route ― as were religions, languages, ideologies and cultural traditions.
Journeying along the Silk Route in China
I recommend kicking off your journey from Beijing, taking a high-speed train to Xian. From Xian, you'll take a series of short-haul flights to progress further into China's west.
Along with these flights, be prepared for a fair amount of private car transfers: you're covering a vast tract of land, after all, but driving does give you a greater appreciation of northwest China's desert landscapes.
Highlights of the Silk Route in China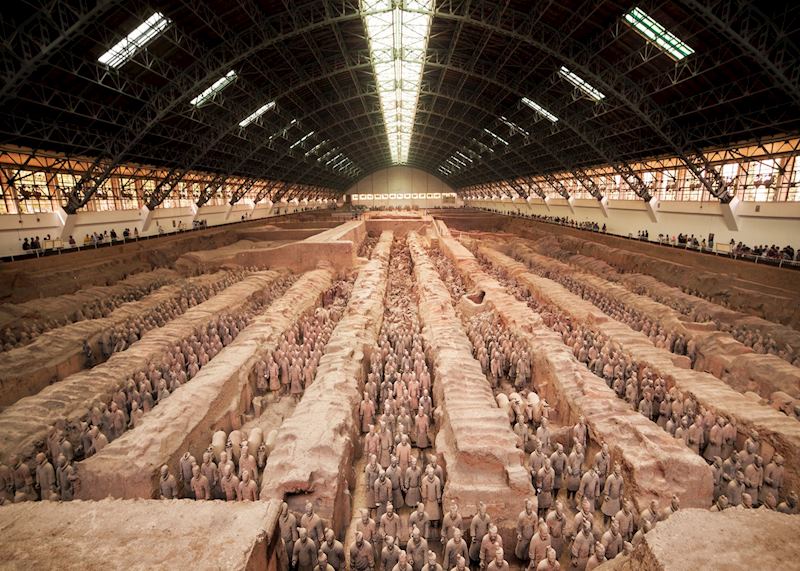 Xian's Terracotta Warriors, Shaanxi province, China
Every year, millions of visitors descend on China's ancient capital, Xian, to see one of the world's biggest archaeological discoveries. While the Terracotta Warriors are one of China's best-known attractions, I knew relatively little about them prior to my trip.
I hadn't anticipated the size and number of the warriors: thousands of life-sized soldiers and generals, each over 1.8 m (6 ft) tall. The high level of detail that was put into their creation is still apparent; each has his own facial expression and intricately carved clothing indicating rank, which remnants of paintwork reveal were once brightly decorated.
The 8,000 warriors were made more than two millennia ago to line the mausoleum of Qin Shi Huang Di, China's first emperor. They lay buried until their accidental discovery in 1974 by local farmers digging a well. But, as I discovered, not all the warriors have been uncovered yet and excavation work continues.
Likewise, the emperor's tomb still lies undisturbed, complete with its funerary goods. The whole site has the sense of anticipation of a live archaeological dig, and you can see the work areas where shards of terracotta are reconstructed.
If you're able to linger, there's a lot more to experience in Xian, including jeep tours into the surrounding rural villages and lunch at a local family's home ― as our blog entry on Xian beyond the Terracotta Army explains.
Dunhuang, Gansu province, China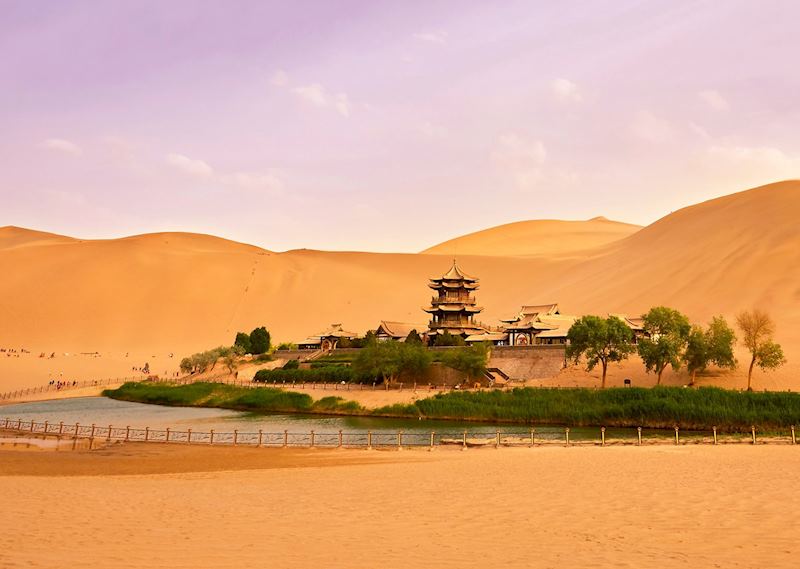 As you travel to China's far northwest corner, it starts to feel like you have entered an Arabian Nights tale. The landscape dries up and becomes cracked and golden, until you're surrounded by vast sandy plains.
On the edge of the Gobi Desert sits the historic city of Dunhuang, its green trees standing out against the otherwise sand-hued backdrop. Its strategic location between the Silk Route and the main road connecting India with Mongolia made it an important stop for traders (Dunhuang means 'to flourish and prosper').
While you can explore Dunhuang's markets and soak up a very different culture to that of western China, the city serves best as a base for exploring other attractions nearby.
Mingsha's 'singing' sand dunes
I'd never associated China with sand dunes, but just outside Dunhuang are some of the tallest in the world. You can walk up to the top of them for sunrise or sunset as the changing light gradually illuminates the surrounding sands or casts them in shadow. Listen carefully and you might hear the sand dunes 'sing'. It's still a mystery why the dunes make this echoing musical sound.
You can also visit nearby Crescent Lake, which appears like a mirage among the dunes. The lake is far smaller than it used to be, but nevertheless its turquoise waters contrast impressively against the sand.
Mogao Caves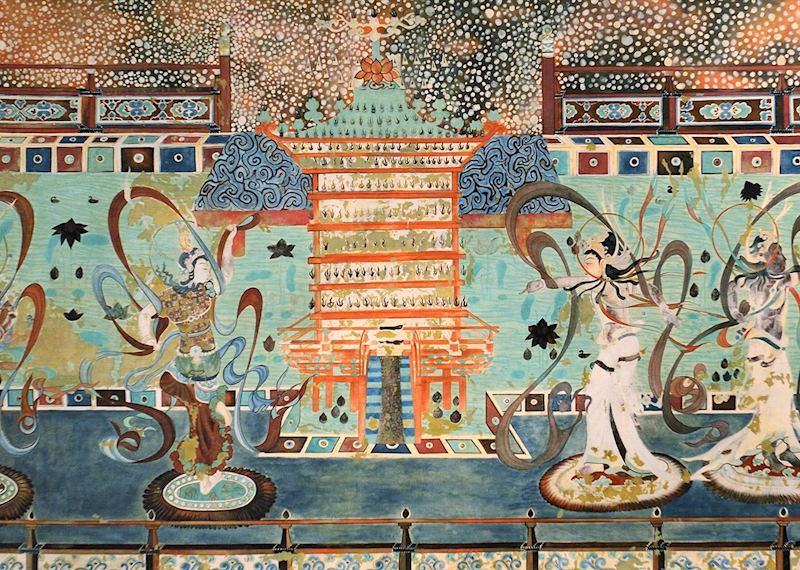 Stretching for 1.7 km (1 mile) along a canyon wall at the edge of the dunes, the Mogao Caves are actually a system of 492 temples filled with more than 1,000 years of Buddhist art. They were carved out of the rock by Chinese Buddhists as far back as 366 AD.
Within these grottoes, Buddhists would sleep, worship and carve figures of Buddha out of the rock, as well as paint the walls with religious murals. Stepping inside was like entering an underground gallery: the floor-to-ceiling Buddhist imagery has been preserved over the years by the caves' stable conditions.
Most memorable were the two giant statues of Buddha measuring 27 m and 35.5 m (88.6 ft and 116.5 ft) respectively and dating to the 8th century. While one has been significantly restored, the other remains largely intact.
What's also special about these caves is that some of the paintings track the spread of religion across Asia, the Middle East and Europe, which flourished in part through the Silk Route. While mostly depicting Buddhist imagery, some of the original illustrations were destroyed or painted over when a new dominant religion took hold.
I was shown an example of this, where early Christian images of the Garden of Eden had been replaced with illustrations of Buddha. In turn, these had been scratched out and superseded with Arabic scrawl when Islam reached China. Later attempts were made to erase the writing during the Cultural Revolution and the rise of communism, when religion was suppressed in China. The result is an intriguing palimpsest of religious art.
Kashgar, Xinjiang Uyghur Autonomous Region, China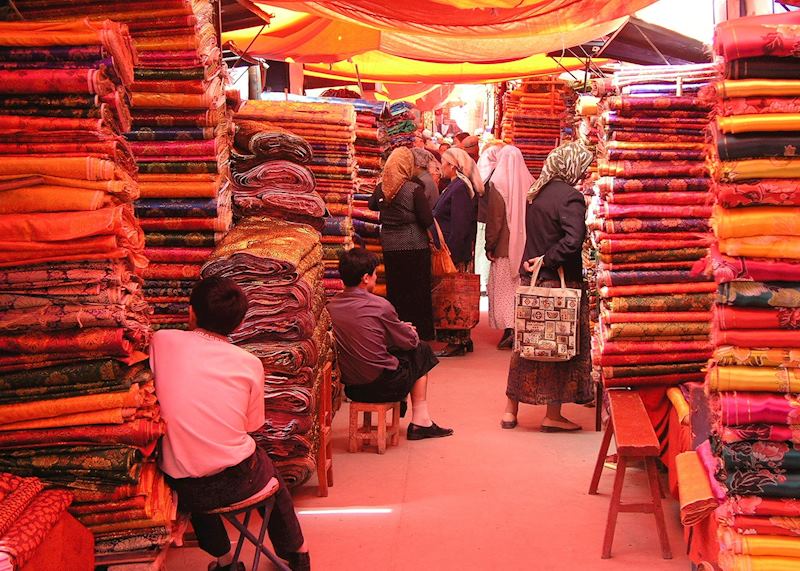 Closer to Turkey than Beijing, Kashgar could have been plucked from the Middle East: 90% of the population are Muslim, a large number of whom are Uyghurs — a Turkic ethnic group. We spent a couple of days in this far-western city and it completely changed my perception of China.
Like Dunhuang, Kashgar thrived as a crossing point for international routes and became a cultural and commercial hub. Walking around the city, it appears unchanged over centuries. We made our way through a web of narrow, dusty lanes, passing old brick houses that looked like they'd been standing for a thousand years.
Kashgar's Sunday markets
With no other large settlement anywhere near, this is the place people flock to from far and wide to buy and sell, swelling the city's population by thousands every Sunday, though you're unlikely to see any other western visitors.
Kashgar's Sunday Bazaar is a hubbub of noise and commotion, as people set up shop and flog their wares — anything from goats and hats to sacks of spices and kaleidoscopic rolls of silk — to the most-skilled haggler. There's even a track for people to 'test drive' horses before deciding to buy. I simply wandered around and watched people barter, gossip and play cards among the chaos.
Uyghurs from rural villages and towns lead their donkeys, sheep, goats, cows, mules and camels to the city's Sunday Livestock Market in the hope of trading them for profit. This same journey has been made every week for centuries, and little has changed in how the market operates.
When I visited, this market was even more of a whirlwind than the bazaar, as people and animals made their voices heard. The animals are closely inspected by prospective buyers, and I watched a ritual that had probably been observed for hundreds of years. Those interested in purchasing a cow piled their money on the animal's back, the man with the highest pile claiming the prize.
Lake Karakul and the Karakoram Highway
From Kashgar, you can spend a day driving part of the Karakoram Highway, which once formed a branch of the Silk Route. The highest paved international road, it stretches 1,300 km (800 miles) from Kashgar across the Himalaya to Abbottabad, Pakistan.
I was glued to the window as my driver and I passed through mountains draped in snow, climbing up to an altitude of 4,000 m (13,123 ft). After around four hours of driving, the landscape opened up to reveal the vast, mirror-like Lake Karakul. Its azure waters faithfully reflect the surrounding peaks, yaks graze in the foreground, and yurts are dotted around the shoreline.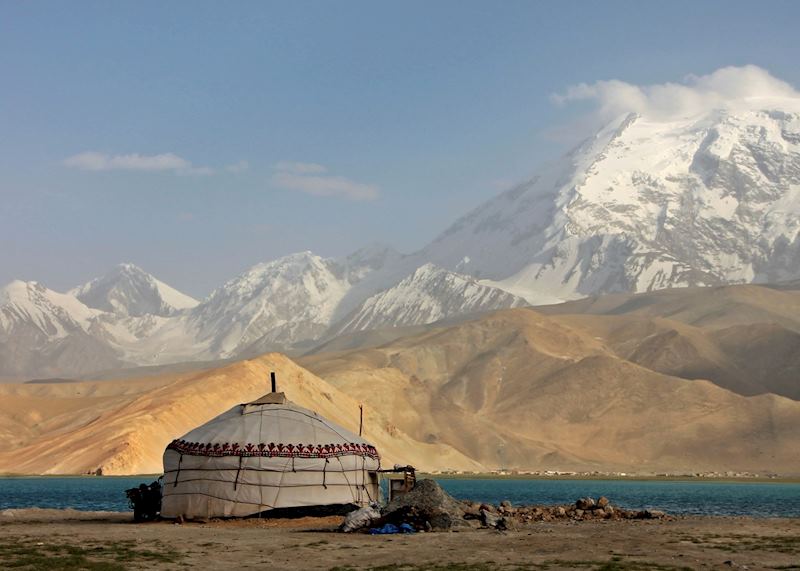 Places to stay along the Silk Route in China
China's hotels are probably the best you'll stay in when following the Silk Route: they're certainly plusher than the no-frills options of Central Asia, although bear in mind that you rarely stay in one place for more than two nights.
Best time to follow the Silk Route in China
The only real rule when visiting China's part of the Silk Route is to avoid Chinese national holidays, which is when some places get very busy. Your specialist will be able to pinpoint when these fall.
Read more about trips to Western China
China, Uzbekistan and Kyrgyzstan
Start thinking about your experience. These itineraries are simply suggestions for how you could enjoy some of the same experiences as our specialists. They're just for inspiration, because your trip will be created around your particular tastes.
View All Tours in China