By Audley China specialist Heather
China tours are often fast-paced: you're always on the go trying to see everything, especially in the cities. This is where a Yangtze cruise comes into its own. You have a chance to relax for three or four days in the middle of a trip, digest everything you've seen already, and enjoy the watery, mountainous landscapes of the Three Gorges region that had Chinese Golden Age poets in such rhapsodies.
It helps, too, that the majority of cruise ships are American-owned: after several days spent intensely absorbing Chinese culture, it's sometimes nice to fall back on a few familiar Western comforts.
Where do you go on a Yangtze cruise?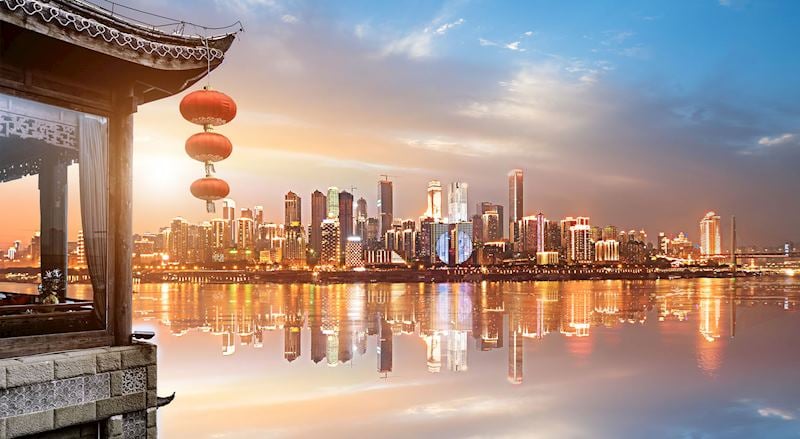 The best Yangtze cruises start in the city of Chongqing (a direct two-hour train from Chengdu, a 90-minute flight, or a direct five-hour train from Xian) and normally last for three days and four nights.
You voyage downstream to the city of Yichang and one of China's most controversial architectural projects, the Three Gorges Dam. Setting sail in the evening, when Chongqing's skyscrapers are often illuminated with psychedelic light shows, you cruise through the industrial sprawl of this large city mostly in the dark. By the time you wake, you're looking out onto countryside, low hills, and farming communities. The river is wide and the water often a murky light-brown shade; water levels are very changeable and you can track them by looking out for markers on the banks.
En route to the Three Gorges Dam at the city of Yichang (your endpoint), you can disembark at various historic or scenic points of interest (more on these later). Some experiences and guided trips are included in the price of your cruise, while others are optional. I've indicated which one I think is are worth paying the extra for.
Scenery-wise, don't go expecting the karst formations of the Li River in southern China. The scenery on the Yangtze is admittedly blander. But the landscape does ramp up in drama considerably on the third day, when you enter the cavernous Three Gorges — Qutang, Wu and Xiling — before arriving at the dam.
Life on board your Yangtze cruise vessel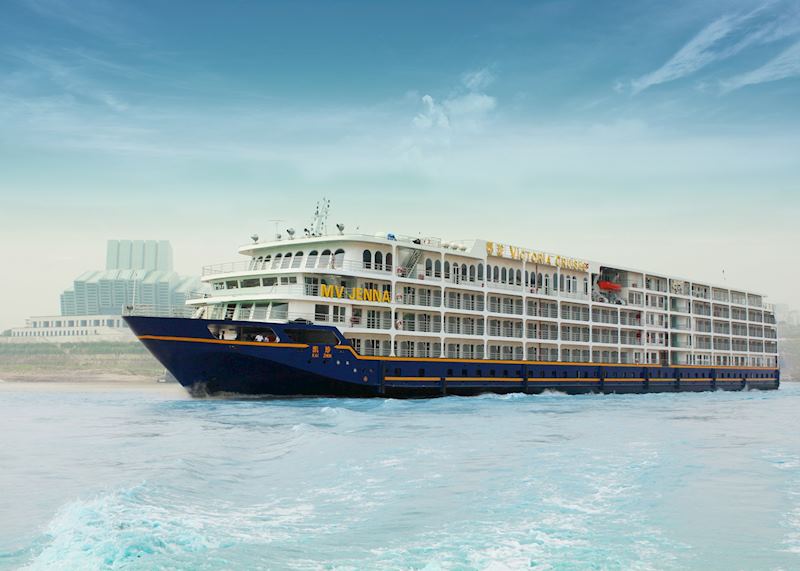 Riverboats operated by Victoria Cruises typically carry 200 to 400 people, while those of Sanctuary Cruises are smaller, with only 100 to 200 passengers, sometimes fewer.
Victoria's ships lack the amenities of larger cruise vessels (for example, there are no swimming pools and only a basic gym). But, having cruised on board the Li Anna, I still found it a very pleasant place to stay.
Each cabin has its own balcony and a TV with Western channels. Bathrooms are sizeable (by cruise ship standards), with space for a bathtub — showers are available on request. There's a large top-level viewing deck, where drinks are served when you set sail in the evenings.
Commentary is often provided on the riverbank sights (though it can be slightly difficult to hear at times), along with talks on topics such as Chinese herbal medicine and the geology of the Three Gorges region. I particularly liked a lecture on the place of the Yangtze in Chinese geography and history, including the great river's role in the Japanese occupation (such as how it was used to bring supplies into mainland China).
Other facilities include a games room (where you'll often find Chinese passengers playing mahjong). Meanwhile, on-board entertainment usually involves costumed dance performances in the evening. They're fun, if slightly gimmicky.
Food-wise, you can expect international cuisine and Western-style adaptations of Chinese dishes. Biscuits, snacks and tea and coffee are available in between mealtimes.
I can't fault how friendly the staff are, despite their sometimes imperfect English. The cruise directors have always particularly impressed me for the real effort they make to speak to every passenger individually, every evening. And, they remember everyone's names.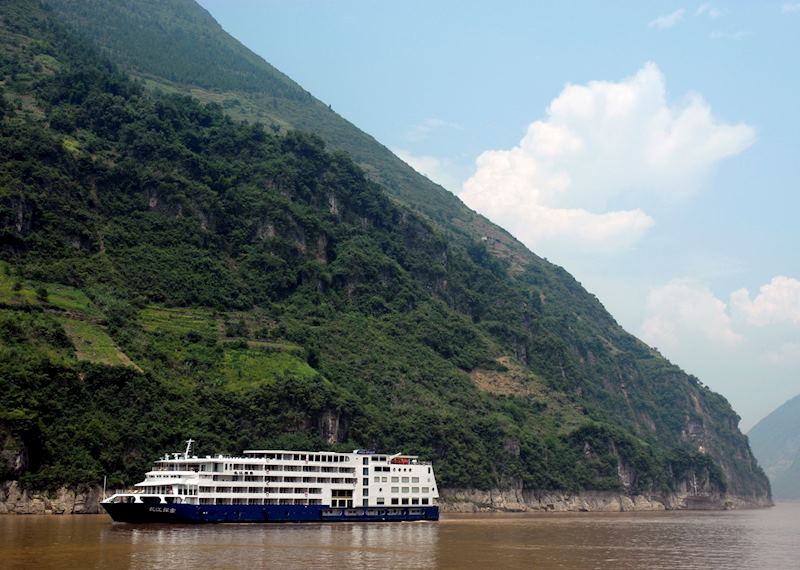 Vessels operated by Sanctuary — notably the Sanctuary Yangzi Explorer — offer a whole other level of service and on-board amenities and comforts.
The cabins are the most spacious of all the vessels plying the Yangtze, and are decorated with sleek, neutral shades and contemporary Chinese designs. They too include private balconies, and have floor-to-ceiling windows.
Facilities-wise, there's a roomy observation deck, a gym, a library, a spa and a large performance venue for evening entertainment. As with Victoria cruises, you can attend a series of lectures about the Yangtze's culture and history; alternatively, you could try your hand at Chinese cooking classes, mah-jong lessons, or calligraphy and silk embroidery workshops. Films are also screened on board.
There's more in the way of dining options than on board Victoria's ships, with 24-hour room service, afternoon tea, and à la carte dining as standard.
Additional experiences and trips are also offered as part of your Sanctuary cruise. They include an open-air, live action show that brings to life The Romance of the Three Kingdoms (a 14th-century Chinese novel) using special effects, 3D holograms, fireworks, and a lightshow.
Some highlights of cruising the Yangtze
The exact places you visit on your cruise will depend on your vessel, so here I've simply covered two experiences I particularly enjoyed and would recommend.
The Ghost City of Fengdu
On the morning of your first full day cruising, you'll have the option to visit this Taoist temple complex dedicated to the afterlife — and I do recommend paying the extra cost to see it. You first glimpse it from the river: the vast sculpted cuboid face of the 'ghost king' stares out from the side of Ming Mountain, on the northern banks of the Yangtze.
The complex's spiritual backstory — it's said to have been founded by two Han dynasty officials who achieved immortality through their devout Taoism — is slightly at odds with its somewhat eccentric, theme-park-like garishness. You ascend flights of steps to the topmost temple (there are 300 to 400 steps in total) while taking in timber gates, terraces filled with gurning, gargoyle-like stone statues, and shrines.
There's also a stately pavilion, whose name poetically translates to 'Last-Glance-at-Home Tower' — so-called because it's where the dead would allegedly take a last look back at their loved ones before entering the next life.
Statues of neon-bright, vaudevillian demonic figures and bureaucratic-looking 'judges' ogle at you as you progress to the upper levels of the complex. You'll pass frenzied, macabre tableaux of statuettes depicting souls in various processes of being tortured — their gruesome hell resembles Dante's Nine Circles.
The whole experience is a bit like walking through an extended haunted house. At points, your guide will usher you over bridges aiming to weigh and test your soul — I crossed one in a certain number of steps to achieve prosperity in life. Or so it was said.
At the topmost level, you're rewarded on a clear day with a view over the Yangtze and the surrounding hilly farmland. If the water level is low enough, you can even see where the original city of Fengdu stood before it was flooded to make way for the Three Gorges Dam project.
Shennv (Goddess) Stream and Shennong Stream boat trips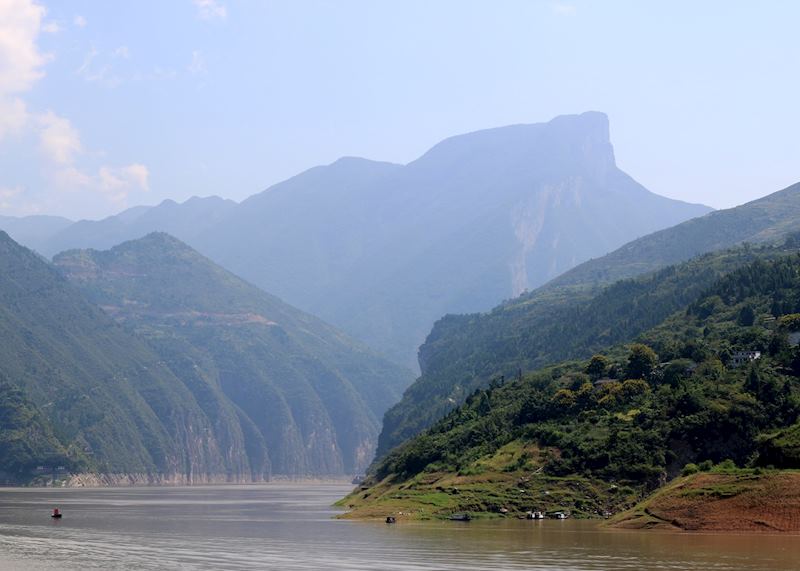 In the Three Gorges region, the river narrows, and you almost feel like you've entered fjords. Limestone rock faces rise sheer from the water, dwarfing your vessel, their sides a greenish mass of subtropical vegetation.
Sometimes, the gorges are blurred by clouds of low-hanging mist. And, in some areas, you'll see houses and buildings cantilevered out along the gorge sides, while staircases wiggle their way up the vertiginous slopes.
Whether on board a Sanctuary or Victoria cruise, you have the option of disembarking and taking a short boat trip up two streams, tributaries that snake their way through even narrower gorges. The water in these tributaries is generally a more photogenic teal-blue rather than the chocolate-mocha shade of the main river.
While these waterways can sometimes become busy with other boats ferrying large groups of mostly domestic visitors, these so-called 'lesser gorges' still impress. Their sides are so steep, and the vegetation so rampant, that at times you can barely see the sky. And, the sides become more precipitous the deeper into these gorges you go.
Shennong Stream is generally quieter than Shennv, and includes the option to travel on a traditional sampan boat rowed by local Tujia boatmen. Journeying into this stream takes you past riverside villages and 'hanging' wooden coffins lying on buttresses wedged into the cliff faces — a precarious burial spot believed to have been used by the Bo people. Scholars are still foxed as to how the coffins were placed here in the first place.
On the trips to the streams you'll also get a closer look at the immense concrete ballast of the Three Gorges Dam.
Making the most of your Yangtze cruise: do's and don'ts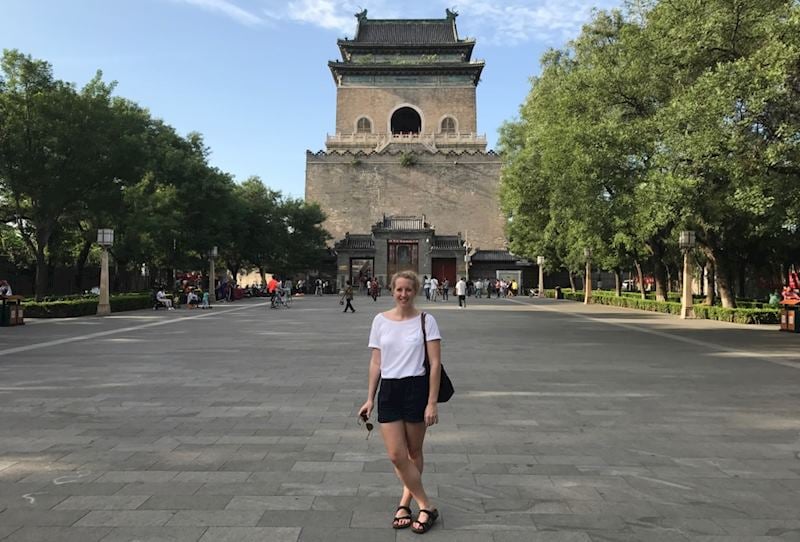 Do travel downstream: I think this routing works better, as you build up to the scenic climax of the Three Gorges on the third day.
Do eat dinner before you board in Chongqing, as it isn't included that first night. Your specialist can recommend the best places to try the local signature dish, a spicy hotpot.
If planning to cruise on board a Victoria vessel, do opt for the 'executive package'. This allows you to eat your meals

à

la carte in the ship's table-service restaurant, as opposed to the buffet restaurant, which can sometimes be busy with tour groups. Among the package's benefits (which your specialist will explain) are complimentary house wines or beers at dinner each night. Do make a note of mealtimes, as no food (apart from snacks) or room service is offered in-between, even if you've opted for the 'executive package'.
Do take into account your mobility when planning a trip: most vessels don't have elevators.
Don't worry about taking a trip to the White Emperor City on the morning of the third day on Victoria Cruise vessels: while impressive, this Tang dynasty temple complex overlooking Qutang Gorge doesn't really compare to Beijing's Forbidden City. If you've already seen the latter, I'd suggest skipping this outing and opting for a relaxed morning on board, possibly attending a lecture about the history of the Three Gorges, which you'll visit that same afternoon.
Don't be tempted to extend your cruise to Shanghai. Scenically, this section is nothing to write home about, and it's very long. It's best to fly direct to Shanghai from Yichang instead. You can also extend your journey to the more rural Guilin area via direct flights from Yichang.
In general, don't expect a detailed or nuanced commentary of the futuristic-looking (and rather smoggy) Three Gorges Dam, nor its complex loch that's capable of lifting entire cruise ships right over the structure. Though a guided tour is included in your cruise, I've found that the guides here are unremittingly positive about the dam's effects on their livelihood (many have been relocated) and won't elaborate any further.
Best time to cruise the Yangtze
Time your cruise for September-October, or April-May. Both these periods avoid the main Chinese public holidays and the large crowds of domestic visitors they inevitably bring. As a bonus, in October, the river water tends to become greener (it's often brownish at other times of year).
Trip ideas for cruising the Yangtze

Start thinking about your experience. These itineraries are simply suggestions for how you could enjoy some of the same experiences as our specialists. They're just for inspiration, because your trip will be created around your particular tastes.
View All Tours in China