In Spain and Portugal, you're almost always within reach of a vineyard. Wine tours and tastings give you an insight into the makings of wine, cava and port. But, there's also a strong sense of history and heritage to uncover.
Venture into cellars cut into the rock beneath medieval towns. Visit wineries and vineyards that have been passed down families for generations. Or, at harvest time, tread grapes to the sound of accordions.
Wine tasting in Spain's Rioja region

By Talia
Northeastern Spain's Rioja region has been producing wine for a thousand years. Its landscape of small hills and a patchwork of vineyards is surrounded by jagged mountain peaks. Dotted across it are medieval towns and villages literally built on the region's wine heritage (the ground is riddled with wine cellars dug into the stone).
I found that the people seemed to have an inherent knowledge and passion for wine. In towns such as Logroño and Laguardia — a medieval fortress-style village atop a hill — you can venture into any bar and, after the bartender has asked a few questions regarding your taste preferences, you'll be presented with a glass of wine tailored to your palate. You can often ask to see the wine cellar, taking winding stone-cut steps down to a cave-like treasure trove filled to the brim with bottles.
Wine and architecture at Hotel Marqués de Riscal
Exempt from the Moorish influences that swept over the south, Rioja has a more traditional northern European feel. Yet, there are several wineries and hotels that contradict this through their avant-garde architecture, none more so than Hotel Marqués de Riscal, a hotel, spa and winery half an hour northwest of Logroño.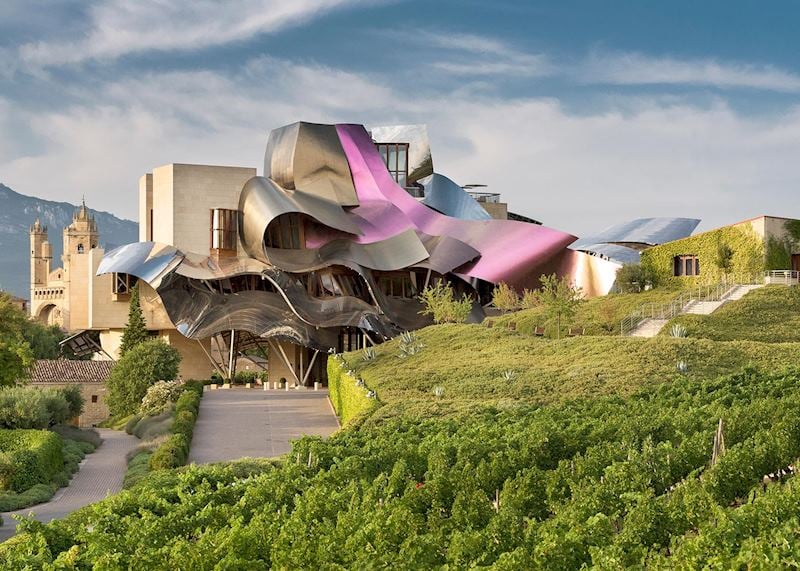 Designed by Canadian-American architect Frank Gehry (who's also responsible for the Guggenheim), the building's ribbon-like folds of purple, silver and gold — which represent the different aspects of a wine bottle — stand out starkly against the neat rows of vines that surround it.
You can take a group tour of the winery, following the journey of wine-making from vine to bottle. We started by visiting the fermenting rooms, filled with huge vats that aid the fermentation process.
We then moved on to the aging room, where oak barrels are stacked one on top of the other. Rioja is known for its oak-aging process, which gives its full-bodied tempranillo red wines their distinct taste. My guide explained that the barrels typically hold wine for four to eight years before they're bottled and stored in the cellar — our last stop. The size of the cellar was astounding, with eight million bottles lying in wait.
I finally got to taste some of the wine in the hotel's Michelin-starred restaurant, where you can dine on fresh seasonal dishes, prepared using ingredients sourced from the local area and the chef's own kitchen garden. My accompanying glass of red was fruity with hints of cinnamon and chocolate.
Cava tasting in Catalonia's Penedès
By Allan
Overlooked by the coastal hills of the Serra del Garraf, Penedès is one of Europe's oldest wine-producing areas. The landscape is constantly taking in salty sea air wafting over from the Mediterranean, which in turn affects the taste of the grapes and the resulting wine. While oak-aged reds are produced here, the region is best-known for its cava — a light sparkling wine that makes an excellent accompaniment to a sun-soaked lunch.
Because Penedès is on the outskirts of Barcelona, you'll find plenty of its wines in the city's bars and restaurants. But I also recommend heading out into the countryside to visit the vineyards for yourself.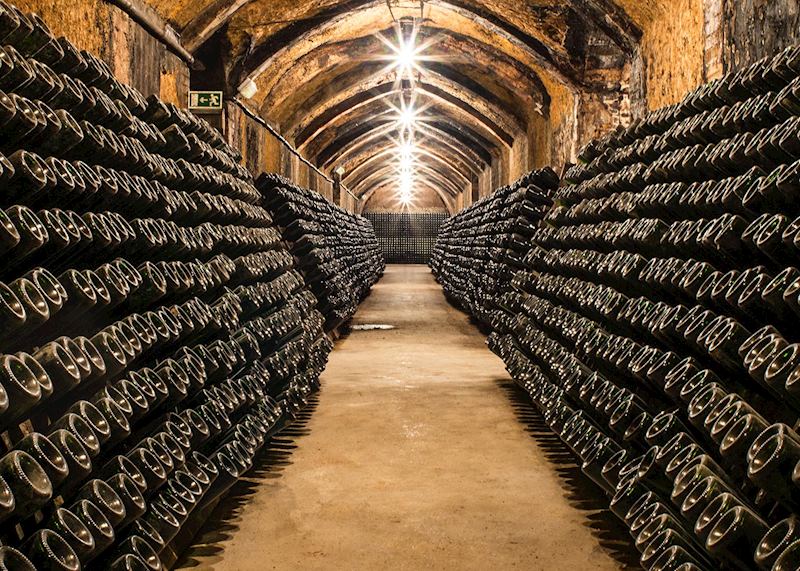 Picnic and wine tour at Llopart
I spent an afternoon at Llopart, a family-run winery dating to 1887. That morning, I'd made my way up the nearby mountain of Montserrat by railway and funicular, exploring its Benedictine monastery and abandoned hovels once lived in by reclusive monks. After hiking all the way down, I was ready to unwind.
Llopart was just the place. When I arrived, my guide, Cristina, showed me around the 19th-century farmhouse; home to the Llopart family for generations. Built of partially whitewashed local stone, it's topped with a terracotta roof typical of this region.
Your tour proper begins in the cellar, where antiquated electric lamps add a romantic touch to the historically charged building. Cristina poured me a glass of the winery's most emblematic cava, the Original Gran Reserva 1887. The liquid had just the right amount of fizz and left me with a refreshing aftertaste.
You're then driven out through surrounding fields to a spot overlooking Montserrat's serrated outline. There, a picnic table awaits, laden with fresh bread, cheeses, cured meats and chilled cava. From here, I was able to sit back and look at where I'd hiked earlier.
After lunch, your guide shows you around the property's oldest vineyard, La Vinya del Paulino, where some of the vines have been bearing fruit for almost 80 years. Then, it's time for another cava tasting in the property's modern facility, where you can learn about the cava-making process used by Llopart today. Cristina even uncorked one of the barrels so that I could take in the aroma of fermenting wine.
Sherry tasting in Andalusia

By Kevin
Like most Americans, I once dismissed sherry as an old-fashioned, overly sweet tipple sipped by grandmothers in their kitchens. But, in reality, sherry is an intense and sophisticated fortified wine with a history that dates back to the Phoenicians.
True sherry is only produced in a small patch of Andalusia known as the Sherry Triangle. Its corners are marked by a trio of towns: Jerez de la Frontera, Sanlúcar de Barrameda and El Puerto de Santa María. There, you'll find bodegas where vintners slowly age the wine in a series of barrels called a solera — new wine goes in the top and aged wine comes out the bottom. A well-aged sherry has been commingled with vintages that are likely over a century old.
This is a slow, complicated process, and it produces a complicated drink that you're meant to enjoy slowly, alongside food. Sherry types range from bone-dry fino, which has a salty bite that pairs well with fish, to oloroso, a deep, dark full-bodied wine that's best with strong foods like dark chocolate and braised beef.
I discovered all of this while touring Bodegas Tradicion in Jerez. Entering the cool, dark cellar, I was struck by the honey-sweet smell wafting off the time-blackened barrels, as if years of hot Andalusian sun had been reduced down to a thick, golden scent. The heady perfume translated directly to my palate, and I could taste notes of caramel, toffee and roasted nuts.
As I sipped, I paused to admire the art on the wall. As well as being a sherry bodega, the building also houses one of the largest private collections of works by Spanish artists in Andalusia. You'll see original works by Picasso, Goya, Zurbarán and Velázquez, among many others.
Port tasting in Porto and the Douro Valley
Portugal's Douro Valley is the third oldest protected wine region in the world. Here, along hillsides flanking the Douro River, vineyard upon vineyard of touriga nacional grapes are cultivated to produce port.
A port tasting tour at Graham's 1890 Lodge
By Geoff
Since the port trade was established in the 18th century, the wine has been stored in and shipped from Vila Nova de Gaia, a city just over the Douro River from Porto. You can visit some of the port cellars here to learn more about the port-making process and taste some of the different varieties produced.
Among the more prominent brands is Graham's Port. I visited Graham's 1890 Lodge, where port continues to be stored in large wooden barrels. The building and its cellars have been restored to look as they would have in the 19th century, with white stucco walls and a terracotta roof.
My tour began in the lodge's museum, where a long table displays items from the early days of Graham's. I particularly liked looking at the black-and-white photographs of vineyards and of port being shipped down the river.
Next, we entered the working cellars. The temperature is kept cool by thick granite walls and through workers pouring water onto the sandy floor. When we arrived, the sand had been freshly raked, reminding me of a Japanese Zen garden. Thousands of bottles of vintage port surrounded me, some gray with dust. 'This one dates back to the 19th century,' my guide said, as she lifted one up. The smell of aging wine had permeated the room over the years.
My guide explained the port-making process — unlike other wines, port is fortified by the addition of aguardente, a neutral grape spirit which stops the fermentation process to leave residual sugar, and increases the alcohol content. It's then stored and aged in oak barrels.
The tour ended with port tastings in The Vintage Room, which felt like an old study or library with its dark wooden furniture. You can look through large 19th-century log books used to record the quantities of port being exported. Being able to touch the pages of these old tomes and read the intricate calligraphy penned by someone over a century ago really gives you a tangible sense of the building's history.
I tried both ruby port, which is bright red and fruity, and tawny port, which has a darker, brownish-red hue and a sweeter caramel taste. You can hold drinks up against bright lights on the tables to see the differences more clearly.
Visiting the vineyards of the Douro Valley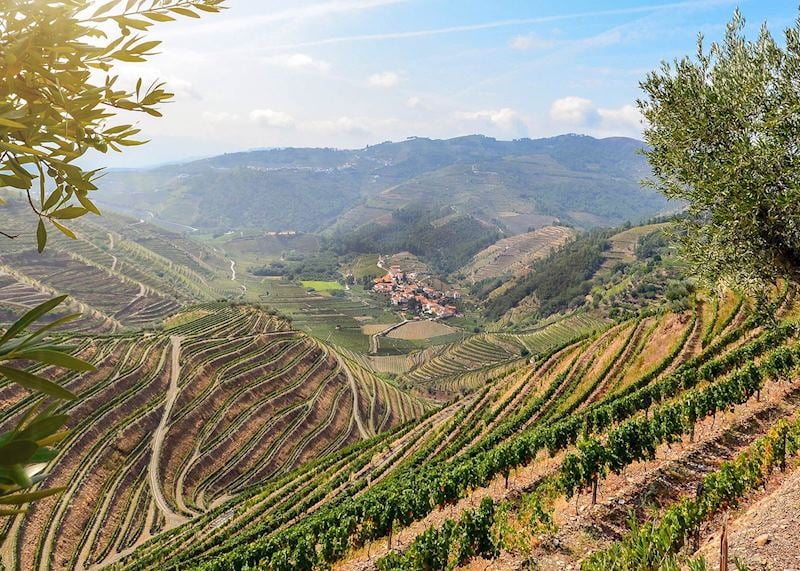 By Sarah
Arriving in the Douro Valley, what first captured my attention was the unusual terracing of the landscape, reminiscent of the rice fields of China or the terraced stone walls of Machu Picchu. Rows of vineyards are staggered down the hillsides, sloping down to the Douro River below, where gondola-style boats once used to transport wine to Porto slide past.
The whole area is protected from the cooler, damper climate seen along the coast by the Marao mountain range, which forms a natural barrier. On the Douro Valley side, conditions are warmer and drier, but the schist soil helps to hold in moisture, allowing row upon row of touriga nacional grape vines to thrive.
These grapes have been supplying Portugal's port trade for centuries, as well as producing wines ranging from light claret to rich oak-aged reds.
I particularly enjoyed visiting Quinta Nova, a winery, hotel and restaurant in the heart of the valley. The property is owned by the Amorim family, whose roots in the port industry stretch back generations having previously owned a cork business in Vila Nova de Gaia.

I sat down to a tapas lunch in its Conceitus Winery Restaurant. Tables are set on the terrace overlooking the valley and river, and dishes use fresh seasonal ingredients from the local area. Wines are paired with your meal, and if you select a vintage port, they'll uncork the bottle in the traditional way using hot tongs.
After lunch, I suggest touring the winery, which dates back to 1764. Your guide can show you the barrels room as well as the underground cellar, which is stacked high with bottles.
If you time your visit with harvest season (usually September or October), you can help pick the grapes by hand, filling your traditional basket with the fruit. Or, have a go at treading the grapes, soaking up the festival atmosphere as accordions play in the background.
Best time to visit Spain and Portugal's wine regions
The best weather is between April and June, or September and October. July and August can get very hot, particularly in the Douro Valley. Harvest typically falls in September or early October and is an exciting time to be on a vineyard, while later in October you can enjoy the dappled reds, brown, yellow and rusty orange foliage.
Read more about trips to Spain and Portugal

Start thinking about your experience. These itineraries are simply suggestions for how you could enjoy some of the same experiences as our specialists. They're just for inspiration, because your trip will be created around your particular tastes.
View All Tours in Europe