By Portugal specialist Kevin
Porto has a comfortably worn demeanor. Its buildings (many dressed in azulejo tiles) display just the right amount of crumbling grandeur. A happy jumble of architecture, from medieval to the Baroque Clérigos Tower, rubs shoulders as you view the city from across the Douro River, which empties into the Atlantic here.
It's very easy to talk just port (though I do start there), when you talk about Porto, but it isn't a one-trick pony. You can take in the city's atmosphere on foot with a guide or spend an afternoon drifting along the Douro River on a private catamaran. Then, visit the Douro Valley's vineyards to discover more about, you guessed it, port, and its origins.
Things to see and do in Porto
Port-tasting tours in Vila Nova de Gaia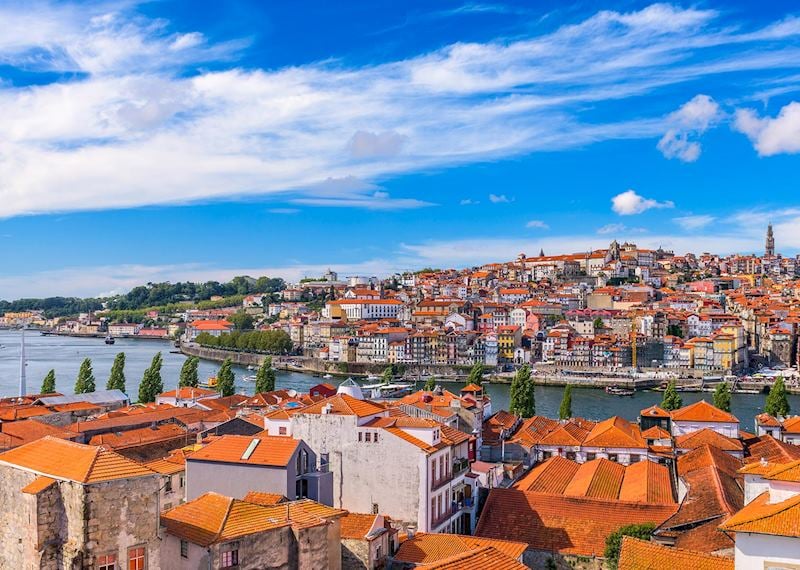 It would be a shame to visit Porto without trying the drink for which the city is renowned and named. While the vineyards that nurture the grapes are more than an hour east of the city, the port is aged and stored in cellars just across the river from Porto in Vila Nova de Gaia.
Set along the southern riverbank, the port cellars occupy old buildings that have been filled to the rafters with large barrels of port for centuries. You'll find all the best-known brands here, including Sandeman, Graham's and Taylor's.
I highly recommend taking a tour of one of these port cellars, which often have a front-of-house tasting area. Aside from seeing the port-making process and hearing the history behind this sweet, potent wine, you can try the different varieties for yourself.
The historic Ribeira district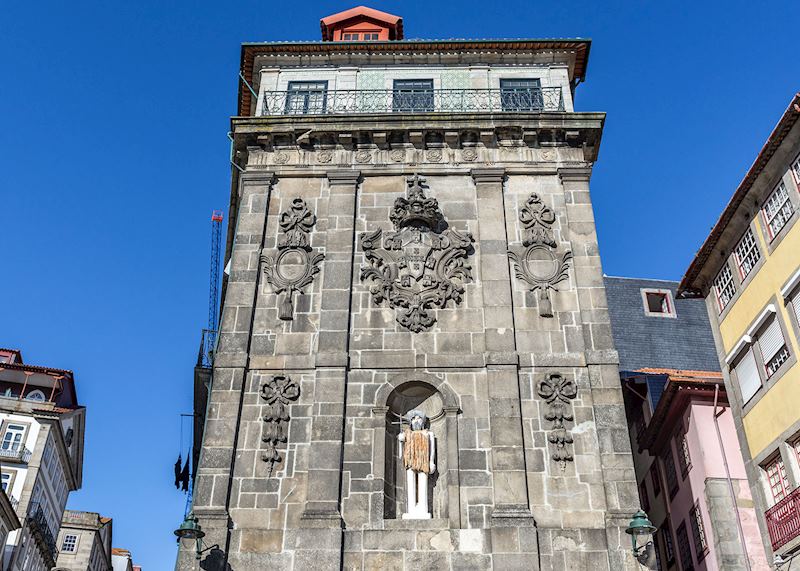 Most photographs of Porto show the city as you view it from across the river. Tall, rectangular buildings in pastel shades line up along the water's edge, and terracotta roofs gradually slope up the hill. This is the Ribeira district, where, years ago, goods shipped along the river were unloaded for transportation across the city.
I love strolling around this UNESCO World Heritage Site. Along the waterfront, people dine outside at seafood restaurants and drink from tascas (taverns) built into the wall, while street performers try to catch the attention of passers-by.
As you wander behind the first row of buildings, you enter a small maze of narrow, cobbled lanes connected by flights of steps that ascend the hill, where medieval townhouses seem to be leaning in to tell a secret.
Among these dimly lit lanes, you'll likely come across the Praça da Ribeira, Porto, a large public square that dates back to the Middle Ages. It's now a hub for nightlife thanks to the bars that line one side, but there's also an 18th-century granite fountain that rises three stories up the end of a building and features a statue of John the Baptist.
Elsewhere, you can admire the Gothic-style exterior and Baroque interior of the Igreja de São Francisco, a 15th-century church. Or, pay a visit to the former customs house, Casa do Infante, the supposed birthplace of Henry the Navigator in 1394. It's now a museum, displaying Roman mosaics discovered during excavations on the site.
Private walking tour of central Porto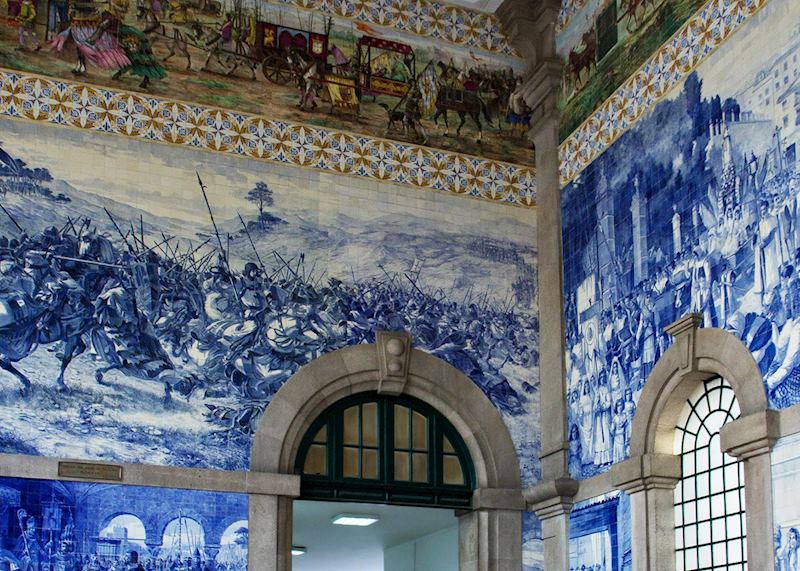 While hilly, Porto is a relatively walkable city, if you take a gentle pace. And, having a local guide accompany you puts everything you're seeing into context. As this tour is private, your guide can tailor it to your interests.
Among the places my guide took me was São Bento Railway Station: Porto's answer to Grand Central. Built in 1903, it's still a busy working station, but there's more to it than timetables and tracks.
While the Beaux-Arts building is grand from the outside, its true beauty lies within. The large vestibule is covered on three sides by blue-and-white hand-painted azulejos (Portuguese tiles). They join together as various Portuguese scenes, which your guide can help to decipher. Some show medieval battles, others depict rural life in northern Portugal's vineyards. Along the top of the walls, images record the evolution of transport from Roman chariots to steam trains.
It took 11 years for the artist, Jorge Colaço, to complete his work. I was amazed by the level of detail he achieved in each scene and stood gazing at the images for some time as people hurried past, dragging suitcases and checking their platform number.
Nearby, we stopped at Livraria Lello, a 19th-century bookshop. Its fantastical neo-Gothic design is said to have inspired J.K. Rowling's Flourish and Blotts bookstore in Harry Potter (she lived and worked as a language teacher in Porto for three years before penning the series).
Its stained glass, detailed friezes and decorative carved-wood-style ceiling capture your attention as you browse the shelves. But, the shop's main attraction is its curvaceous wooden staircase. Carpeted in plush red, it begins in the middle of the shop then splits off into two to wrap around itself and extend out into a walkway above the shoppers' heads.
A good place to end your tour is along Rua das Flores, one of the city's main shopping and dining streets. Here, you can sample some of Porto's culinary delicacies — your guide will know where to take you for the best pastries, port chocolates and freshly baked bread. They'll also point out the best places to eat during the rest of your stay.
The Douro River by private catamaran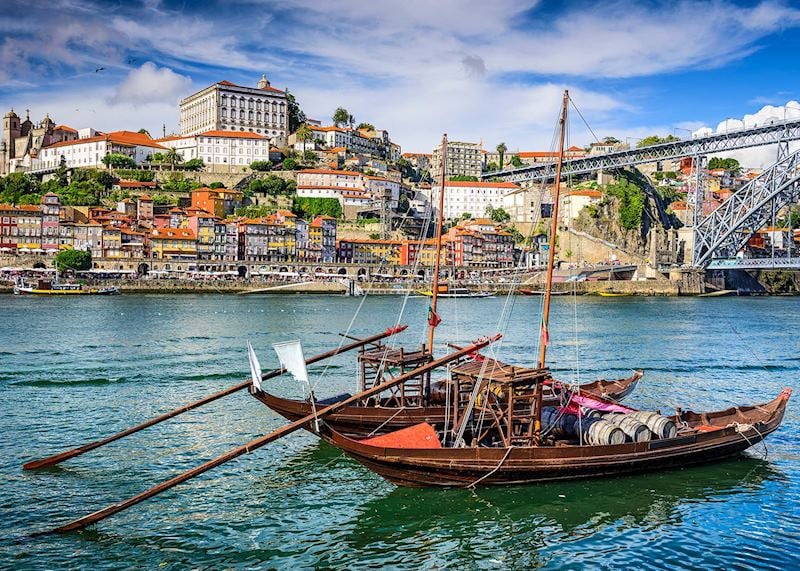 Porto looks its finest when you see it from across the water, away from the throng of the city. And, this river cruise has the distinction of carrying you along the Douro River in a privately chartered catamaran.
You board the sleek, modern vessel at the marina in Vila Nova de Gaia. The duration of the cruise is flexible; you might just want to spend an hour or two drifting past the city, or take the whole day to explore farther afield.
As you sit back, acoustic music plays in the background and the Ribeira's waterfront slides by. You might pass old wooden gondola-style boats along the banks, once used to convey port down the river from the Douro Valley. You'll also be able to see the cellars used to store port on the shores of Vila Nova de Gaia.
Your guide can tell you about the history and architecture of the six bridges that connect Porto to Vila Nova de Gaia, as you sail under them. Built between 1877 and 2002, each has a different design. My guide pointed out that the oldest, Ponte Maria Pia, was designed by Gustave Eiffel, a fact evidenced by the similarities in its airy steel structure to Eiffel's more famous architectural triumph.
Lunch can be included on board, comprising cold meats, cheeses, fresh bread, cinnamon cakes and, need I say it, port. You also have the option of cruising at sunset, when the water is tinged pink and the city emits a warm glow.
Spending time in the Douro Valley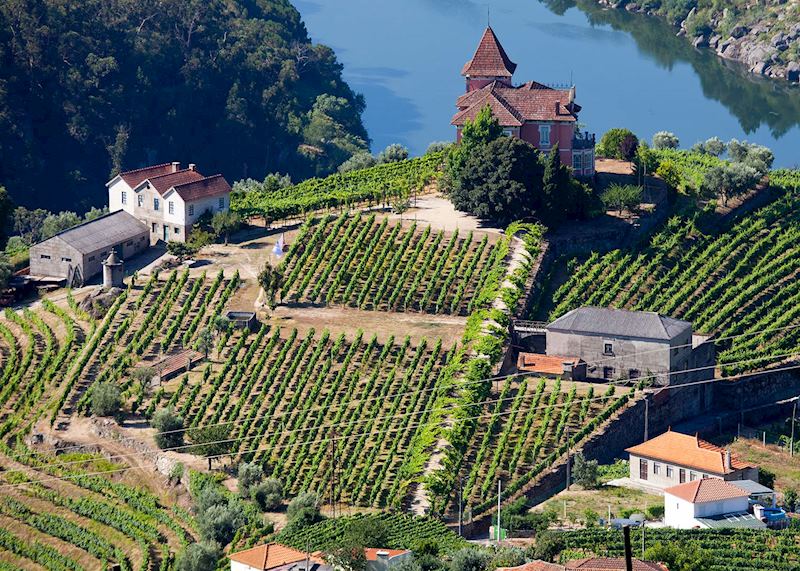 Whether you go for just a day or choose to spend a few days in the Douro Valley, it's well worth visiting the vineyards from where port originates. The vine-threaded countryside also makes a nice contrast to the fast-paced city.
Many quintas (wine estates) offer intimate tours, inviting you to see what goes into making the different varieties of port and other wines. Some also have high-quality restaurants, where you can enjoy lunch paired with local wines.
Elsewhere in the region, your driver can take you on scenic drives to see small rural towns and villages that have grown around the port trade. The riverside town of Pinhão, for example, still has a very traditional feel. Surrounded by terraced hills, its narrow streets are lined with rustic whitewashed houses topped by terracotta roofs.
A number of hotels have opened up in the town in recent years, as the vineyards attract visitors to the region. One of the main attractions of Pinhão, though, is embarking on a private river cruise from its banks.
Boarding your yacht or vintage cabin cruiser from the town's port, you float along the Douro at a gentle pace, passing rippling vine-covered hills and wine estates clinging to the steep riverbanks. You'll try local delicacies on board, such as dried cod and pão de ló (sponge cake) washed down with a glass of port.
If you prefer to dine on land, I recommend DOC, a riverside restaurant just outside Pinhão. You can sit out on the spacious deck overlooking the water while dining on expertly prepared regional dishes. The menu changes with the season, but might include the likes of Bísaro Pork, salt codfish with country cornbread and crispy suckling pig.
Set several bends in the river before Pinhão, the Six Senses Douro Valley's spa makes use of grapes picked from the valley's vineyards for some of its therapies. Situated in a 19th-century manor house, it has both an indoor and outdoor pool and ten treatment rooms.
Where to stay in Porto

Offering some of the best views in the city, the elegant Yeatman is perched on the hillside of Vila Nova de Gaia. All the rooms have panoramic views down to the river and across to the terraced rooftops of Porto. Boasting Porto's only double-Michelin-starred restaurant and a luxurious spa, the hotel also aims to promote awareness of Portuguese wines. As such, different wineries have been invited to lend their own style and design to each room, making it a real haven for oenophiles.
Read more about trips to Portugal

Start thinking about your experience. These itineraries are simply suggestions for how you could enjoy some of the same experiences as our specialists. They're just for inspiration, because your trip will be created around your particular tastes.
View All Tours in Portugal