Commonly found on Portuguese menus, a francesinha is something like an ambitious Monte Cristo sandwich. It stacks up several kinds of meat — often ham, linguiça sausage and steak — between two slabs of bread, smothered in broiled cheese sauce and topped with a tomato-beer sauce. This is classic Portuguese food — hearty meals that spotlight lots of meat, dried fish, cheese and potatoes, and served in generous portions.
That doesn't mean it's bland, though. Portugal once headed a world-spanning empire and its past glory lives on in dishes seasoned with piri-piri, saffron, paprika, cinnamon and black pepper. It's also a hotbed of culinary innovation attracting new chefs from former colonies who put an exciting edge on classic dishes.
The best dishes we've eaten on our travels in Portugal
Bacalhau
By Sarah
My father is a fishmonger in Manomet, a tiny New England town with a large Portuguese population. As a result, I grew up eating bacalhau, the dried and salted cod that's a staple of Portuguese cuisine. I've had it baked, flaked, boiled, fried and grilled, and I thought bacalhau held no surprises for me.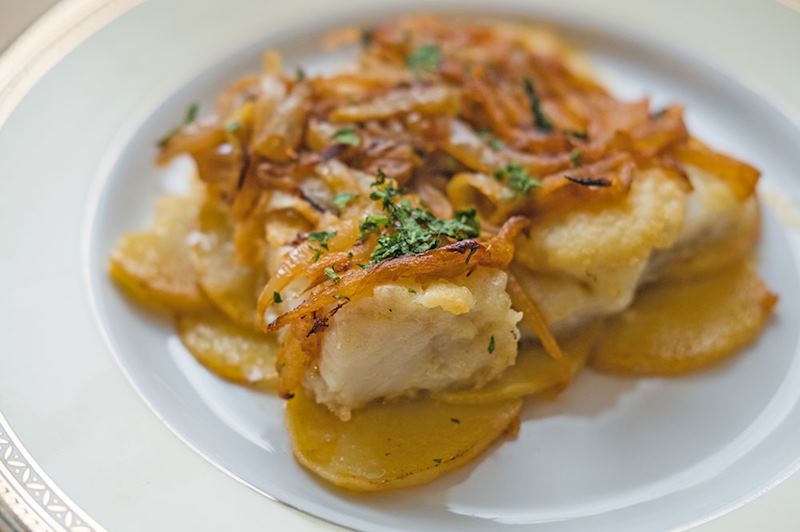 But, when I visited Portugal for the first time, I bought a piece of bacalhau that had been marinated in spiced vinegar, breaded and fried, then served in a paper pouch. Though it was years ago, I still remember that first bite vividly: the smoky, earthy undertone of the paprika, the citrusy zing of the vinegar, the delicate crust and the steamy, briny fish. It was unlike anything I'd tasted before.
If you're unfamiliar with salt cod, it may come as a surprise to see planks of white fish for sale everywhere across the Iberian Peninsula. Bacalhau is popular in both Portugal and Spain (where it's usually spelled without the 'h').
Originally dried and salted purely for preservation on the long journey back from the waters of the far north Atlantic, it's now a beloved local delicacy that many (myself included) prefer to fresh cod. The drying process adds some chew and texture to the delicate flesh, and turns up the mild taste.
To reconstitute the fish, a cook must soak it for a day and a half, changing the water every few hours. Once it's thoroughly soaked, it can be used in hearty stews or rich casseroles, or grilled simply, served with lemon juice.
Cataplana
By Allan
Clams in cataplana is more than a meal — it's an event. Friends gather at houses to spend long, leisurely afternoons preparing this robust seafood stew, a signature of the Algarve.
Named after its clam-shaped cooking vessel, cataplana is a versatile meal that takes advantage of whatever is fresh at the market that day.
In Faro, you can take a cataplana cooking class that begins, of course, in the market. It's a small, covered market where the fishmonger offers a bewildering array of species — glistening fish fillets, lobsters and crabs, and long, narrow razor clams. The chef who was running the class seemed to pick up a little bit at every booth — nearly a dozen species made it into our final dish.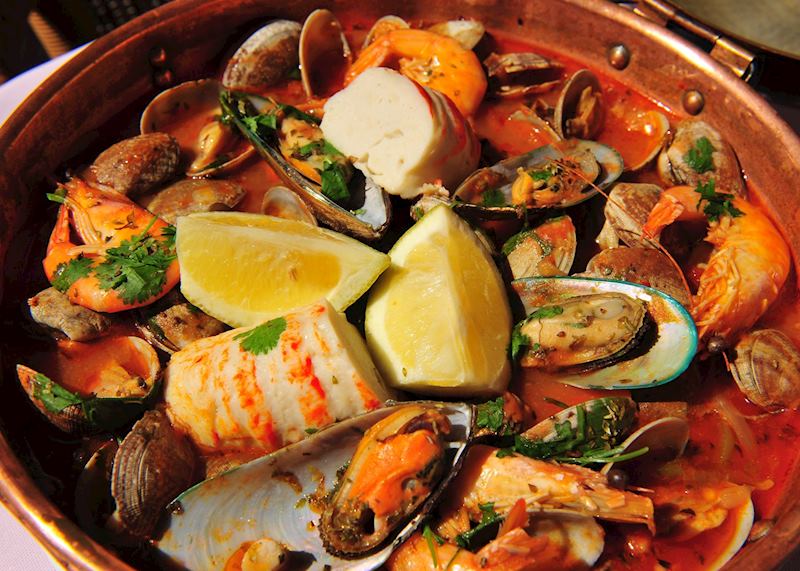 Back at the kitchen, we assembled the base of the stew with olive oil, tomatoes, wine, garlic and vegetables. Next, we added the seafood, crafting an assemblage that looks like a still-life painting, especially with the razor clams and massive shrimp (gambas) sticking up from the bubbling broth.
Once we had everything simmering, the chef clamped the lid closed (the stew doesn't take long to cook). When I swung open the top 'shell' of the pan, I was hit with the briny smell of the stew. I dipped a spoon in and took a quick taste — the deep-coral broth was redolent with garlic, tomatoes and the sea-breeze scent of clams steamed until they were just cooked through.
Pastel de Nata (custard tarts)
By Sarah
It's strange but true: laundry led to the best-known pastry in Belém, the pastel de nata. In the 18th century, egg whites were used to starch clothing, especially nuns' habits. Left with a glut of yolks, the frugal monks at the Jerónimos Monastery created small tarts filled with a rich, eggy custard.
When the religious orders were dissolved in Portugal's 1820 Liberal Revolution, resourceful (or desperate) brothers sold the recipe to a nearby sugar refinery. The same family uses the same recipe today, producing tarts by the hundreds each day at the same Belém shop, known for its blue-and-white awning and big crowds.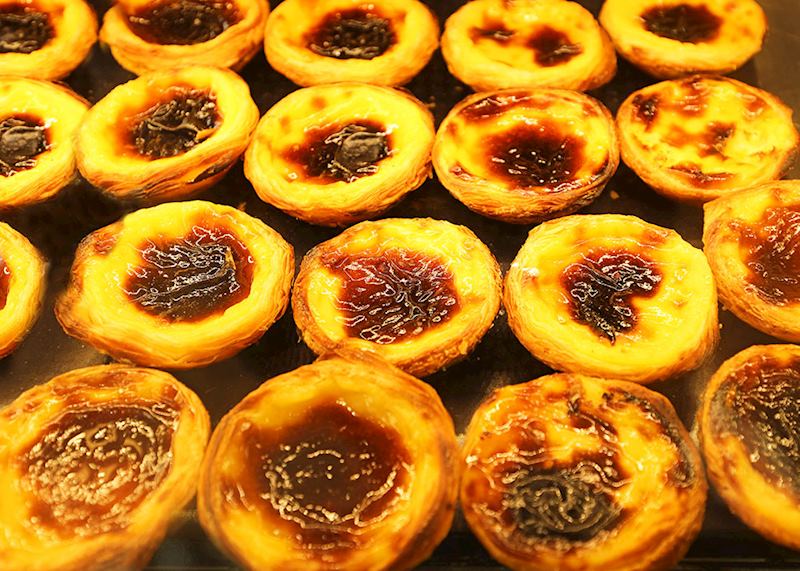 I suggest a visit here, if only for the historical significance. Slip past the long line outside, which is for takeout orders, and grab a seat inside. Whether you have them with a glass of port or a cup of coffee, the tarts are a delightful indulgence. Flaky pastry cradles rich and tender custard and a brûléed top, the sugar melted to a blistered bittersweet crust.
Though it's heretical to admit it, I prefer the tarts at Manteigaria, a small shop on the Rua do Loreto in Lisbon. The long line moves quickly, helped along by the brisk pace of staff and customers. Without a sugar refinery heritage, the filling is less sweet. This gives room to appreciate the flaky, shatteringly light pastry and the complex vanilla notes that are formed by the brûléed top. What's more, tarts are usually served warm, thanks to the quick turnover, and a warm tart is a revelation.
Alheira
By Jess
Gracing menus across Portugal, alheiras are more than just a hot, fried sausage made from poultry or game. They're a culinary window into a tragic facet of the country's past.
When the Inquisition came to Portugal, local Jews (many already refugees from Spain) were forced to convert to Catholicism or flee for their lives. Many of those who stayed — called conversos — kept their faith alive in secret. It was a potentially deadly practice in an era when tens of thousands of suspected Jews were forced to do public penance or burned alive in Lisbon's Rossio Square.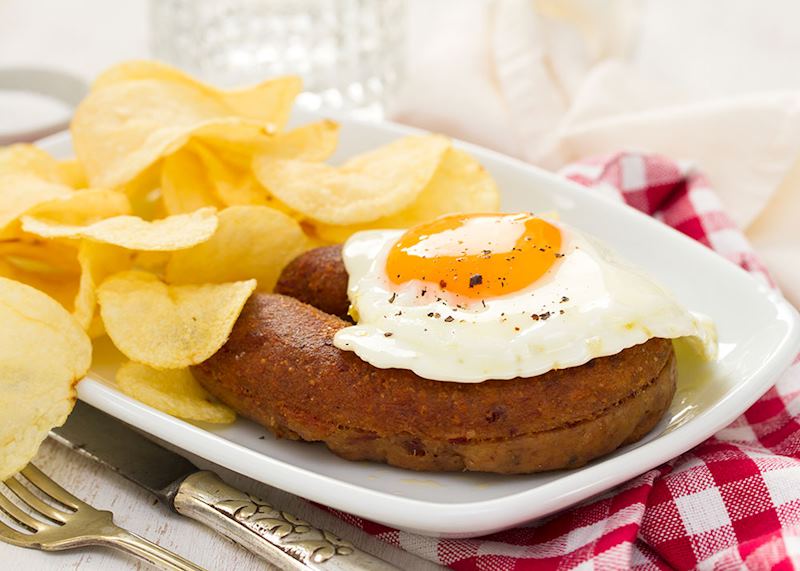 These secret Jews had to go to extraordinary lengths to conceal their religion, and their dietary restrictions could catch them out. A family who didn't hang sausages in their kitchen or smokehouse was suspect, so conversos created sausages made from veal, poultry or game, substituting pork fat with bread. The camouflage worked — one community in Belmonte observed their faith secretly for almost five centuries.
Today, the ample bready sausage isn't just limited to poultry and game — you can find alheiras stuffed with bacalhau, beans and even pork. You'll encounter them in almost any traditional Portuguese restaurant.
Though it can be baked or grilled, an alheira is most often served fried with a side of rice and a fried egg. It's not fancy but it's juicy and filling — the country's definitive comfort food.
Caldo verde
By Kevin
On a rainy spring day, there's little more soothing (to me, at least) than caldo verde — Portugal's traditional potato and cabbage soup, which is gently spiced with chorizo. Made with inexpensive staples, it began as peasant food but evolved into a well-loved dish.
Though you can eat it at many restaurants, caldo verde's humble origins mean it's really best when cooked in a home kitchen, and you can take a cooking class at a small 500-year-old family estate about an hour outside Porto.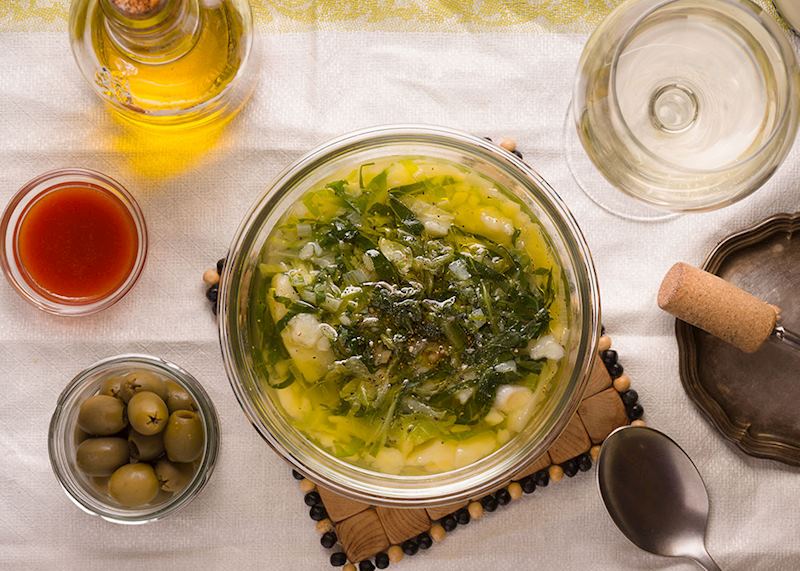 Ana, the estate owner, greeted me warmly and invited me into the cozy kitchen with its bright-red cabinets and sunny rooster motif. Here, she introduced me to Rosa, a professional chef and my caldo verde instructor.
After I'd chopped the potatoes, Rosa showed me how to roll the cabbage leaves into a tight cylinder and then pare off pale-green slivers, creating a chiffonade. She worked in the air over the pot, where the delicate shreds uncoiled before drifting gently into the chicken broth below.
A novice with a knife, I'll admit that my cuts were much less refined than Rosa's. I had more luck cutting the pepper-red chorizo into a few tidy rounds, which I added to the soup as it simmered away on a wood-fired stove. As it cooked, we made other simple country dishes, like chicken pie.
Everything done, Ana settled me into the stone-walled dining room with a big bowl of my caldo verde. The diced potatoes had thickened the silky, slightly salty broth, and all of the cabbage had wilted and absorbed the meaty taste of the chorizo. All of it was slicked with a shimmer of green olive oil, adding a fruity richness to the fairly lean soup. It went down in a smooth swallow that warmed me through.
Bolos de São Gonçalo
By Sarah
Pastry shops in Amarante are not for those with modest sensibilities. This small, conservative town to the north of the Douro is the home of Saint Gonçalo, the patron saint dedicated to love, marriage and fertility. Women who want a husband or a child — or husbands who have 'taken a detour' from their marriage — make a pilgrimage to his 12th-century stone church in the center Amarante, especially during the saint's festivals in early June and January.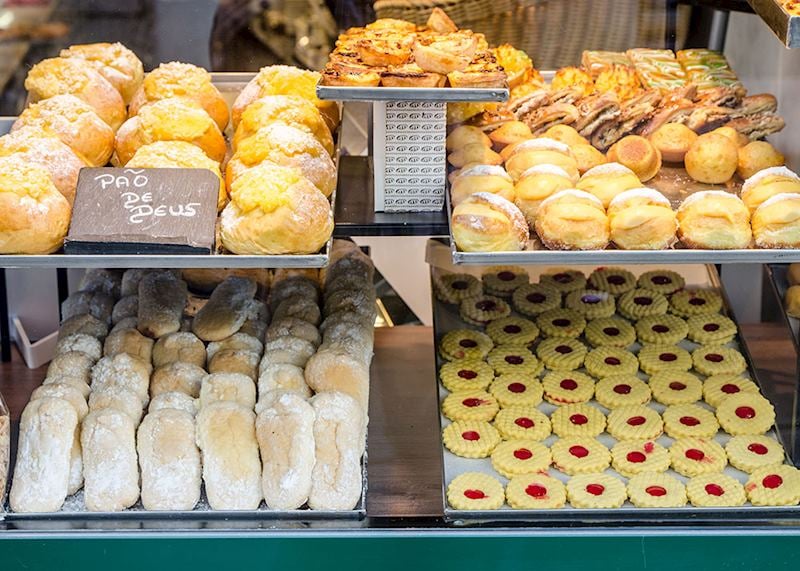 As part of this ritual, supplicants and visitors alike are encouraged to eat the town's signature treat, bolos de São Gonçalo. Frankly anatomical in shape, these phallic pastries are custard filled and covered in a white glaze. Locals exchange them as (unsubtle) tokens of affection.
On a recent visit during the June festival, I discovered you can also find simpler, two-dimensional versions during the festivals, which more closely resemble palmiers — coils of pastry at the bottom and a long, straight shaft above. These are sometimes flung from rooftops to festivalgoers below and as I left town, I found myself humming a well-known song by the Weather Girls.
Read more about trips to Portugal

Start thinking about your experience. These itineraries are simply suggestions for how you could enjoy some of the same experiences as our specialists. They're just for inspiration, because your trip will be created around your particular tastes.
View All Tours in Portugal