By Portugal specialist Geoff
As soon as you arrive in Portugal's capital, you notice how visible its history is in its wide avenues and tile-covered buildings. One of the continent's oldest cities, Lisbon has by no means stood unchanged. Over the centuries, both natural and political events have forced it to reinvent itself several times.
As you explore, you'll uncover evidence of the city's renewal, from Alfama's Moorish influences to the imaginative murals emblazoned on buildings, some left over from Portugal's 40-year dictatorship. But, perhaps the best way to understand the city's identity is by listening to its residents perform fado — a genre of music that's at once moving and uplifting.
Things to see and do in Lisbon
Historic Alfama and Castelo de São Jorge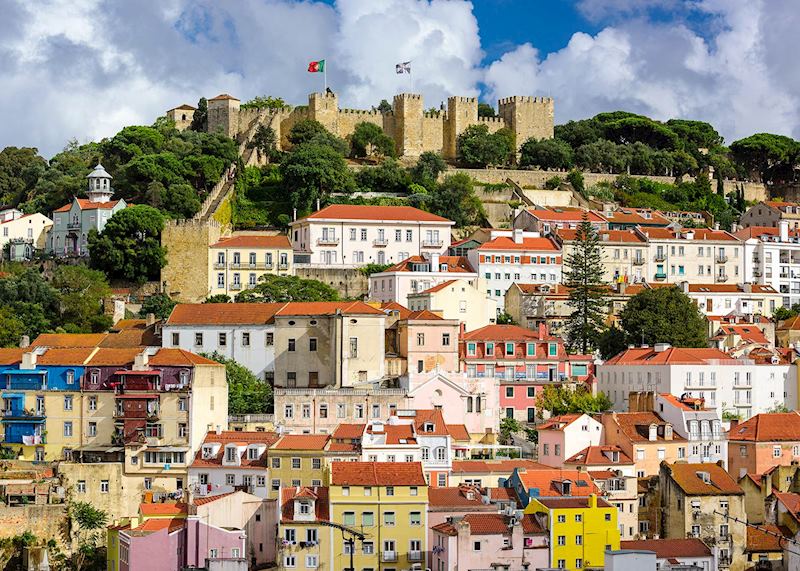 Alfama's Arabic name (from 'al-hamma', meaning 'hot spring') is a clue to its history and character. Moorish influences are everywhere here, and the district's crooked cobbled streets, narrow and lined with buildings covered in azulejos (decorative tiles) reminded me of a Moroccan medina.
As you stroll around, you'll pass cafés overflowing with locals. Graffiti erupts over the sides of derelict buildings, injecting them with life. Laundry hangs from windows, flickering gently in the breeze. And it somehow feels quieter than the rest of Lisbon, where the wide, open streets reverberate with noise.
Castelo de São Jorge
Alfama is undoubtedly hilly, but where there's a hill there's a view. Perched at its highest point is the Castelo de São Jorge. Built in the 11th century, the Moorish castle's golden-stone walls and towers command a view over the rest of the city and the Tagus River. Head up there in the evening and you can buy a drink from one of the small kiosks to enjoy as the sun sets over the city.
After walking along the top of the walls, you can sit in the leafy gardens outside the café, where squawking peacocks roam. Exhibits inside the castle tell you its history, including its role in defending the city from attack during wars between Arabs, Christians and Berbers. An archaeological site within the castle's walls unmasks foundations dating to the 7th century and the later Moorish era.
Getting to the castle is a steep walk, passing Lisbon Cathedral (known locally as the Sé), a 12th-century Romanesque cathedral built on the site of a mosque (free to enter). You can ride the E28 tram some of the way, disembarking at the Portas do Sol stop before the uphill walk to the castle gate.
Baixa and Praça do Comércio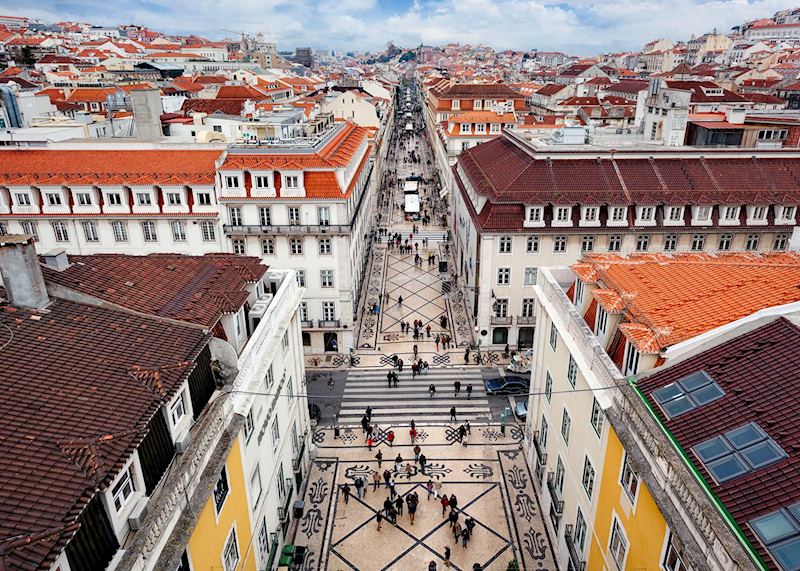 The equivalent of Lisbon's downtown, Baixa (meaning 'low') lies immediately beside the river. It was here the 1755 earthquake most devastated the city. As buildings crumbled to the ground, including churches filled with people celebrating All Saints' Day, residents fled to the Praça do Comércio (the city's main square). Then, a tsunami hit, swilling over much of the area and creating a breeding ground for disease that kept the death toll high for several weeks. It's thought that up to 100,000 people died.
What I find most interesting about exploring Baixa is its layout. Following the disaster, it became one of the earliest urban areas in Europe to have a planned layout, overseen by the Marquis de Pombal. You'll find wide streets that allow for plenty of space and natural light, as well as earthquake-resistant Pombaline buildings.
Despite its traumatic past, Baixa is a place of music and light-hearted street performances. As you walk along the black-and-white-tiled avenues, you can browse shops and dip into cafés serving freshly baked pastéis de nata (a creamy egg tart sprinkled with sugar and cinnamon).
Walking tour of central Lisbon
This guided walk will help you get to grips with this area proper. Your local guide (who meets you at your hotel) will tell you more about the earthquake and its impacts. They'll also point out buildings and monuments that reflect the city's past. As you stroll through the streets that fan out from the Praça do Comércio, you can also try local delicacies, including ginginha — a sweet cherry liqueur.
The tour route varies and your guide can tailor it to your interests, but it usually takes you beyond Baixa to Bairro Alto and Chiado to the west.
Bairro Alto and Chiado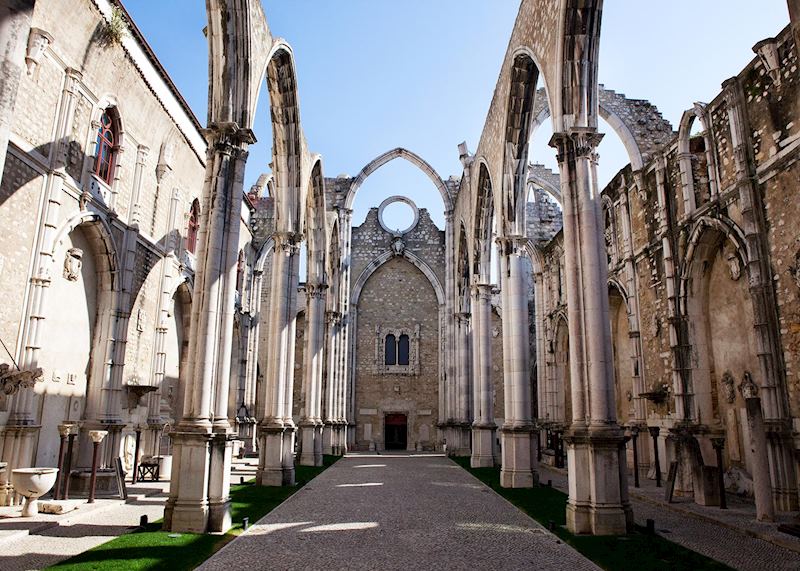 If Alfama and Baixa reflect Lisbon's history, then Bairro Alto and Chiado demonstrate the lively modern-day city. Chiado is an elegant district known for its high-end shops, cafés and theaters, and often compared to Paris's Montmartre. While here, you can also visit the ruins of a 15th-century convent, Convento do Carmo, which was severely damaged by the earthquake. Left open to the elements, it's a haunting reminder of the catastrophe.
In Bairro Alto, the architecture still echoes the past. But, at night, its squares fill with locals and visitors clutching cocktails. Music from bars spills into the streets, and people dine alfresco on fresh cod as the sun sets.
An evening of fado in Bairro Alto
A type of Portuguese folk music, fado is full of naked passion and saudade (a feeling of yearning nostalgia) that's very specific to Portugal and Brazil. Many bars and restaurants throughout Lisbon, and in particular Bairro Alto, host live fado performances where melancholic female voices mix with the delicate plucking of acoustic guitars.
I'd encourage you to spend at least one evening in the company of fado. We can arrange for a driver to drop you off at one of Bairro Alto's best restaurants for fado. It was one of the best experiences I've had in Lisbon — as you sit and listen to each drawn-out note and see the emotion on the singer's face, you really feel like you've caught hold of the city's culture and history.
Riding Lisbon's trams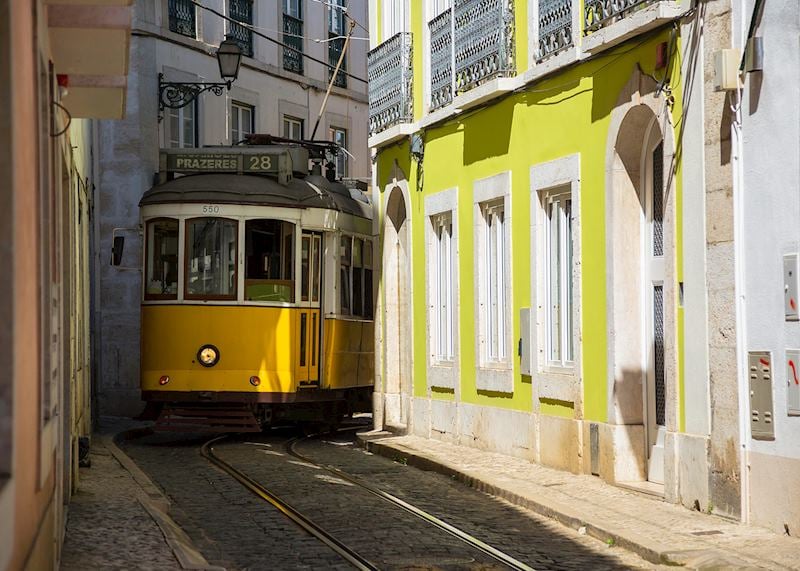 Lisbon's distinctive tram network has been in operation since 1873 (though there are now just six lines compared with 27 at its peak). It's difficult to find a picture of Lisbon that doesn't feature one of its mustard-yellow trams.
While route E15's trams (which run between Baixa and the district of Belém) now have a modern design, the rest have kept the original character of the early trams. They reminded me of those in San Francisco. Rattling your way up and down the city's winding hills on one of the traditional open-sided 'remodelado' trams also gives you a true sense of Lisbon's size, and its steepness.
As is the case in San Francisco, you'll often find yourself waiting in long lines to board one of these old-fashioned trams. It's best to ride them early in the morning or late in the afternoon to avoid peak crowds. Information boards at each stop estimate the arrival time for the next tram.
While many guidebooks will tell you to take the 28 tram, which links many of the city's key monuments, we've unfortunately found this to be a bit of a tourist trap, with lines of often over an hour to board at the start and end of the route.
Almost all of the city's trams will take you up and down vertiginous hills, winding through a labyrinth of streets, so I recommend buying a metro pass for the day and picking whatever route runs closest to where you're heading. You'll still get amazing views of the city — hopefully without such a long wait.
Where to stay in Lisbon

The Santiago de Alfama is an intimate boutique hotel housed in a 15th-century former palace. Its small size equates to a more personal service than you'd find in some of the city's larger options, and hand-selected furnishings throughout give the property its own character. You're also situated in the heart of Alfama, close to many restaurants, cafés and fado bars.
Read more about trips to Portugal

Start thinking about your experience. These itineraries are simply suggestions for how you could enjoy some of the same experiences as our specialists. They're just for inspiration, because your trip will be created around your particular tastes.
View All Tours in Portugal