By Spain and Portugal specialist Talia
Two thousand years of history, some of the world's best modern architecture and one of Europe's oldest protected wine regions — Spain and Portugal offer you a dizzying array of experiences, both geographically and culturally.
This grand tour takes in many of the Iberian Peninsula's well-known highlights, including flamenco, Moorish history and Gaudí's architecture. But, it also includes quieter moments, like strolling in leafy Retiro Park or nibbling a custard tart. For me, these moments let you glimpse the true soul of Spain and Portugal.
What to do and see in Barcelona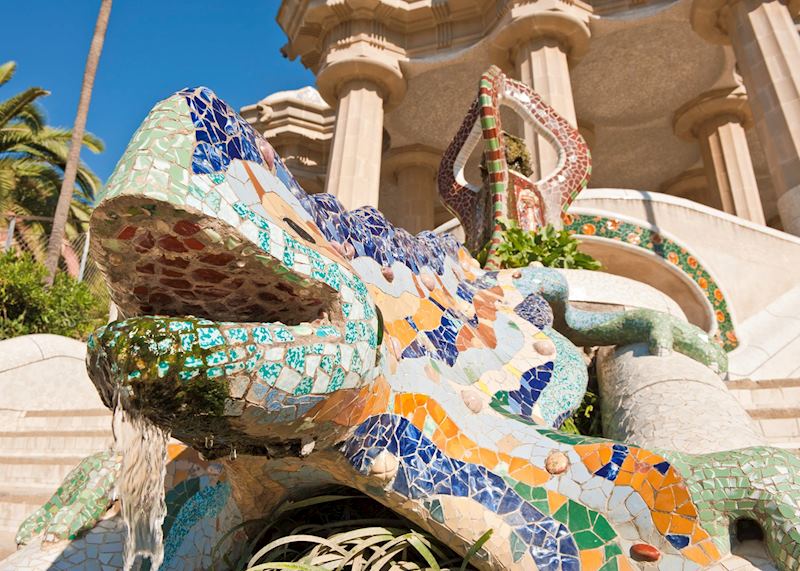 The vision of Antoni Gaudí defines Barcelona in much the same way that Christopher Wren defined London or Baron Haussmann defined Paris.
His greatest work by any measure is the Sagrada Família. The still-unfinished Catholic church is technically a minor basilica, but in scale it's grander than many European cathedrals. It holds up to 13,000 worshipers and the central steeple soars 170 m (558 ft) high.
Gaudí's liquid, organic style is reflected in all aspects of the church. A jungle of pillars supports the soaring ceiling, each branching and merging into a web that evokes the canopy of a dense forest, or perhaps an underwater garden.
Aside from the Sagrada Família, Gaudí's best-known work is the fanciful Park Güell. The entrance is guarded by a water-spouting lizard, its sides striped by lines of orange, cobalt and teal tiles. The undulating cement bench is actually comfortable to sit on, a testament to Gaudí's mastery of organic shapes and his obsessive attention to detail.
The medieval lanes of the Cuitat Vella (Old City) offer you a sharp contrast to Gaudí's Art-Nouveau-run-amok style. In these densely packed, narrow streets, you'll find Roman ruins and the city's Gothic cathedral, as well as small shops and plazas where you can pause for tapas and a drink. Much of this area is barred to cars, lending it to a bicycle tour of the different barrios, including the Gothic and Jewish quarters.
What to do and see in Madrid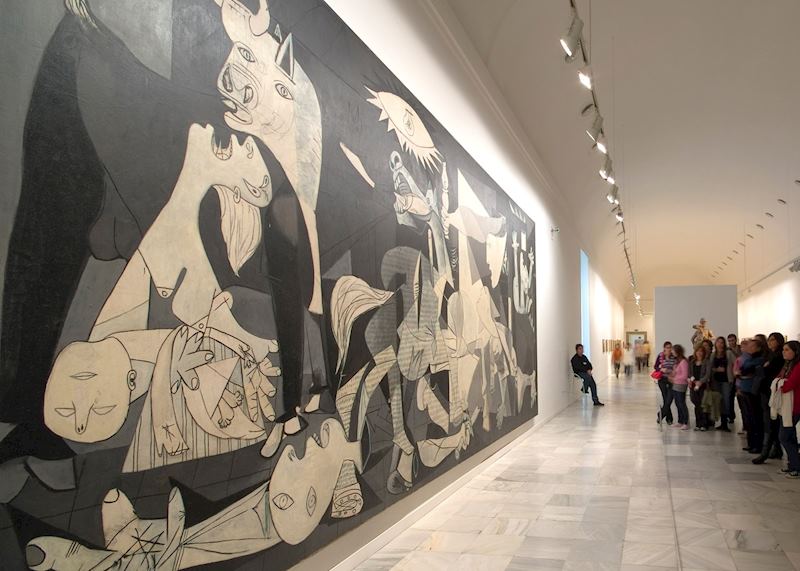 If Gaudí defines Barcelona, the Spanish Bourbons define Madrid. The 18th-century dynasty gave the city its boulevards, ostentatious royal palace and national museum, the Museo Nacional del Prado.
The Prado's stately façade boasts neoclassical sculptures and marble columns all along its spreading wings. But, the exterior pales beside the enormous collection that hangs inside. You'll find renowned pieces by Spain's greatest classical artists, including Goya, Velázquez and Zurbarán, as well as a huge complement of Italian works.
But, for me, the most arresting piece of all is by a Dutchman: The Garden of Earthly Delights by Hieronymus Bosch. I find something compelling about the darkly riotous triptych — there's always a new detail to spot.
The Prado is one point on the so-called golden triangle, which also includes the Museo Nacional Centro de Arte Reina Sofía, famous for housing Picasso's Guernica, and the Thyssen-Bornemisza Museum, one of Europe's most comprehensive private galleries.
To the east of the triangle, you'll find El Retiro Park, a one-time royal hunting ground that's been converted into a giant green space complete with fountains, statues, a boating pond and a formal rose garden. I like to stroll under the leafy trees or visit the soaring Crystal Palace, a glittering glass house that was built for the 1887 Exposition of the Philippines.
Nearby, the Palacio Real is still a working royal palace. Outrageously massive and absurdly opulent, its rococo excesses include 2,800 rooms, 215 clocks and countless miles of silk, damask and velvet.
What to do and see in Seville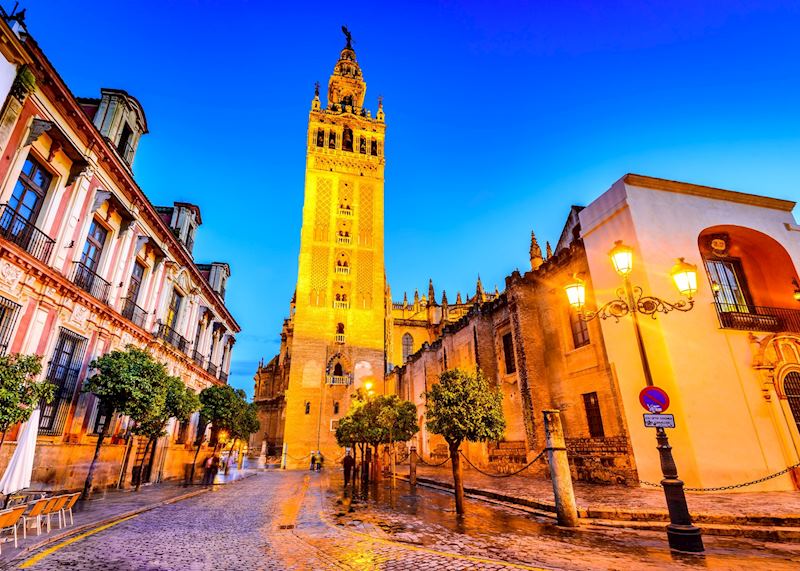 In the southwest of the country, Seville reflects Spain's melange of cultures. Christian kings, Moorish caliphs and Romany clans have all contributed to the city's multifaceted culture.
Perhaps the best representation of this sometimes imperfect blending is Seville's cathedral, whose bell tower was once a Moorish-era minaret. It's known as the Giralda, and you can climb up the ramp inside (intended for the muezzin's mule) to get a view of the tiled roofs and medina-like streets of the city.
Seville's Triana district is considered the birthplace of flamenco, the flamboyantly passionate art form of the city's Roma people who lived here. I attended an intimate performance at the Museo del Baile Flamenco (Flamenco Museum).
Two women in ruffled skirts and a man in a tightly fitted jacket stamped out a staccato beat to the wailing songs of an older woman wearing a black fringed shawl and dramatic swooshes of black eyeliner. Her powerful whiskey voice filled the space with honeyed songs of love and loss as the dancers flirted and whirled on stage, close enough that their shawls sent a breeze past my face.
Outside flamenco, the city's most interesting attraction is probably the Real Alcazár, where Mudéjar architecture seamlessly blends Christian and Moorish elements. The design is discernibly Moorish, but the usually abstract shapes feature angels and other Christian iconography. You'll also find an abundance of water features — Game of Thrones has filmed many scenes here.
What to do and see in Granada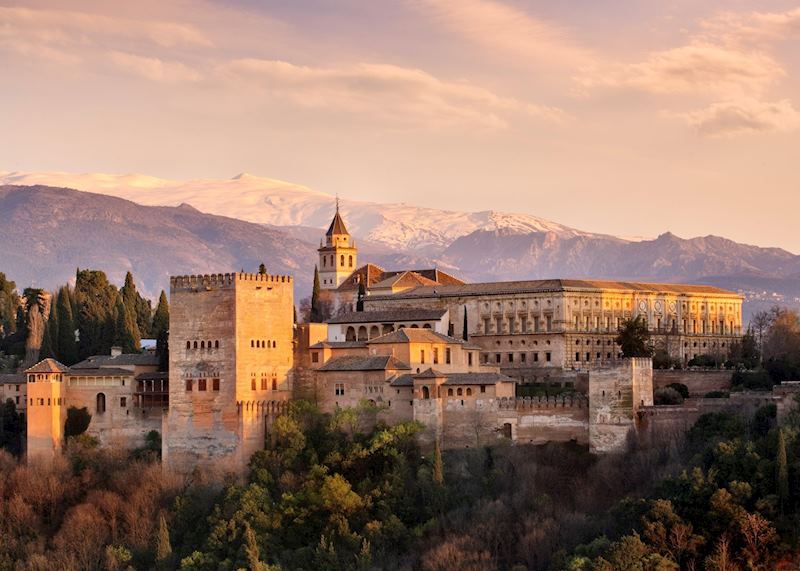 Even more than Seville, Granada showcases Spain's mix of cultures during the Moorish era. Last stronghold of the caliphs, the old city reminds me of the medina in Marrakesh thanks to its alleys, whitewashed buildings and plazas lined with orange trees. It's home to one of the few European synagogues to survive the Inquisition, as well as the greatest Moorish palace.
High on a hill, the red-walled Alhambra dominates the city. A fortress has stood here since the Roman era, and it has never been taken by force. The exterior — a blank face of crenelated walls and square towers — hides a complex of palaces decorated with a tumult of geometric designs, Arabic calligraphy and pillared arches.
I've always admired the beauty of the Alhambra, but it wasn't until I took a guided tour that I understood the subtle sophistication of the engineering. My guide, Robert, explained how the builders deliberately dazzled supplicants' eyes with a reflecting pool before sending them into a dim interior. There, they had to squint at the caliph, who was carefully lit from above to give him a bright aura and a shadowed face that was hard to read.
What to see and do in Lisbon
A city of seven hills, Lisbon was devastated by earthquake in 1755, an event that still defines it in many ways. Afterwards, the Marquês de Pombal embarked on a great city planning project, creating the first earthquake-resistant architecture in Europe. You can still see his hand in the neoclassical plazas and grand fountains of the Baixa quarter.
About a century after the earthquake, Lisbon's city fathers instituted a tram system to help residents deal with the steep streets. Still operating today, these brightly painted trolleys can take you up the hills to the city's many lookouts, called miradouros. There, you can linger with a drink and watch the sunset.
As flamenco is to Seville, fado is to Lisbon. At the mouth of the Tagus River, Lisbon has long been an important port for trade and fishing, and fado songs began as fishwives' laments. Portuguese audiences often weep openly at the piercing, mournful songs.
You can watch fado performed nightly in the Bairro Alto. Gritty and graffitied, this enclave comes to life at dusk, when people flock to the area's many bars and restaurants.
What to see and do in Belém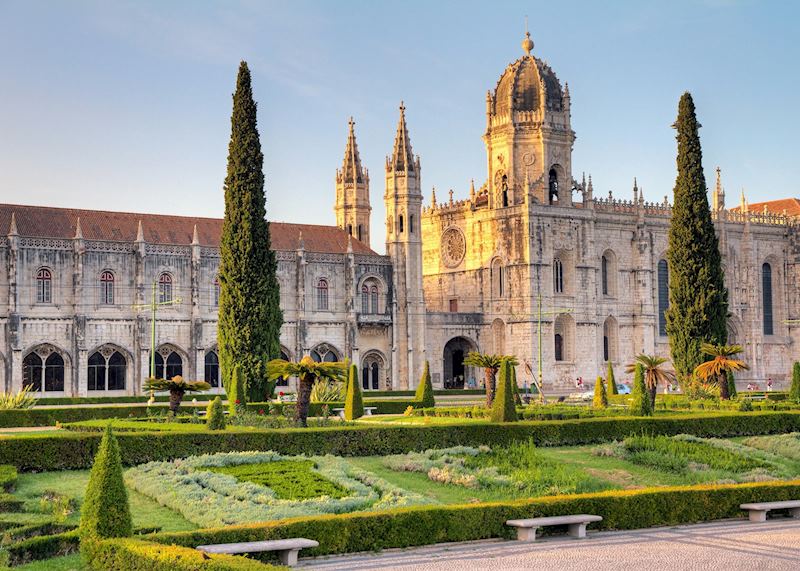 Many of Portugal's voyages of discovery set sail from Belém, a fact commemorated in two monuments: Jerónimos Monastery and Padrão dos Descobrimentos.
Jerónimos Monastery was commissioned to celebrate Vasco da Gama's successful voyage to India. Built with the spoils of the new colonies, the monastery's decor is a frenzy of nautically themed stone carvings. Known as Manueline, this overwrought style features an abundance of fantastically detailed renditions of knotted ropes, spiral shells and breaking waves, as well as vines, flowers and palm trees.
The monastery is part of a UNESCO World Heritage Site together with the nearby Torre de Belém. The square tower, which sits in the Tagus River, also overflows with stone carvings in the maritime theme.
Nearby, Padrão dos Descobrimentos is a towering landmark that looks like the prow of a ship and commemorates Prince Henry the Navigator and the other figures of the Age of Exploration. It's set on the edge of the river, where so many journeys were launched, and a trip to the top (via elevator or 300 steps) leads to panoramic views of the area.
Aside from ocean-spanning navigation, Belém's other major contribution to European culture is the invention of the pastéis de nata. This sweet, eggy custard tart has been made following the same recipe in the same spot by the same family since 1837. With a flaky, buttery crust and brûléed top, it's a rich indulgence to go with your morning coffee or afternoon sherry.
What to see and do in Porto and the Douro Valley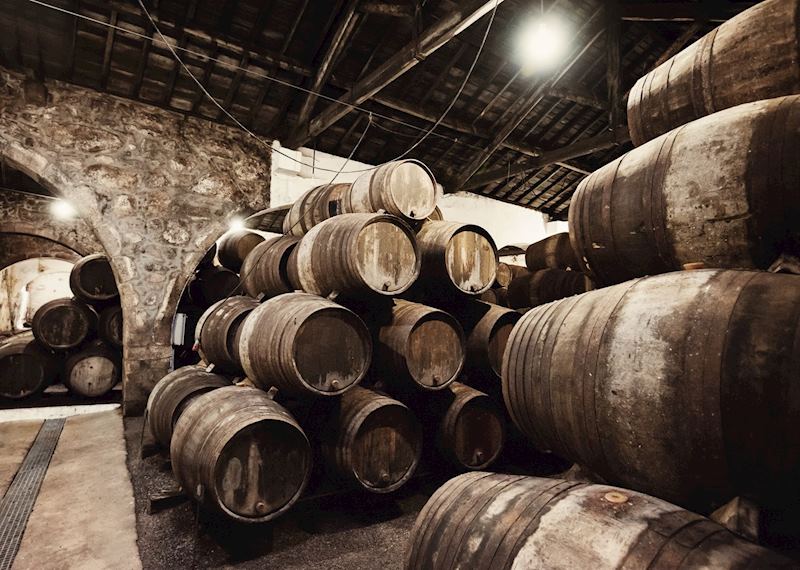 The Douro River Valley is historically known for its port wine vineyards, but it has recently expanded its offering. You'll find wineries creating reds, whites and rosés, as well as the traditional fortified wine. Many traditional wine estates, called quintas, have been converted into elegant guesthouses, often with tasting rooms, spas and even Michelin-starred restaurants attached.
I've found that the best way to take in the sun-drenched landscape and visit the area's vineyards is by boat along the river. You can while away a golden afternoon cruising through the sun-gilded scenery before indulging in a number of different tastings.
At the mouth of the Douro, Porto is a city built on British affection for fortified wine — an innovation of the Napoleonic Wars, when British wine drinkers were forced to look for an alternative to French vineyards. Clever Portuguese vintners fortified their wines with brandy, to stop it spoiling on the long voyage to the UK, creating a new tipple that quickly became all the rage.
Many of the great port houses still dot the city. On a private tour of the Graham's 1890 Lodge, you can glimpse into the cellars where port is aged in massive wooden barrels, kept at a constant temperature by the thick granite walls.
My hostess explained the process of creating this subtle, complex drink and showed us barrels that contained port more than a century old. Even in the cool, dark cellar, the scent was heady — dizzying, almost — and I could understand why that vintage went for €500 a glass.
To try more recent options, we visited the tasting room. With dark wood panels on the walls and tufted leather chairs, the men's club feel harkens back to the style and era of Graham's most famous customer — Winston Churchill. There, I sampled three options, including one as old as I am. Then I retired to the restaurant upstairs to enjoy a leisurely lunch overlooking the Douro.
Read more about trips to Spain and Portugal

Start thinking about your experience. These itineraries are simply suggestions for how you could enjoy some of the same experiences as our specialists. They're just for inspiration, because your trip will be created around your particular tastes.
View All Tours in Europe