Visit Erice and Trapani, Italy
Erice has long been a mysterious and spiritually significant spot. It was founded by the Phoenicians on the top of Mount Eryx and enjoys a naturally fortified position 750 m (2,460 ft) above the marina at modern-day Trapani.
Its lofty setting, the fact that the town is often enveloped in mist, and its relative safety meant it was an attractive strategic vantage point for successive waves of conquerors. Today, Erice is a small, quiet town of narrow medieval laneways hemmed in by stone walls and dominated by a Norman castle. It's also known for its numerous carpet shops and delicious pastries.
Inside Erice's medieval gate, a warren of slender cobbled streets fans out in a triangular shape, linking a series of convents, churches and small piazzas (squares). Close to the medieval gate is Erice's most significant church, Chiesa Matrice. Built in 1314 but redesigned in Gothic style in 1865, it has a vaulted ceiling, 15th-century side chapels and an imposing campanile (freestanding bell tower).
Following the streets upwards past houses studded with votive niches and ornate balconies you'll soon arrive at the apex and the Norman Castello di Venere.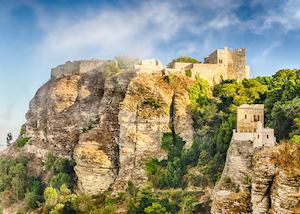 The edifice was built in the 12th or 13th century on the ruins of a temple dedicated to the fertility goddess Astarte (known as Aphrodite to the Greeks, Venus to the Romans). Legend has it that this temple was at the heart of the cult of Venus, its everlasting fire acting as a beacon for sailors who came to lie with its priestesses.
Both Hercules and Aeneas are associated with the site and finds from the temple, including a 4th-century head of Venus, are on display in Erice's Civic Museum. The rather austere castle was partly destroyed by Roger I when he captured the town, but what remains is still highly impressive. The location alone offers sweeping views over the surrounding area.
Perhaps the greatest joy of Erice, however, is simply wandering its laneways and browsing its antique stores and carpet shops. The town is known for its vivid frazzate rugs which are made from cotton rags.
Erice also has a reputation for its almond pastries, once made in a closed convent. A particular highlight is a visit to the pasticceria of Maria Grammatico, Sicily's most celebrated pastry chef. Sent to the convent at the age of 11, she learned to cook its traditional pastries and then opened her own shop after the convent closed in 1975. Her story was beautifully told in her acclaimed memoir, Bitter Almonds, co-written with Mary Taylor Simeti.
At Pasticceria Maria Grammatico, you can see marzipan being made and shaped in the shop, and sit in the little leafy garden at the back to sample what are lauded as some of the finest pastries on the island.
Trapani's salt pans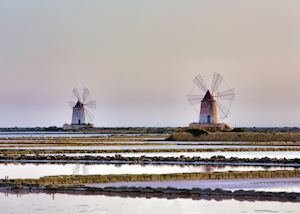 Erice is accessed via a scenic ten-minute cable car ride from the old port town of Trapani, which sits on a crescent-shaped peninsula on Sicily's west coast. A bustling trading hub for centuries, it's now a sleepy place with an old Moorish quarter and a large number of imposing Baroque palazzi (palaces) dating from the time of the Spanish occupation.
The coastline just south of Trapani is lined with salt pans (saline) which are used in salt production. The industry is believed to date back to the 12th century and these shallow pools, along with the historic windmills used to grind the sea salt, are a photogenic sight, especially in summer when piles of salt lie heaped at the roadside ready for collection.
Although the industry is now a shadow of what it was in its heyday, small-scale producers still maintain the salt pans and preserve the region's reputation for the finest salt in Italy.
Speak to someone
who's been there

Start planning your tailor-made trip to Erice and Trapani by contacting one of our Italy specialists
617-223-4778
Places & hotels on the map
Places near Erice and Trapani
Photos of Erice and Trapani
Our expert guides to exploring Erice and Trapani
Written by our specialists from their own experiences of visiting Erice and Trapani, these guides will help you make the most of your time there. We share both our practical recommendations and the best ways to appreciate Erice and Trapani at its best.
Where to visit in Sicily

Where to visit in Sicily

Where to visit in Sicily

Beyond its azure waters and white pebbled beaches, Sicily offers a complex cultural experience, one that is seen in its Baroque churches, open-air markets, Greek ruins and complex cuisine. Discover why it's the crossroads of the Mediterranean with Audley specialist Kimberly.